In:
Royal Caribbean operates two private islands that offer passengers a curated and exclusive experience where the cruise line manages the entire visit.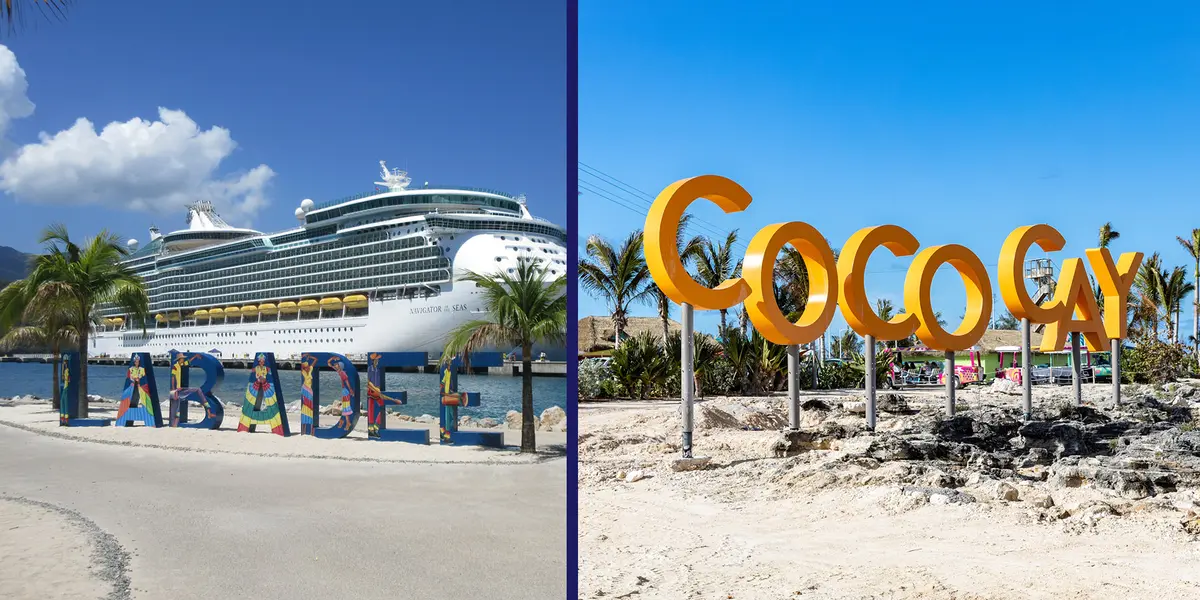 While cruise ships can take you to different islands in the Caribbean, they can also stop at pristine places reserved just for cruise ship passengers.
These days it's rare to find an itinerary in the Caribbean that does not include a stop at one of the private islands.  Many Caribbean itineraries will visit either Labadee or Perfect Day at CocoCay, or even sometimes both.
The idea behind both of these places is a controlled, yet relaxing environment, where there's none of the fuss associated with finding a tour or haggling with vendors. Instead, Royal Caribbean sets everything up and admission to either island is included with your cruise fare.
Private destinations have evolved from secluded beach to full-day destination with different things you can do. Just like a cruise ship, Royal Caribbean realized people like to spend their time ashore differently. Some like a party atmosphere, while others want no noise and just the water. 
Which private island is better for you?  What makes them different or are they pretty much the same? 
Let's take a detailed look at these two beautiful islands.
A brief history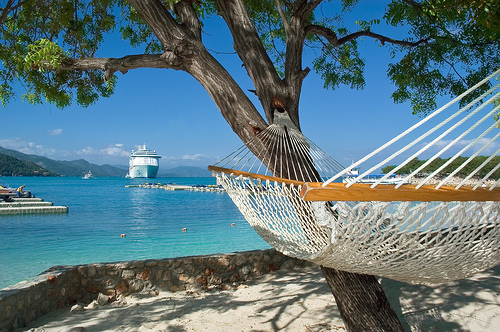 While Labadee is known as a private island, it is actually a peninsula on Haiti's north coast.  It was the first private destination for Royal Caribbean, who leased the land in 1986. 
CocoCay is actually named Little Stirrup Cay.  It was originally leased by Admiral Cruises in 1985.  When Royal Caribbean acquired Admiral Cruises in 1988, they took over the lease and changed the name. Leases for both islands run until 2050.  It's a pretty good assumption that they'll be renewed.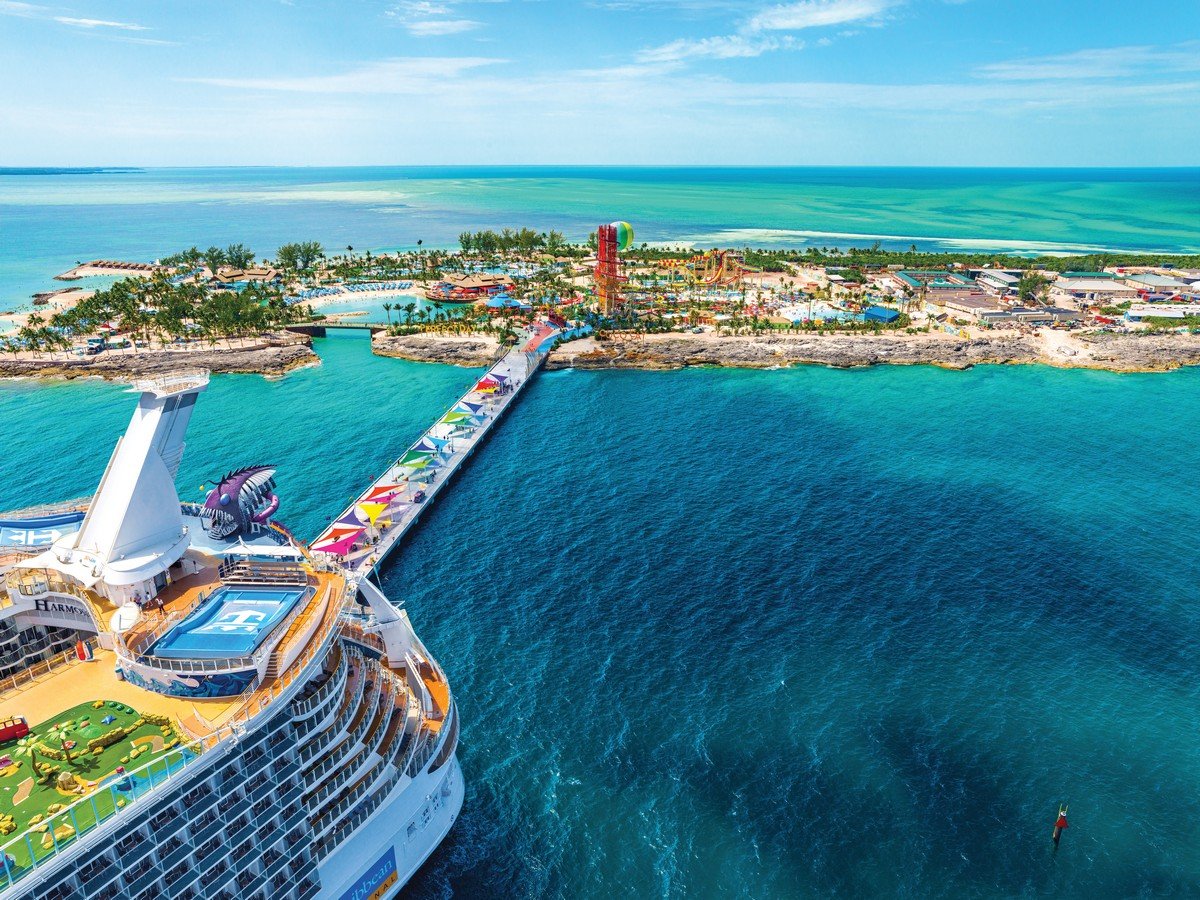 Both destinations were originally tender ports, meaning you had to take a small boat from the ship to the island.  Now they both have a pier that has made visiting there much easier and reliable. A pier allows cruise ships more flexibility with regard to weather conditions, thus meaning less missed calls.
Royal Caribbean invested heavily in a major overhaul in 2019 that saw over $250 million invested to expand the island's offerings with a waterpark with 13 slides; the region's biggest wave pool; the region's largest freshwater pool; and a beach club area for an extra cost aimed at those who want an elevated experience.
Climate & Topography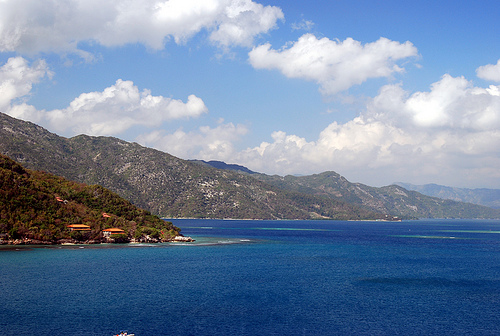 Since both private islands are in the tropics, the climate is very similar. 
It is usually hot and humid most of the year, with the highest temperatures in July.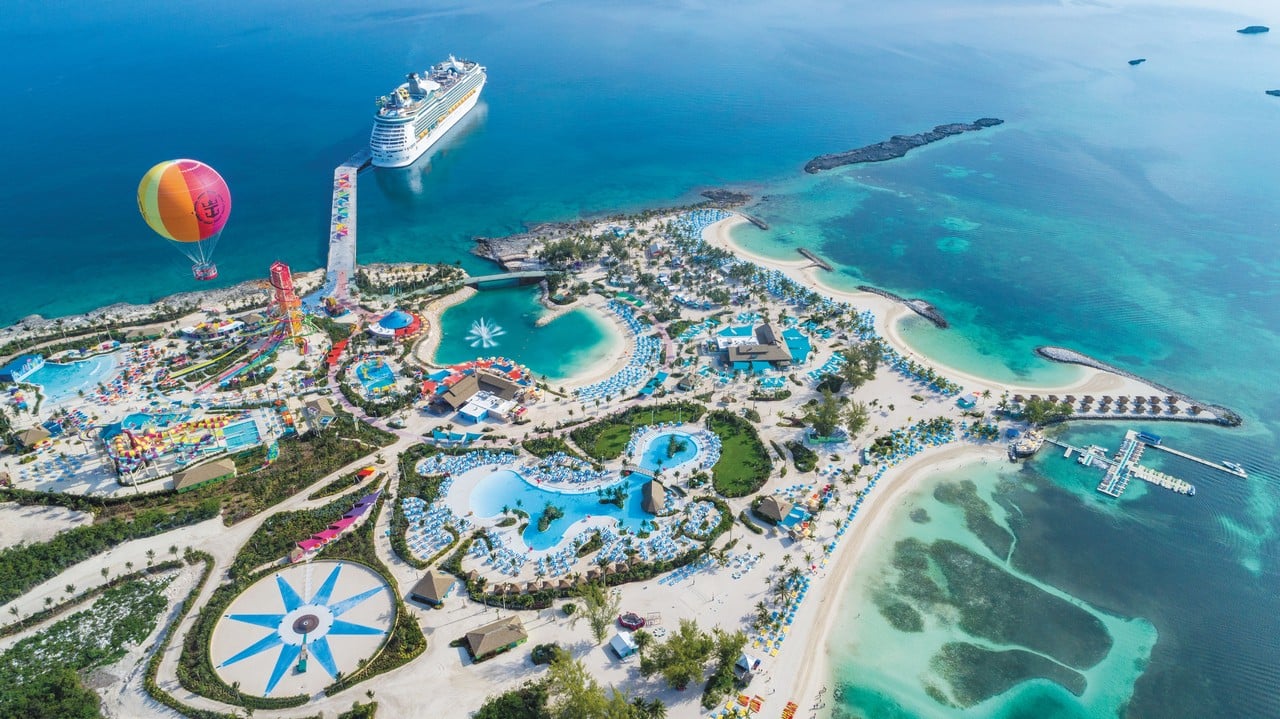 Although CocoCay is located further north, their temperatures can dip into the 60's in January.  Both destinations are in the path of a possible hurricane.  
CocoCay is mostly flat while Labadee is surrounded by lush vegetation and mountains. 
Things to do in CocoCay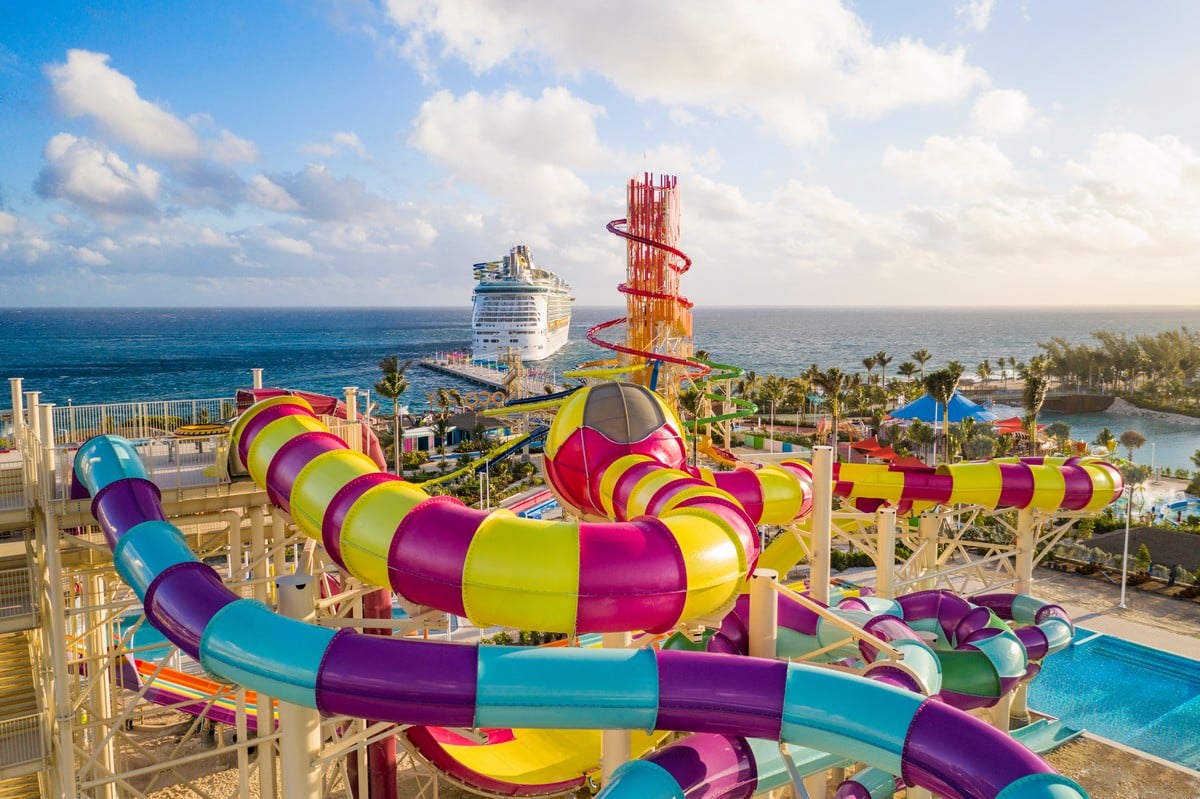 You can't miss the advertising Royal Caribbean has been doing for Perfect Day at CocoCay since it's refurbishment in 2019 and with good reason.  CocoCay has become a must-do destination.  It's Thrill Waterpark has slides that can rival most theme parks on land.
They have zip lines that stop at various platforms throughout the park and island (1600 feet in all), a tethered helium balloon that lifts you up to 450 feet in the air and Splashaway Bay, a complimentary kids area with slides and water buckets.
CocoCay has the largest freshwater pool in the Caribbean, Oasis Lagoon, which also has a swim up bar.  For a fee you can rent one of the cabanas that surround the pool or just grab any of the free lounge chairs.  There is also a DJ providing music.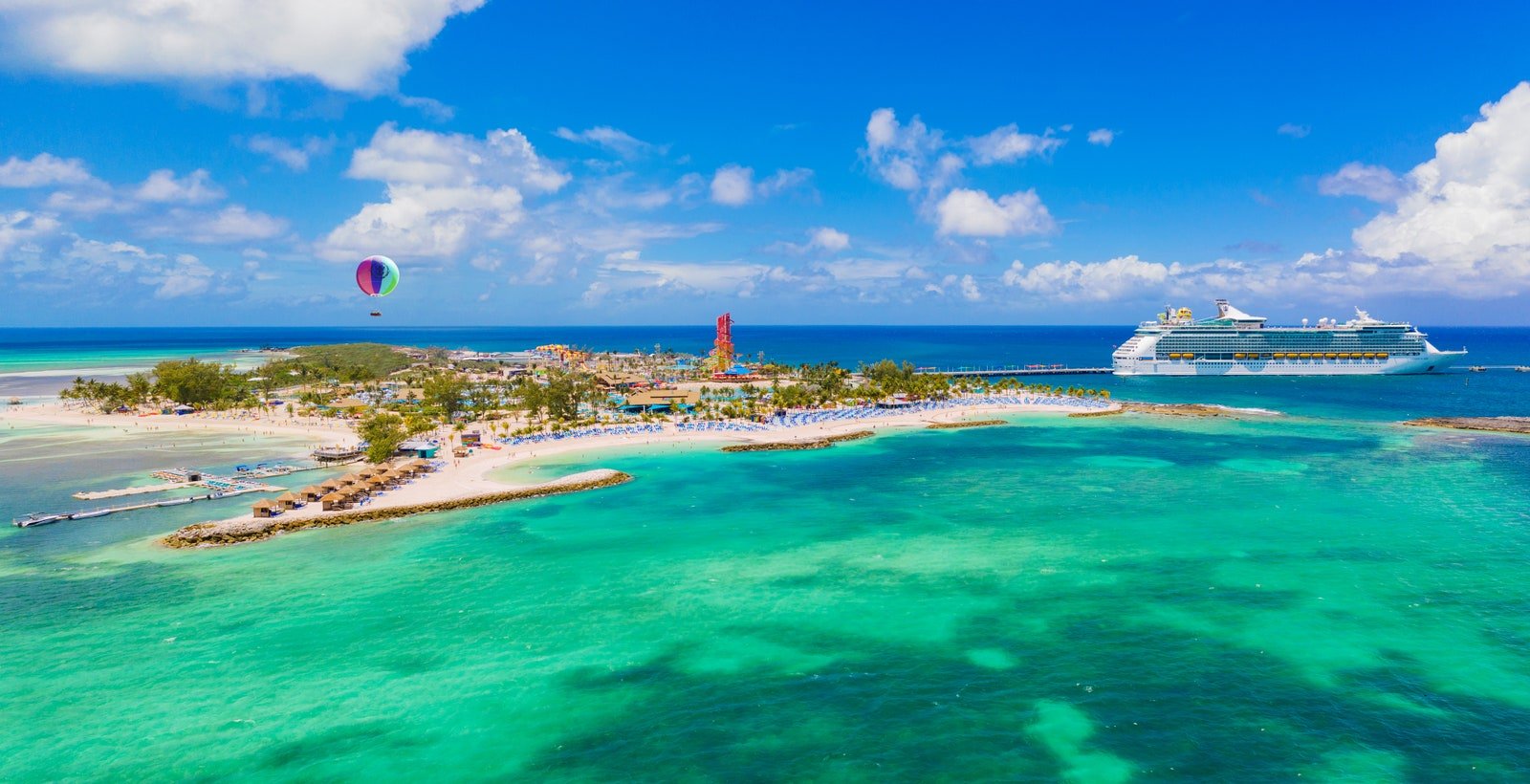 But what if you just want to relax?  Then head to the beach!  South Beach is a more quieter area since it's further away.  You can upgrade your experience by purchasing a pass to the Coco Beach Club.  There you will also find a beach and the infinity pool. 
One of the most unique things about CocoCay are the floating cabanas.  They can accommodate up to 8 people and include access to the Coco Beach Club.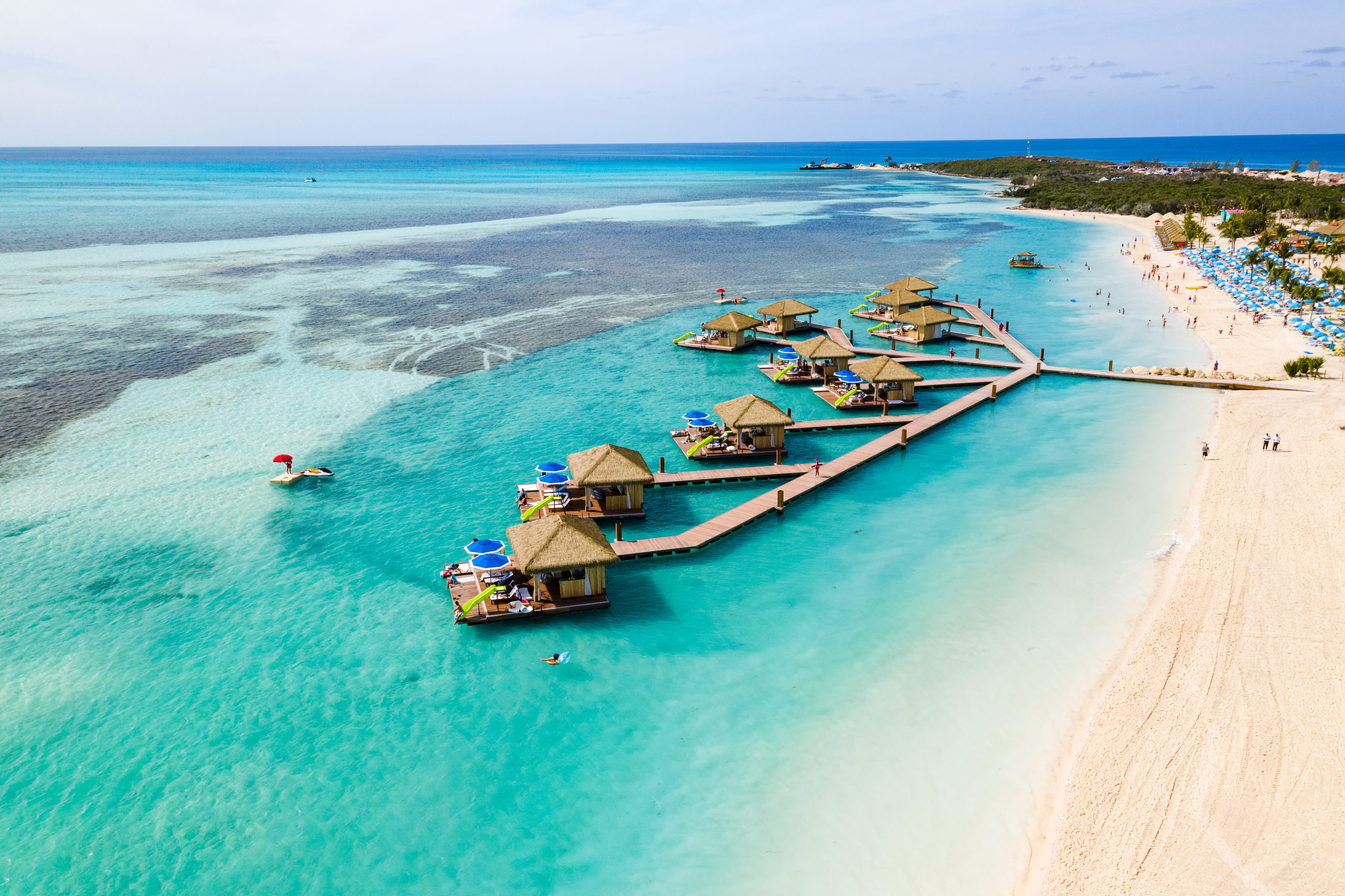 You'll have your own private slide into the ocean, a hammock that sits just over the water, a shower, a safe, and a dining area.  What I loved most about it was the ability to play our own music by connecting to the cabanas Bluetooth system. 
They are pretty expensive. The average price I've seen for my recent sailings has been $1699 and up, which I guess isn't bad if you split it up between four couples but for just my husband and I, that price is hard to justify.  But sometimes you can find a deal.  We did last October and were happy that we could finally experience the cabanas.
Food on CocoCay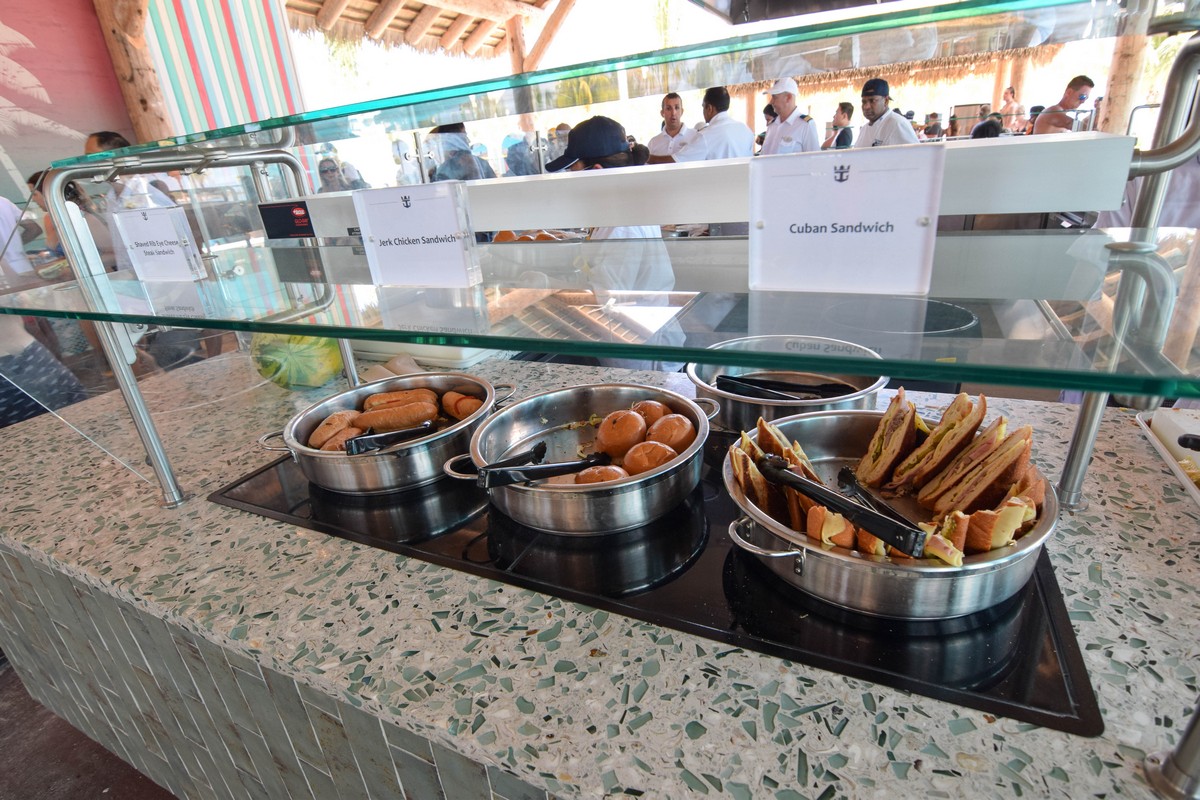 CocoCay offers a complimentary buffet with everything from burgers to tacos.
I love the Snack Shack that has chicken sandwiches, burgers, mozzarella sticks and funnel cakes.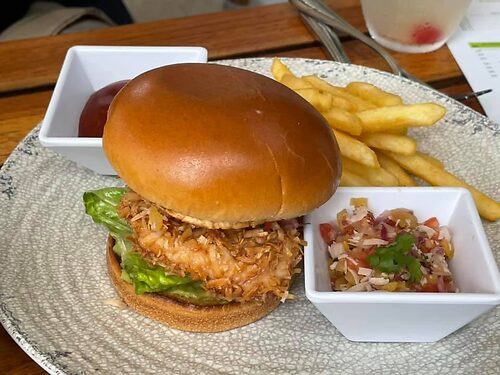 Captain Jack's, which is adjacent to the Skippers Grill buffet, has flavored chicken wings and fries for a fee.
Coco Beach Club has a lunch that is more elevated than the complimentary options with lobster and filet mignon. If you have the drink package, it can also be used on both private islands.
Things to do in Labadee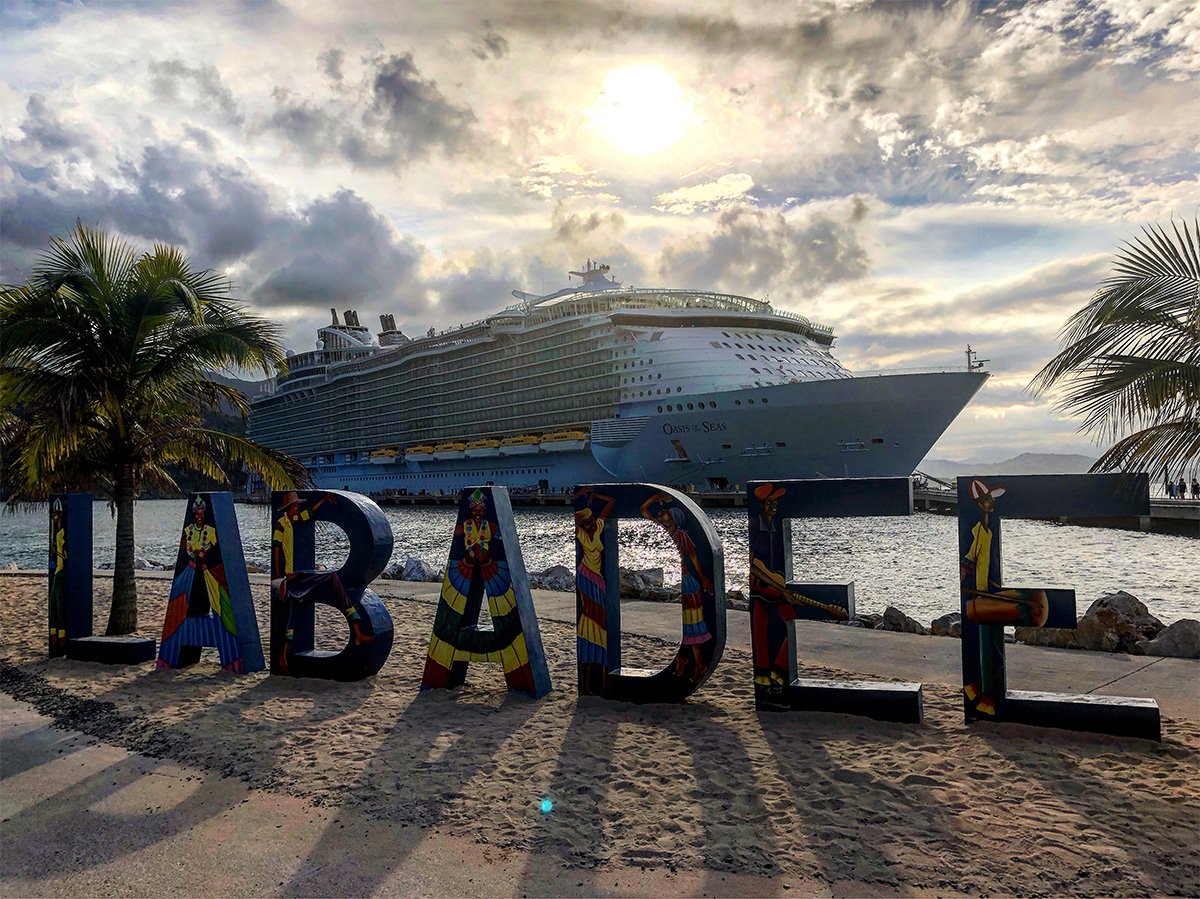 Labadee was the first to introduce over the water cabanas. 
They are more of a simple design and don't include all of the bells and whistles of the ones on CocoCay.  However, they're quiet and have more of a secluded feel. They allow access to the ocean via a nearby staircase.
Another option is the hilltop cabanas that are farther away from the beach but have amazing views of the ocean and the ship. There are also beachfront and standard cabanas.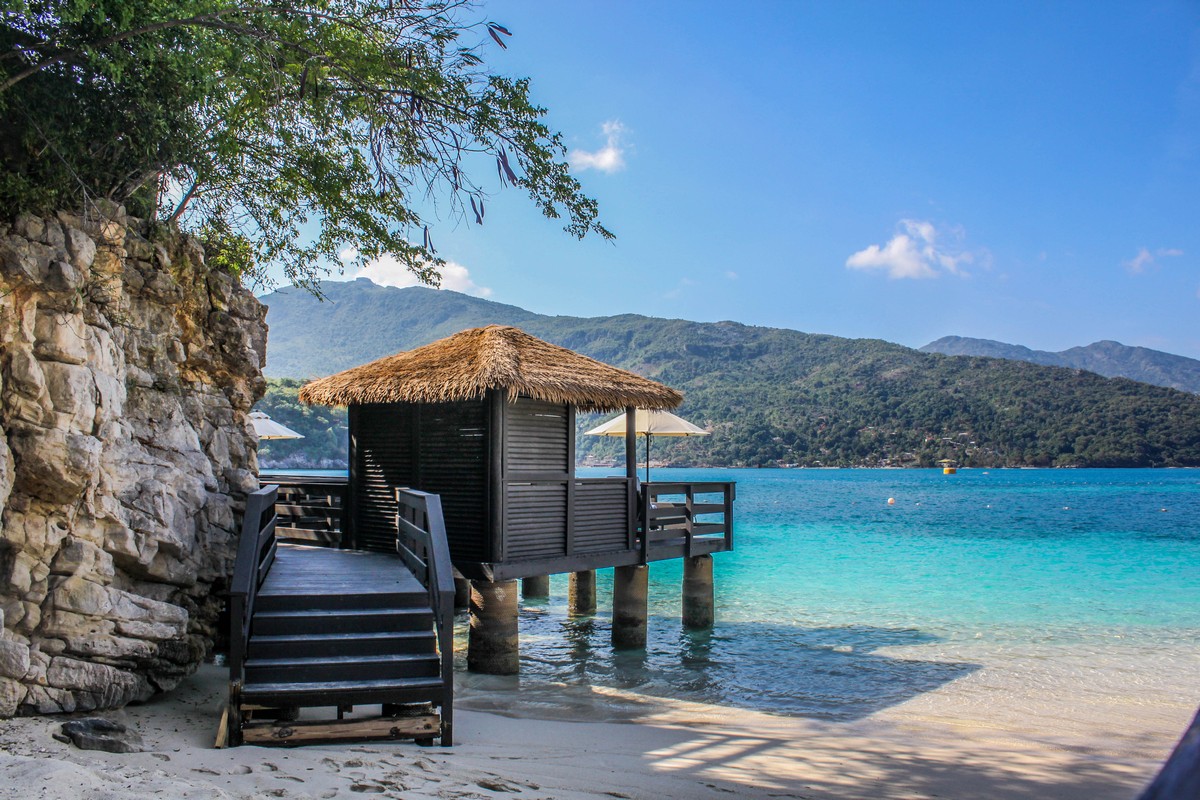 There is one thing Labadee has that the current CocoCay doesn't, which is a "suites only" area called Barefoot Beach.  It's definitely more peaceful there and makes for a relaxing day.
Labadee also has thrills of its own.  The Dragon's Breath zip line starts 500 feet above sea level and plummets you at speeds up to 50 mph 2600 feet to the beach below.  It is the longest over the water zipline in the world.
For a bigger rush, you can zip line head first on Dragon's Fire's. Dragon's Tail is an alpine style coaster that takes you around a mountain and there's the Dragon's Splash water slide.  The Arawak Aqua Park is in the ocean itself and has slides and trampolines.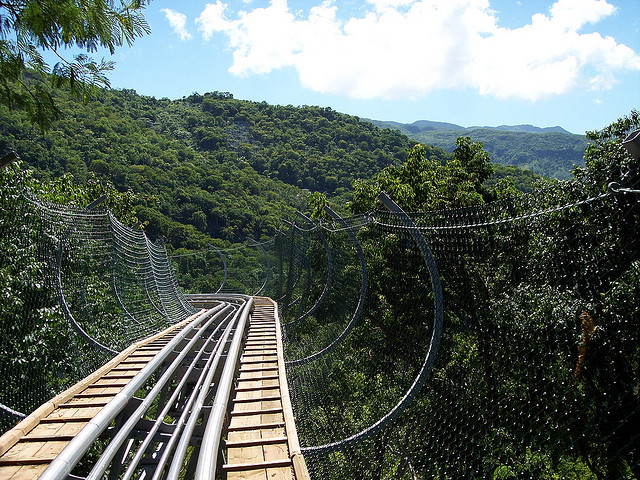 Labadee also offers tandem parasailing which I really enjoyed.  It takes you up about 400 feet and the views of the mountains are spectacular!
Both islands also have jet skiing, snorkeling and floating beach mats. One thing to keep in mind is that Labadee does not have a freshwater pool.  
Food on Labadee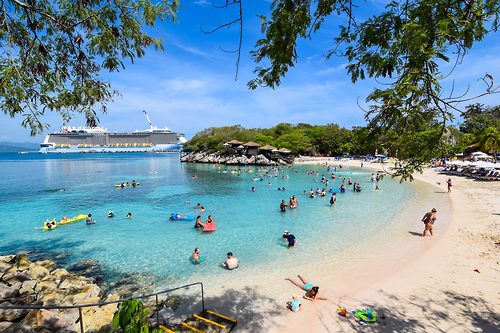 Buffet dining is available throughout the island.  Again, there is an upgraded buffet at Barefoot Beach for the suite guests that includes lamb and filet mignon.
Similarities between CocoCay & Labadee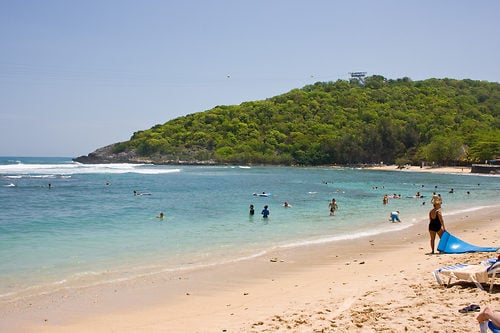 While you can pick out a number of ways Labadee and CocoCay are different from each other, they have a lot more in common.
At the heart of both visits is a beach day. You will find multiple beaches to visit, and each beach is included with the cost of your cruise (except for Coco Beach Club for an additional cost and Barefoot Beach for suite guests).
A complimentary lunch is also offered at both, along with certain activities such as hammocks, sports courts, and a splash area for younger kids.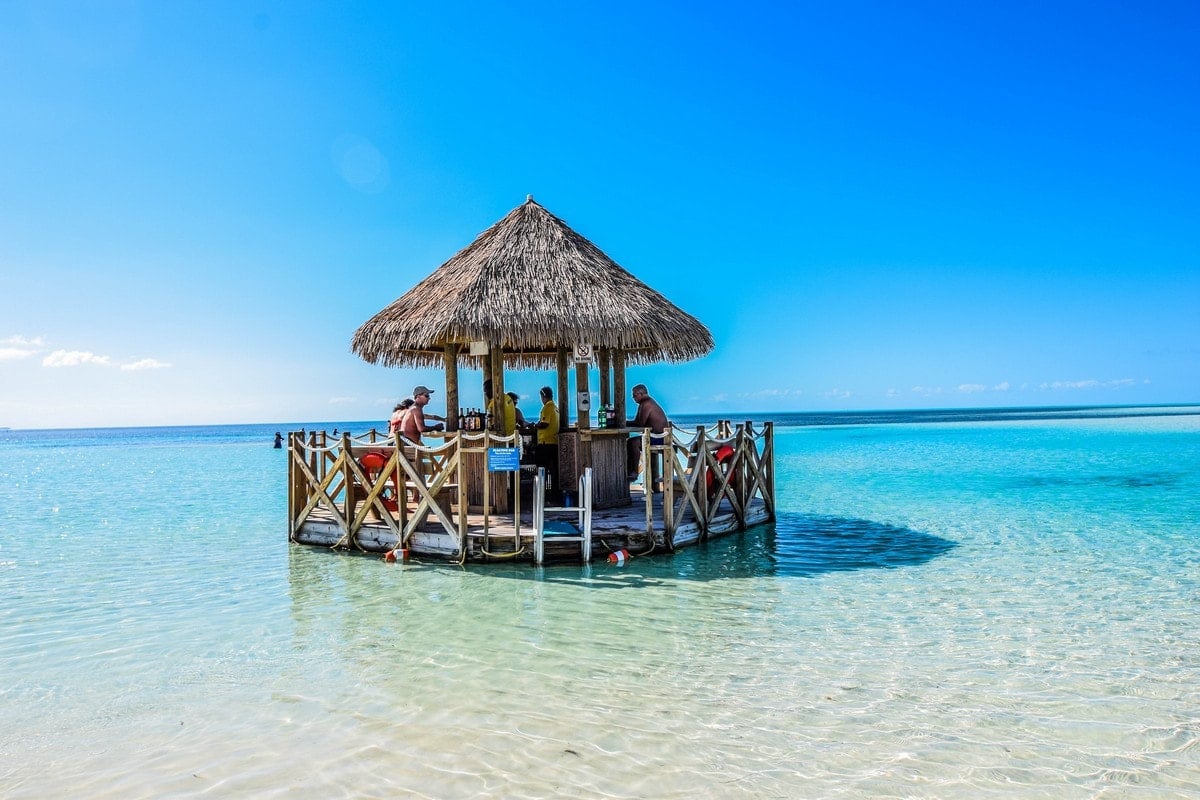 An opportunity to purchase local goods from residents of either The Bahamas or Haiti is also part of the islands experience. Be sure to bring cash if you wish to purchase a souvenir.
And no Royal Caribbean private destination is complete without a few bars to visit. In fact, both CocoCay and Labadee have a swim-up bar you can visit just off the beach.
CocoCay vs Labadee: which island should you pick?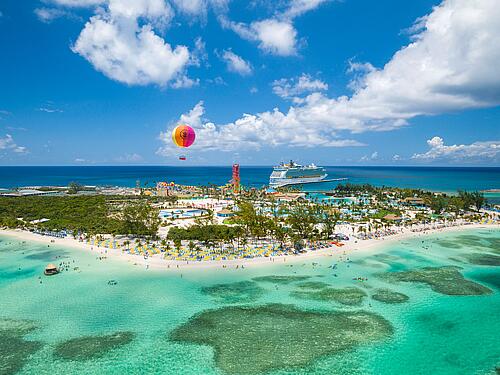 You really can't go wrong with a visit to either destination.
While CocoCay has been updated with the latest amenities, Labadee has an unmatched natural beauty. Both destinations are a treat to have on any itinerary.
The beaches at both spots are great, although CocoCay's sand tends to be less rockier than Labadee.
If you like variety of things to do, or are a "pool person" more than a "beach person", then you should pick CocoCay. You can still find seclusion and quiet at either South Beach or Chill island, but there's more happening at CocoCay.
If you like a relaxed beach day above all else, than you should pick Labadee. The zip line, alpine coaster, and other tours are enough to satisfy someone who has reached peak serenity.
Ideally, your itinerary includes a visit to both islands. There are a handful of these sailings, and they can be a great vacation choice.