In:
The Coco Beach Club at Perfect Day at CocoCay is a dedicated part of the private island experience for those who value an elevated experience.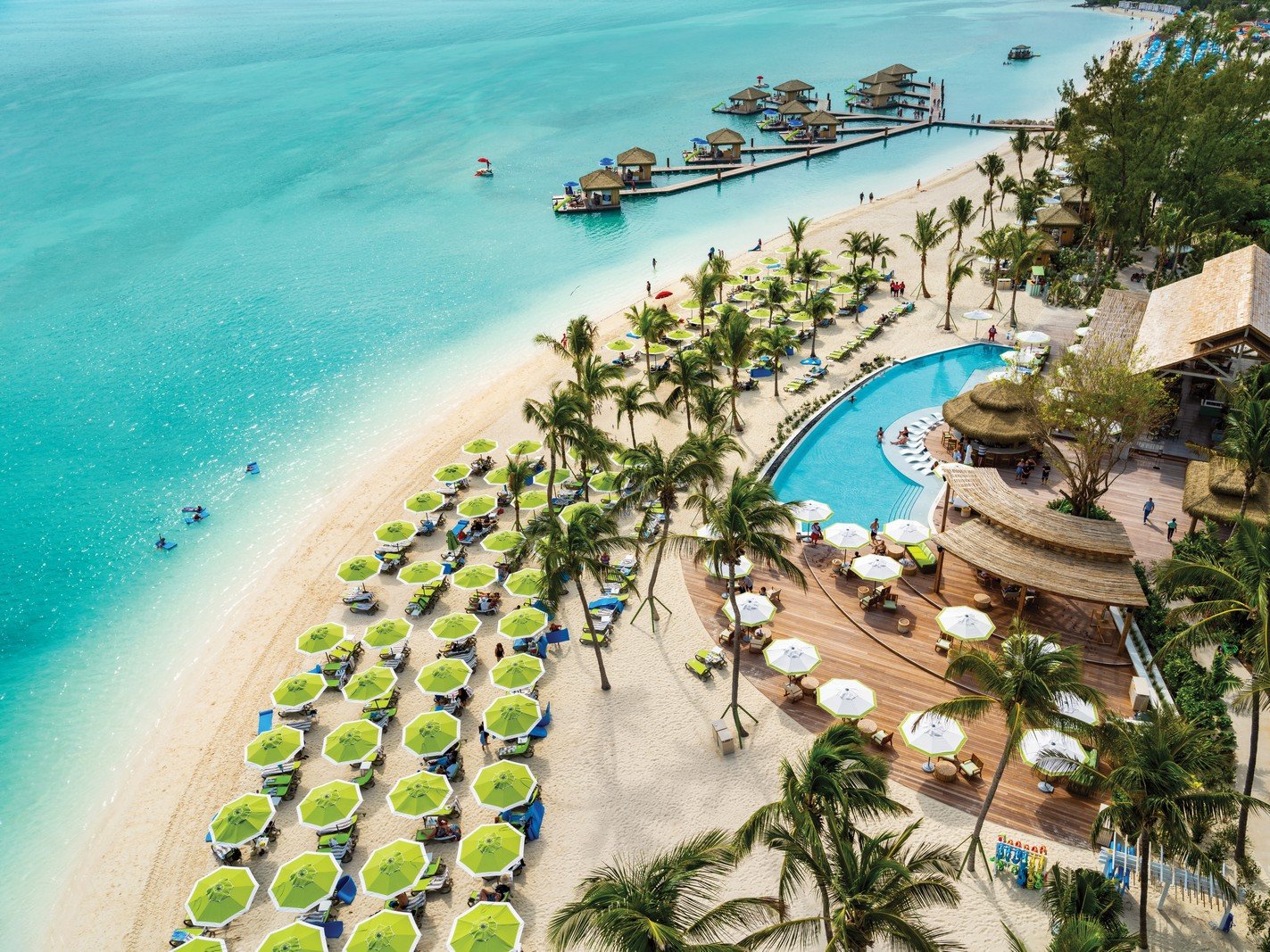 Think of the Beach Club as somewhere you can go to pay extra for a limited capacity experience with enhanced dining options.
What do you get with the Coco Beach Club (CBC) for the extra cost, and is it worth it?
Here is what you need to know about the CBC and if you should spend the money to try it out yourself.
Coco Beach Club Overview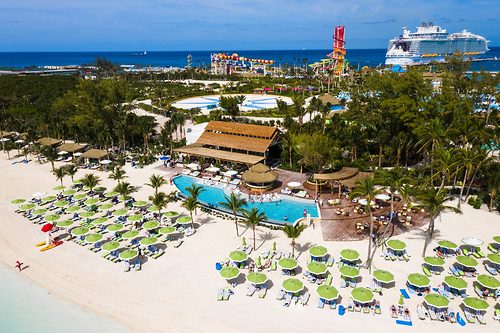 Royal Caribbean's private island in the Bahamas, CocoCay, has beaches, pools, and dining options for everyone to enjoy, but the cruise line decided to add an exclusive, brag-worthy spot for those that like that sort of thing.
The island is designed to handle 9,000 - 12,000 guests, but the CBC has a capacity of just a few hundred people. The idea is to have a place where the number of people are limited, and the offerings included are enhanced.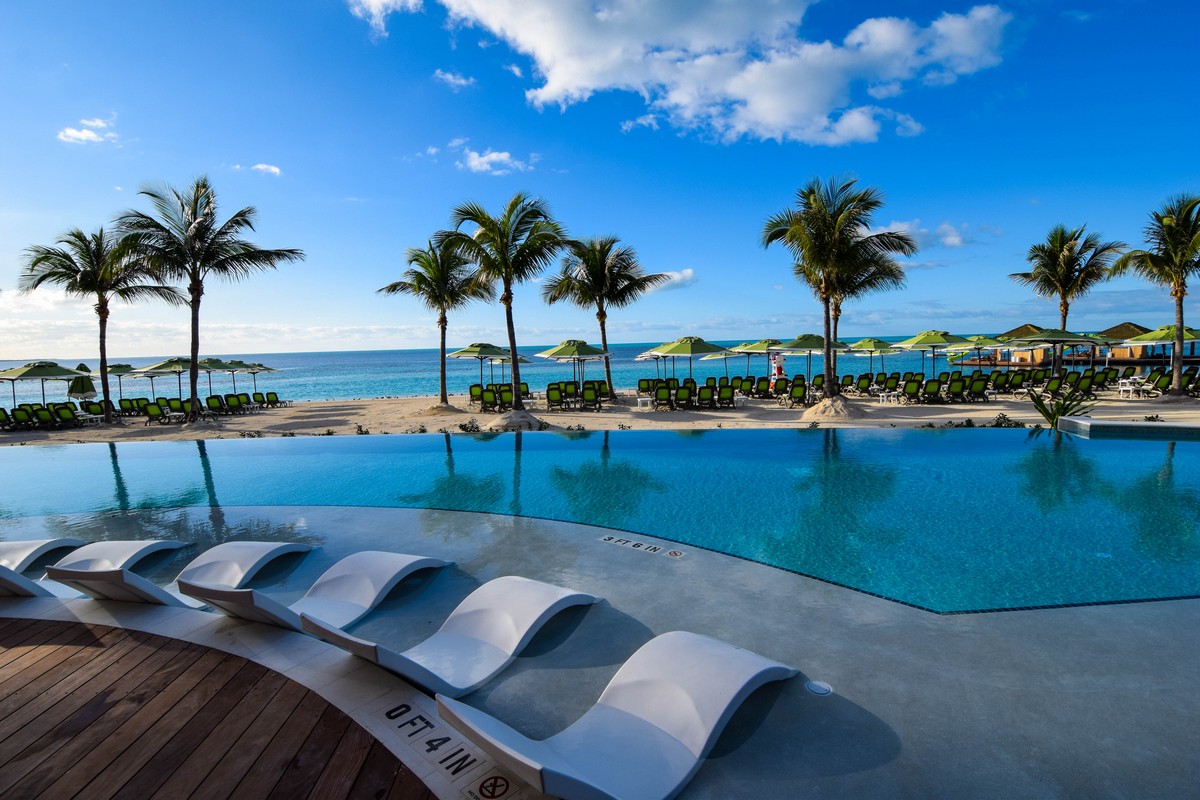 Here is what admission to the Coco Beach Club includes:
Light breakfast (coffee and pastries)
Higher quality pool towels
Access to an exclusive

Beach
Infinity pool
The Clubhouse
Beach chairs with umbrellas

Complimentary dining at the Coco Beach Club restaurant
Floating mats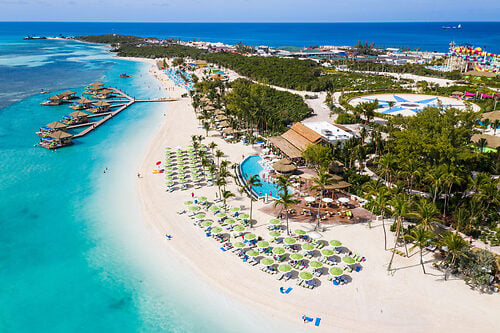 In addition to a day pass, there are two types of cabanas you can rent, which include admission into the CBC. The Coco Beach Club cabanas are larger than the cabanas outside of the Coco Beach Club, and come with unlimited bottled water, a dining area, four lounge chairs, a sectional sofa, a fridge, a ceiling fan, lockable storage, and a charging outlet.
The standard beach cabanas are located along the beach and accommodate up to eight guests, plus attendant service.
Floating Cabanas are the largest cabanas offered by Royal Caribbean, and even have a a two-person overwater hammock, a slide that plunges right into the ocean, and your own wet bar.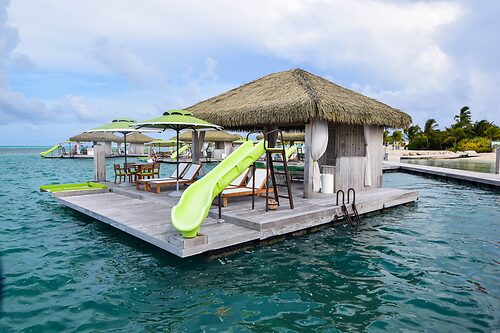 Read more: Guide to Perfect Day at CocoCay Cabanas
Yes, kids of all ages are allowed into the Coco Beach Club.
What is the cost of the Coco Beach Club?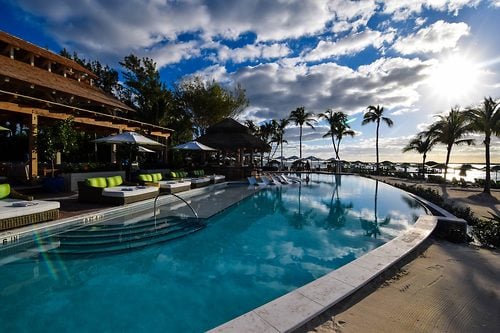 The price to get into the Coco Beach Club will vary from ship to ship and sailing to sailing.  In short, it depends on your sailing and the prices really run the gamut.
Ever since the CBC opened, lots of cruise fans wanted to try it out for themselves, and prices have definitely trended upwards since then.
It is not unreasonable to see a day pass cost run somewhere between $80 and $180 per person.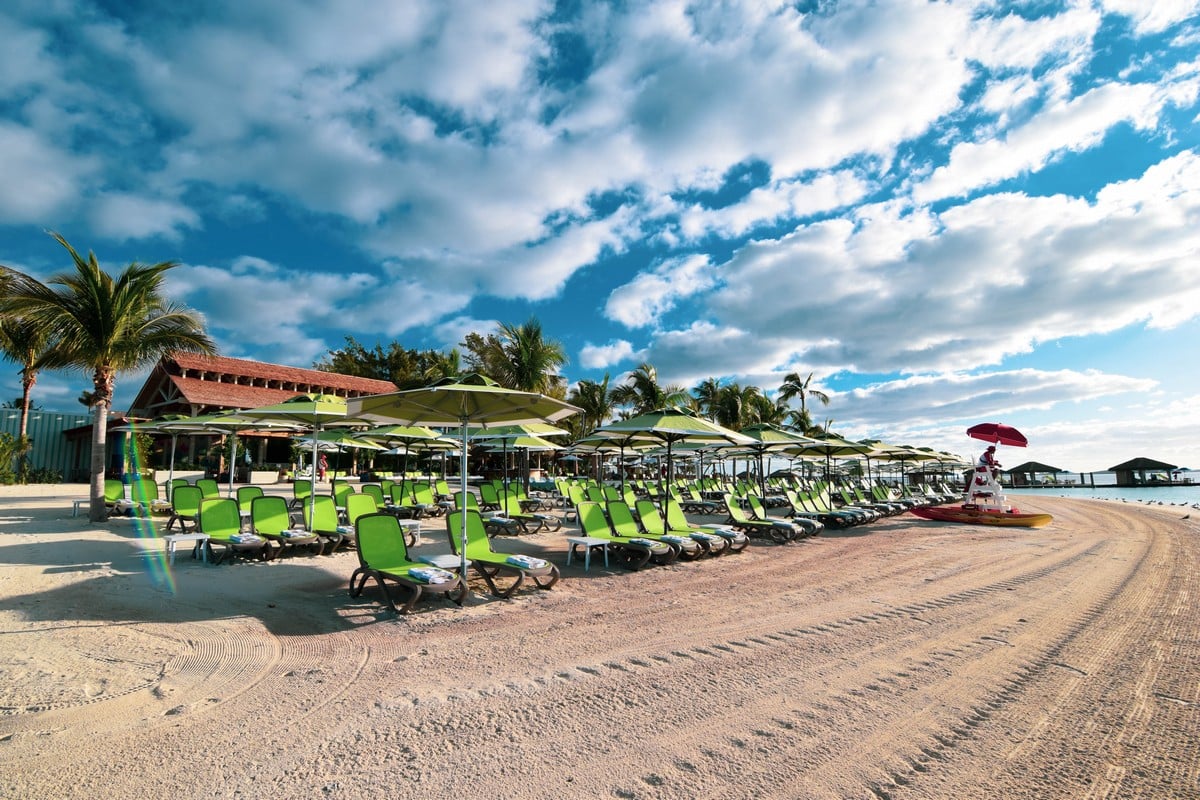 As previously mentioned, the cabanas include admission to the CBC, and their prices are a little more stable, albeit not cheap either.
Prices for cabanas will vary, but here is a general ballpark of pricing:
Coco Beach Club Beach Cabanas: $949 – $1549
Coco Beach Club Floating Cabanas $1299 – $2199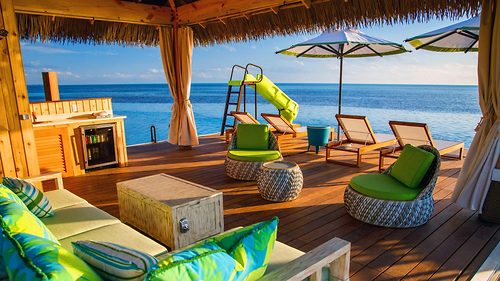 You can book a day pass or a cabana by visiting Royal Caribbean's Cruise Planner website before your sailing. Cabanas sell out first, so be sure to rent one once you know you want one.
Keep in mind that you can always cancel and rebook any purchase without penalty if there is a price drop on these items before your sailing.
Coco Beach Club restaurant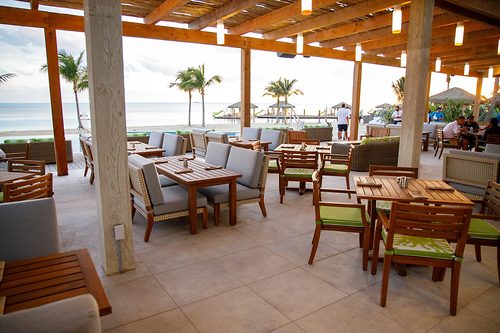 Why go to the Coco Beach Club? Certainly the limited capacity is the primary motivation, but the elevated dining options are truly compelling.
The food served by the Coco Beach Club restaurant is included in your admission, and it is worthy of being a specialty restaurant back onboard.
Cabana Burger, Bahamian lobster rolls, fresh fruit salad and more, plus flavorful entrees like herb-marinated filet mignon, grilled Bahamian lobster, thyme-roasted chicken breast, and garlic tiger prawns — all complimentary with your admission.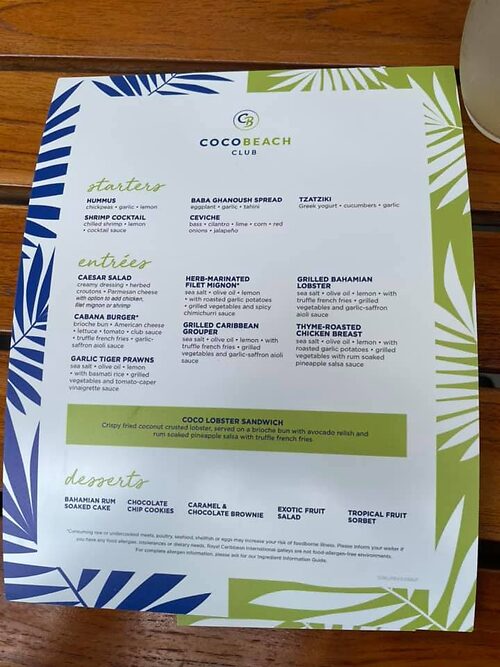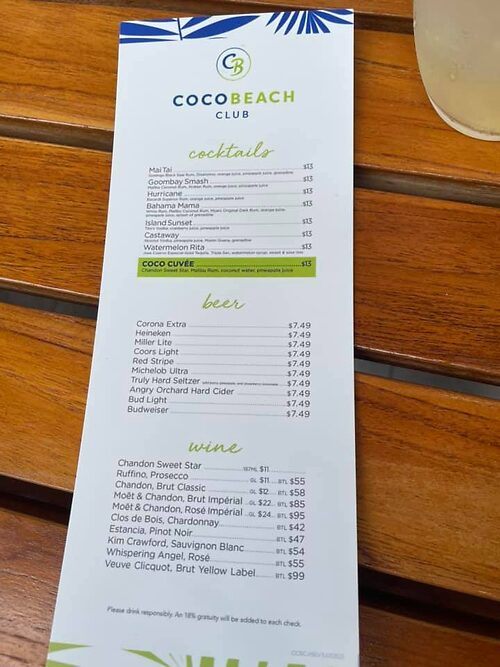 The filet mignon, lobster sandwich, and grouper are all really good choices.  In fact, all the food is excellent, and unlike any other private island dining experience I have ever been to.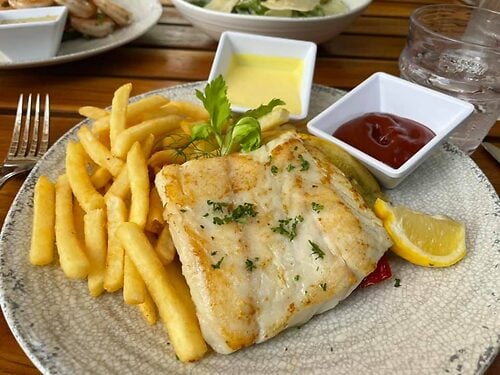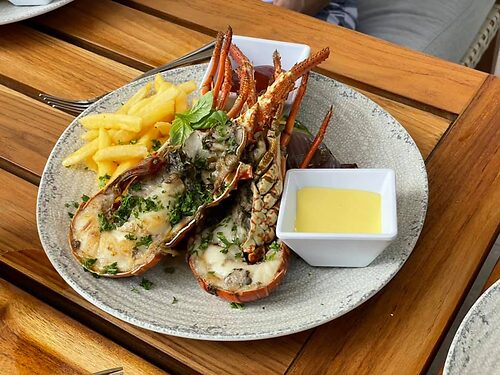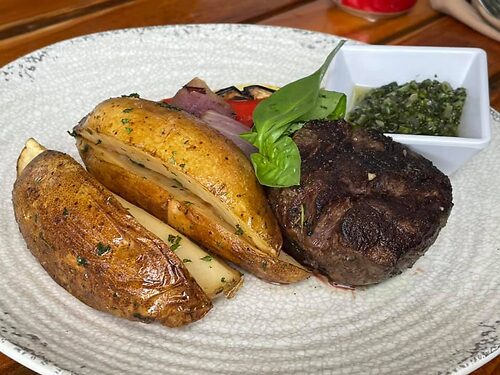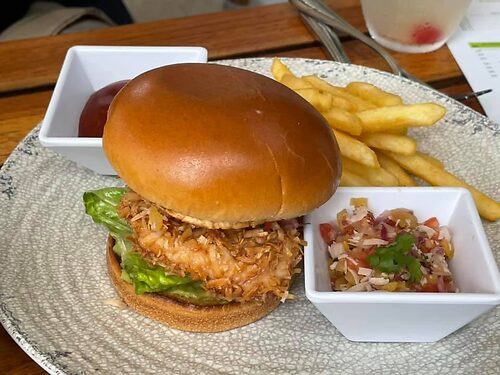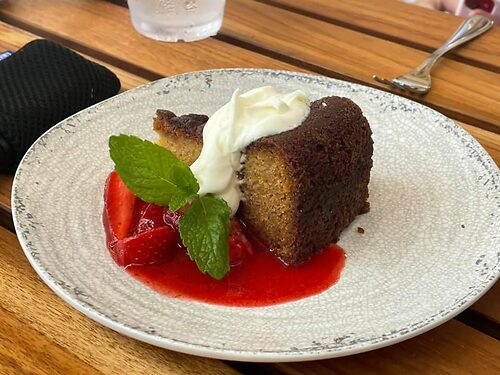 Lunch here is served from 11 a.m. until 3 p.m., followed by light snacks from 3 p.m. 
If you are in a cabana, your attendant will deliver the food to you. Otherwise, you can stop by the desk and make a reservation time to dine.
Is the Coco Beach Club worth it?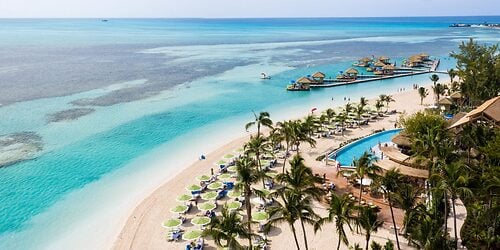 Should you pay extra to go to the Coco Beach Club? It really boils down to how much you value being somewhere exclusive.
The amplified service, dining, and seating choices at the CBC are fantastic.  If you are concerned it may sound nicer than it is, fear not.  The club lives up to what it promises in terms of boosted options.
In fact, the restaurant alone is worth going to at least once.  If there was air conditioning in the restaurant, I might never have left.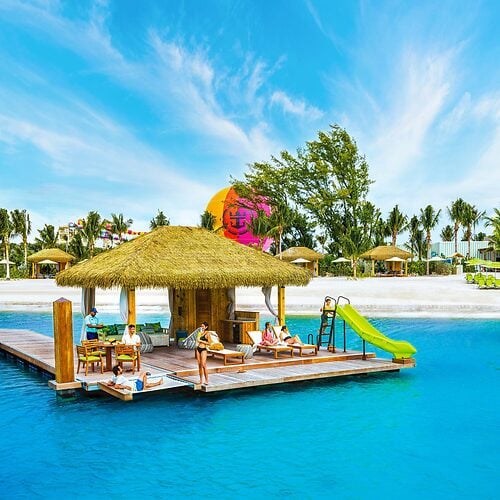 Read more: I tried it: Coco Beach Club at Perfect Day at CocoCay
The infinity pool, along with the in-pool loungers and daybeds nearby are equally impressive, and you will find many guests staking out a spot immediately there.
Like so many things in life, it all comes down to the cost and how much you are willing to pay.  Without a doubt, prices have trended up compared to when the club first opened, so the days of spending $40 - $80 per person are likely long gone.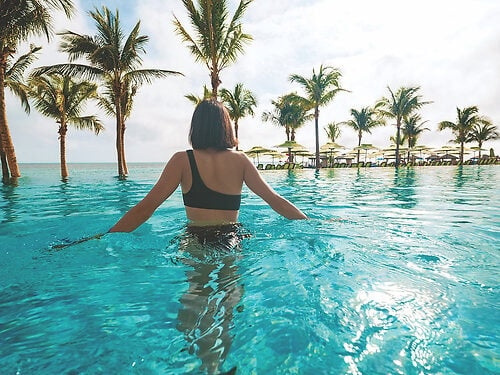 I think of the CBC like I do a first class airplane seat, a suite at a hotel, or even the express lanes on a highway. You spend extra, not because it is going to necessarily get you a one-to-one return on your investment, but because you don't mind spending more to get more.
Read more: 8 things you should know about the Coco Beach Club before you go
A day at the CBC is about splurging and relaxing, and it delivers on the relaxing.  
Anyone looking to indulge while at Perfect Day at CocoCay will find the Coco Beach Club worthy of their needs.