In:
If you're looking for a fun-filled weekend cruise getaway, look no further than Freedom of the Seas, which was recently amplified to add the latest and greatest of Royal Caribbean's activities and amenities onboard. Sailing 3 and 4-night cruises to the Bahamas, Freedom of the Seas makes for a perfect mini-vacation.
If you're considering booking a cruise on Royal Caribbean's Freedom of the Seas, be sure to read this planning and overview guide so you are fully prepared for your upcoming cruise vacation.
Freedom of the Seas Overview
Freedom of the Seas is the first ship in Royal Caribbean's Freedom Class. Freedom Class cruise ships were once the largest cruise ships in the world, and despite no longer having that title, they are still considered big vessels with no shortage of things to do onboard.
Freedom of the Seas was completed in 2006, but was amplified in early 2020 through Royal Caribbean's Royal Amplified program. Her amplification added many new features to the ship including water slides and a revamped pool deck.
Read more: Freedom of the Seas completes $116 million Royal Amplification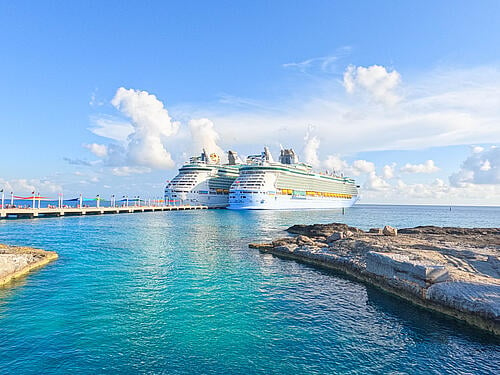 Measuring 156,271 in gross tonnage, 1,111 feet long, and 185 feet wide, Freedom of the Seas is no small ship. She has a capacity of nearly 4000 guests at double capacity, 14 guest-accessible decks, and 1,963 staterooms.
The ship has a promenade-style layout, with thoroughfares on decks 4 and 5 that run through the ship, complete with dining, entertainment, bars, lounges, guest-service areas, and retail stores. These decks, along with the outdoor space on the pool deck, tend to be the main hubs of activity onboard.
Freedom of the Seas Pool deck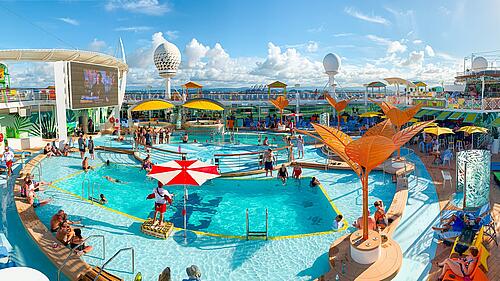 The pool deck on Freedom of the Seas offers a classic Caribbean cruise experience. Sunny skies, warm temperatures, and reggae music bring a party vibe to every sailing.
There are two main pools on the pool deck and several jacuzzis open to guests of all ages (excluding children in diapers). Outside of the main pools is a full-sized Splashaway Bay aqua park for kids, which features slides, dump buckets, water sprayers, a baby splash pad, and a shallow pool.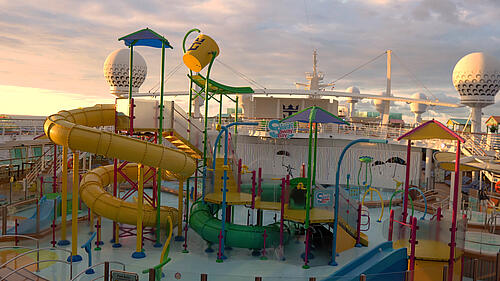 The adults-only Solarium is also located on the Freedom of the Seas pool deck. The Solarium is open to guests aged 16 and older. Unlike on some other ships, the Freedom of the Seas Solarium is not enclosed, so the pool is in direct sunlight. There are plenty of seating areas and jacuzzis located within the shade, however, and the pool chairs in the Solarium are padded, making for an extra comfy place to relax.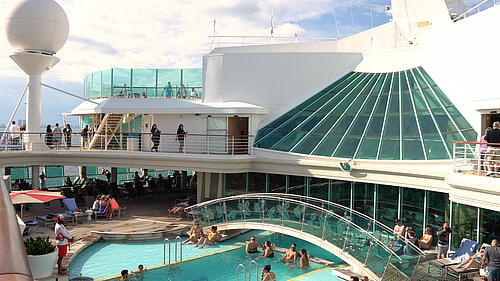 Freedom of the Seas' pool deck was upgraded to a Caribbean resort-style design during her amplification in 2020. Colorful decor dots the deck, including in-pool lounge chairs that are perfect for the warmest of days.
Part of the Caribbean pool deck design was the addition of The Lime & Coconut bar, where guests can enjoy a variety of signature cocktails including the Watermelon Rita and Rum Runner. The Lime & Coconut spans 3 decks on the ship, creating a fun party atmosphere onboard.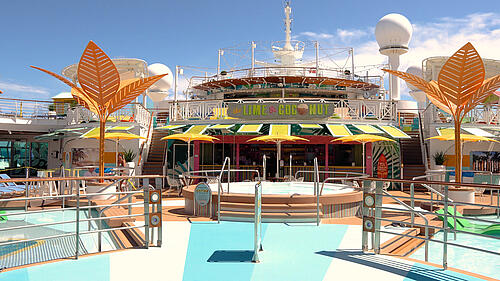 Casitas are also available on the pool deck of Freedom of the Seas. These are private, covered daybeds available for reservation at an extra cost. Outside of casitas, the pool deck has a variety of seating, from pool chairs to comfy loungers. Suite guests can also enjoy a private seating area on Deck 12.
If you're hungry while on the pool deck, be sure to try El Loco Fresh, Royal Caribbean's grab-and-go Mexican restaurant located adjacent to Splashaway Bay. Unlimited, complimentary soft serve ice cream is available as well.
Freedom of the Seas dining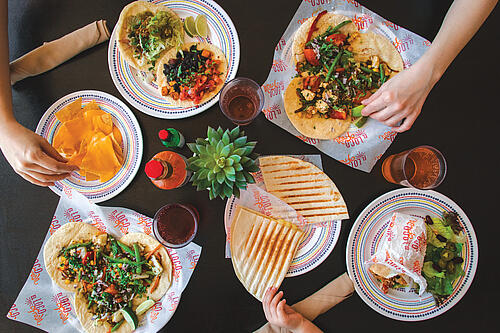 Freedom of the Seas may no longer be the biggest ship in Royal Caribbean's fleet, but she has plenty of restaurants and lounges to enjoy. Whether you choose to eat exclusively at complimentary dining venues or splurge on specialty dining, you won't go hungry during a Freedom of the Seas cruise.
Complimentary dining venues on Freedom of the Seas:
Main Dining Room, the main restaurant on any Royal Caribbean ship, offering a classic sit-down dining experience in a 3-story venue
Windjammer Marketplace, a buffet open for breakfast, lunch, and dinner with a variety of both American and international cuisines
El Loco Fresh, a grab-and-go Mexican-style restaurant with burritos, quesadillas, nachos, and tacos
Cafe Promenade, a small cafe offering specialty coffees and teas along with small grab-and-go items like muffins and sandwiches
Sorrento's, offering unlimited pizza all day and night
Specialty dining venues on Freedom of the Seas:
Chops Grille, Royal Caribbean's signature steakhouse
Giovanni's Italian Kitchen, an Italian restaurant with pizzas and fresh pasta
Izumi Hibachi & Sushi, the best spot for Japanese cuisine onboard
Playmakers, a sports bar serving up classic American bar food like wings and nachos
Johnny Rockets, a 1950s style American restaurant with milkshakes, burgers, and fries
Chef's Table, an intimate group dining experience where each course is paired with wine
Ben & Jerry's, serving scoops of ice cream, sundaes, and milkshakes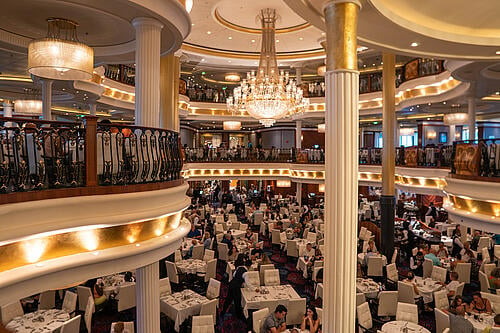 Deciding whether to eat at complimentary or specialty dining venues ultimately depends on your preferences and budget. Many passengers opt to only eat at complimentary venues, having most meals at either El Loco Fresh, the Windjammer, or Main Dining Room. Both venues will offer a wide range of cuisines and rotating menus, so it's unlikely you'll get bored with the complimentary options on Freedom of the Seas.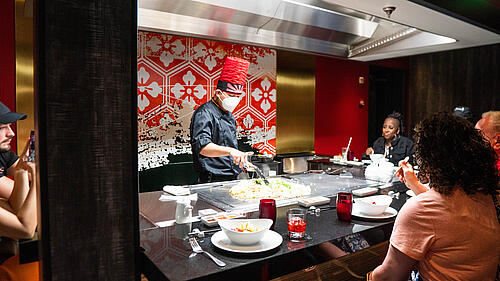 If you're looking to enhance your dining experience while onboard, though, consider trying out specialty dining. Specialty restaurants are more specialized in one type of cuisine and tend to provide the highest-quality menu items on the ship.
Read more: How to know if you should buy a Royal Caribbean dining package
If you're looking to celebrate a special occasion, specialty dining venues can be a great choice. Restaurants like Giovanni's Italian Kitchen, Izumi, and Chops Grille offer a more private, exclusive dining experience than complimentary venues.
Freedom of the Seas bars & lounges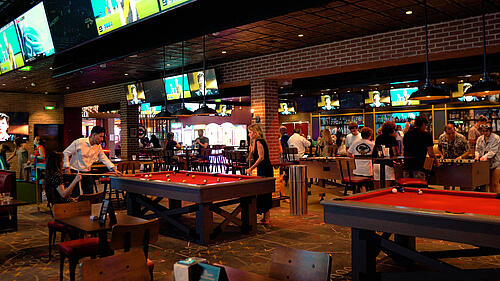 A Royal Caribbean cruise is synonymous with sipping a tropical cocktail on the pool deck, and there's no shortage of places to grab a drink onboard Freedom of the Seas.
The following bars and lounges can be found onboard:
Schooner Bar
Boleros
Solarium Bar
The Lime & Coconut
Playmakers Sports Bar & Arcade
Casino bar
Star Lounge
Bull & Bear Pub
Vintages
R Bar
The Plaza Bar (Windjammer)
Viking Crown Lounge
Diamond Club
Suite Lounge
Each lounge has its own atmosphere, with venues like Vintages offering a relaxed atmosphere perfect for enjoying a glass of wine. Venues like Boleros are more lively, offering live music and dancing in the evening.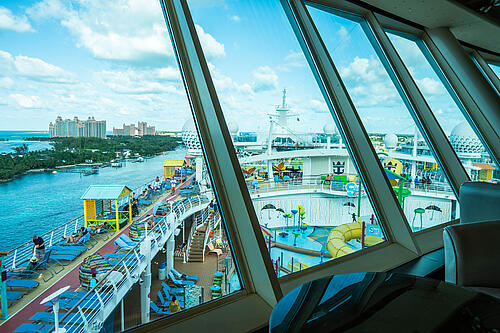 The Viking Crown Lounge offers some of the best views on Freedom of the Seas, with a 180 degree view of the pool deck and ocean. If you're looking for a place to relax and get away from the crowds during the day or night, this can be a great spot.
Things to do on Freedom of the Seas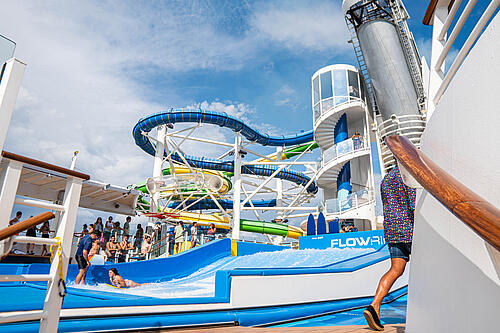 Freedom of the Seas offers a wonderful cruising experience for all ages and interest levels due to the wide range of activities available onboard. While there have always been plenty of activities to keep guests busy, the 2020 amplification added several more of Royal Caribbean's signature activities to enhance the cruise experience.
The Perfect Storm water slides can be found on the sports deck of Freedom of the Seas, which are a set of two racing water slides: the Cyclone and Typhoon. The slides twist and turn (even jetting off the side of the ship) and they are a popular activity for kids and adults alike.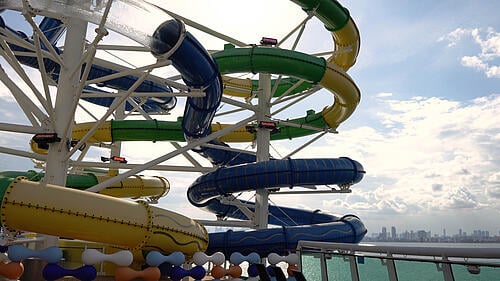 The FlowRider, rock climbing wall, and basketball court are also found on the sports deck, and mini golf is located at the forward section of the pool deck. Inside the ship guests can enjoy ice skating and Battle for Planet Z Laser Tag. All of these signature activities are complimentary for passengers.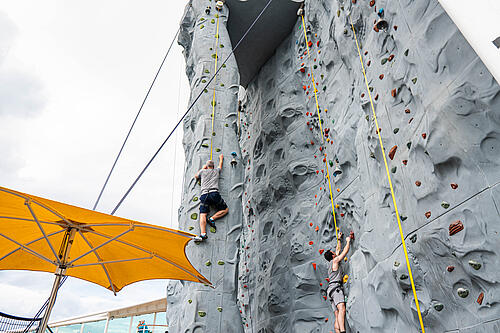 If surfing simulators and water slides aren't your cup of tea, there's a wide range of other activities onboard as well. Fitness classes, dance classes, table tennis, scrapbooking, karaoke, outdoor movies, trivia, and the casino are sure to make for a fun day at sea.
Adventure Ocean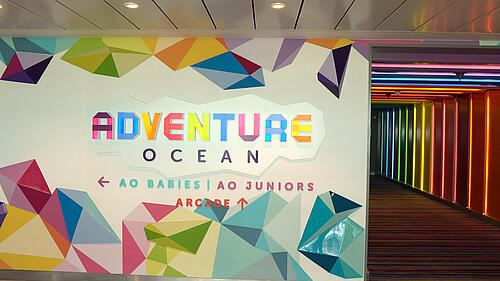 If you're traveling with children on Freedom of the Seas, you'll likely want to enroll them in Adventure Ocean, Royal Caribbean's childcare program for ages 6 months to 17 years.
Freedom of the Seas follows Royal Caribbean's updated Adventure Ocean programming, which is focused on giving kids more freedom and flexibility in choosing activities that they are interested in doing. Craft stations, dodgeball, video games, books, science experiments, and more are available to kids throughout the day.
Adventure Ocean is broken into four age groups, with each group having their own programming and rooms suitable to the age range:
AO Babies (6-36 months)
AO Juniors (3-5 years old)
AO Kids (6-12 years old)
Teens (13-17 years old)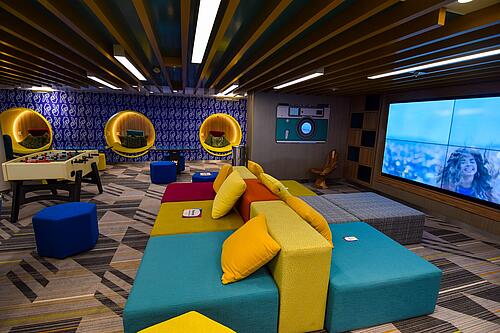 In addition to an indoor hangout spot, teens also have access to Social 033, a private outdoor space with lounge chairs and a selfie station. Parents may also opt to bring their children to Play Place, an indoor playground, but as this space is unsupervised parents must be with their children at all times.
Adventure Ocean is mostly complimentary, with the exception of AO Babies and childcare after 10PM. An arcade is also located in Adventure Ocean and open to guests of all ages, although it comes at an extra cost.
Entertainment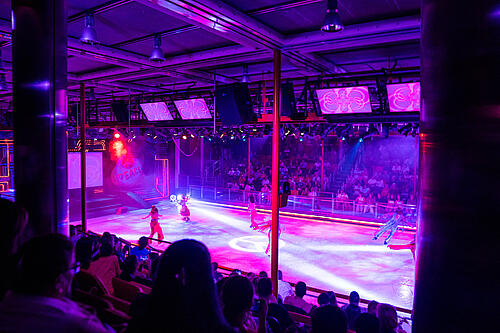 There are two main entertainment venues on Freedom of the Seas: the Royal Theater and the Studio B ice skating rink.
While Freedom of the Seas may not have a Broadway show like the other Freedom Class ships, she still offers plenty to enjoy in the Royal Theater. Once Upon A Time, a Royal Caribbean Original Production, brings the rarely told stories of fairy tales to the stage through music and dance. The other signature show, Marquee, brings Broadway spectacles on stage, from shows like La Cage Aux Folles to choreography by Bob Fosse.
In Studio B, guests can enjoy FreedomIce.com, an ice skating show which features disco music and showcases the importance of freedom throughout time. Projection mapping and set design transforms the rink into a scene from the 1970s as Royal Caribbean's professional ice cast dance, jump, and twist their way around the ice.
Outside of signature production shows, a variety of other entertainment can be found on Freedom of the Seas, including live music, karaoke, and game shows.
Wellness & Relaxation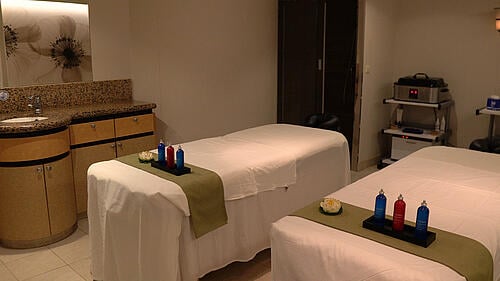 Freedom of the Seas may be packed with activities, entertainment, and excitement, but she offers plenty of ways to get away from the hustle and bustle.
Like all Royal Caribbean cruise ships, Freedom of the Seas has the Vitality Spa & Fitness Center, where you can enjoy a variety of spa treatments and fitness facilities. The fitness center offers cardio and strength equipment at no extra charge, although fitness classes like yoga and spinning are available for an extra cost.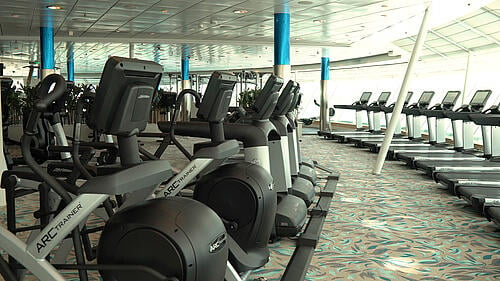 Massages, facials, and salon treatments are available to book on Freedom of the Seas, which you can purchase before your cruise or once onboard. Port days often have better discounts available than sea days, so be sure to ask about any onboard specials in the spa.
If you've sailed on other Freedom or Voyager Class ships, you may be accustomed to having access to steam rooms and saunas in the fitness center's locker rooms. Following her amplification, Freedom of the Seas no longer has steam or sauna facilities available, although there are still lockers and bathrooms in the fitness center.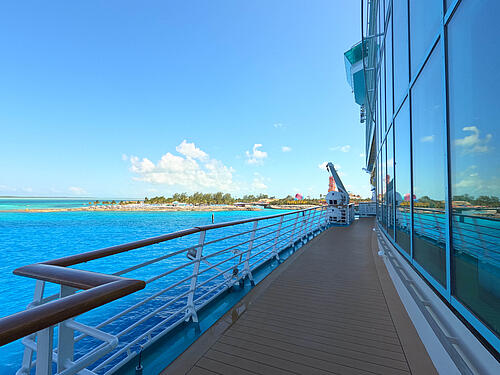 If you're looking for a quiet space to relax onboard, whether to read a book, watch the ocean, or take a walk, head to the outdoor Promenade deck on deck 4. Unlike on newer Royal Caribbean ships where much of the Promenade deck view is blocked by lifeboats, the Promenade deck on Freedom of the Seas offers unparalleled, expansive views of the ocean.
This can be an excellent spot to take a morning walk or watch the sunset. You can also access the helicopter pad from the Promenade deck, which is one of the best places onboard to watch sailaway or relax with an ocean view.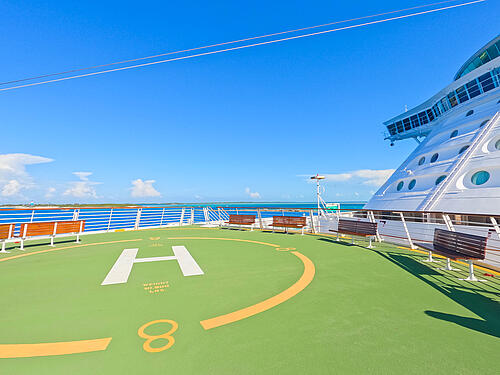 Freedom of the Seas also has a Library/Card room where you can truly escape to some peace and quiet by reading a book or playing cards and board games.
Freedom of the Seas staterooms
When it comes to picking a cruise ship cabin, there's a lot to consider. All cabins on Freedom of the Seas include basic amenities like a bed, shower, vanity, television, telephone, chair or couch, closet, nightstands, and cooler. Staterooms can differ widely, however, in size and layout.
Because Freedom of the Seas tends to only sail short cruises, it's unlikely you'll be spending much time in your stateroom. Between visiting ports and trying out all the fun activities onboard, your cabin might end up being a place you visit only when you need to sleep or shower.
Nonetheless, it's important to know which stateroom categories are available on Freedom of the Seas to ensure you book the cabin that fits your budget and preferences best.
Interior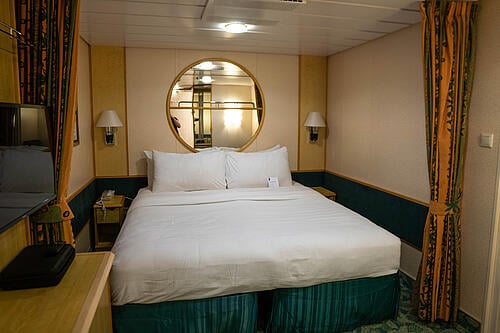 Interior cabins are the most basic of staterooms, offering no window, balcony, or natural light. While basic, they offer an excellent value while still providing a comfy place to rest your head at night. Interior cabins can be a nice choice for those who want to plan a budget cruise, would rather save money on a stateroom to splurge on extras like a drink or dining package, or who don't plan on spending much time in their cabin.
Oceanview
Oceanview cabins are a step up from an interior cabin as they come with a small porthole that looks out to the ocean. Oceanview cabins on Freedom of the Seas can be found in a variety of locations, from those on the side of the ship to cabins overlooking the helicopter pad.
Interior Promenade
The Promenade on Freedom of the Seas is always a hub of activity throughout the cruise. Dotted along the Promenade are interior promenade staterooms. Unlike a regular interior stateroom that offers no window, promenade view rooms have a window looking down into the Royal Promenade.
Balcony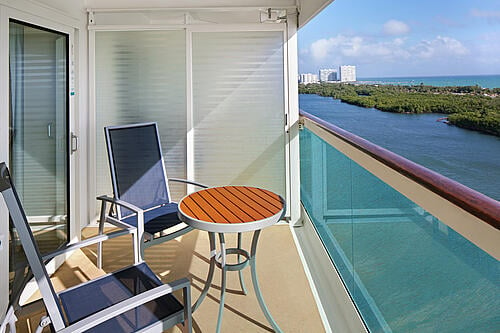 Balcony staterooms are the quintessential cabin for a cruise vacation, offering a private, outdoor space to enjoy ocean views. Balcony rooms may cost more than interior and oceanview cabins, but still tend to come at an affordable price.
Suites
If you're looking to treat yourself during your Freedom of the Seas cruise, consider booking a suite. A variety of suites are available, from Owner's Suites to 1 or 2-bedroom Grand Suites.
A new suite stateroom added to Freedom of the Seas during the recent amplification was the Panoramic Suite. These are suites with wraparound floor-to-ceiling windows of the ocean. While they do not have a balcony, they offer plenty of sunlight and views to enjoy.
Aside from a bigger stateroom, suites come with nice perks, including concierge service, Suite Lounge access, upgraded toiletries, and priority embarkation.
Have you cruised on Freedom of the Seas? What were your favorite activities, dining venues, and entertainment options onboard? Let us know!