In:
Many of us know that Sabor Modern Mexican on Royal Caribbean cruise ships is one of the best-dept dining secrets in all of cruising.  But these days, it is become less of a secret, and more of an established must-eat!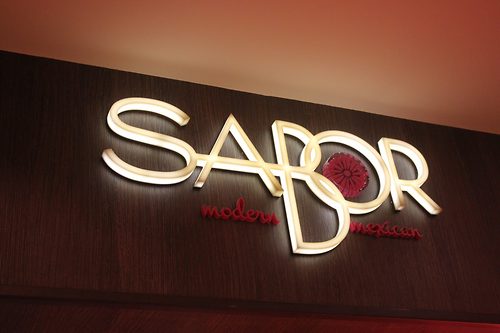 Frankly, if your list of specialty restaurant reservations does not include Sabor, then you are missing out.
Having had an opportunity to cruise aboard Royal Caribbean's Freedom of the Seas, we could not resist dining at Sabor Modern Mexican on a few different occasions.
Atmosphere
One goal Royal Caribbean had with Sabor was to create a restaurant experience that was not just another typical American-Mexican restaurant. When you walk into Sabor, there is very little that would remind you of a typical Mexican restaurant.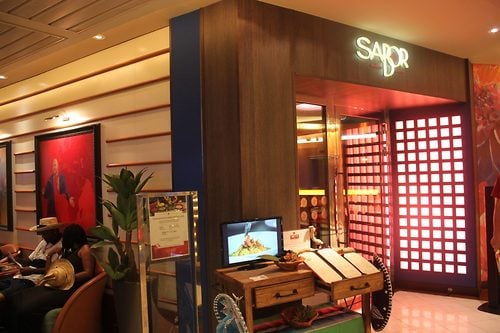 The decor of Sabor features lots of blues, reds and yellows and the restaurant evokes a very bright mood with its festive, yet not over-the-top, design.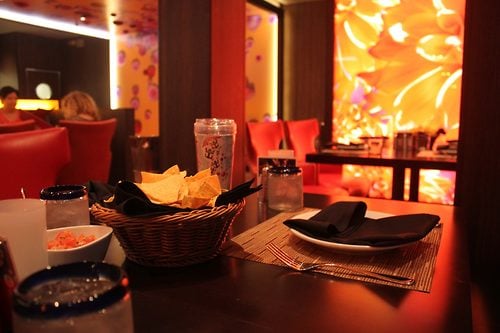 Seating in Sabor is functional and comfortable.  Much of the seating are tables that have booth and chair options, with a few smaller tables that have just chairs.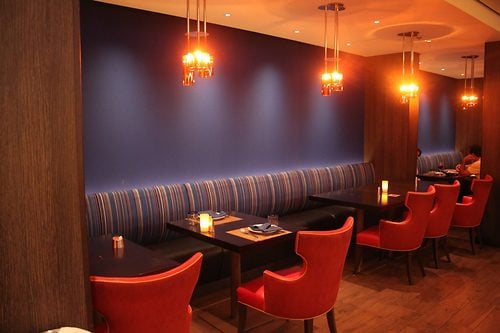 Unlike Chops Grille or Giovanni's Table on Freedom of the Seas, Sabor has no windows and is also considerably smaller in size. A view is always nice, but with the kind of food offered in Sabor, you will not want to look anywhere but what is on your plate.
The focal point of Sabor Modern Mexican on Freedom of the Seas are the colorful dahlia flowers that line the ceiling and wall of the restaurant.  It is quite pretty and a lovely backdrop.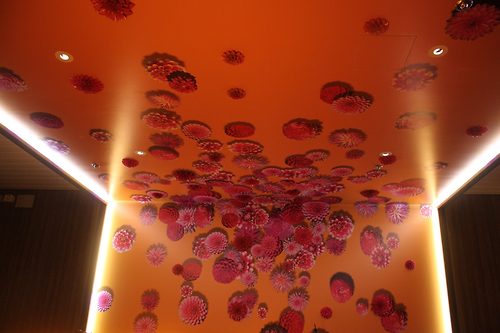 Eats
After a busy day on Freedom of the Seas swimming, exploring and playing, lunch or dinner at Sabor is sure to please.
The Sabor menu on Freedom of the Seas retains many of the same options that are on other Royal Caribbean ships that offer a Sabor Modern Mexican restaurant, but there are some appetizers and entrees that are different on Freedom of the Seas.  Moreover, the drink menu of available cocktails has also been simplified, although the famous margaritas remain.  Nonetheless, there is a wide variety of Mexican classics, such as tacos, burritos and quesadillas.  There are also more sophisticated choices as well.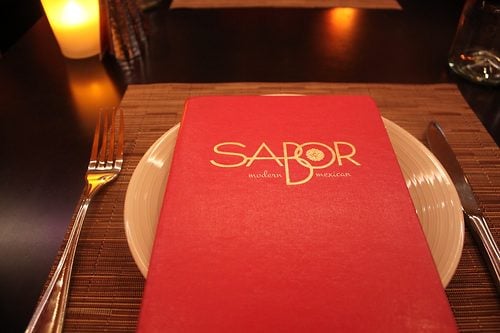 If you party is large enough (more than 4 guests usually), the server will offer to bring all the appetizers out and serve them family-style.  Most of them can be enjoyed in this manner, with the exception of the soup.
Every table is served with table side guacamole and frankly, no Sabor meal is complete without the guacamole.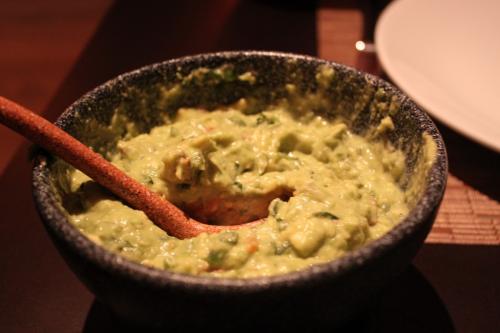 In short, the Sabor guacamole is amazing and will more than likely become the best guacamole you have ever eaten.  Even if you have had guacamole for years or swore it off, you must try the guacamole at Sabor Modern Mexican.
In addition, chips and fresh pico de gallo salsa are served.  As much as I wax poetically about Sabor's guacamole, I have an unspoken love with Sabor's salsa.  Salsa is not so much a garnishment as it is a topping when I eat chips, and the salsa here has this salsa fiend's seal of approval.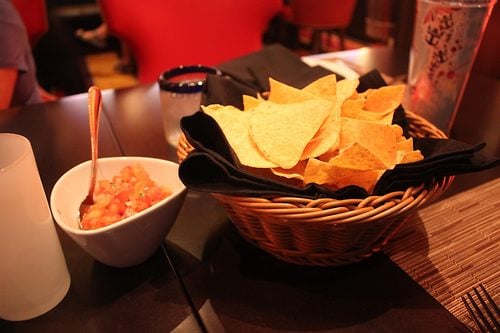 The chicken-stuffed Jalapeños are the most popular options and when you read the description you will know why.  Chicken wrapped in bacon on a stick with Mexican garnishments.  Sold!
The queso fundido is also a winner, and not your typical cup of melted cheese.  This gooey and super-tasty appetizer is a great choice for even the pickiest of eaters.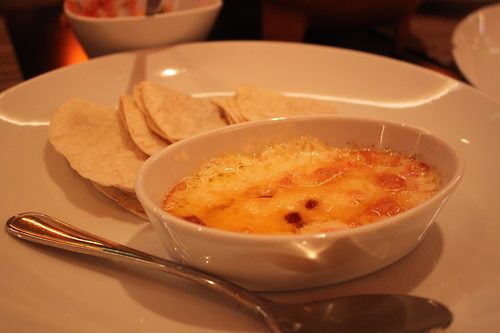 While dining at Sabor, one must also indulge in the margaritas available exclusively at Sabor.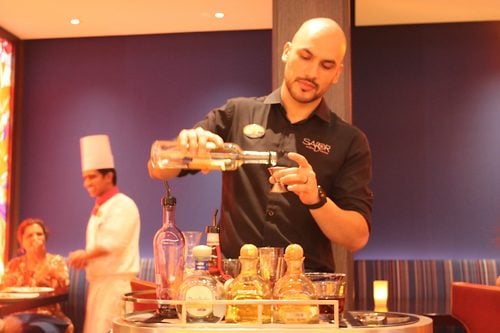 There are five margaritas on the menu (plus a few other cocktails, including sangria) and they are like children. You do not have a favorite, but you might like one more than the other at any given time.  I highly recommend getting at least one margarita during the meal to compliment the food.
The Avocado and Jalapeño-Cucumber martinis are at the top of my list, but you cannot go wrong with any of them.  
Avocado margarita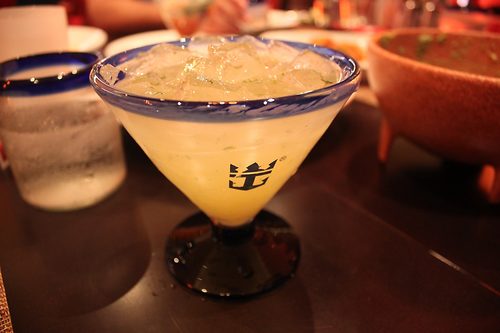 Jalapeño-Cucumber margarita
The staff might also be able to create a Mezcal margarita, which is not listed on the menu but has a very distinct taste (reminds me of Rome burning).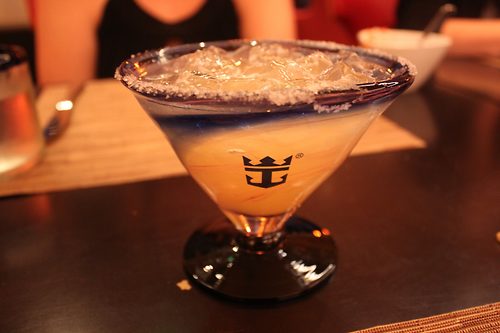 The Sweet and Spice Margarita has a very unique taste to it, but is a great choice if you enjoy a non-traditional and somewhat spicy cocktail.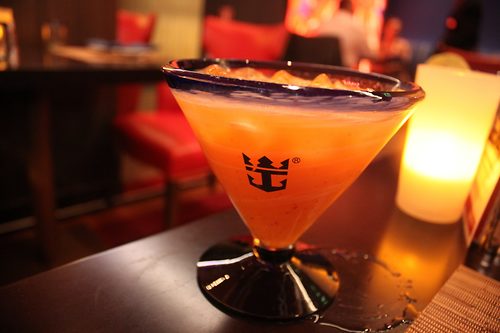 In terms of entrees, there are a lot to choose from and it is no easy decision.
The tacos are popular and I absolutely love the Tuna Crudo tacos, which are essentially ahi tuna tacos.  Amazing flavor and great fish!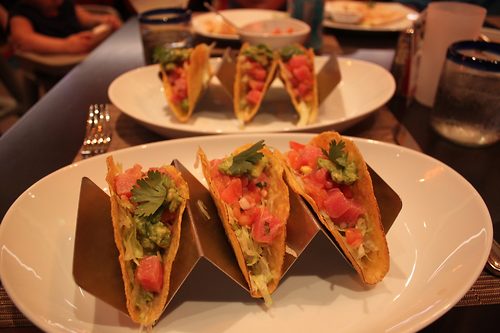 Yes, I did order double tuna tacos.
I wanted to try something else new and ordered the Pato Gordo slow-cooked duck burrito.  I know what you are thinking, and I was thinking the same thing.  Duck is not exactly a typical burrito meat and moreover, duck is not usually my favorite meat.  But I gave it a try and I was so happy I did!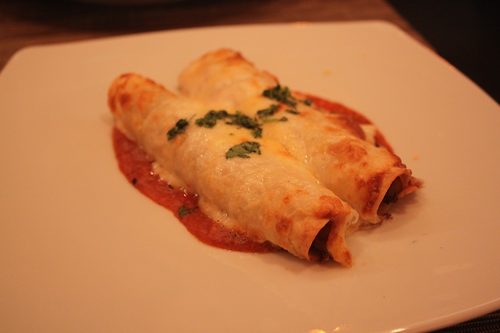 The Pato Gordo had incredible flavor and was much smaller than I was expecting.  While the Tuna Crudo tacos may be my absolute favorite entree on the menu, these burritos are really, really good too.
If you prefer a simpler entree, the quesadillas are all really good choices. They are large, oozing with freshly melted cheese and will hit the spot.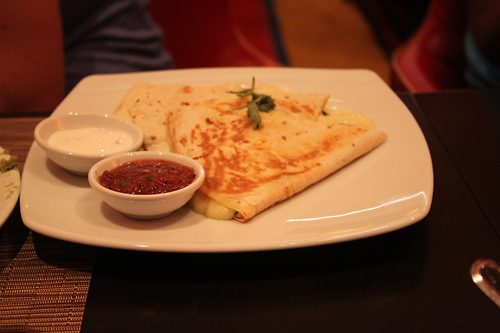 The Chicken and Roasted Corn Empandas are also very filling, and I enjoy topping them with the salsa and/or guacamole from earlier in the meal.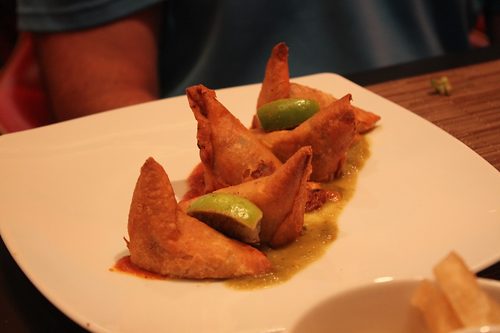 Every table will also receive an assortment of side dishes to enjoy with your meal.  Try them all, because they each will work well with whatever you order.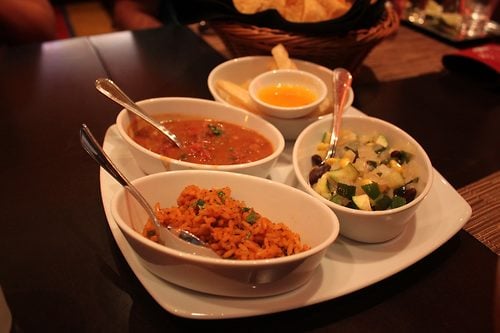 Arguably the most difficult aspect of dining at Sabor is leaving room for dessert.  Bring your stretchy pants because it is totally worth it!
Dessert is served to all guests on a tray and feel free to ask for more.  Royal Caribbean describes them as "Caja de Dulces", which means "box of sweets" and it is an indulgent selection of Mexican-inspired mini desserts.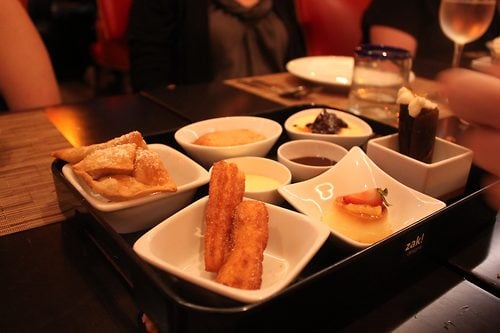 All the desserts are rich, delicious and will leave you questioning why you ever ate anything earlier in the meal (Oh yea, it was because that food was awesome too).  
My top picks are the chocolate crepe filled with cayenne chocolate & marscapone sauce, chocolate & banana empanadas, cafe con leche.  I would not fault you for loving any of the others, because they are all outstanding.
Overall
Sabor Modern Mexican's great reputation remains unchanged.  While it may be hidden on deck 4 in what used to be a night club, savvy Royal Caribbean guests know this is where you go on your Royal Caribbean cruise for some of the best food onboard.
If it sounds like just about everything I sampled was excellent, then it is because that is exactly what happened.  There is a wonderful fix of Mexican favorites and contemporary classics to satisfy all guests.  There is as much flavor as there are options to choose from on the menu.
If you were to run into another Royal Caribbean fan and start talking about the amazing food onboard, most of the time a restaurant like Chops Grille gets mentioned, but Sabor is quickly on its way to becoming the best restaurant on a Royal Caribbean ship because of the tantalizing dishes available and incredible flavor each item has.  The word "sabor" means "flavor" in Spanish and few restaurants offer as much flavor as Sabor Modern Mexican.
Sabor Modern Mexican is open for lunch on sea days between noon - 1:30 p.m. and dinner every night between 5:30 p.m.- 9:30 p.m. for dinner. We reviewed Sabor Modern Mexican aboard Freedom of the Seas.
Cost: The price for Sabor Modern Mexican on Freedom of the Seas for lunch is $19 per guest and dinner is $29 per guest.