In:
Giovanni's Table on Freedom of the Seas offers guests fresh made Italian food that has been getting a lot of attention lately, so we decided to try it out on our recent cruise.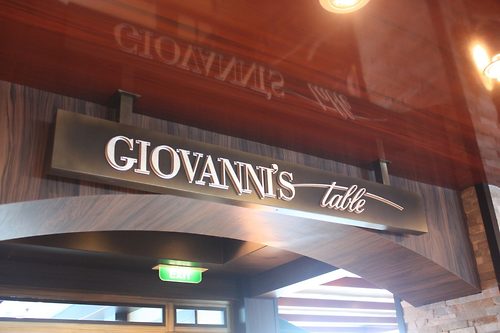 Part of Royal Caribbean's update to Freedom of the Seas in early 2015 saw Giovanni's Table replace Portofino as the Italian specialty restaurant onboard.  The replacement of Portofino by Giovanni's Table has been a fleetwide initiative for a few years now and while we will miss Portofino, Giovanni's Table offers a different kind of experience that we have enjoyed on other ships.
It is always interesting to see how this Giovanni's Table compares to other Giovanni's Table restaurants in the fleet, as well as dearly departed Portofino.  Let us head in and try out this new restaurant!
Atmosphere
You will find Giovanni's Table up on deck 11 in the Windjammer area.  It is located to the left as you walk into the Windjammer, in the former location of Portofino.
As you step inside Giovanni's Table, you will find a lot of browns and greens, with a hint of orange.  This is a different color pallete from Giovanni's Table on Navigator of the Seas, which had more of a blue tone to the location.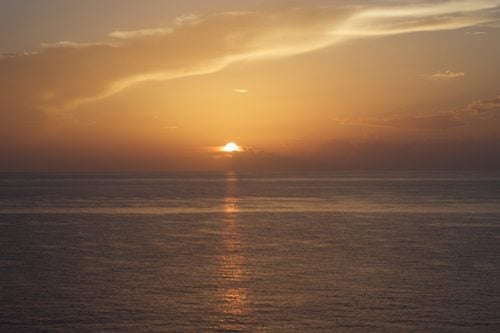 Just like Navigator of the Seas, the Giovanni's Table on Freedom of the Seas has a great view of the ocean.  If you happen to dine here for lunch or early dinner, you should have a very nice view of the sea as you dine.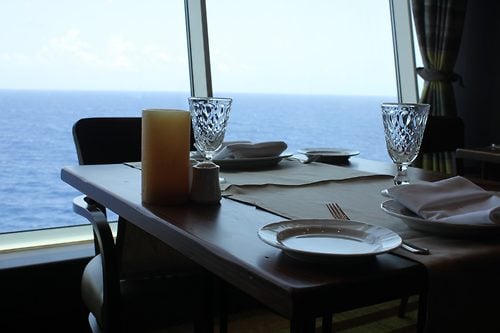 The restaurant is divided up between two rooms and it is a rather large space, relative to most specialty restaurants.  The first room as you enter is more rectangular shape, while the second area opens up a bit more into a box shaped room.  Both rooms have large floor to ceiling windows with views of the ocean.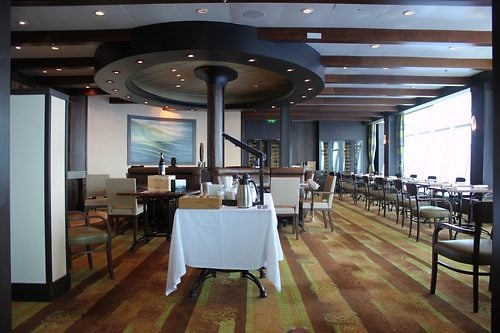 Compared to Portofino, the look and feel of Giovanni's Table is a bit less formal.  Where Portofino had an upscale look to it, I think Giovanni's Table does not have quite that formal look to match, but it certainly feels like a specialty restaurant.
Eats
We ate at Giovanni's Table for lunch and the menu certainly offers a lot of choices. I think Giovanni's Table appeal is that there is a lot of good Italian food to choose from and most of it are foods you have probably heard of.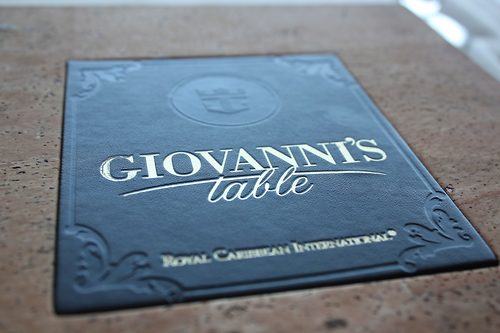 Giovanni's Table also tends to be among the least expensive Royal Caribbean specialty restaurants, and I think that is welcome by most guests.
For our meal, I tried to go between favorites and new dishes. I will admit two friends of mine onboard raved about their Giovanni's Table experience, although they went heavier into the seafood choices than I did.  
Most dishes, especially the appetizers are on the small side, so be sure to order extra to share.  
We started off with two classics: insalata caprese per due and malanzane alla parmigiana.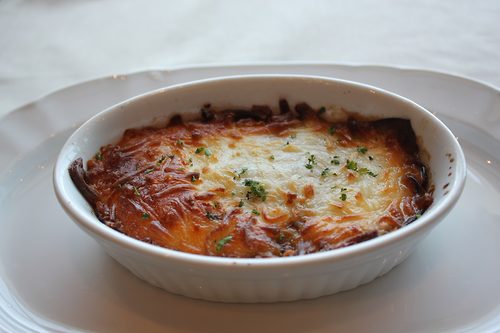 The eggplant parmigiana came out in a small white bowl and I really enjoyed it.  It might have been cooked a bit too long, but I love eggplant parmigiana and when I got below the top layer of cheese, I really enjoyed it!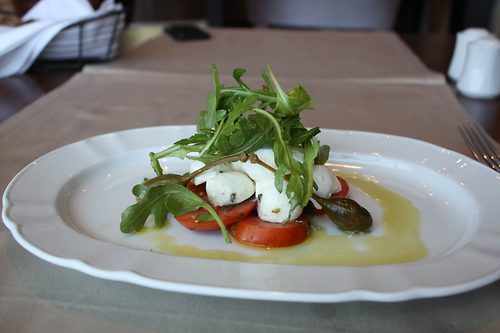 The caprese salad is an Italian classic as well, and to me it is the perfect appetizer because of its light nature.  Grab a piece of bread and put some of the mozzarella and tomato on top and it is perfetto!
On to entrees and we wanted to try something different, so I picked the 8 ounce grilled strip loin steak.  My wife opted for the chicken breast filled with ricotta and mushroom, wrapped in prosciutto.
I wanted to try the steak to get a sense of something a little different than I might otherwise order.  Our waiter also mentioned the steak as being a good choice, so I went with it.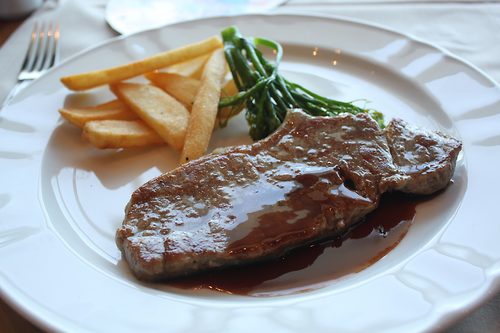 Out came a very tender piece of beef that I enjoyed.  It was simple, but I liked the Barolo reduction and thought it was a good choice.  It was also on the small side, which I did not mind since I wanted to sample lots of food.
I also ordered the traditional meat lasagna because I have had it at other Giovanni's Tables and enjoyed it.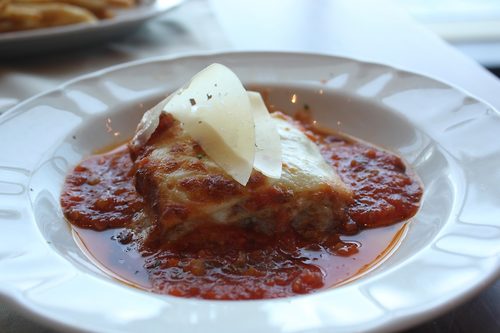 Sure enough, this lasagna was equally as good and as someone that enjoys a lot of sauce with his lasagna, this did not disappoint.
The chicken was incredibly moist and tasty and my wife really enjoyed the contrast between the chicken and the prosciutto.  She said this was something she would definitely order again.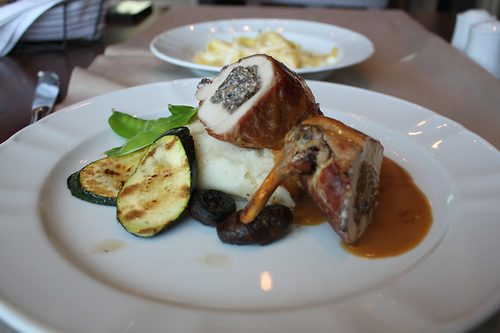 Alas, no meal at Giovanni's Table is complete without a visit to the dessert cart.  Luckily, after all this food, the dessert cart comes to you.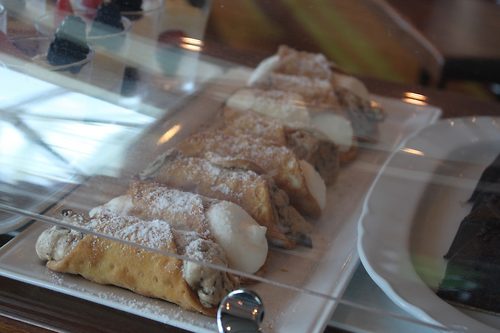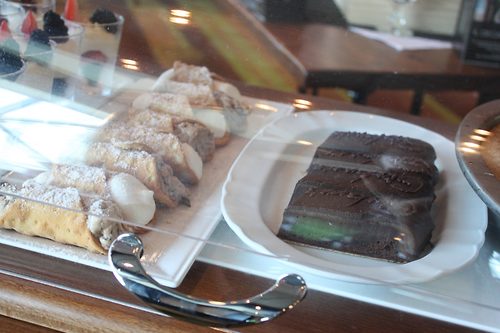 We tried the canoli and chocolate cake, both of which were incredibly rich and even better than they look in these photos.
Overall
Giovanni's Table offers some tasty and satisfying Italian food that I think most guests will really enjoy. If you like Italian food, it is hard to go wrong with eating at Giovanni's Table. 
What Giovanni's Table lacks in "WOW factor", it makes up for in an enjoyable meal experience.  The view of the ocean combined with a wide selection of Italian dishes makes for a great spot for a meal away from the usual.
I really think Giovanni's Table is a great choice for lunch, perhaps even more so than dinner.  The reason is for lunch, the cost is only $15 and I think guests will find the menu offerings a nice change of pace compared to what is available for lunch elsewhere on the ship.
It is also not difficult to get a table at Giovanni's Table, especially given the large size of its restaurant.  Royal Caribbean encourages reservations, but if on a whim you decide to try Giovanni's Table, I think you will find there to be a table open for you.
Giovanni's Table is open for lunch 12:00pm to 1:30pm and open for dinner 5:30pm to 9:30pm and we reviewed Giovanni's Table on Freedom of the Seas.