In:
Royal Caribbean's Giovanni's Table has spread to a number of ships across the fleet and serves up to guests some really tasty Italian food.  
Here are five things we think you will love about dining at Giovanni's Table.
5. Scallops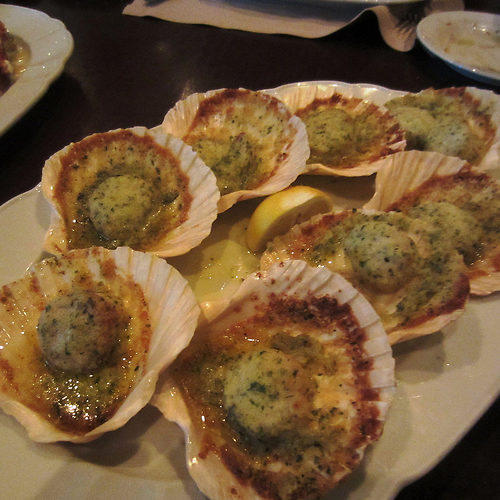 If you enjoy seafood, you will definitely want to order the scallops at Giovanni's Table, because they are truly wonderful dish.
Giant scallops are served individually on decorative clam shells.  A common mistake is scallops can be overcooked, but these are perfectly cooked and a real winner.
In short, the scallops are delectable and delicious. 
4. The filet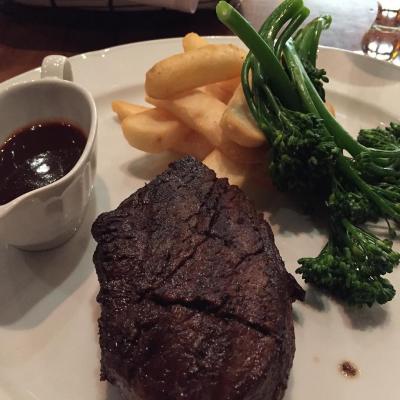 When we think of really good steaks on Royal Caribbean ships, one of the most underrated steaks is offered at Giovanni's Table.
The filet served up at Giovanni's Table is essentially Italian-style filet mignon and has an amazing flavor that is contrasted with the Gorgonzola cheese butter. And those steak fries!
An inside tip: there is a steak on the lunch and dinner menu, but the dinner steak option tends to be a better choice.
3. The decor on Oasis class ships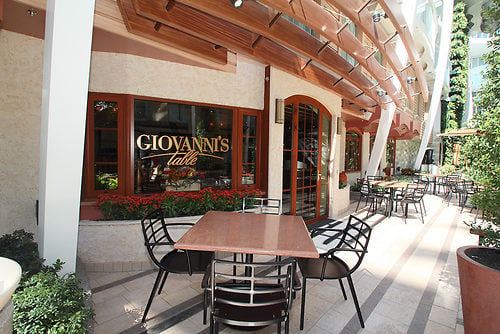 We mentioned earlier in this blog post that Giovanni's Table has spread to many Royal Caribbean ships, but the Giovanni Table locations on the Oasis class ships look and feel a little bit better than all the rest.
Giovanni's Table was originally introduced on Oasis of the Seas and there is just something about the Central Park setting that not only makes the restaurant look like a classy neighborhood restaurant, but it also just looks really nice inside.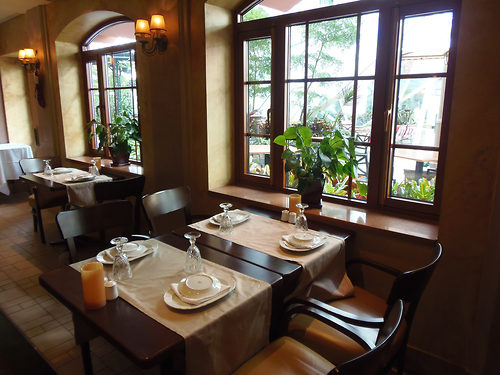 Dining at Giovanni's Table on an Oasis class ship offers that perfect mix of great food set in a beautiful setting.  You can dine inside or opt for a table "outdoors" with a view of Central Park all around you.
2. Dessert cart
A trend among the newer Royal Caribbean specialty restaurants is to offer a dessert cart or tray of desserts and the dessert cart at Giovanni's Table is worth saving some room for.
Canolis, flourless chocolate cake, tiramisu are just a few of the options you can expect and they are truly devine.
These desserts are rich, decadent ways to top off a really good meal.
1. Lasagna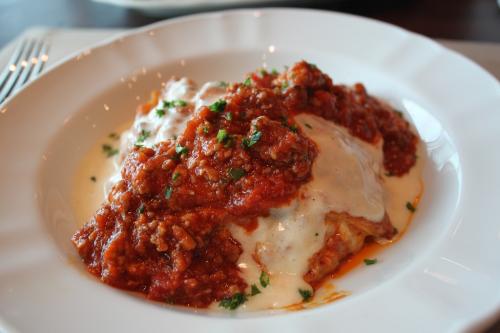 At the heart of Giovanni's Table is some fan-favorite Italian dishes that are tried-and-true winners, and this includes the lasagna.
The lasagna at Giovanni's Table is topped in a fabulous meat sauce and has just the right amount of cheese that accentuates the taste of the layers of pasta, sauce and meat.
If you are looking for a great traditional Italian pasta dish, the lasagna is for you.