In:
Nestled in the corner of deck 11 on Royal Caribbean's Navigator of the Seas, Giovanni's Table is open for lunch and dinner.  When I have dined at Giovanni's Table in the past, I have tended to go for lunch, but this time I am trying out dinner.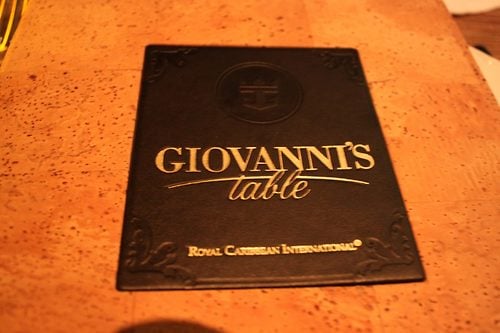 Giovanni's Table has become the de-facto Italian restaurant across Royal Caribbean's fleet over the last few years.  I have always liked Giovanni's Table's simple, yet tasty menu that offers classic Italian dishes.  There is something to be said about having a plate of pasta in a delicious red sauce with warm bread to dip in olive oil.  
I was admittedly a little crushed when Portofino was replaced by Giovanni's Table.  But time heals all pain, as does a good lasagna!
We have dined at Giovanni's Table across a few different Royal Caribbean ships over the years, but wanted to try dinner this time, mostly because the dinner menu is slightly different than the lunch menu.
Atmosphere
You will find Giovanni's Table on deck 11, adjacent to the Windjammer entrance and opposite Chops Grille.  As you walk into the Windjammer area, the entrance to Giovanni's Table is on the left side.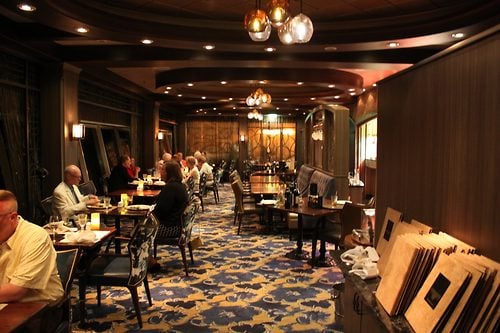 There is a very small waiting area near the podium, along side a Vespa that is on display.
Giovanni's Table inherited its dining room from Portofino, and it is a rectangular room that opens up into a circular end room.  The layout resembles a lollipop, if you were viewing the restaurant from above.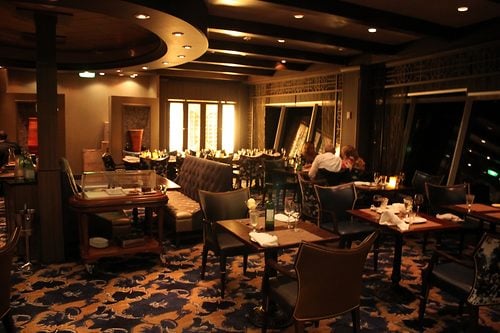 The walls and ceiling are made up of a dark wood, while the carpeting and furnishings are a blend of blues, yellows and whites. One of the nice things about the transition from Portofino to Giovanni's Table is the feel of the restaurant definitely feels less formal and a bit more personal to me.  Maybe it is the Prosecco talking.
There are windows all along one side of the restaurant, and if you dine there early enough in the evening, you will have a lovely view of the ocean.  Once the sun goes down, the glare from the lights in the restaurant prevent being able to see outside.
Eats
As I mentioned earlier, the dinner menu at Giovanni's Table is slightly different from the lunch menu.  Most notably, the lunch menu has lasagna, while the dinner menu does not.  Both menus offer a steak, but many guests have reported back to me that the steak at dinner is significantly better.
The dinner menu features a number of familiar Italian classics, like anitpasti, eggplant marmigiana, ravioli, ossobuco and more. For those not into carb-loading, there are a few meat and fish entrees as well.
Each meal at Giovanni's Table begins with a serving of warm bread, plus olive oil for dipping. 
Warm bread and olive oil is always a win with me, and I love that they put a little bit of vinegar in the oil.  
For starters, we picked a few options. Some were favorites and others new to try.
The eggplant parm is a favorite of mine, despite the fact I really cannot find any breading.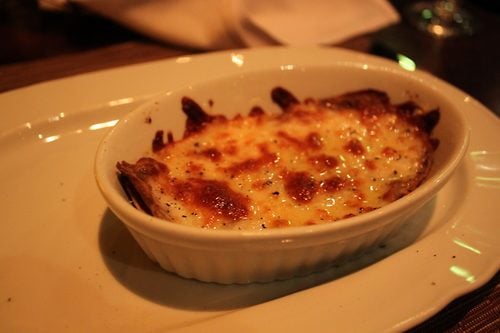 It is more of a baked eggplant in sauce and cheese. That is fine with me, but this is not the kind of eggplant parm you might get on a sandwich at your local deli.
We also tried for the first time the warm mozzarella and prosciutto bake.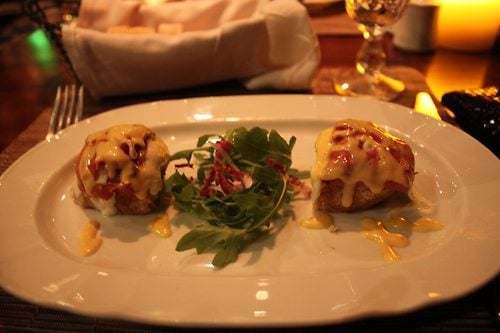 It comes in a crispy ciabatta and served with mixed greens and Dijon mustard drizzle.  This is essentially fried cheese with prosciutto and tasted great.
I rounded out my appetizers with the vegetarian lentil and root vegetables soup.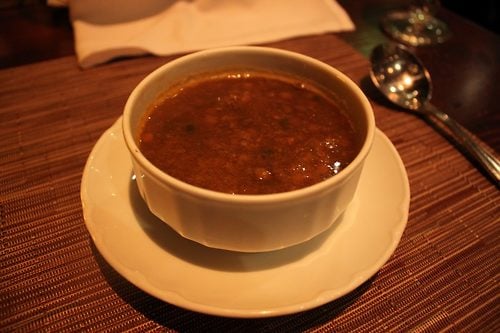 I know what you are thinking, and yes, it is really hard to resist any dish that offers lentils and root vegetables.  Honestly, it was not that bad.  Perhaps not my favorite soup of all time, but I enjoyed it and I think it was kind of, sort of healthy.
Moving onto our main courses, we had to try the 8-ounce grilled beef tenderloin.  Everyone always said it was great, so who are we to argue?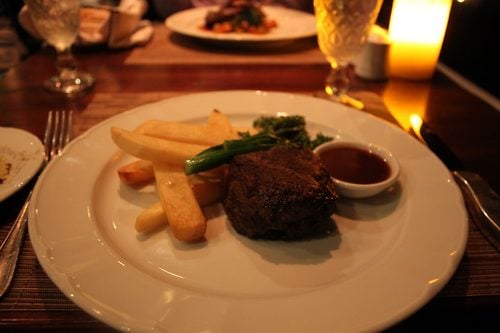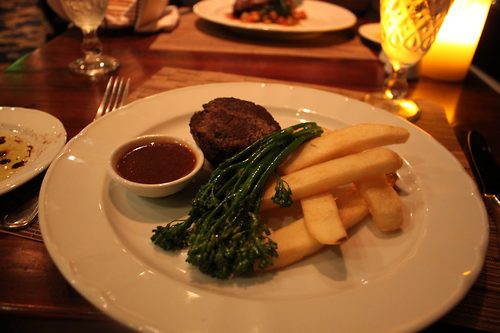 This steak definitely is a superior cut of meat when compared to its lunch companion.  What I noticed was the terrific flavor, as well as size of the cut. I understand now why folks rave about the dinner steak.
I also wanted to try something new and ordered the grilled lamb chops.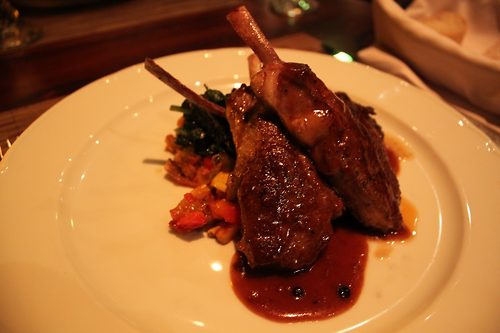 My fear with lamp chops is there will be a mere handful of bites of actual meat to get off the bone, and resulting in a not very filling meal.  I am pleased to inform everyone these are no scrawny lamb chops and the meat was as plentiful as it was tasty.  Delicious flavor and certainly enough meat on the bone to keep me happy.
Given we are at an Italian restaurant, we ordered a side of pasta just to say that we had pasta.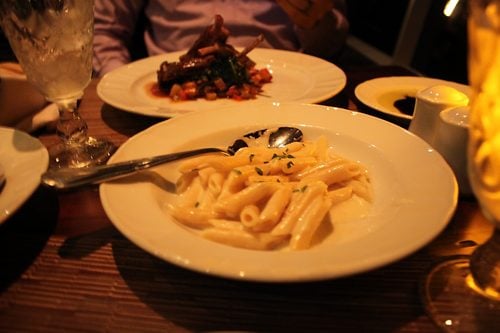 As expected, quite tasty and hit the spot.
I also tried the risotto, which is made of Arborio rice and forest mushrooms, finished with porcini and truffle mushroom tapenade.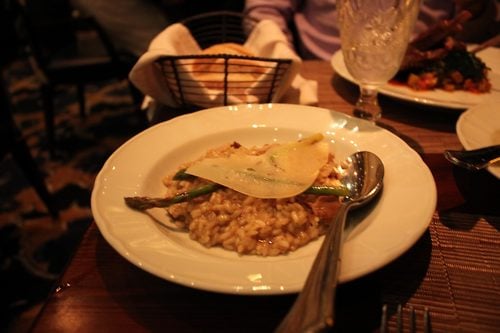 I do not usually order risotto, but the mushrooms sounded great and I figured this would be as good an opportunity as any to try it out.
I loved the flavor of the dish, but the consistency of risotto still does not sit well with me.  Oh well, E la vita!
For our desserts, we went with the chocolate cake and cannoli.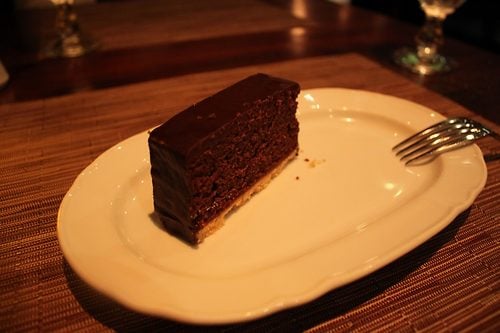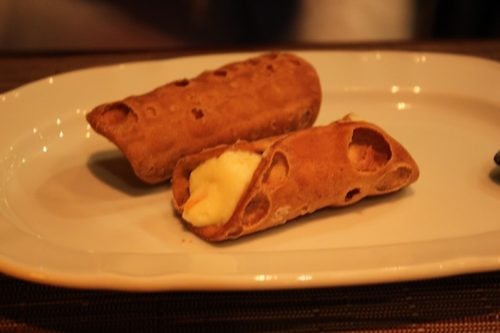 Dessert is an underrated aspect of the Giovanni's Table experience and the cannoli is worth saving room (and calories) for.
Overall
I always enjoy my meals at Giovanni's Table, and this visit was no different.  I enjoyed the dinner menu a bit more than I thought I would, although I did lament the omission of lasagna from the menu. I inquired if it were possible to get lasagna, but was told it was only available for lunch.
Most of the food we ate was very good, and I would not hesitate to dine here again.  
The thing with Giovanni's Table that always gives me pause to dine here is not anything about the restaurant, but relative to the other specialty options onboard, I would rather dine there. On Navigator of the Seas, Sabor Modern Mexican and Chops Grille are fantastic choices that eclipse Giovanni's Table.  This is not a knock on Giovanni's Table, just I end up gravitating towards the other choices because they are where I would prefer to eat.
Anyone considering Giovanni's Table should absolutely reserve a table for the classic Italian dishes that will hit the spot.
What are your thoughts on Giovanni's Table? Do you have a favorite dish? Share in the comments below!