In:
Navigator of the Seas is one of Royal Caribbean's amplified ships, and is currently sailing out of Los Angeles to visit destinations in Baja California and along the Mexican Riviera.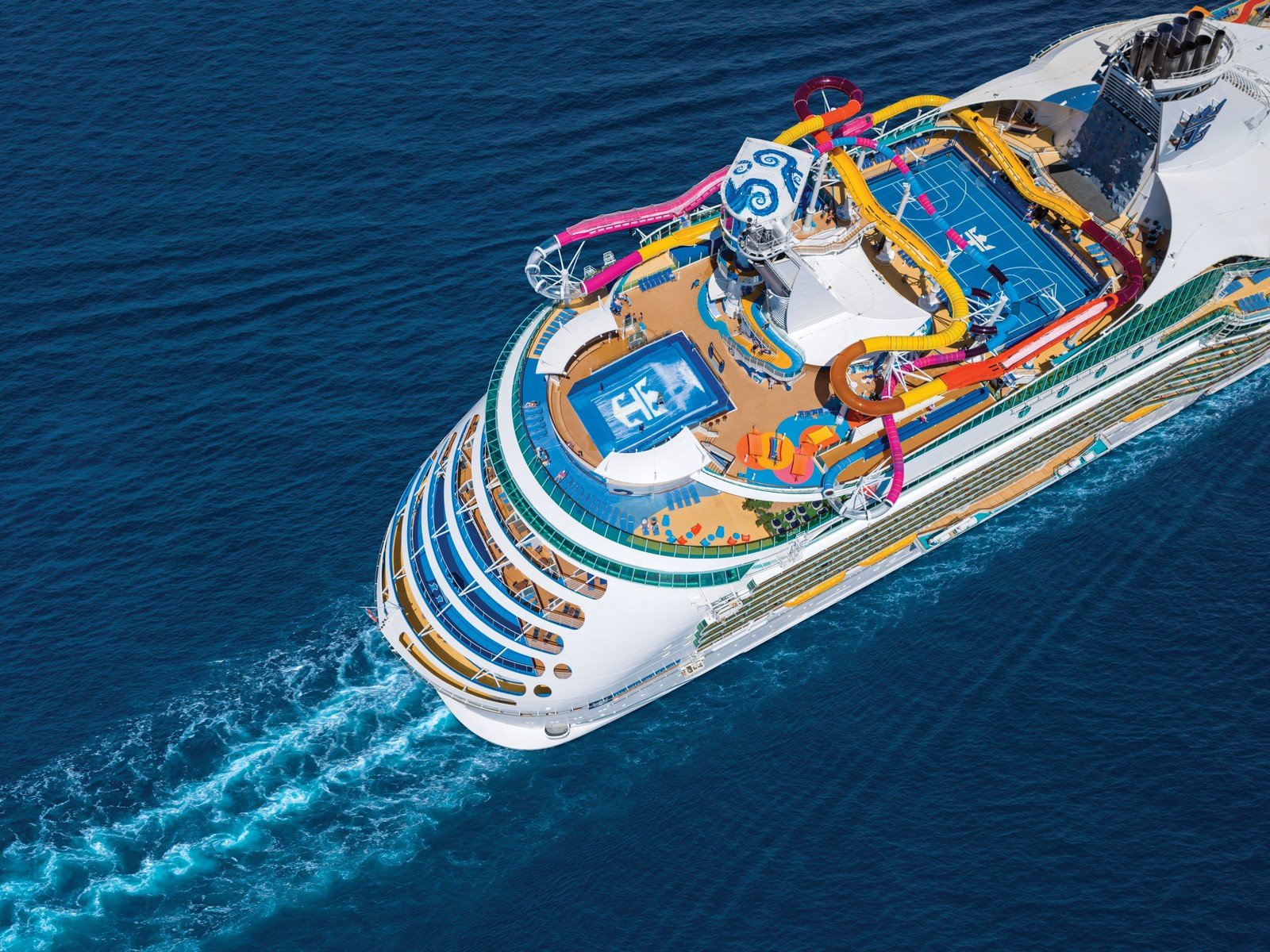 Navigator of the Seas is the fourth ship in Royal Caribbean's Voyager Class. The ship was built in 2002, but was recently refurbished in 2019 to feature upgraded amenities, restaurants, and attractions that are found on Royal Caribbean's newest ships.
Navigator of the Seas has capacity for 3,990 passengers and, from 2002 to 2005, was the world's largest cruise ship. She has fifteen decks filled with pools, waterslides, bars, diverse dining options, and activities for all ages.
If you are considering booking a cruise on Royal Caribbean's Navigator of the Seas, be sure to read this planning and overview guide so that you have no surprises and are ready to explore once you get onboard.
Let's get started!
Popular Areas On Navigator of the Seas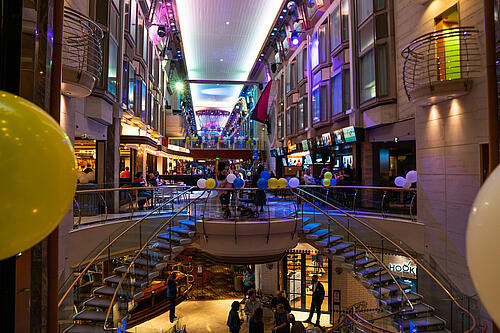 While at first glance Navigator of the Seas can look big, getting around the ship is very straightforward. Royal Caribbean designs its ships to have popular areas and attractions conglomerated into certain areas.
The two main hubs on Navigator of the Seas are the Royal Promenade and Pool Deck.
Royal Promenade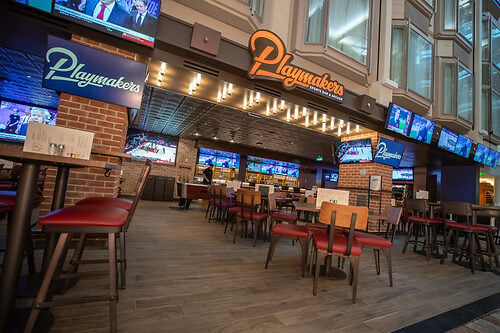 The Royal Promenade is the main thoroughfare on Navigator of the Seas. Spanning the majority of Deck 5, the Royal Promenade features bars, shops, restaurants, and lounges. Whether to grab a coffee, purchase a souvenir, or enjoy a drink, most guests will find themselves walking through the Royal Promenade several times per day.
Here are the venues located within the Royal Promenade:
Food and Beverage:
The Bamboo Room - A Polynesian-themed bar with tropical drinks and small bites
Playmakers - Royal Caribbean's classic sports bar and eatery, featuring televisions and games like pool and shuffleboard
Copper & Clover - An English-style pub which offers a live guitarist at night
R Bar - A no-frills, quieter spot to grab a drink
Cafe Promenade - A cafe with quick bites, pizza, and a coffee/ice cream bar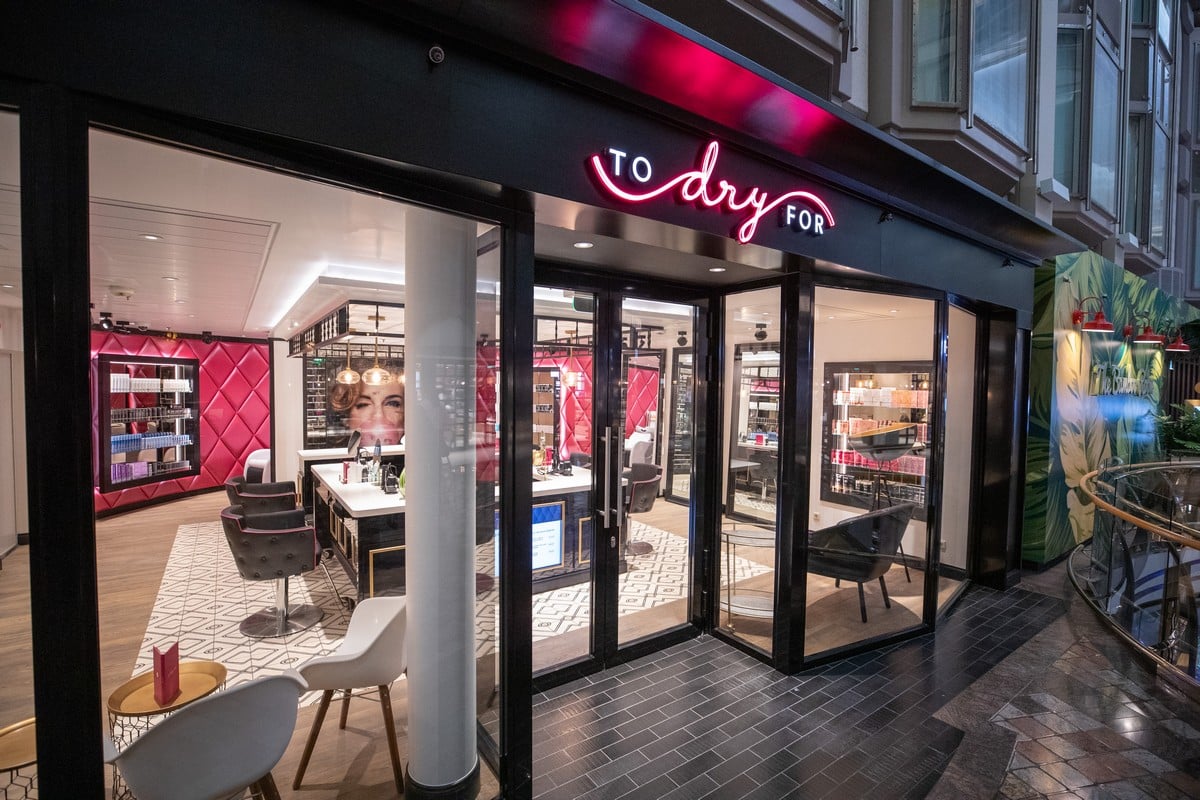 Shopping and Lifestyle:
The Collection - The Royal Caribbean logo store where guests can purchase Navigator of the Seas apparel and souvenirs
Regalia Fine Jewelry  - The jewelry shop onboard
Port Merchants - The place to purchase duty-free liquor along with snacks and toiletries
To Dry For - Offered only on Navigator of the Seas, To Dry For is a blow dry bar that offers blowouts and hairstyling
Other:
Guest Services - The place to go to have any issues or questions resolved related to your cruise experience
Shore Excursions Desk - If you have questions about a shore excursion or need to book one, you can speak to a representative here
Pool Deck Area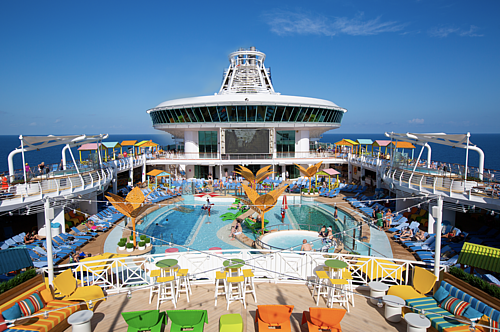 Following the 2019 amplification, the pool deck on Navigator of the Seas was fitted with the Caribbean-style pool deck common on Royal Caribbean's newest ships. The pool deck has two pools and one whirlpool in its main area, as well as two additional, larger whirlpools which overlook the pool deck on the jogging track deck above.
Children in diapers are not permitted in the regular pools onboard. Because of this, Navigator of the Seas offers a small splashpad area on the pool deck. The space is not as large as the Splashaway Bay that you may find on other ships, but still offers fun splash areas for babies and toddlers.
The pool area also features casitas, which are small, covered daybeds with padded pool chairs. Casitas are a great option for those guests wanting a comfier, shaded spot to relax by the pool. There is no additional cost to use a casita, although they are first come, first serve. However, on Odyssey of the Seas, there is an additional cost to reserve a casita, so the casita policy on Navigator of the Seas may change in the future.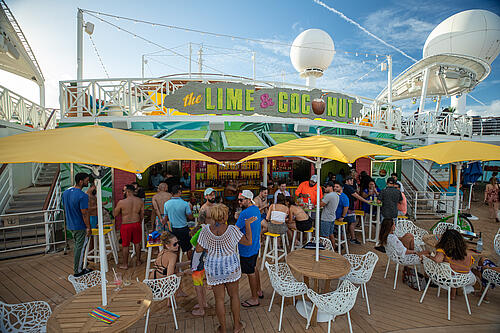 Also located on the pool deck are two dining options: El Loco Fresh and Johnny Rockets Express, as well as Sprinkles Ice Cream. 
One of the main additions to Navigator of the Seas' amplification was the addition of The Lime & Coconut on the pool deck. The Lime & Coconut is a tropical-themed bar that spans three decks, offering fantastic views of the pool deck and entire ship. The bar offers comfy lounge chairs and tables and is a popular spot to watch sailaway. Located right next to The Lime & Coconut is the pool band, giving an upbeat and tropical vibe to the venue.
Up one deck from the pools, you will find the jogging track which has a variety of comfy chairs and additional casitas. This area can be a good spot to grab a chair as it is generally less crowded than the main pool deck.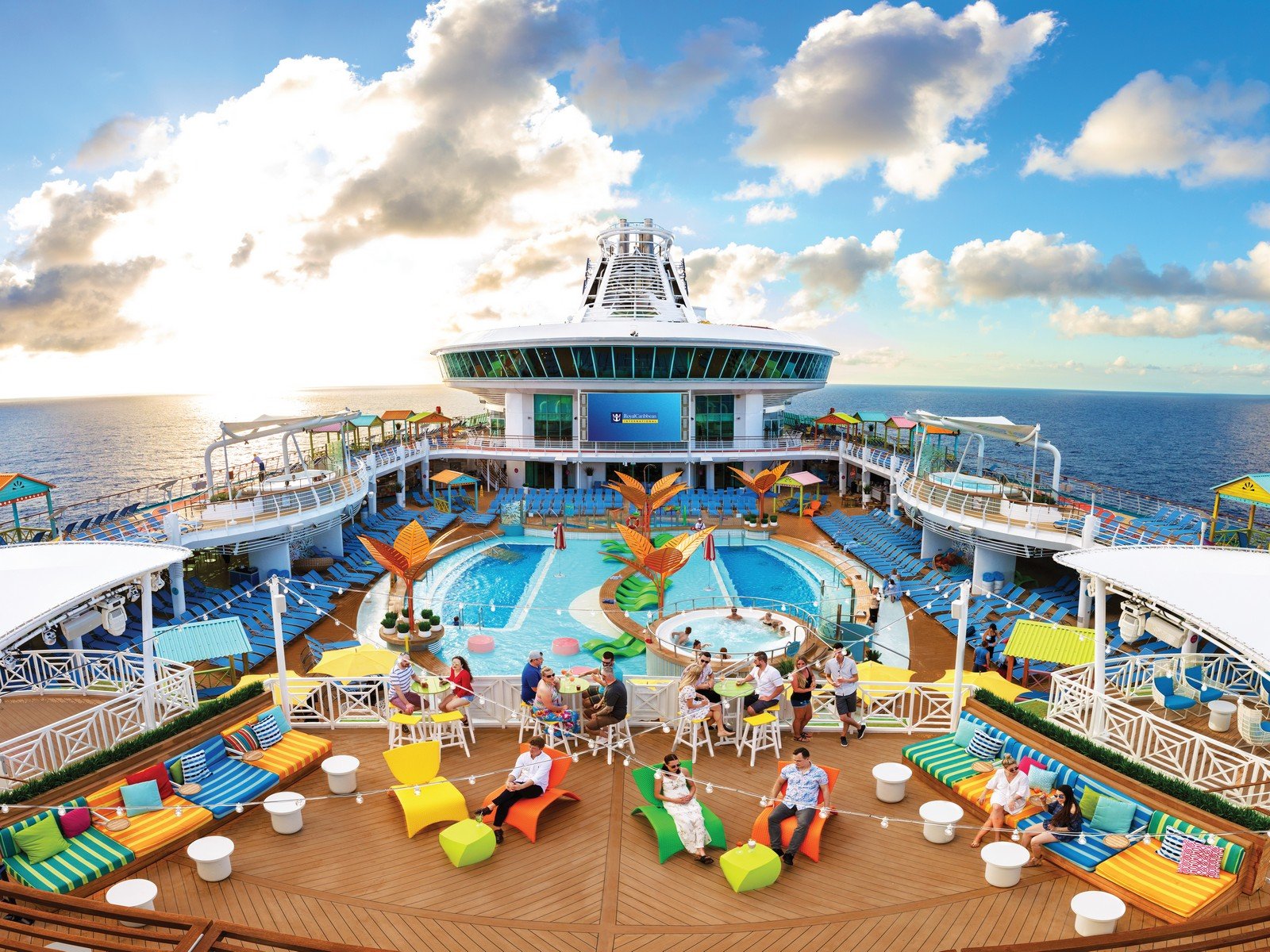 Next to the main pool deck is the Solarium, the adults only pool area onboard. The Solarium on Navigator of the Seas is not completely indoors, but has a combination of covered and uncovered areas. The Solarium features one pool, two large hot tubs, and the Solarium Bar. One added bonus of spending time in the Solarium is that the pool chairs are padded, which offers more comfort to guests. There are also a few complimentary daybeds available.
The pool deck area also extends to the aft and forward of Navigator of the Seas, where you will find the Sports Court and Navigator Dunes mini golf course, along with more seating areas.
Navigator of the Seas Dining and Restaurants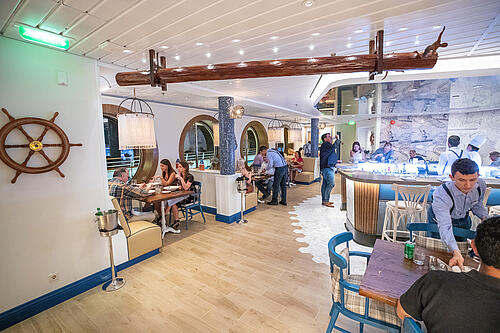 Like every Royal Caribbean ship, Navigator of the Seas offers a mix of complementary and specialty dining options.
A complimentary restaurant is included in your cruise fare, so there is no additional cost to eat there. There are also no limits on how many times you can eat at a certain location, so you are free to go back as much as you would like. A specialty restaurant comes with an upcharge. Some venues have a set cost for a meal whereas others follow a "pay as you go" model, such as Izumi Sushi.
Here are the dining options onboard Navigator of the Seas:
Complimentary Dining:
Windjammer Marketplace
El Loco Fresh
Main Dining Room
Cafe Promenade
Sprinkles Ice Cream
Specialty Dining:
Jamie's Italian
Chop's Grille
Playmakers
The Bamboo Room (small bites)
Izumi Sushi
Hooked Seafood
Johnny Rockets Express
Starbucks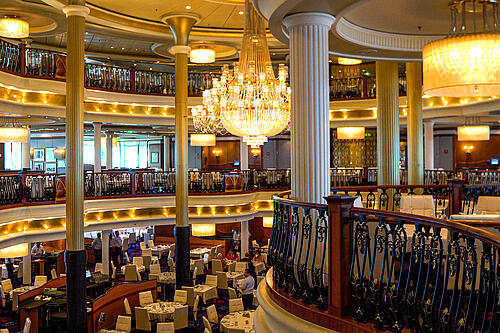 Many passengers on Navigator of the Seas will start each day with breakfast in the Windjammer, which is a buffet that offers a range of both American and international cuisine options for breakfast, lunch, and dinner.
Likewise, those passengers opting to eat complimentary meals may often find themselves eating in the Main Dining Room. As a Voyager Class ship, the Main Dining Room on Navigator of the Seas is 3 stories with elegant decor. We recommend eating at least one meal in the Main Dining Room to experience the venue's atmosphere. The Main Dining Room on Navigator of the Seas is open for breakfast and dinner every day, as well as lunch on sea days.
Specialty Dining options on Navigator of the Seas are varied and include restaurants common on many Royal Caribbean ships, such as Chop's Grille and Jamie's Italian. The ship also offers Hooked Seafood, a restaurant found only on Navigator and Symphony of the Seas. One important thing to note is that Navigator of the Seas only offers Izumi Sushi and not Izumi Hibachi. However, the Izumi Sushi menu includes choices other than sushi, such as ramen and a hot rocks cooking option.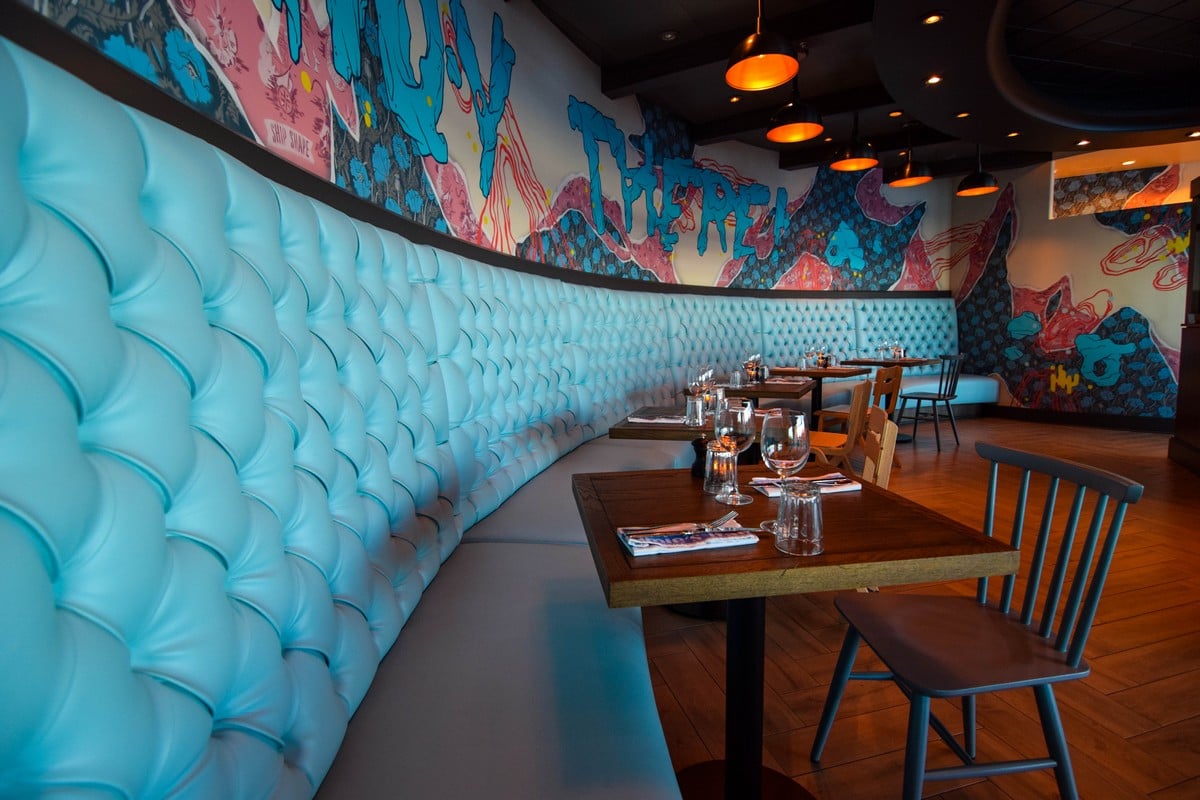 Choosing whether to eat only at complimentary restaurants or to expand your dining options with specialty restaurants is a decision all passengers will have to make. You can have a fantastic cruise by eating solely at complimentary venues, as Royal Caribbean takes pride in curating diverse menu options and presenting high quality food at any dining venue onboard.
Eating at a specialty restaurant, though, allows passengers to have a wider range of dining options, with cuisines and meals that may not be found elsewhere on the ship. Those looking to eat at specialty restaurants may find value in purchasing a dining package. If you plan to eat at specialty restaurants, our recommendation is to purchase either the 3-night Dining Package or Unlimited Dining Package.
Things to do on Navigator of the Seas
Shows & Entertainment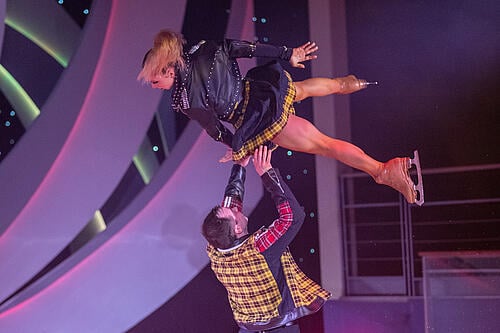 Navigator of the Seas offers complimentary shows, music, and activities for guests to enjoy.
The signature theater production on Navigator of the Seas is Showgirl! Past. Present. Future. Located in the Royal Theater, this production takes a look at the journey of a Showgirl throughout time through choreography, music, and elaborate costumes and set design.
In Studio B, the ice skating arena onboard, Navigator of the Seas offers iSkate: Reach for the Stars Ice Show. iSkate uses a combination of drones and figure skaters to dazzle the audience with freestyle skating to the performers' favorite music.
Our tip for seeing the shows onboard is to ensure you make reservations early. Making reservations is easy to do in the Royal Caribbean app, as you can select the time and date that works best for you. If you forget to make a reservation and there are no more spots available, head to the Royal Theater or Studio B prior to the show and wait to see if there is room for extra guests. Guests often make reservations and forget or decide not to attend, which makes space for those without reservations.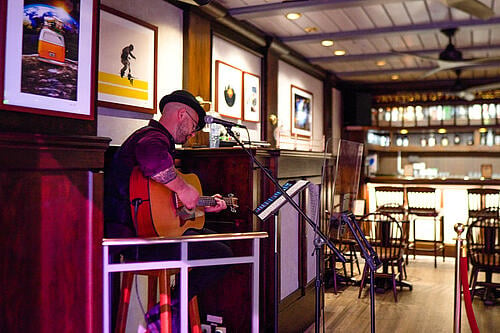 You don't have to attend a show to find great entertainment onboard, though. Navigator of the Seas offers live music throughout the day in its bars and lounges. In Boleros, guests can enjoy a live band playing Latin music (with a small space for dancing). Those in the Royal Promenade can stop at the Copper & Clover pub to listen to the acoustic guitarist present most evenings. Other music options onboard include piano tunes at the Schooner Bar, Caribbean-style music on the pool deck, and an evening DJ at the Cosmopolitan club.
Outside of shows and music, there are other activities to enjoy such as comedians, trivia, karaoke, and game shows. Our recommendation is to check your Cruise Compass or the Royal Caribbean app every day to see activities are happening onboard.
Signature Activities on Navigator of the Seas
Water slides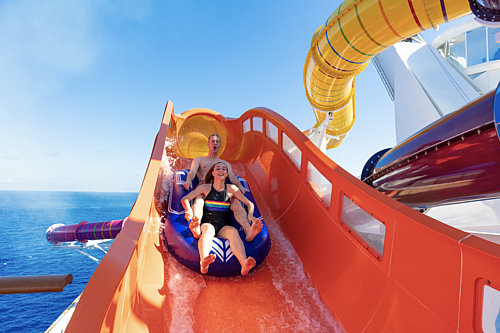 When you first catch a glimpse of Navigator of the Seas, there is one thing you will notice: the waterslides. Royal Caribbean did not skimp on the ship's water slides during her amplification, and the Perfect Storm water slides are a thrill for all ages.
The Blaster is an "aqua coaster" and is the longest water slide at sea at over 800 feet. Riders on The Blaster use a 2-person raft as they are blasted down and around the entire sports court area, including a stretch that is suspended over Navigator of the Seas with nothing but the ocean below.
The other water slide onboard is Riptide, a headfirst water slide where guests lay on a mat and are zipped around the ship. Riptide has sections of the slide that not only suspend over the water off the side of the ship, but are clear, meaning that you see directly into the ocean below.
Sports Court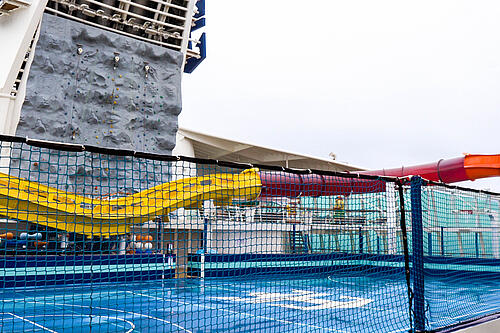 Other than the waterslides, the Sports Court is home to several other active activities, all of which are included in your cruise fare. A full sized basketball court is available, where guests can shoot hoops or participate in other activities on the court such as pickleball. This is often a hub of activity on sea days, with tournaments and free play throughout the day.
Also in the Sports Court area is the rock climbing wall. Guests of all ages can test their strength by climbing up the wall, which offers both beginner and more challenging routes. There will often be special events held at the rock wall like speed climbing challenges and night climbing sessions.
In the back of the Sports Court, you will find the FlowRider Surf Simulator. Guests can try their skills at boogie boarding and surfing as rushing water shoots out from the FlowRider.
Additional Activities
Beyond the Sports Court, there are many other activities to choose from onboard Navigator of the Seas. On the front of the ship is the Navigator Dunes, a complimentary mini golf course. Inside the ship guests can enjoy ice skating in Studio B.
One popular activity that does come at an extra cost is the Escape Room. Guests can reserve times to challenge themselves to complete this interactive puzzle in the Royal Caribbean app.
Wellness & Relaxation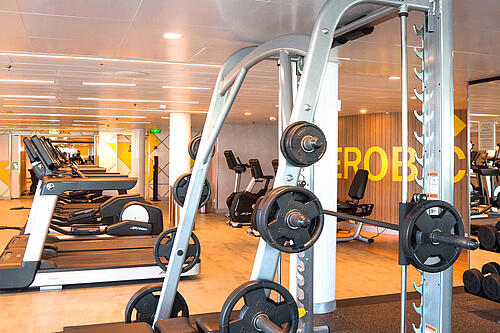 While Navigator of the Seas offers exciting waterslides, shows, music, and more, some guests are looking for something a little more tranquil. Luckily, there are several ways onboard to fulfill your wellness needs.
The Vitality Fitness Center on Navigator of the Seas is larger than the space on other Voyager Class ships and offers free weights, cardio machines, and weight machines. It also features a spacious room where workout classes, like yoga and spinning, are offered. The majority of equipment faces large windows which allow for views of the ocean while working out.
If you're looking for a more peaceful experience, the Vitality Spa & Salon on Navigator of the Seas will do the trick. There are a wide array of spa treatments to reserve including massages, facials, and nail treatments. Our recommendation is to take the complimentary spa tour on the first day of your cruise to learn more about the treatments available.
Those looking for quiet spaces to relax onboard should explore the Promenade deck located on deck 4. The Promenade deck is an outdoor walking area that spans the entire circumference of Navigator of the Seas. In addition, the Helipad can be accessed from the Promenade deck which is a peaceful spot to relax or watch the ship make her way through the sea.
Navigator of the Seas staterooms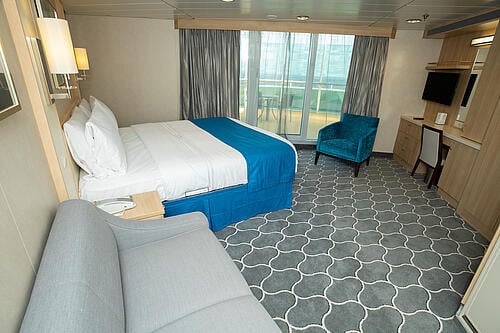 Navigator of the Seas has a mix of staterooms including interior, outside view, balcony, and suite cabins. Here is an overview of the staterooms you can choose from when booking your cruise:
Interior
Interior rooms on Navigator of the Seas are, as the name implies, located in the interior of the ship. These rooms do not have a window or balcony. Interior rooms can be a good option for passengers on a budget and those who do not plan to spend much time in their stateroom.
Interior Promenade
If you're looking to upgrade from an interior room but don't necessarily want to splurge on a balcony, an interior promenade view is an option to consider. Interior promenade rooms are interior rooms with a window overlooking the Royal Promenade, which can help you feel more connected to the ship from inside your cabin.
Outside View
Outside view staterooms are most commonly located on the lower decks or front of the ship. Each outside view stateroom comes with a porthole offering views of the ocean. These rooms are generally more expensive than an interior stateroom, but less expensive than a balcony.
Balcony Room
Balcony rooms are extremely popular cabin choices for cruise passengers. Whereas in the past cruise ships were constructed with few balconies, nowadays new cruise ships are lined with balconies on each side of the ship. Balcony rooms on Navigator of the Seas are a great choice for those looking for a private, outdoor space. Not only do balconies allow for wonderful views of the ocean, but they also increase living space in a stateroom.
Junior Suite
A junior suite is a more spacious room than those mentioned above and also boasts a larger balcony space. In addition, junior suites have a full bath tub, upgraded bathroom amenities, and offer double Crown and Anchor Society points. As a junior suite and not a regular suite, though, some benefits differ. For example, junior suites do not include access to the suite lounge or complimentary room service.
Suites
Navigator of the Seas offers several types of suites for guests including the 2 Bedroom Grand Suite, Royal Suite, and Owner's Suite. These staterooms are very spacious, with separate living, dining, and sleeping areas, as well as extra large balconies. The Royal Suite on Navigator of the Seas is particularly spacious, with a living room, mini bar, dining table, piano, two bathrooms, and master bedroom. Suites on Navigator of the Seas come with an array of benefits, including Suite Lounge access, concierge service, priority dining and spa reservations, complimentary room service, and reserved seating at shows.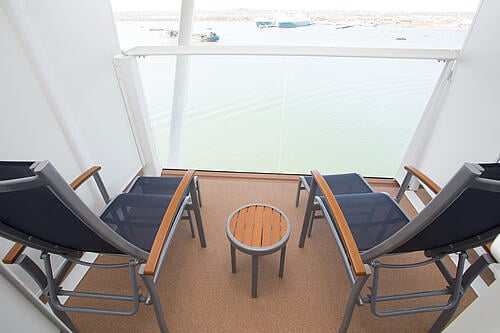 Choosing which stateroom to pick can be a difficult decision for some guests. What works best for one passenger may not work for another, so it's important to look at your vacation style and budget before selecting a cabin.
Do you plan to only be in your stateroom to sleep and shower and are traveling on a limited budget? An interior cabin may work best for you. Do you enjoy the privacy and extra space you can get with a balcony? Are you looking for the enhanced cruise experience you can find in a suite? Asking yourself these questions can help narrow down your stateroom options.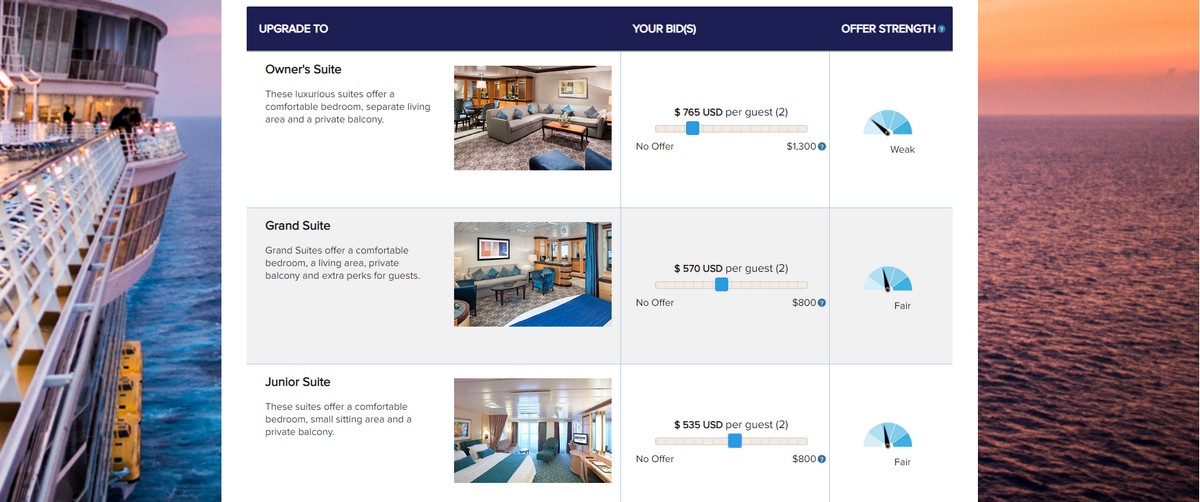 You may also wish to place a bid in the RoyalUp Program. RoyalUp is a bidding system in which guests are able to bid on an upgraded stateroom prior to their sailing. Using a sliding scale, you can choose how much, per person, you would like to bid.
The chances of your bid winning can depend on a variety of factors such as the ship's capacity and your bid amount. Generally you will receive an email inviting you to participate in RoyalUp about a month before your cruise.