In:
If there's one thing that annoys everyone on a cruise ship, it's the people that reserve pool chairs for the entire day.
Commonly referred to as "chair hogs", it's an unfortunate occurrence on cruise ships (and to be fair, many hotels and resorts as well). Basically, some people will leave their belongings on one or more loungers near the pool, and then disappear for hours before every using them.
Technically there should be pool attendants that look for the issue and remove the belongings, but in practice it rarely occurs.
All is not lost if you want to get a chair by the pool on your Royal Caribbean cruise. While we could complain about the issue occurring in the first place, I think the more practical solution is give you a way to beat the problem.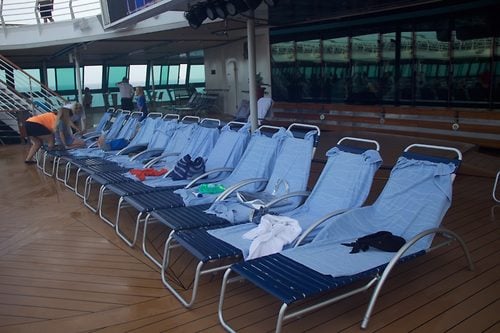 Speaking of the problem, it behooves me to point out that if the chair hog issue bothers you as much as it bothers me, don't be a part of the problem either. Utilize the strategies in this post and then relinquish your chair when you're not using it as a way to set a better example.
Read more: 8 things some cruisers do that annoy everyone else
Here are six easy ways to get a spot by the pool, despite the chair hogs you may encounter.
Get up early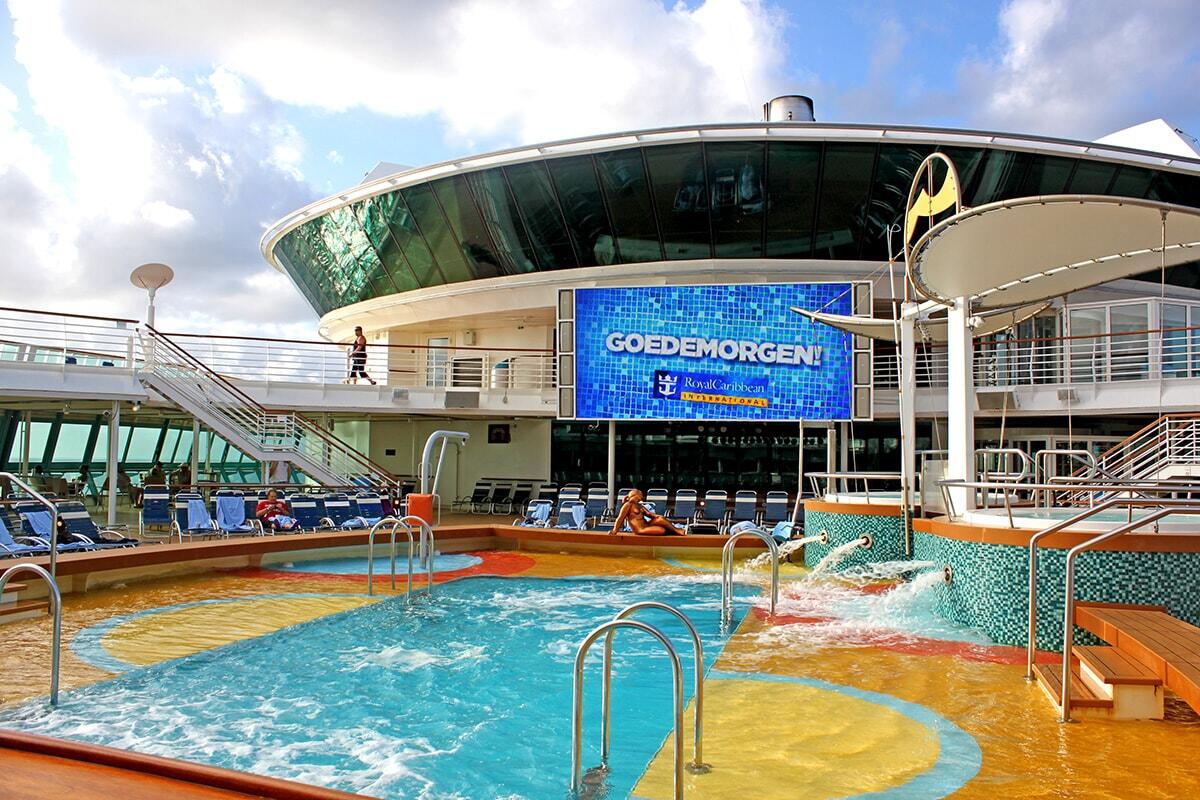 While chair hogs are a problem, they don't get all the pool chairs right away.  In my experience, if you get yourself up to the pool in the morning, you can usually get a chair.
How early? Before 10am is usually a good rule of thumb to be able to get a chair. Shorter weekend cruises tend to attract more people to the pool, but you definitely want to get an early breakfast and then stake out your claim by the pool.
While sleeping in is a wonderful feeling, it will put you behind the eight ball in terms of getting a seat if you roll up to the pool deck later in the morning.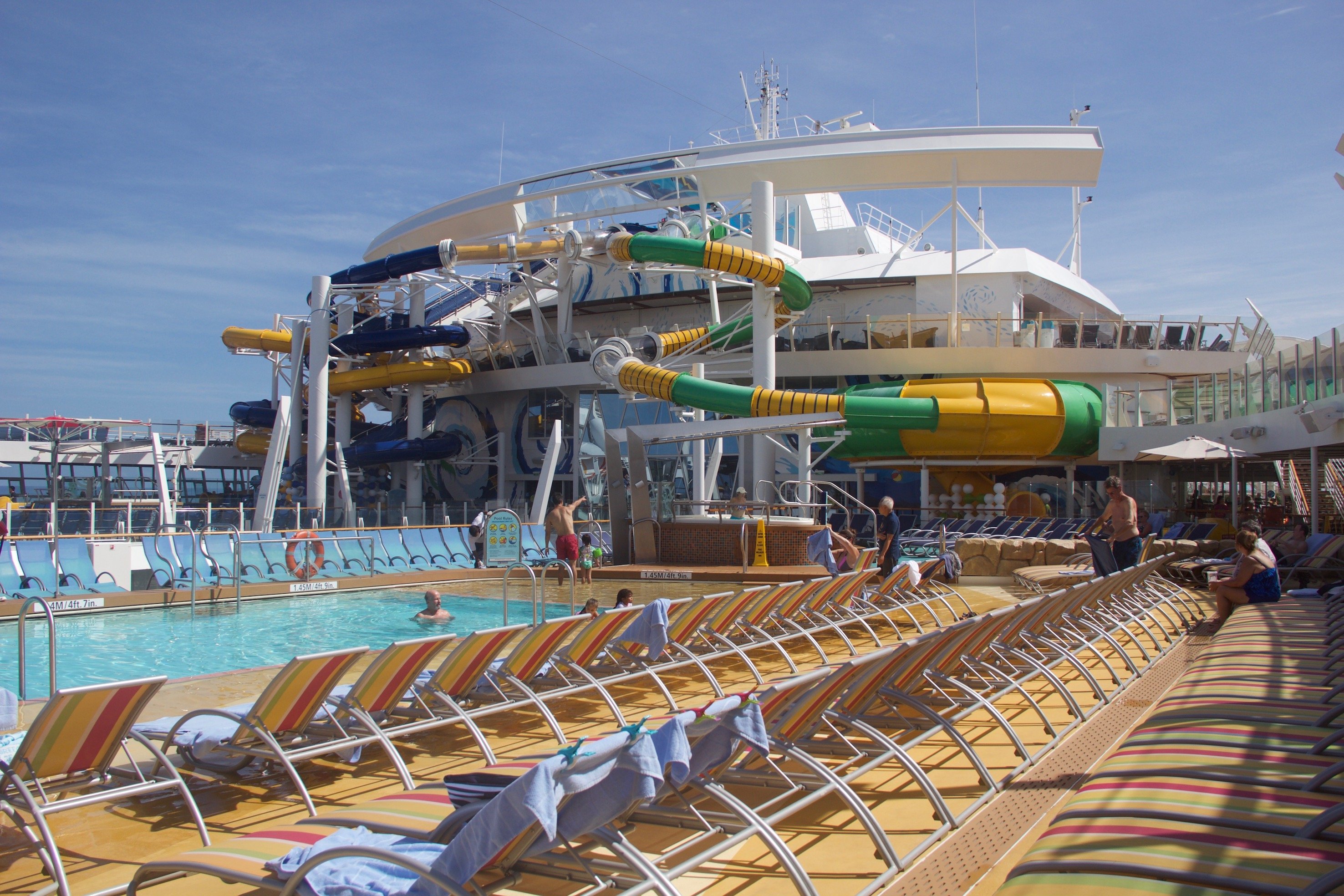 If getting up early is not going to happen (I'm looking at you Billy from CruiseHabit.com), then your next best option is to wait the chair hogs out.
As the afternoon progresses, people start to slowly leave the pool in order to prepare for dinner or their evening plans.  By 4pm, many chairs start to open up.
If your plan is to spend all day at the pool, then get up early for a chair. But if you just want a couple hours, you might see if you can sneak them in closer to dinner.
Rent a casita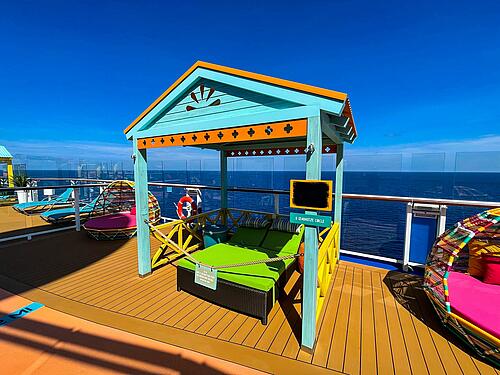 Some people prefer to throw money at the problem, and Royal Caribbean offers casita rentals.
Available on a few cruise ships, these casitas come with a flat fee for use during the day.
Casitas are available on the pool decks of:
The price will likely vary, but we've seen prices of $199 for the day on a sea day and $149 on a port day.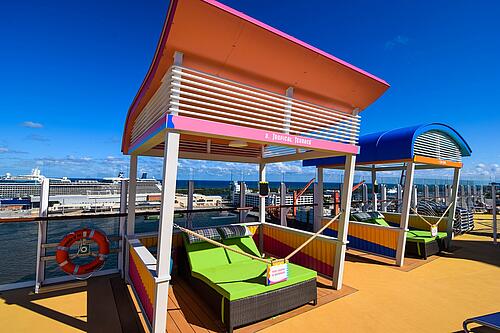 Not only do you get two chairs to use, but the rental also includes towels, a cooler, storage for your belongings and a charging outlet.
You will also get two complimentary Welcome Drinks and four chilled waters with your reservation.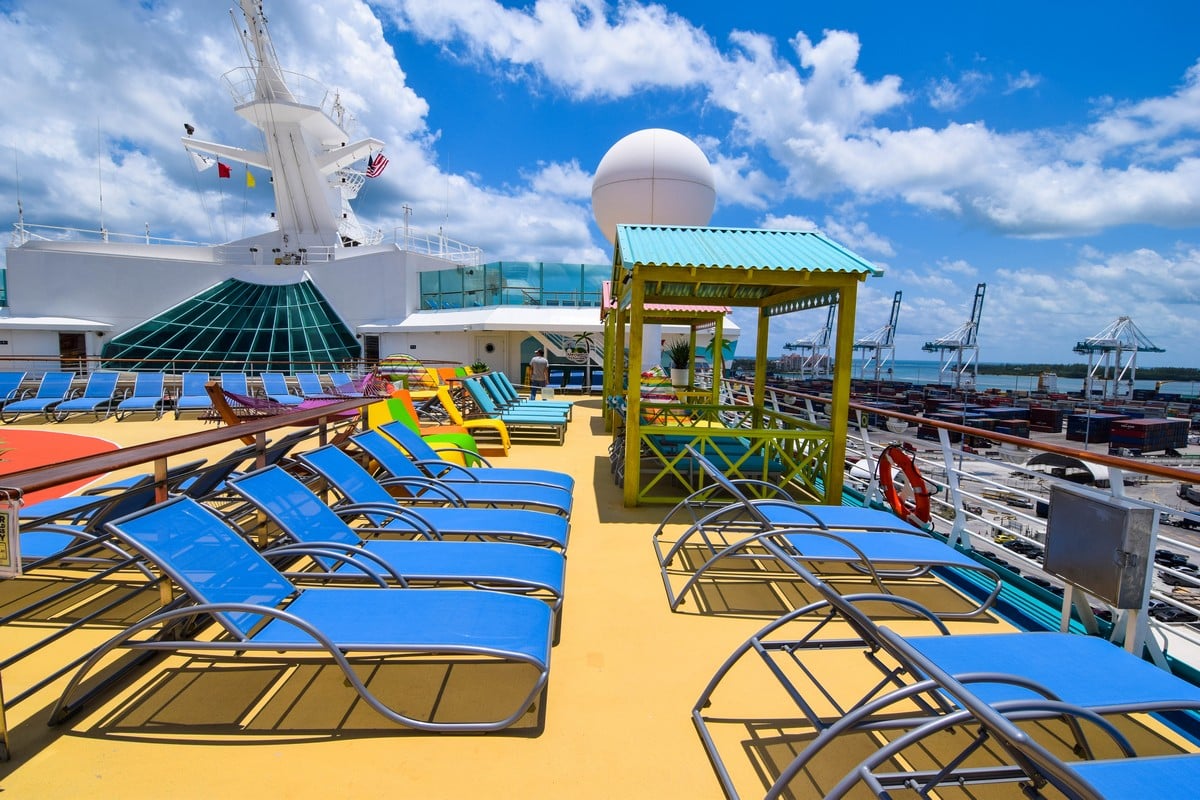 I'm sure there are some people not in love with the idea of spending money for pool chairs, but it is a sure-fire way to guarantee a spot for you on the pool deck.
Keep in mind the casitas on some ships are located on the upper pool deck, which means it is not on the same deck as the actual pool. You'll have to just walk down the stairs to the actual pool.
Hit the pool on port days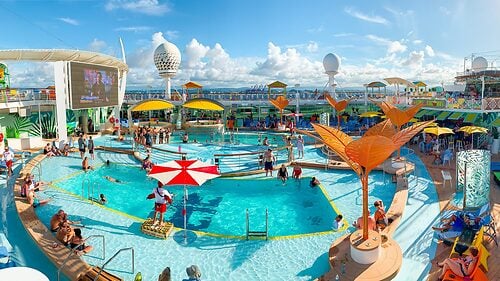 If waking up early and spending extra doesn't jive with you, then your next best bet is to hit the pool deck when your ship is docked in port.
On port days, many guests disembark the ship for their shore excursion and that means there is far less demand for the pool.
Port days will find the pool far less busy than on sea days, and that can be the perfect time to hit up the pool, as well as water slides or the FlowRider.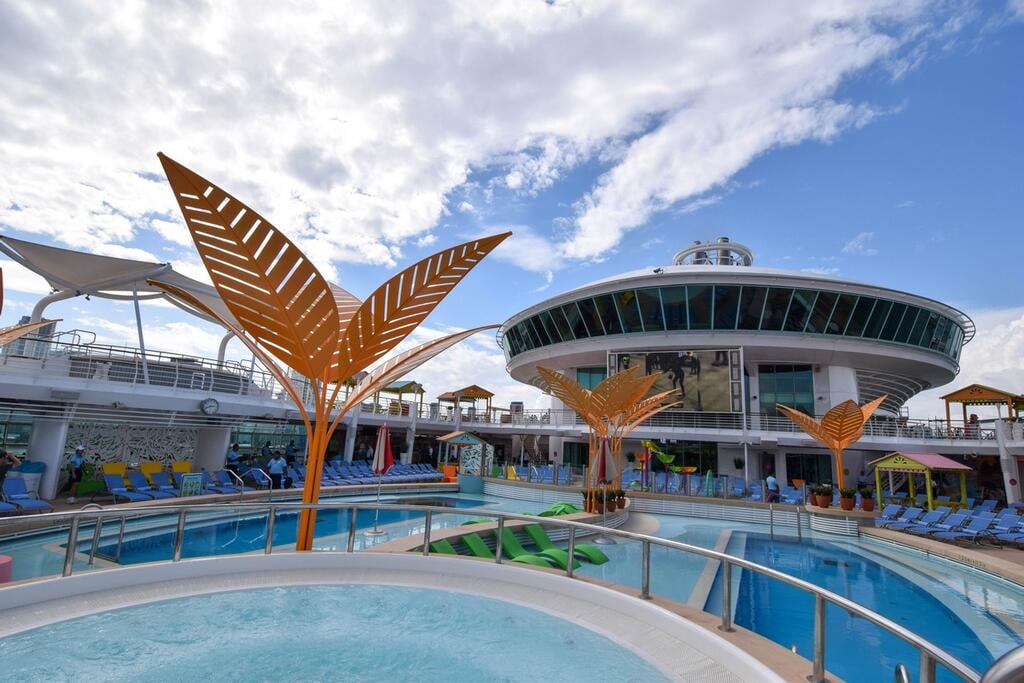 The downside to going to the pool on a port day is you are forgoing whatever activities you might be interested in while in port.  A good compromise is to do a tour in the morning, and then go to the pool after your excursion is complete.
Even after lunch, the pool deck usually doesn't get too busy on a port day.
Get a chair away from the pool
Let's say it's 1pm, you want to be outside and lay out in the sun on a sea day and renting a casita isn't in the cards. Now what?
There are usually lots of lounge chairs elsewhere on the pool decks, especially if you venture away from the pool.
Often there are unused chairs and loungers if you walk all the way forward or aft. I've found these chairs both in the sun and in the shade, depending on the location.
You won't be able to see the pool fun, but for many guests, it's just about being able to lay out and read a book, catch a nap, or enjoy the sun.
Look for a chair near the kid's pool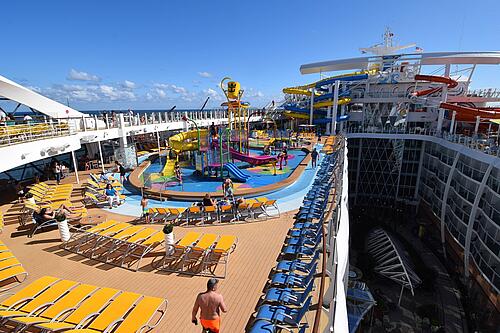 In my experience, chair hog's kryptonite is being near the kids area.
On ships that have Splashaway Bay or the H2O Zone, I've generally found more chairs available near these spots than the main pool.
Put on your noise cancelling headphones and enjoy the lounge chair you wanted, without nearly as much competition.
Book a suite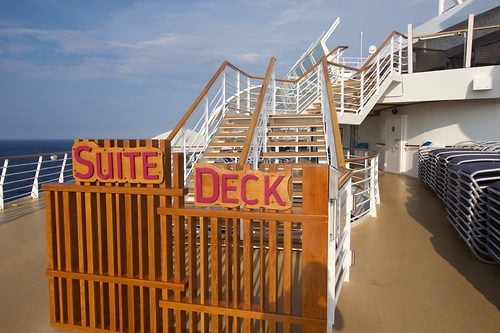 On most ships, there is reserved seating for suite guests somewhere on the pool deck.
This reserved area usually has enough loungers throughout the day. Whether it's worth it to book a suite on Royal Caribbean or not, one consideration may be how much you may take advantage of the pool deck.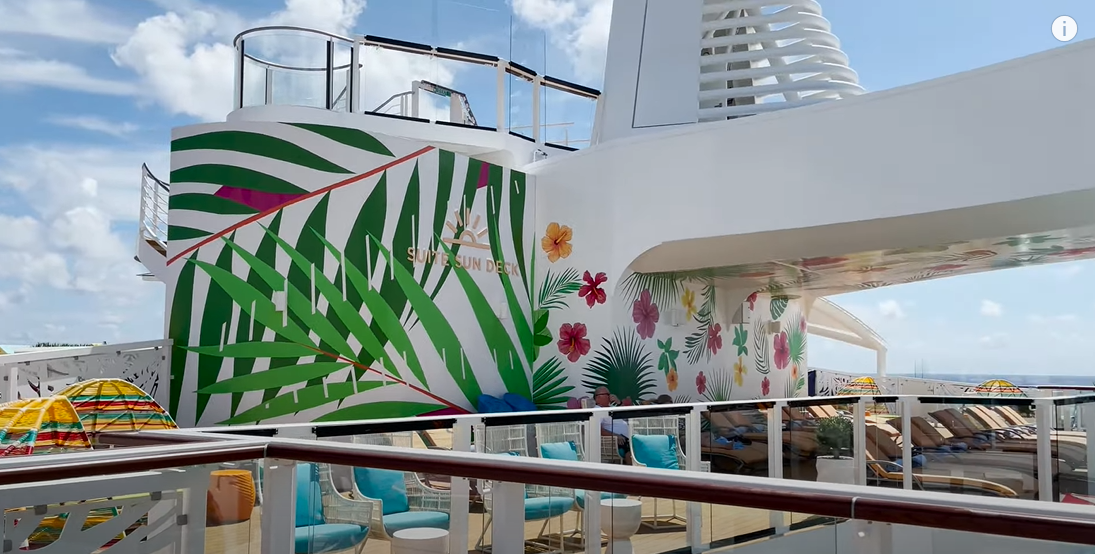 Keep in mind the suite sun deck is for guests in a Grand Suite or higher, so Junior Suites don't count.
If your idea of a great cruise is spending all day by the pool, booking a suite might be a good investment.