In:
They say all good things must come to an end, and that includes cruise vacations.
As your time left onboard begins to wane, there are a few important things to do before it's time to head off the ship and end your vacation.
Doing so will not only expedite your final morning onboard before you disembark, but avoid regrets or billing problems later.
Here are ten things every cruiser should do on the last day of their sailing before their cruise comes to an end.
Check the bill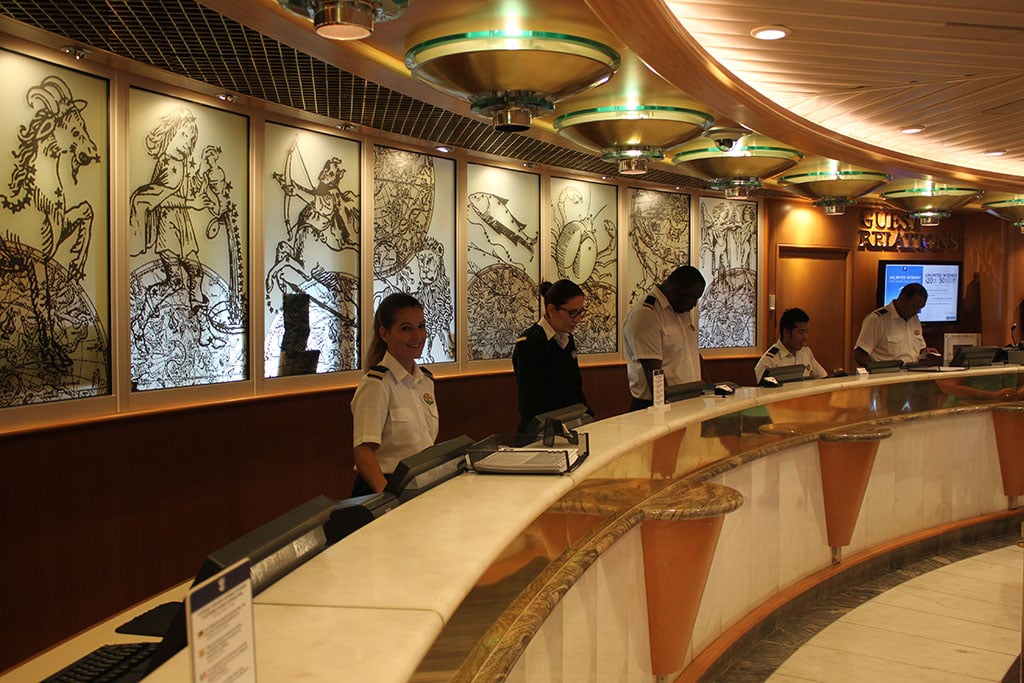 Setting your bill is a good idea on the last day of the cruise so you can review everything on there looks to be correct, as well as render payment.
If you have a cash account, you will want to get that squared away before heading to bed. Likewise, if you are sharing a cabin with someone and need to split the bill, or otherwise change how you pay it out, this is the time do so.
If you want to deposit any cash to offset your charges, you can also do this now.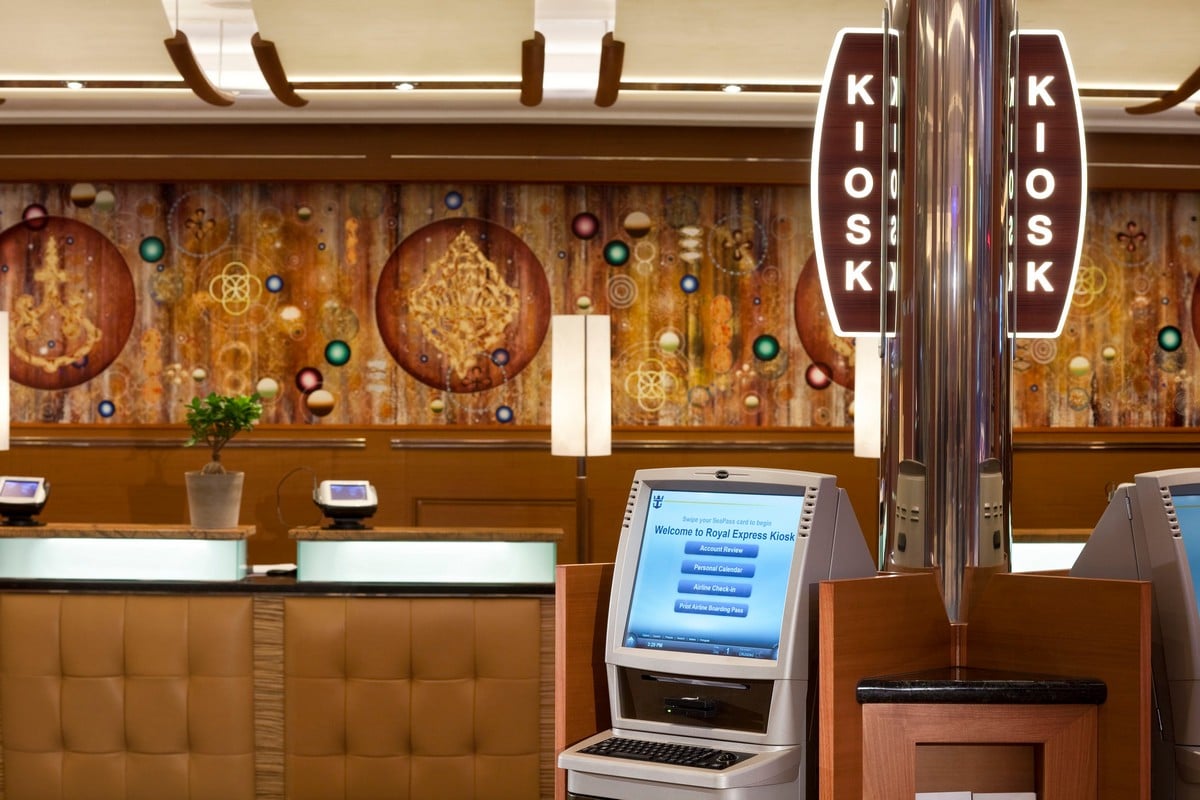 If by chance you still have extra onboard credit that is refundable, you can go to Guest Services to refund it as cash.  If your onboard credit is non-refundable onboard credit, go down to the casino and cash it out at one of the slot machines as a cash advance against your account.
This can all be done at Guest Services, although keep in mind that lines for Guest Services on the last day can sometimes get long. The best time to visit Guest Services on the final day is during the day. Everyone seems to go there in the evening.
Remember, get any accounting issues settled while onboard the ship. Calling after the cruise is much more time consuming and difficult.
Read more: Cruising 101: SeaPass Account
Return towels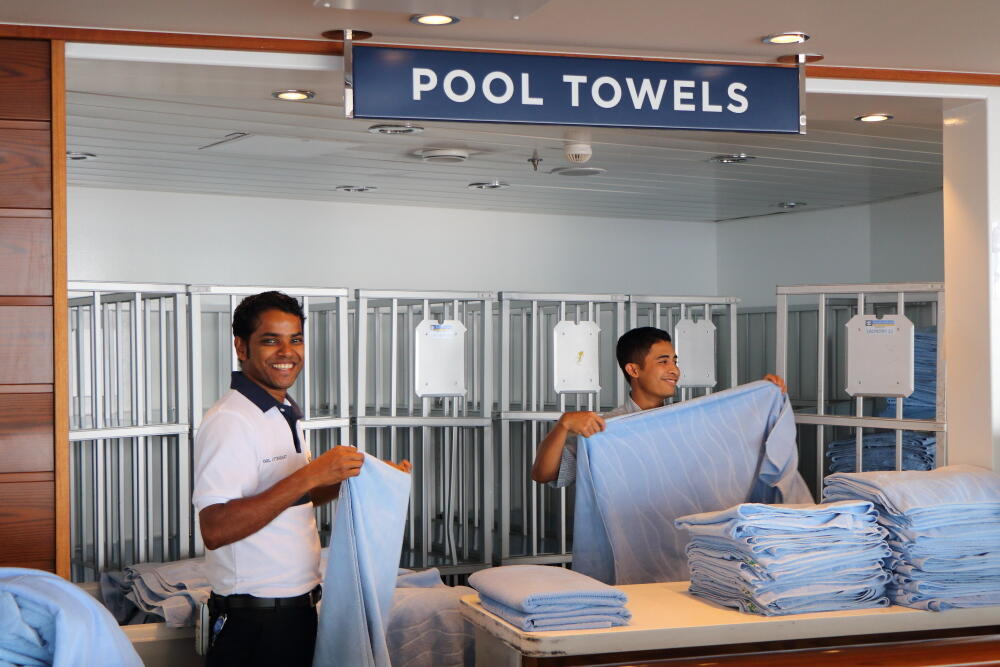 Royal Caribbean will charge you $25 per pool towel you take that is not returned, so now is the time to bring it back.
The cruise line added this charge after years of guests taking towels and leaving them on shore excursions rather than bringing them back onboard.
Go through your stateroom and ensure any towels you tossed in the corner are brought back to the towel station and double check with the crew member there that your account is all set.
Give out extra tips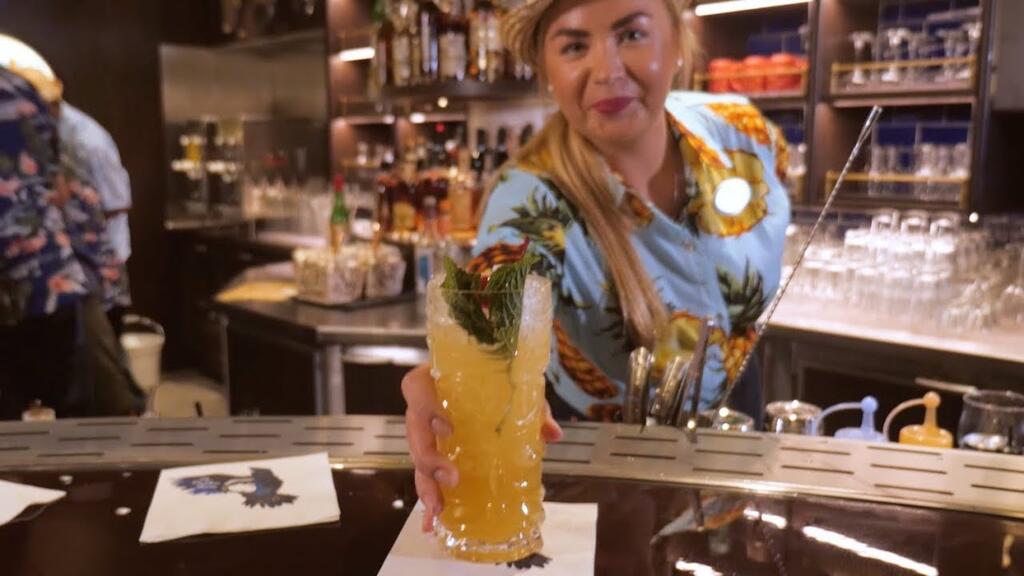 If you wanted to reward a specific crew member or two with extra gratuities, the last day is a good time to do it.
Whether your stateroom attendant, favorite bartender, or waiter, the last day is the perfect opportunity to say thank you one more time.
I've often thought I would just see them on the final morning, but you would be surprised how difficult it can be to track down a crew member.
If you prefer to give out cash tips to your stateroom attendant and dining room staff, you can opt to do that by going to Guest Services and asking to pay cash tips and remove the automatic gratuity from your account.
Read more: Why do I have to pay gratuities for my toddler?
Pack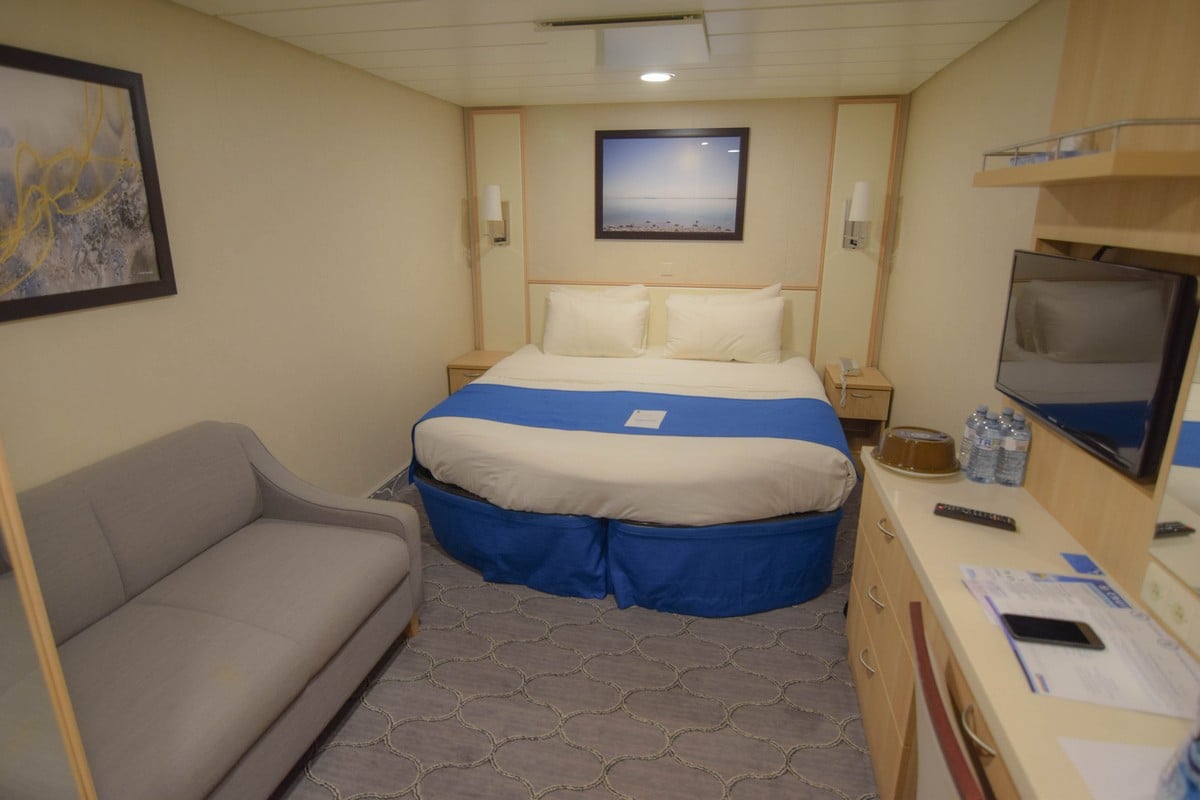 Perhaps the least fun thing to do on your last day, but a necessary evil is packing everything back up.
I have to remind myself packing on the last day is better than trying to pack it all up on the final morning when you are groggy and extremely displeased with the fact you have to get off the ship.
Find some time in the afternoon to pack up as much as you can.
Be very certain to leave out sometime to wear the last morning of the cruise, otherwise you may have to wear your pajamas off the ship.
Read more: Top 9 bad mistakes to make on a Royal Caribbean cruise
Leave luggage out
If you want assistance with getting your luggage off the ship, Royal Caribbean will deliver your bags from your stateroom to the cruise terminal.
The key is to leave your bags out by a certain time on the final night of the cruise, usually 10pm.  Check the paperwork left in your stateroom on the last day to confirm what time bags need to be out in the hallway by.
Also be sure to affix the luggage tags provided to you in your stateroom on the last day so that your luggage gets delivered.  It is also a good idea to take a photo of the luggage tag so you don't forget which number is yours.
Even though I mentioned it in the previous tip, I will mention it again: make sure you leave clothes to wear for the next morning, as well as any medication and toiletries.
Read more: What's the earliest time I can get off my cruise ship when it's over?
Get your photos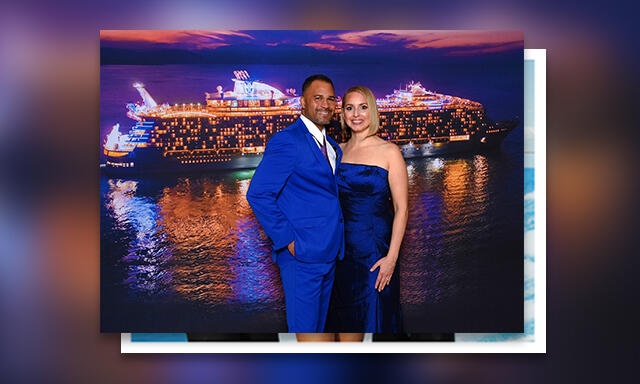 If there is something I forget the most on the last day of the cruise, it is to print and pick up the onboard photos.
Remember all those photos you posed for onboard? The last day is when most people go to order prints and pick them up.
The final evening of the cruise will see likely a swarm of other guests doing the same thing, so ideally, try to hit up the photo area a little earlier in the day before everyone gets there at night.
Regardless of when you go, you can easily use the self-service kiosks to order prints.  The machine will give you a time to pick up the prints, so be sure to get there before it's too late.
Read more: Is a Royal Caribbean photo package worth it?
Book another cruise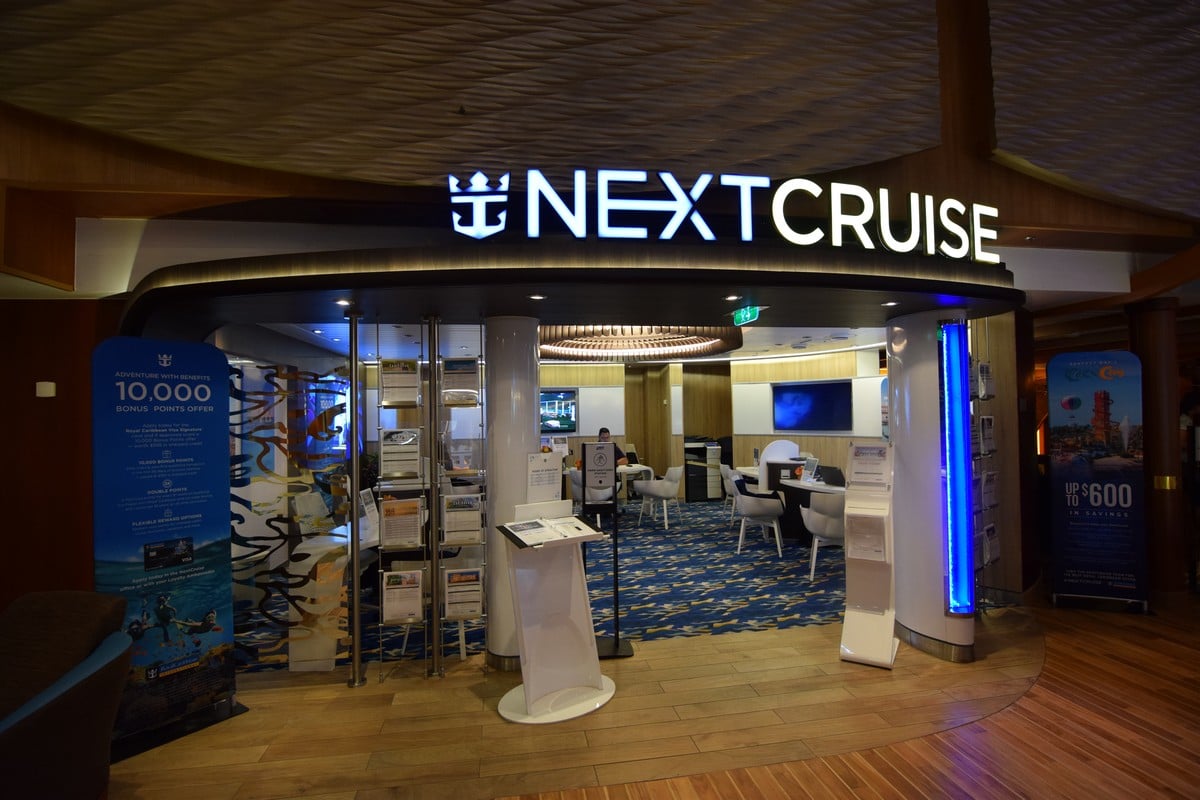 If you had a great time onboard, maybe a stop at NextCruise to book another vacation makes sense.
NextCruise is where you can go to book a new Royal Caribbean cruise, and they will give you the added benefit of reduced deposit and extra onboard credit.
Just like Guest Services and the photo area, the last day tends to be quite busy at NextCruise. You can book a reservation via the sign up sheet out front, or hope for an open slot as you walk by.  The earlier in the day, the more likely there will be times available to chat.
If all else fails, NextCruise is usually open the final morning of the cruise. Be sure to check with the staff for exact times.
Listen: Royal Caribbean Blog Podcast Episode - Booking another cruise onboard
Cash in casino chips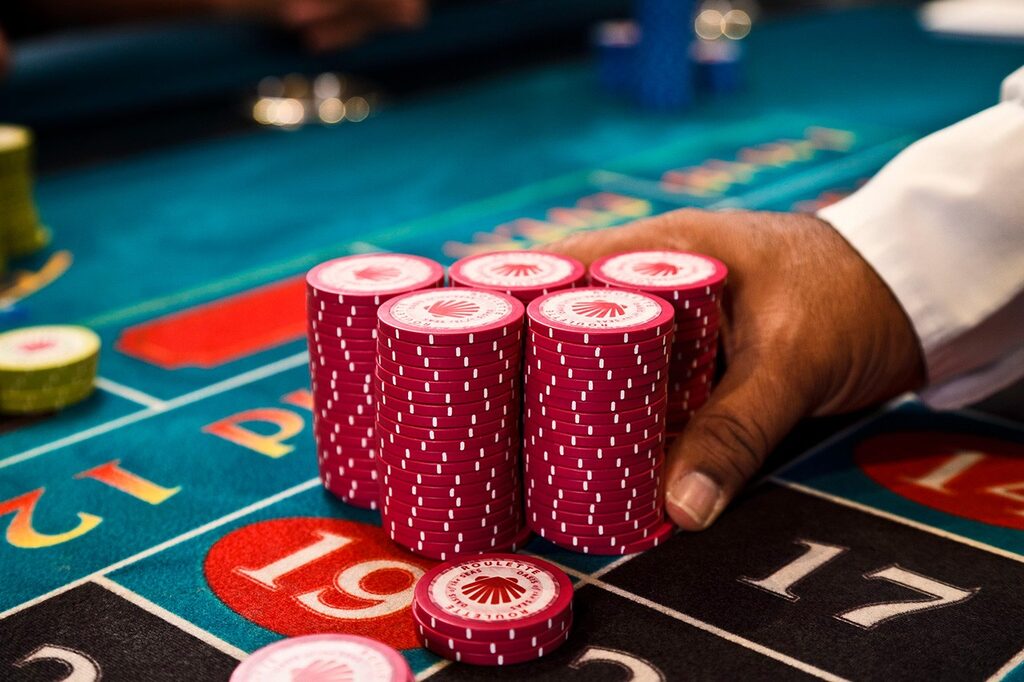 Assuming you don't go back one last time to double down, be sure to cash out your casino chips.
Royal Caribbean is quite specific that if you fail to cash in your casino chips or vouchers, they are not eligible for cash after the cruise ends.  It is quite common for guests to leave these items in their pocket and forget to cash them out later.
Whether you won big or this is all you have left, be sure to get the cash for them.
Take a Covid test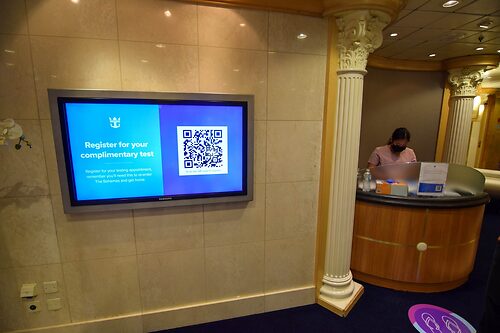 If you need a negative Covid test result to get back into your country of origin, make sure you have a test done onboard the last day of the cruise.
Royal Caribbean will provide a complimentary Covid test to any passenger that requests one, but you need to schedule it earlier than the last day. My advice is ask to book one on the first day or two of the cruise so you can be in the schedule.
Just be sure to show up for the Covid test on time, as testing is limited.
Check-in for your flight
If you are flying home after your cruise, it may make sense to complete the online check-in for your flight (especially if you are flying Southwest Airlines).
You can purchase a 24 hour pass for Royal Caribbean's internet onboard to do this (assuming you didn't buy a Voom package before). Suite guests can usually get the assistance of the Suite Concierge to help complete it.
If you need to print out a boarding pass or other paperwork, speak to Guest Service or the Suite Concierge.