In:
There are a few things you can do differently on a Royal Caribbean cruise to make your vacation as smooth and stress-free as possible, and we're sharing seven of our best tips.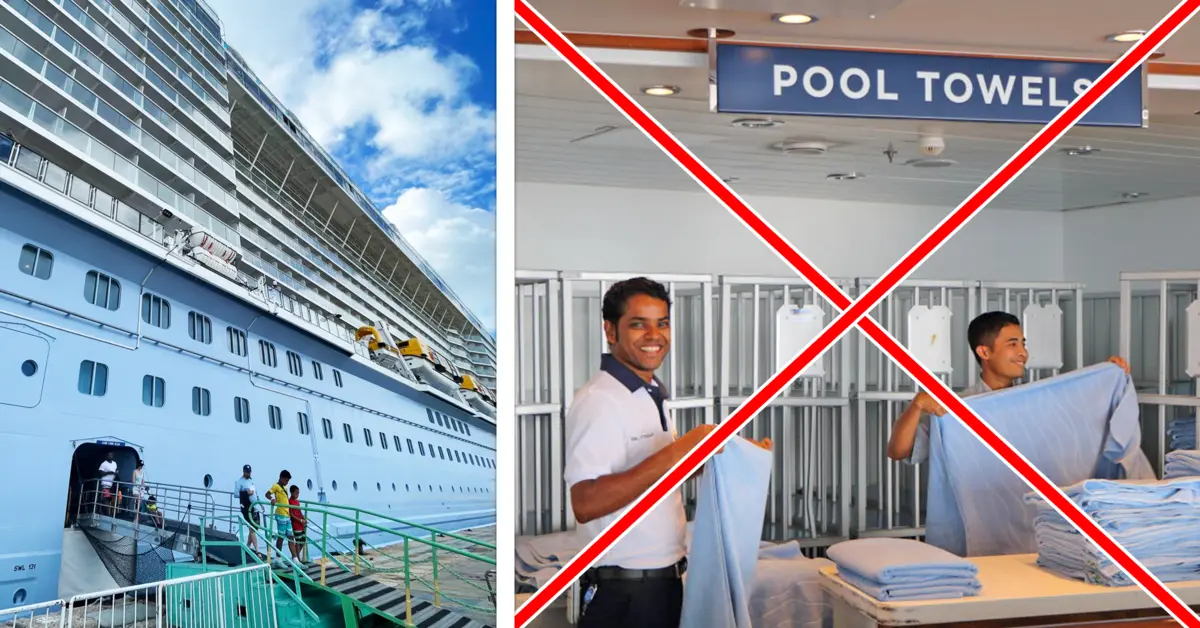 From making dining reservations to planning port days and attending shows, there's a lot to remember on a cruise vacation. Even though there's no "incorrect" way to cruise, there are several mistakes or decisions passengers make that we think could be done differently.
Instead of eating at the buffet, why not choose a specialty restaurant? Or, instead of arriving at the theater ten minutes before a show begins, why not arrive earlier to find the best seats?
Doing things slightly differently on a cruise can save you time and stress and make your overall vacation more pleasant. Here are seven ways to do things differently on your next Royal Caribbean cruise.
Apply sunscreen while onboard instead of when you get to the beach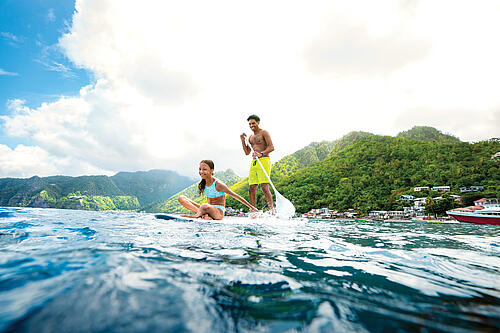 Before you pack away sunscreen in your port day daypack, lather yourself with a generous amount… or face the consequences.
Once you disembark your cruise ship in a port of call, there may be a few minutes' walk from the ship to the port entrance. Walking under the scorching sun is an expressway to a painful sunburn, and no one wants to spend their vacation burnt to a crisp.
You should apply sunscreen onboard before you disembark the ship to help prevent sunburn before getting to the beach.
Related: 10 worst cruise fails by our readers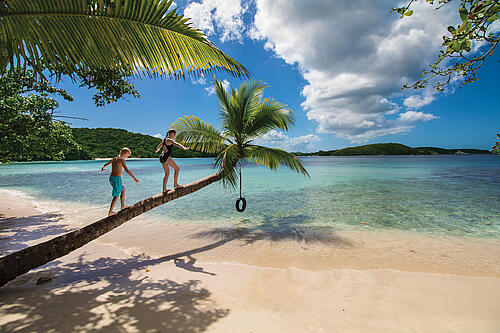 Depending on the port, you may spend more time in the sun en route to the beach than others. Some ports, like Perfect Day at CocoCay, have beaches easily accessible from the port entrance. In other ports such as Roatan, you'll need to take a shore excursion or taxi to the beach from the cruise port.
Although you might assume you'll remember to apply sunscreen when you get to the beach, some cruisers may forget altogether. Port days are exciting, but it's easy to be distracted with the new culture, beautiful destinations, and when navigating an unfamiliar place.
Applying sunscreen before you leave the ship helps prevent regret (and pain) later on.
Get beach towels at the gangway instead of the pool deck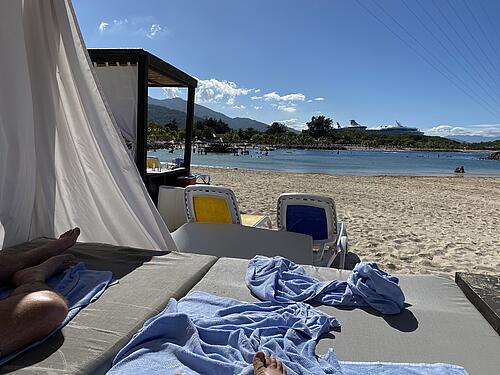 If you're planning a beach day in port, you'll want to bring Royal Caribbean towels with you ashore. Checking out towels is free for all guests, but you must scan your SeaPass card at the towel station so Royal Caribbean can keep track of how many towels have been checked out.
Before leaving to go ashore, most passengers head to the pool deck to check out towels for the day. This can, unfortunately, lead to lines at the towel station. Even if there are no lines, the pool deck is in the opposite direction of where you disembark the ship.
Instead of heading to the upper decks to grab a beach towel, visit the towel station on your way out of the ship! When visiting beach destinations, Royal Caribbean crew members will set up a towel station near the gangway. Here, just like on the pool deck, is where you can check out beach towels for the day.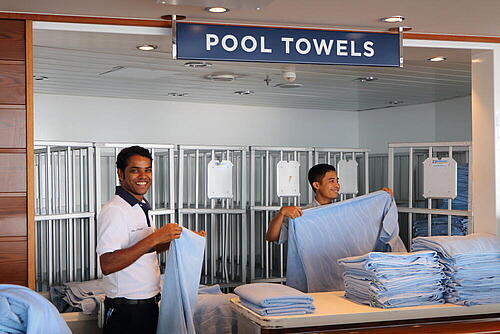 Related: Our best 75 travel tips to make you the world's most savvy cruiser
Grabbing a beach towel on the gangway is far more convenient than making a special trip to the pool deck. In addition, you can grab water bottles and other beverages here as well to ensure you stay hydrated during your time in port.
Of course, don't forget to return the towel after a port day! All misplaced towels will incur a $25 USD fee at the end of the cruise.
Try onboard activities on port days to avoid the lines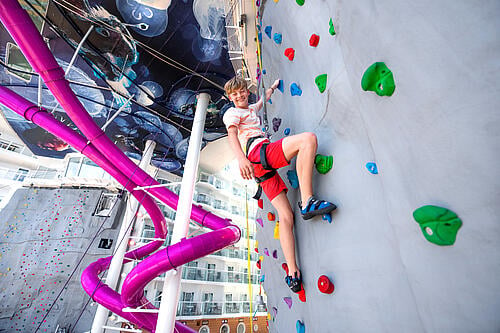 Hoping to try activities like the FlowRider, waterslides, zip lining, and rock climbing on your cruise? As fun as these activities are for passengers, they often come with long lines. On your next cruise, try onboard activities on port days instead of sea days to avoid waiting in line.
Most passengers go ashore on a port day, leaving the ship far emptier compared to sea days. While most passengers are in port, you'll encounter less crowded pools, dining venues, and activities.
Related: 15 free things to try on your next cruise
It's possible to ride waterslides with no wait on port days, climb the rock climbing wall several times in a row, and slide down the Ultimate Abyss without waiting in a long line. Because lines are one of the most common "pet peeves" on a cruise, ticking off your ship's activities on a port day makes the experience more enjoyable.
Trying activities on a port day doesn't mean you have to skip going ashore, either. Even if you spend the majority of your day in port, you can do an activity immediately after getting back onboard.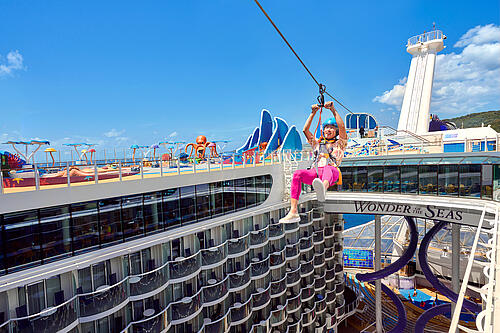 After a busy day in port, the majority of passengers head to their cabins to rest and get ready for dinner. There's simply less demand for onboard activities immediately after returning to the ship, leading to short lines (if any) at these activities.
The only downside of waiting to try activities on a port day is that there may be fewer options available. Because so many guests go ashore, there's less impetus for Royal Caribbean to offer an extensive list of activities while the ship is docked. Be sure to look at the list of activities in the Royal Caribbean app so you know which activities will be available on a port day.
Go to an event you would otherwise overlook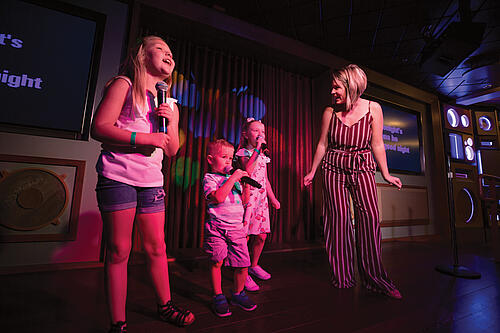 Whether it's your first cruise or twentieth, it's easy to be overwhelmed with the amount of programming offered each day on a Royal Caribbean cruise. From pool deck parties to production shows, scavenger hunts, escape rooms, and live music, there's truly an abundance of activities to choose from on any cruise ship.
Due to how many activities are available, it's easy to overlook exciting programming that may not jump out at you on first glance. Activities like craft workshops, ice skating, stretch classes, and comedy shows are just some of what could be available on any given day.
Related: 50 things everyone should do on a Royal Caribbean cruise at least once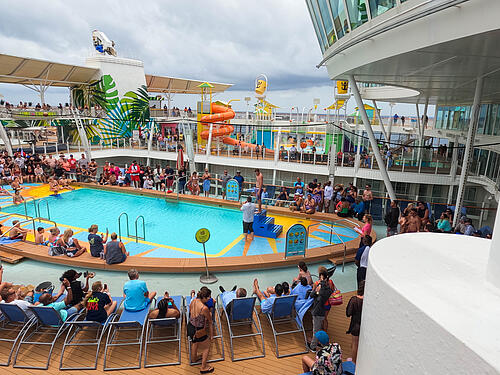 Many cruisers find themselves falling into the trap of participating in the same activities over and over, whether they start each day with a pickleball game or participate in a daily afternoon trivia session. Doing the same thing over and over can become monotonous over time, so why not jazz things up with a new activity?
On your next cruise, try something new. Scroll through the Royal Caribbean app, find an activity you would otherwise overlook, and participate in the activity!
Maybe you finally decide to watch (or participate in) the World's Sexiest Man Competition on the pool deck. Or, if you're feeling something more refined, why not reserve a wine tasting seminar or learn to play table games in the casino?
If you try something you've always avoided or overlooked, you might be surprised with how much you enjoy it. Cruising can be a whole lot of fun when you try something new, and you may end up finding a new favorite activity.
Eat lunch at a specialty restaurant on embarkation day instead of at the buffet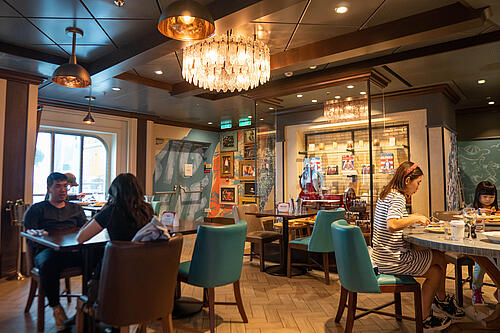 As thousands of passengers embark a cruise ship at the same time, the vast majority head to the Windjammer Cafe, making the venue crowded and chaotic. There's nothing glamorous about a crowded buffet, so why not eat somewhere else?
On your next cruise, book a specialty restaurant for lunch on embarkation day instead of eating at the buffet. Depending on your sailing, one or two specialty dining venues should be open for lunch on embarkation day—usually Chops Grille or one of the cruise line's Italian restaurants.
Related: 30 Do's and Don'ts for the first day of your cruise
Even though lunch at a specialty restaurant costs extra—around $25 USD—the peaceful environment amongst the chaos of embarkation day makes the cost well worth it for plenty of passengers. And, as a plus, you'll enjoy some seriously delicious food as well.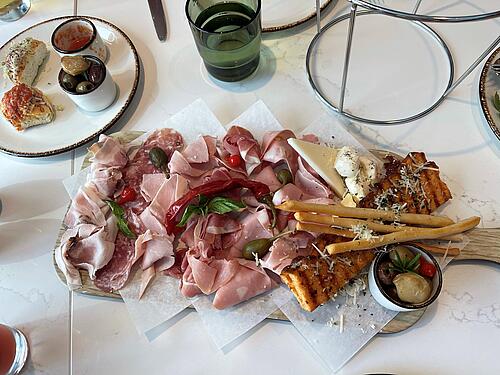 The best way to reserve a specialty restaurant lunch on embarkation day is to book it ahead of time on Royal Caribbean's Cruise Planner website. You can use a credit card or, if you prefer, onboard credit to make the reservation.
Those with dining packages must wait until they get onboard to make all dining reservations, including lunch on embarkation day. Waiting until you are onboard may result in little to no availability for lunch, but in most cases, there should be a table available at one of the restaurants on your ship.
If you'd rather eat at a complimentary venue on embarkation day, you could opt for a quieter venue instead of the buffet. Dining somewhere like Park Cafe or El Loco Fresh may offer a more relaxed lunch compared to the Windjammer, although it won't compare with the tranquility of a specialty restaurant on the first day of your cruise.
Arrive early for entertainment shows to get the best seats
Let's face it: not everyone can afford to book front row seats at a production show on land. The best-located seats at a Broadway show, for example, can easily cost several hundred dollars.
One of the major perks of cruising is that all production shows are included in your cruise fare, from Royal Caribbean's original productions to their Broadway performances. From high diving shows in the AquaTheater to ice skating productions in Studio B, there's always an impressive performance to watch onboard, so why not watch it from the best seat?
Not only are shows complimentary, but, aside from a small portion of seats reserved for suite guests and Pinnacle members, you can sit anywhere in the theater at no extra cost.
Yes, this means seats in the front rows are available to all guests, but you'll have to get to the theater early to snag one.
Related: Broadway shows on Royal Caribbean: Everything you need to know
Evenings are a busy time on a Royal Caribbean cruise, and many passengers find themselves scrambling to get to a show on time after dinner or another activity. Rushing to the theater means many guests pick whichever open seats they can find, even if it means the location is not ideal.
On your next cruise, get to the theater as soon as doors open to snag the best seats. In most cases, doors open 30-45 minutes before the show begins. While arriving early means you'll have to wait in the theater until the show starts, you can always use this time to enjoy a pre-show drink and take a breather on an otherwise busy day.
Use an anti-theft backpack while in port instead of putting belongings in your pocket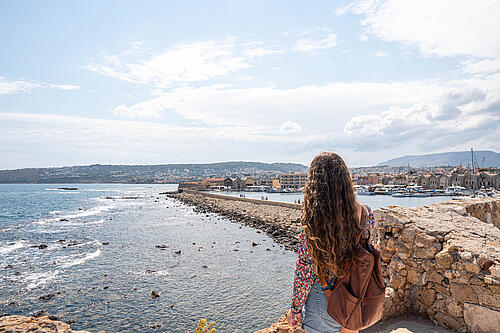 One of the most effective ways to keep your belongings safe while in port is to wear an anti-theft daypack.
Anti-theft backpacks are designed to deter pickpockets from your bag. Most commonly, these bags are made with tough, anti-slash material that makes it difficult for potential thieves to cut open the bag.
Related: Where to keep SeaPass card, phone, and cash when on a shore excursion
Additionally, anti-theft backpacks feature hidden or well concealed openings and zippers. Some pockets only open against your back, making it difficult for anyone to get your bag open without you noticing. Others have a zipper hidden by flaps, which makes the bag appear as if there's no opening into the backpack.
Fortunately, theft and pickpocketing is not as common as you might think, but it can still happen, especially if you're traveling through busy areas. Instead of placing your phone and wallet into a pocket or easy-to-open bag, wear an anti-theft bag for added security.