In:
While cabin sizes and amenities can vary, staterooms onboard a cruise ship are much smaller than traditional hotels on land. Even ocean view and balcony rooms will be smaller than what you might be used to!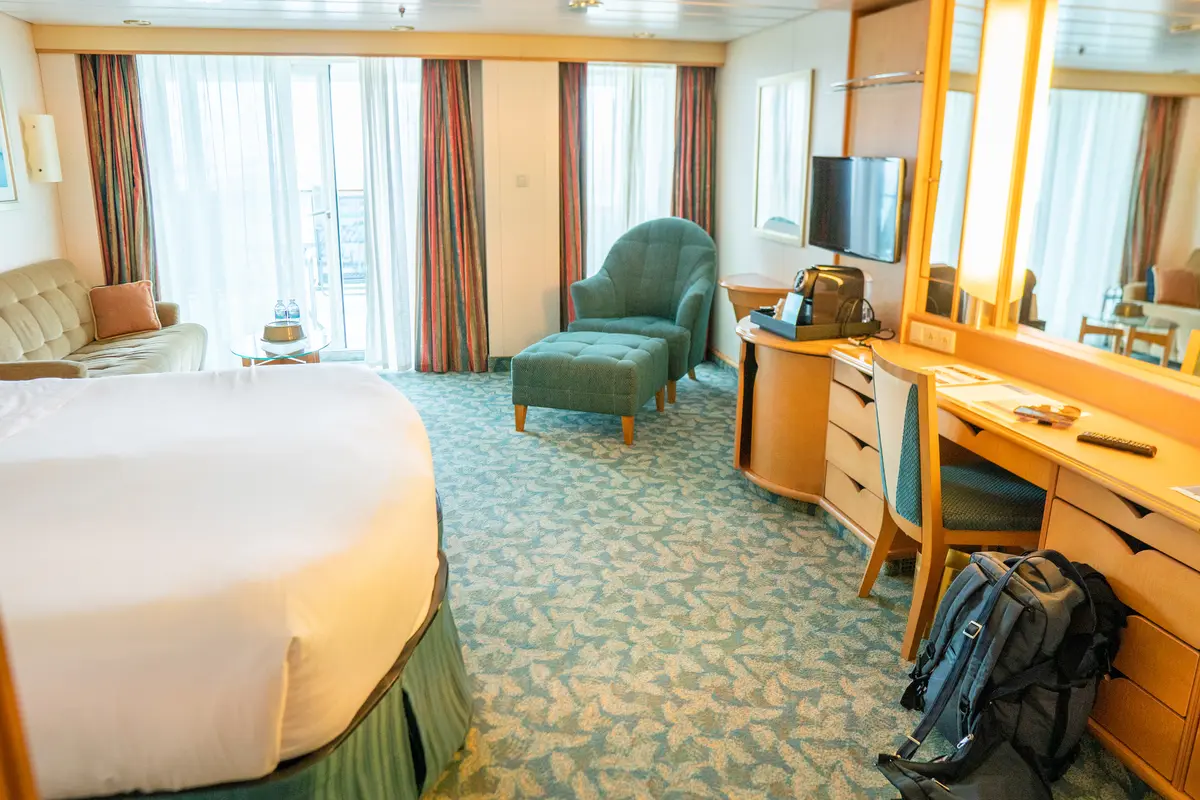 This is meant to be your home away from home for your cruise, so you want it to be as comfortable as it can be! There are some tips and tricks to make your stay in your stateroom enjoyable as possible, even if you only plan on using it as a place to rest and recharge for the next day. 
Here are 30 cruise cabin hacks that cruisers love to help you efficiently utilize the space you have in your cabin.
Please note that we've linked items on Amazon in the article, which contains an affiliate link. This affiliate link costs you absolutely nothing extra, but Royal Caribbean Blog makes a small commission if you purchase the item through the link.
Do not book the cheapest cabin
While it is natural to want to extend your vacation budget as far as possible, sometimes there aren't things worth saving money on-- namely, an interior stateroom. 
For some, this type of cabin is perfect, especially if they won't be in the room that often. They are, however, the smallest rooms onboard and do not offer any natural light or ocean views. This is usually what people are seeking when on a cruise!
Rather than book the cheapest possible room, do some research as to which cabin category works best for you and your travel party. 
Related: What are the different types of cabins on a cruise ship?
Research where you want your cabin to be located 
After you've decided if you want an interior, ocean view, balcony, or suite, you will need to determine where you want your cabin to be located on the ship. 
If you have a certain preference, you should avoid a "guarantee" stateroom. This means that Royal Caribbean will assign you your exact cabin a little bit before sailing, rather than you being able to control exactly what deck and position it's at. 
Those who value convenience, for instance, may want to stay somewhere midship. Equally important, they're great staterooms for people who are worried about sea sickness, as they tend to feel less movement than cabins located in the forward (front) or aft (back) of the ship. 
Related: The 5 best cabin locations on a cruise ship
Two cabins are usually better than one, even if it means sacrificing a balcony
To save money, you may be debating fitting as many people into a single cabin as possible. Just remember that you'll be living in tight quarters with these people for the entirety of your cruise. To be safe, consider booking two staterooms. 
The two bathrooms in two interior rooms might be worth giving up the balcony, especially when you can just head out to the top or Promenade deck whenever you want to take in the surroundings. 
Make sure that you pack a European power adapter and/or Royal Caribbean approved power strip
Cruise cabins, especially those on older ships, are not equipped with many charging ports. In fact, you should not be surprised if you find that there's one European and two American outlets on some ships like Freedom and Navigator of the Seas. 
Even if you only have two people in your cabin, you may start bickering over who gets to charge their phone, smart watch, etc. at any given time. 
To better prepare, you can either purchase a European power adapter or cruise line approved power strip. 
Related: The clever reason to bring a European power adapter on your cruise ship
Bring a long charging cable, too
Newer cruise ships are equipped with USB plug beside of the bed. Older ones, however, have their outlets condensed to the vanity area, meaning that they aren't conveniently located if you want to use your phone in bed while it is charging. 
The longer the charging cable you have, the better off you will be. Of course, you'll want to be careful navigating the cabin at night; you do not want to trip over the cord! 
Utilize packing cubes
Packing cubes are great investments because you can use them on any vacation!
They will help to keep your suitcase organized, whether you are bringing a carry-on or checked size bag. Plus, when you get to your stateroom, you can simply pull the packing cubes out and place them in the closet or inside of drawers, minimizing the time that you spend unpacking.
Unpack and get comfortable as soon as you can
Speaking of unpacking, as soon as you find that your suitcases have been delivered, go ahead and get settled in. Take time to unpack as early as you can. This way, you won't have to worry about it during sail away or any other fun embarkation day activities. 
The time in which luggage is delivered varies. Usually, though, they can be found outside your cabin within a few hours after you check in. Just in case it runs late, it's a good idea to pack a change of clothes in your carry-on bag. You don't want to go to dinner in a t-shirt and shorts! 
Do not be afraid to ask your stateroom attendant for more hangers 
There's some stuff that you might not want to keep tucked away in a packing cube all week, though. You will want to hang your evening attire, so it does not get wrinkly. If you are worried about not having enough hangers, don't worry! 
All you have to do is ask your stateroom attendant, and they will be more than happy to provide you with more. 
While there are organizational hacks, make sure that you don't overpack 
I'll be the first to admit that I often fall victim to overpacking. I don't know what I'll want to wear in the evenings, so I'll bring a couple of options. Even after a dozen cruises, this is especially true for shoes. 
If you and everyone else in your travel party overpacks, you might find your cabin to be bursting at the seams with stuff. This is never fun when you want a comfortable, clean place to return to each nice to relax and recharge for the next day. 
Take some time to really think through your outfits and what you'll need. It's okay to rewear a dress or two throughout the cruise. 
Related: Woman on TikTok shares planning hack for her Royal Caribbean cruise to make packing easier
Secure everything valuable in the cabin's safe 
You can never be too safe, especially with your important documents. When you get to your cabin, you should take everything important out of your carry-on bag, such as passports, birth certificates, credit cards, cash, etc., and place it all inside of your safe.
It should be unlocked when you arrive, but if you run into any issues, simply flag down your stateroom attendant, who will be happy to assist you. 
You will not need to worry about carrying any form of I.D. or card onboard to order drinks or pay for any other incidentals, as your SeaPass acts as both! You'll just need to remember to grab cash, I.D., etc. before you disembark in port, as your SeaPass only works onboard. 
Store your suitcases underneath your bed(s)
Once you have finished unpacking your bags, push them underneath your bed! This is a great place to keep them during your cruise, as you won't have to worry about tripping over them or having them roll around in your closet. 
Depending on how many people you have staying in your room and the total number of suitcases you have, you may want to bring stacking suitcases. These pieces of luggage fit inside of one another, meaning that less floor space is taken up! 
Other items can be stored under the bed, too
Depending on how many bags you're trying to fit under your bed, it's likely that you can store more there-- think backpacks, shoes, etc. The key to being comfortable in a stateroom it to utilize all the available storage space. 
This also may help feel the closet feel more organized, as you'll have less cluttering it up. 
Consider bringing magnetic hooks to help keep everything organized 
Did you know that the walls on most cruise ships are magnetic? One way to utilize this is to bring a pack of magnetic hooks. This will give you extra space to hang towels, lanyards, hats, bags, and more.
They are cheap, too! You can purchase a pack of six from Amazon for around $6.
Make sure you read reviews before purchasing any, though, as you want them to be strong enough to hold whatever you are wanting them to! Matt from Royal Caribbean Blog once purchased a pack of refrigerator magnets and was disappointed when he needed to use two to hold his hat. 
Leave your towels at home
There are some things that you shouldn't pack when preparing for a cruise vacation. Save room in your suitcase and stateroom by leaving all towels at home, both beach and bath!
You will be provided with unlimited towels on your Royal Caribbean cruise. Your bath towels will be replenished daily by your stateroom attendant.
Similarly, you are able to check out towels on the pool deck or when disembarking the ship with your SeaPass. Just note that each towel that you fail to return will incur a $25 charge on your onboard account! 
Since you cannot bring an iron, steam your clothes in the shower
Another item you'll have to leave at home is your steamer. When my friend went on her first cruise with me in May 2022, she was so disappointed when her luggage was delivered, and her steamer was not there! 
Your clothes don't have to be wrinkly, though. I personally like to turn on the shower and hang my garments in the restroom for a few minutes. This is a quick, easy, and time effective solution, so long as nobody else in my travel party needs to be in the bathroom. 
I also always bring some wrinkle release spray. A travel-size 3-in-1 bottle is only about $9 from Amazon! 
Purchase a motion sensor nightlight
Unlike if you were staying in a city like New York or Chicago, you won't get any light pollution at night seeping into your stateroom. Rather than turning on the bathroom light at night, many cruisers prefer to leave a motion sensor nightlight in the restroom. 
Whether you don't want to awaken your cabin mates or simply dislike a bright light at night, this is a great light that can be attached it to any wall or door in your stateroom. And like the magnetic hooks, it can be repurposed after your vacation at home. 
Related: I tried the best inside cruise ship cabin hacks to see how well they worked
You can ask your stateroom attendant to remove furniture
Want to increase the amount of floor space that you have? Once you have had a proper introduction to your stateroom attendant, you can ask them to remove furniture from your cabin, such as a nightstand or coffee table. 
Only two in the cabin? Split the bed into two for more floor space
Another way to make your stateroom feel larger is to split the beds into two. This gives you more space to move about the cabin and, specifically, in between the beds, rather than having to squeeze around the desk to climb into bed. 
When I am traveling with friends or family, I prefer to split the bed! However, I cruise solo quite a bit, and since I am the only person in the room, I don't mind sacrificing floor space to have a larger bed to myself. 
Make sure that you bring your own toiletries, including hand soap
Don't bank on finding any travel-sized shampoo or conditioner bottles on your cruise. 
Another difference between land-based hotels and cruise ships is that ships do not provide any kind of toiletries inside of your bathroom, other than a body wash/shampoo duo. 
Additionally, the onboard stores have a limited selection, meaning that if you have a preferred brand or scent, you may not be able to purchase it! Be smart and pack all of your own toiletries in advance. 
Moreover, Royal Caribbean does not provide liquid hand soap in staterooms. Instead, you'll find a little bar of soap. If you have a preference, you'll want to plan ahead for this, too. Oftentimes, liquid soap leaves your hands feeling (and smelling) better than the bar provided. 
Related: Best things to bring on a cruise under $10 I always regret forgetting to bring
Sleep in and have coffee delivered to your cabin 
Do you want to have a relaxing start to your morning without having to shuffle your feet to Cafe Promenade or the Windjammer for coffee? Well, you can order it room service! This is complimentary during certain hours of continental breakfast in the mornings. 
It's nice if you have a balcony, as you can wake up to a knock on your door and head outside to sip on your coffee while watching the ship either pull into port or glide across the ocean on a sea day. 
Once you've finished, you can head out to get breakfast (if you didn't want that delivered, too!) and begin your day. 
Instead of a collapsable laundry hamper, just bring a trash bag
If you're like me, you don't want to keep your smelly clothes around all of your clean ones. I hate designating a single drawer to my dirty clothes, too, as it fills up pretty quickly, especially on a week-long cruise. 
I also find that collapse laundry hampers take up excess space, both in the stateroom and closet. You can create your own "DIY" hamper by simply bringing a trash bag. This way, you'll have a designated space for your laundry!
Another solution is to just use your suitcase that's underneath the bed. The only annoyance about this is that you will have to constantly pull it out and push it back under.  
Bring air freshener for the bathroom
No matter how many people are staying in your cabin, the smaller-than-usual bathroom can hold any stench for longer than you can imagine. 
A 2fl oz bottle from Amazon is only $10. You'll thank yourself for throwing this in your carry-on bag (yes, it is TSA friendly)!
To save space in the bathroom, use silicone travel bottles and leave your full-sized products at home
You will also want to leave all of your full-sized toiletries at home. Space in cruise ship bathrooms is limited, especially in the shower. Sometimes, there is only a shelf or two. 
Buy a travel-size kit with silicone bottles from Amazon for less than $10 that you can refill before each vacation that you take. You can fill them with products like shampoo, conditioner, hair gel, lotion, and more. 
Pack over-the-counter medications and create a medicine drawer (or cabinet)
Nobody wants to think about getting sick on vacation, but it does happen to even the best of us! Even if you don't get ill, you never know when you might drink one too many drinks at night or suffer from a dehydration headache. 
Cruise ships have limited inventory of over-the-counter medications, and they're pretty costly, too. 
I always pack my own "DIY" pharmacy with things like Advil, DayQuil, Dramamine, sore throat drops, Antacids, and eye drops. This way, I know I have medication that is easily and readily accessible the second I feel like I need it. 
Add some personality to your stateroom by decorating your door
A cruise tradition that many first-timers don't know about is decorating the exterior of cabin doors. It's a fun way to add some personality to your room and help you locate it amongst a sea of individual doors on a seemingly never-ending hallway. 
There's a million ways that you can decorate your cabin; you don't have to be celebrating anything in particular. Maybe you got a drink package and want to purchase a funny warning magnet or just want a cute nautical theme to celebrate family time together.
Reusable water bottles are helpful to keep water in your mini-fridge
Most staterooms onboard Royal Caribbean ships do not come pre-stocked If you want water or anything to satisfy a late-night quench without having to leave your cabin, you'll want to fill up a reusable water bottle at a quick-service joint, whether that's Cafe Promenade, Park Cafe, or the Windjammer. 
If you have a drink package, use it to stock your mini-fridge with Powerade and water bottles
Alternatively, if you have a drink package, you can go to a bar and ask for a bottle of water, Powerade, or even a Red Bull to put in your fridge. You can do this throughout the day, so you start to build up your supply and don't have to ask for a bottle each time you return to your cabin. 
You can, of course, do this without a drink package, too; however, you'll pay individually for each drink, and this can add up pretty quickly! 
Bring a shoe organizer to hang over the closet or bathroom door
To help organize toiletries, shoes, jewelry, and more, bring a shoe organizer. This can be tossed over either a closet or bathroom door to help not only increase the amount of storage that you have, but also help everyone keep their belongings organized. 
It's easy for cabins to start to get messy a few days into a trip, especially if you have three and four people sharing a single bathroom.
A major bonus is this is another item that can be purchased for your upcoming cruise vacation for less than $10.  
Download television shows and movies ahead of time to watch at night or when recharging during the day
If you are hoping to watch the latest episode of your favorite television show while on your cruise, you'll have to either download it beforehand or wait until you return! 
Cruise ships have a limited number of television channels. Per Royal Caribbean's website, "RCTV includes a 29 channel in-stateroom TV system," so you are going to be able to catch up on live news, as well as find a movie or show that seems intriguing enough. 
The latest films, though, are not often available for free. You can, however, always browse through their pay-per-view offerings. 
If opting for self disembarkation, you do not have to pack your bags the night before
Veteran cruisers know that you only have to set your luggage out the night before your cruise ends if you want assistance with your luggage. 
This is a popular option because, let's face it, who wants to lug a 50lb suitcase off the ship themselves? If you have a reasonable amount of luggage, though, you can worry about finishing packing the morning of disembarkation, rather than having to decide what you'll need to leave out for that night and the next morning. 
Guests carrying off their own luggage are also able to get off the ship first, while those with bag tags will have to wait until their assigned departure time.