In:
Independence of the Seas is an impressive Royal Caribbean cruise ship that completed a massive refurbishment in 2018 to offer all new experiences and features onboard.
There is a lot to love about this ship, and we have eight important facts you should be aware of before your cruise on Independence of the Seas.
8. Largest hibachi at sea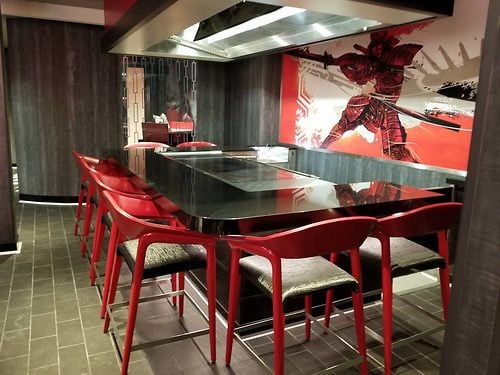 Photo by Travis Kamiyama
Ever since Royal Caribbean added a teppanyaki style dining option to Izumi locations on Oasis Class ships, they have become extremely popular with guests.  As a result, Royal Caribbean opted to add the first Izumi location to a Freedom Class ship and offer the biggest hibachi in the entire fleet.
Izumi Japanese specialty restaurant has been among the fastest spreading restaurants across Royal Caribbean ships, and Independence of the Seas is now home to the twenty-first location.  It is not only the first Izumi location on a Freedom Class ship, but also the largest capacity for the popular hibachi side.
7. Water slides and water fun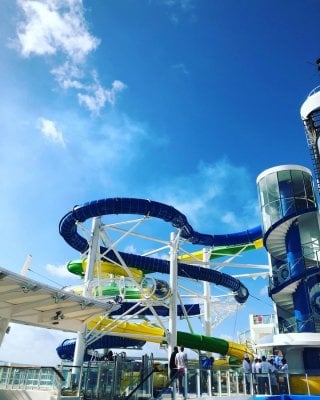 Families are sure to love the addition of the Perfect Storm water slides and Splashaway Bay to Independence of the Seas. 
Independence of the Seas offers two racer slides, Cyclone and Typhoon, which offer guests an exhilarating ride down each slide for a wet and wild finish.
In addition, Splasahway Bay has replaced the H2O Zone to bring the next level of aquatic park fun for families.  Splashaway Bay features water slides, fountains, pools and a really large drench bucket.
6. Laser tag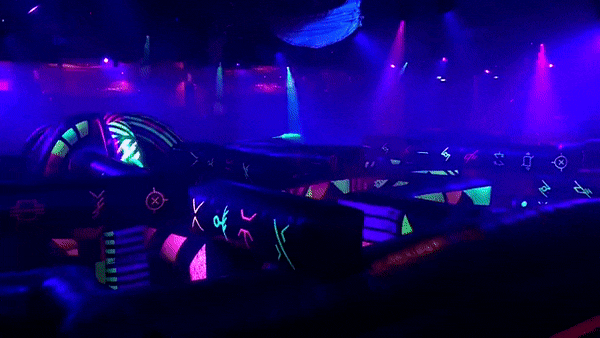 At special laser tag sessions, Royal Caribbean transforms Studio B into a glow-in-the-dark arena that invites everyone to see if they can conquer the, "Battle for Planet Z".
Guests can don special laser tag vests, grab a laser tag gun and head into the arena for a fast-paced team-game that rewards the group that works well together and coordinates their efforts.  Just like laser tag on land, Battle for Planet Z is a high-energy race with bragging rights for the rest of the cruise on the line!
5. Grease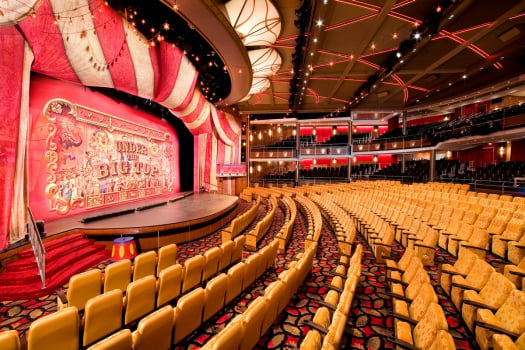 In 2016, Royal Caribbean added the Broadway musical, Grease, to Independence of the Seas and it is available to enjoy on your cruise with no additional cost.
This stage production of Grease was specially adapted by Royal Caribbean Productions and features all of your favorite songs, such as "Summer Nights," "Greased Lightnin'," "Look at Me, I'm Sandra Dee," "Born to Hand-Jive," "Beauty School Dropout" and more.
The best news about Grease on Independence of the Seas, is that the show is included in the cost of your cruise fare, so you can enjoy a Broadway show while onboard for absolutely no additional cost.
4. Views from the helipad
Independence of the Seas has a large helipad at the bow of the ship, which is a great venue for guests to enjoy during most times.  The helipad is the perfect spot for sailaway, stargazing, enjoying a view of the ocean or just a spot to sit down on one of the benches and relax.
To access the helicopter pad, go outside on deck 4 and then walk forward, climb up a set of stairs and continue walking forward until you reach the helicopter pad.
If you want to go out to the helipad and avoid the flight of stairs out on deck 4, you can cut through Pyramid Lounge on deck 5 at the front of the ship. Walk in and you'll see a DJ booth on the right. Walk past that booth and you'll see a set of doors that look like they're crew only, but they're not. They lead right out to the entrance to the helipad. Only a short flight of stairs and you are there.
3. Cantilever hot tubs

Hot tub Jacuzzis are always a great way to relax and forget all of your worries, and on Independence of the Seas, there are cantilever hot tubs that offer as wonderful a view as they are comfortable.
The hot tubs on Independence of the Seas are 16-person, half-moon whirlpools that cantilever out 12 feet over the ship's side, to offer some incredible views of the ocean below.  And oh yea, they are super relaxing too.
2. FlowRider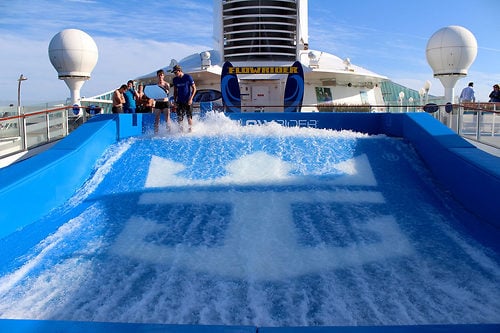 One of the more popular features on Independence of the Seas is the FlowRider surf simulator on deck 13.
The FlowRider is a simulator that sends water a very high speed across a small area that mimics what it is like to surf on the ocean. Guests can try their hand at stand-up traditional surfing or boogie boarding.
The FlowRider is included in your Royal Caribbean cruise fare, and you may try your hand at surfing as many times as you like. Just hop back in line and wait for a turn.
There is the opportunity to book private lessons for an additional cost.  At last check, private lessons cost $60 per person and lasts about an hour. Each lesson will have six to eight guests.
Private lessons can be booked onboard the ship and is sometimes available via the Royal Caribbean Cruise Planner.
1. Sky Pad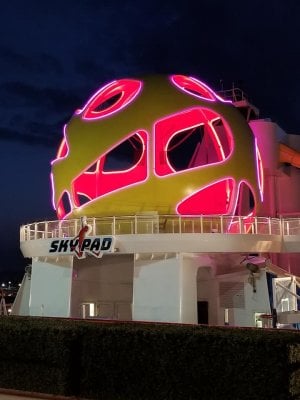 Looking to try something completely different that offers thrills, high-tech and a humble brag worthy message to friends back home?  The Sky Pad on Independence of the Seas is perfect for you!
Royal Caribbean offers guests an opportunity to try a virtual reality bungee trampoline experience.  Guests have the option to put on a virtual reality headset, and then strap into a bungee trampoline experience.
Your favorite
What is your favorite thing about Independence of the Seas?  Is it on our list or do you have something you think is worth the cruise fare alone? Tell us about in this blog post's comments!