In:
When someone wants to book a cruise, it seems the top question they have is where is the best location for a cabin on a cruise ship?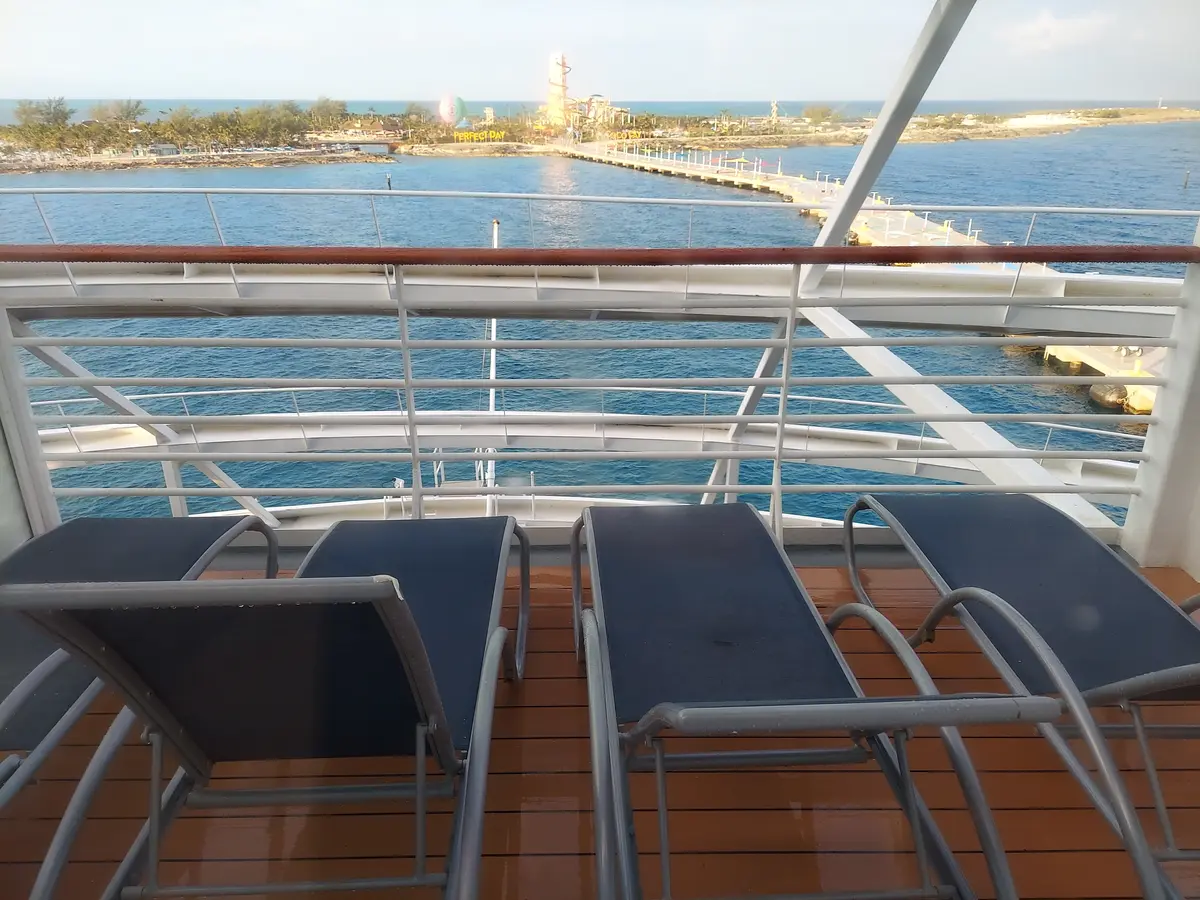 It seems like an easy question, but the answer is far more subjective because how personal in nature the options are.
Depending on your preferences, the perfect cruise ship cabin might be completely different from someone else. This is because we value different aspects of a cabin, as well as how we approach the cruise experience. The debate of if a balcony cabin is worth it is a microcosm of the issue.
You'll find cabins all around the ship and at all sorts of prices, from the affordable to the outrageous.  From the petite to the sprawling. And quite often, the room you'll end up booking is somewhere inbetween.
Believe it or not, it's actually easier to answer the question of which cabins are a mistake to book rather than which cabins are truly the best.
But since this question comes up so often, here are the best cabins to book for most people and why they might be the right choice for you.
Midship
As a general rule of thumb, a cabin in the middle of the ship is a winner for most people.
Midship cabins are a great choice because they offer a centralized convenience to the rest of the ship, especially the elevators.  On Royal Caribbean's bigger ships, distance to the nearest elevator can be a major consideration,
Equally important is the fact a midship cabin will feel less movement than a cabin closer to the end of the ship (especially the front).
Avoiding seasickness on a cruise is a top concern of a lot of first-time cruisers, and one tried-and-true strategy is to book a room midship to minimize the sensation of movement.  A midship cabin wont be immune to all sensations of movement, but it helps.
Speaking of seasick, you not only want to be midship, but also on a lower deck too.
Aft balcony
The more I cruised, the more I started hearing from veteran cruisers about the virtues of booking a balcony on the back of the ship.
An aft balcony is a balcony that overlooks the back of the ship, but why are these rooms so desirable?
In short, aft balcony rooms offer a different perspective than a balcony on the side of the ship and a lot of people find this view more relaxing.  Plus, the balcony itself is usually wider, offering a better angle.
On many Royal Caribbean ships, the size of an aft balcony can be gargantuan compared to a balcony on the side of the ship. 
If there's a downside to an aft balcony it's the distance back to elevators.
Hump balcony
You might do a double-take when you first hear about these kinds of balcony rooms, but it's a real thing.
The so-called "hump" balcony cabins are the rooms on the outwards part of the curvy outline of the ship.  If you look at a deck plan, you'll notice around mid-ship, the hull design jets outward. 
Essentially, you pay the same price as a regular balcony but get extra space.
Plus, hump balcony rooms are usually midship, which double up on the benefits mentioned earlier about a midship room.
You'll find hump balcony rooms with massive balconies on Radiance Class, Voyager, Freedom, Oasis or Quantum, but look closely at the deck plan to see which balconies are larger.
Cheap cabins
For a lot of people, the best cabin is located wherever the price is right.
Cruises aren't free, so every dollar you can save on your vacation is a dollar you can spend on another cruise. For many cruisers, finding the cheapest cabin available for a good deal is the right choice for them.
Finding a bargain room is almost certainly going to get you an inside cabin somewhere, but the cost savings usually resonate enough.  After all, a lot of cruisers spend very little time in their cabin because of all the fun to be had around the ship and in the ports of call. So why invest money in a space you're not going to spend a lot of time in necessarily.
It's important to understand booking the cheapest room could have consequences if luck is not on your side, such as a room on an extreme end of the ship, noise bleed issues from surrounding cabins, or very small living space.
Connecting cabins
If you're cruising with kids, I cannot understate enough the benefits of connecting cabins instead of one large cabin.
Connecting cabins are rooms that have a common inside door between them, which allows you to have two full cabins, along with separation between the two of them. Plus, each room has its own bathroom.
Booking two connecting cabins is a great way to get privacy, space for everyone, and an extra bathroom. 
You'd be surprised how affordable two connecting rooms can be versus booking a single larger room to fit 4 or 5 people.
The downside to connecting cabins is they are a terrible choice if you aren't booking both rooms.  The common door between the rooms is not as sound proof as the walls, so it is very easy to hear what's happening in the other room.
If you're not booking both connecting rooms, avoid booking a connecting cabin.
What about suites?
You might be wondering why there aren't any suites in my list, and there's two reasons why it's not here, but could still be a great choice.
First and foremost, the locations we talked about could include suites too. There are suites located midship, on the aft, and even suites that can connect with another room. So the rationale explained earlier in this post holds true whether if you are an inside room or a suite.
And then of course there's the price tag a suite commands. 
It's easy to assume booking a suite is like pushing the easy button for a cruise vacation. While I'm not denying there are a lot of great benefits you get for booking a suite, the significantly higher price tag makes it a challenge for many to afford.
In short, you don't need to book a suite to have a great room on a cruise.
Picking the best room on a cruise
There is no single option for everyone that is "the best." Rather, the best cabin for anyone is relative to their preferences, budget and tastes.
Royal Caribbean provides a great deal of staterooms to choose between on any cruise, that run the gamut of price, location and amenities.
When it comes to picking the best stateroom, you will have to weigh these considerations:
First and foremost, how much you can spend on a room will dictate largely your choices.  If you are cruising on a slim budget, suites and perhaps even balcony rooms are going to be out of the question.  If you have more to spend, then you will have more choices.
Perhaps the toughest decision is what type of stateroom to pick. There are good arguments to be made for every type of room, from inside rooms to balconies to suites.
An inside room will save you a lot of money, and makes a lot of sense since the ship has so much to see and do that you likely will not be spending much time in the room.  You could spend a little bit more and get an oceanview room and gain some natural light.  Or perhaps you go for a balcony room, which provides a private area to step outside and enjoy the ocean breeze as you see fit.  And of course, a suite means having the ultimate in luxury onboard and being in a room that nice, you will find good reason to enjoy time in there.
Choosing the right room for you is about how you like to cruise, and what you are looking to do onboard.  Shorter cruises means you will likely be running around trying to see and do everything, so investing a ton in an expensive room may not make financial sense.  On longer sailings, having a larger room means more space to spread out and enjoy to nap, read or watch the world go by.
Deciding if a balcony room is worth the price is something many cruisers have to consider with each booking. Ultimately, it depends on your budget and how much more it would cost to move up to a balcony room (or suite) from a lower category.
How important is location
Where your room is located plays a factor in determining what the best location is on a cruise ship.
The primary concern for most people when choosing a room is noise bleed.  The good news is that most rooms on Royal Caribbean do a good job at blocking out most noise, but no stateroom is soundproof.
A good rule of thumb when choosing a room is picking one that has no public spaces directly one deck above or one deck below it.
When choosing a room, you will need to look at if it's on a higher deck versus lower deck, as well as midship versus forward or aft.
In general, the most popular spot to be on a cruise ship is midship on a higher deck because these rooms are centrally located. Moreover, cabins towards the middle of the ship have the reputation of providing a smoother ride when the ocean is rough. The sensation of movement due to the ocean is perceived differently by everyone, but it is worth noting.
Staying on a lower deck has the advantage of being closer to popular common areas, such as the Royal Promenade, theaters and dining rooms. This means less dependency on elevators.
A room on a higher deck provides more desirable views, as well as being closer in proximity to the pool deck. On warm weather sailings, this may be a very convenient choice.
Which is the best side of a cruise ship to be on?
Many readers are curious which side of the ship they should pick for the room, and I believe it does not matter at all.
First and foremost, there is no set side that is always going to face one particular direction in port or at sea.  It varies depending on a variety of factors, and none of them are going to be known until you are onboard. Moreover, there is plenty to see in all directions when it comes to most sailings.
When docked, the crew can tie up a ship on either side. This means that one side does not consistently have better views when in port.
Ultimately, where your room is located on the ship (midship versus forward or aft) is an arguably more important consideration than the side of the ship.
Room upgrades & guarantees
If all of this has made sense up until now, here are two other stateroom options that may change up your decision, while potentially saving you money.
Bidding for a room upgrade
Royal Caribbean offers guests on most sailings the opportunity to bid for a stateroom upgrade through RoyalUp.
RoyalUp asks guest to provide a blind bid for a stateroom upgrade on the chance the room is available.  Once a bid is made, Royal Caribbean will consider it until such time that there is an upgrade opportunity. 
The advantage of upgrading your room via RoyalUp is that you could move up to a higher, more desirable room, for less than booking it outright.  However, there is no way to know if there is even an upgrade opportunity (the program is used quite often by the cruise line as a backup incase someone cancels at the last minute) and there is no way to know if your bid is "good enough" to win.
If your RoyalUp bid is accepted, Royal Caribbean will assign your room automatically, leaving little to no choice in its location.
Guarantee Cabins
If you want to save money on the a cabin, and are not particular about the exact location, then a guarantee room assignment might be the choice for you.
Booking a stateroom guarantee means Royal Caribbean will pick the exact room assignment for you, while guaranteeing you will get that room category or higher.  
So if you booked a balcony guarantee, you would be assured of getting at least a stateroom with private balcony somewhere on the ship, with the exact room assignment coming later.  Guarantee rooms could potentially provide a higher room category, although this is a rare occurrence.
For guests who do not care that much where exactly on the ship their room is located, a guarantee room booking can save a lot of money on the cruise fare.