In:
Which is the best side of a cruise ship to be on? Is it better to be on a higher deck on a cruise ship? Where is the best place on a cruise ship to avoid seasickness?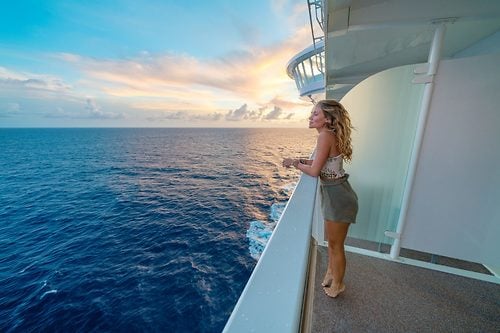 New cruisers often are curious about how important their cabin selection is, and what is the best spot for them on a cruise ship.
There are a number of considerations when it comes to picking the best place to stay on a cruise ship, and a lot of has to do with convenience and seasickness.
Cabin size and cost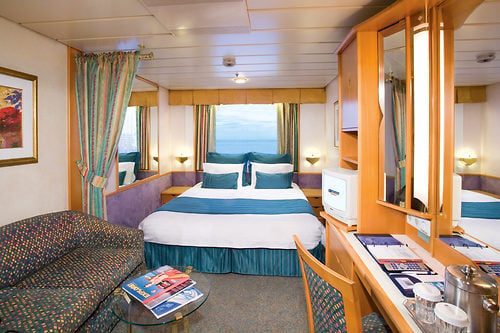 Likely the first consideration when picking the perfect stateroom for you is the price and how much space it offers.
Just like picking a hotel room, your cruise ship cabin options come in a variety of sizes, layouts and prices.
When choosing a room, you will first have to figure out which stateroom category you desire, which places the stateroom in a ballpark of price and amenities.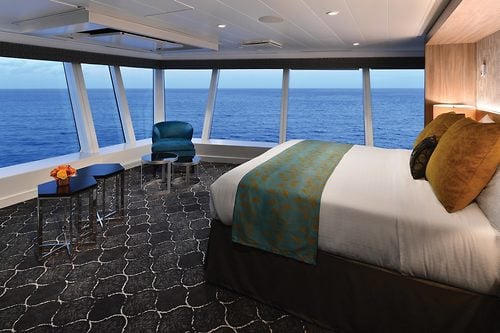 Interior rooms will offer the least amount of space at usually the lowest price. Balcony rooms and suites offer the most space and amenities with also the highest price tag.
Exact room dimensions, layout and price will vary and you can see a large discrepancy in price depending on a variety of factors (check out How far in advance should I book a cruise to get the best price).
Read more: How to choose a cruise cabin
Location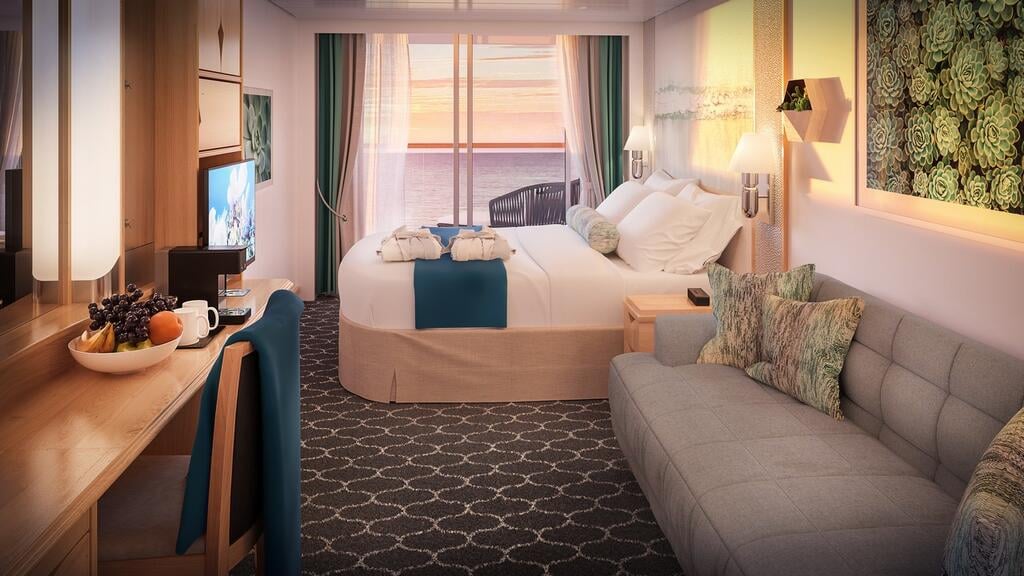 Where the room is located can dictate price and options. In general, many cruisers prefer mid-ship room locations on a lower deck, especially if getting seasick is a major concern.
Rooms that are located at the very front or very aft of the ship, and/or rooms on higher decks have a reputation of there being more noticeable movement.
Whether your room is on the port or starboard side of the ship is in most cases totally irrelevant. There are a few rare itineraries where the side of the ship your room is on may matter subjectively, but it is not a factor that I recommend considering.
Picking the right room is often a question of determining which public areas you prefer to be near.  Rooms in close proximity to pools, restaurants, Adventure Ocean, elevators, the fitness center and more may be something to look into when picking the right room.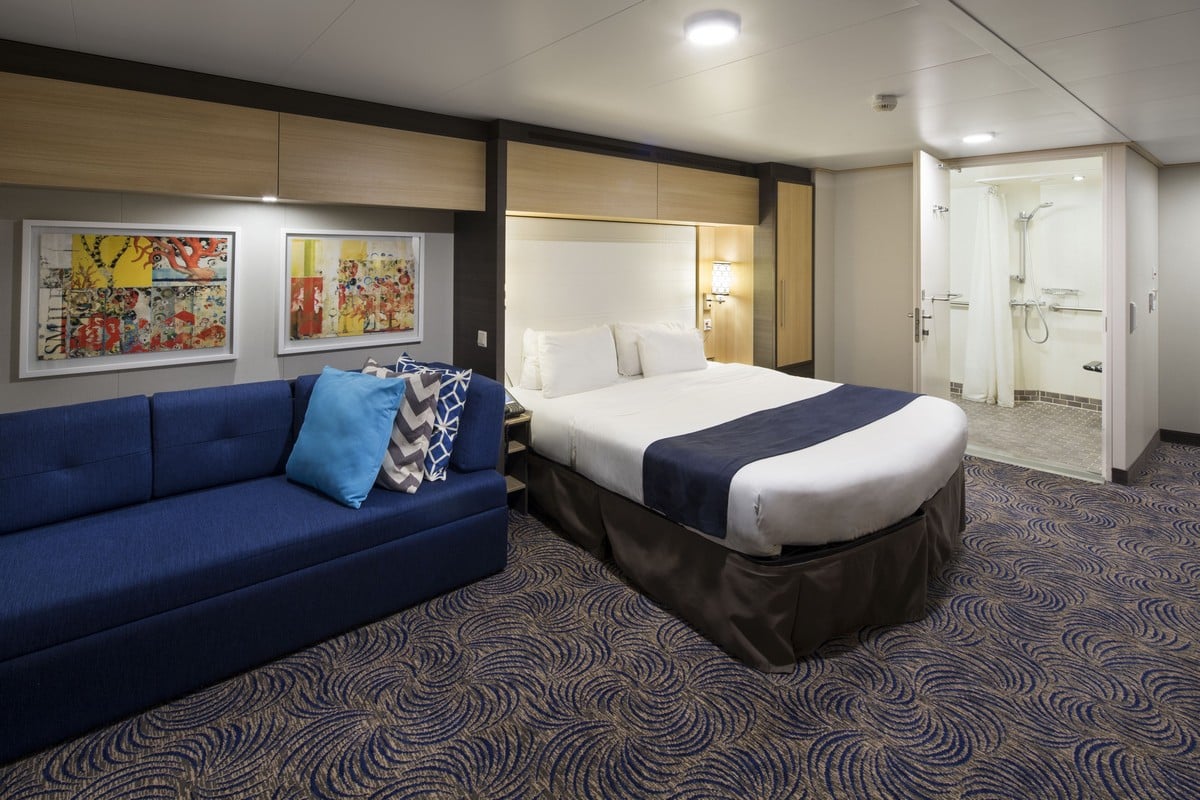 When in doubt, go for a room towards the center of the ship. Getting a mid-ship cabin means shorter walks to get places, because you are always near what is happening onboard.
If mobility is a concern, picking a room near an elevator towards the middle of the ship is usually the best course of action.  In addition, Royal Caribbean offers special accessible room categories for those in a wheelchair.
When picking a room, be sure to consider what is one deck above or below your room. Public venues above or below your room can sometimes lead to unwanted noise bleed.  Consulting deck plans for your ship is the best way to figure out what is around your cabin.
Views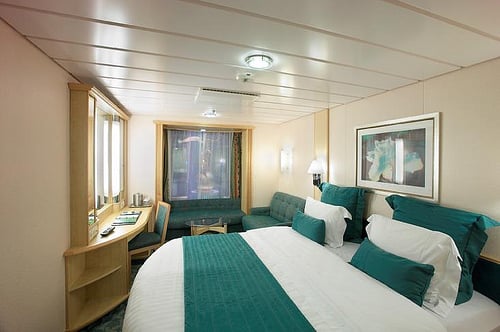 What you can see from your cabin is a major consideration when picking the perfect room. 
Inside staterooms tend to be the cheapest option available, because they offer no windows or balcony and the least living space. You could move up to an oceanview room, which features a porthole to the ocean.  Adding a private balcony means much more living space in your room, and outdoor space to see, smell and take in the views around you.  Then you have suites which offer the most space and balcony area, at the highest price.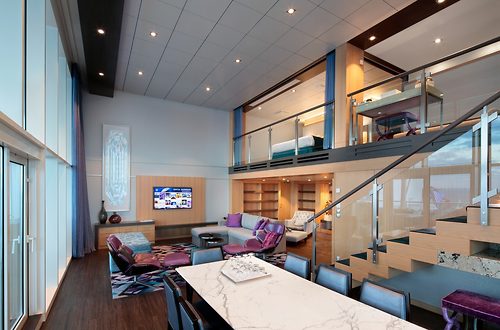 There are some rooms that offer obstructed views, which means you get a discount on the normal cost of the room, but something is blocking your view outside. How much of your view is blocked will depend on the room.
Royal Caribbean also offers staterooms that face inward to the ship, rather than to the ocean. Central Park Balcony rooms, Boardwalk Balcony rooms and Promenade View rooms are all examples of staterooms that offer windows and private verandas sans the ocean around you. These can be fun alternatives, that are often much cheaper than their ocean-facing counterparts.
Which cabin location on a cruise ship is best?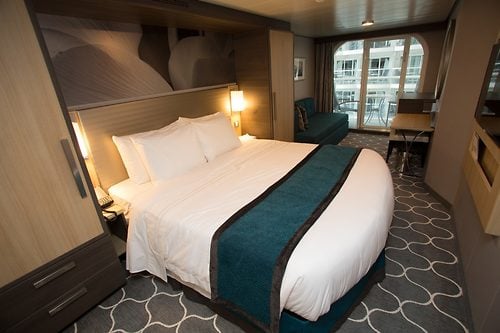 The short answer is, there is no one cabin location that is best for everyone. 
You have to weigh the considerations outlined here and decide which is most important for you.
Overall, the cost and location of the room are the primary factors when picking the perfect room on a cruise. This may mean paying more than others to get that awesome stateroom in the perfect spot.
Many first-time cruisers are very concerned with getting seasick, and while it can happen, it should not be a primary concern when choosing a room. Do not let this fear force you to overpay for a cabin that looks to be the only choice worth considering. Yes, staying somewhere toward the middle of the ship on a lower deck is the best spot to minimize the sensation of movement, but you can venture a bit off center if it means saving a lot of money.