In:
There has been a "mini" change to guests staterooms on Royal Caribbean cruise ships over the last six months or so, where the mini-bar model on Royal Caribbean ships has drastically changed.
Royal Caribbean guests on a cruise these days will find a form near their mini-fridge, where guests will be able to order exactly the types of beverages they want stocked in their mini-fridge rather than have an array of beverages provided in the beginning of their cruise.
The form is similar to the room service breakfast menu, where guests fill it out at their convenience and then hang the form outside the stateroom door.  Orders placed before 5:00pm will be delivered the same day, otherwise, the order will be delivered the next day before noon.
There are four basic categories of beverages to choose from on the form: bottled water, soft drinks, sports drinks and juice.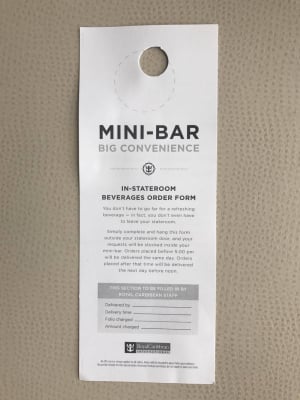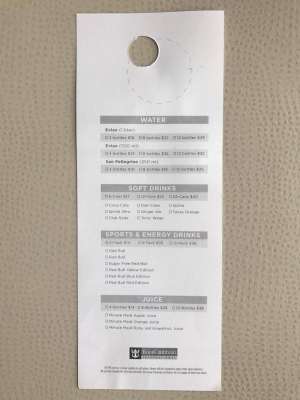 Keep in mind none of the beverages available through the mini-bar are included in any unlimited drink package.
Do you like this concept of having "on-demand" mini bar drinks? Or do you prefer the classic mini-bar experience with drinks pre-stocked? Share your thoughts in the comments.