In:
You've heard of frequent flyer miles, but did you know that cruise lines also have loyalty programs?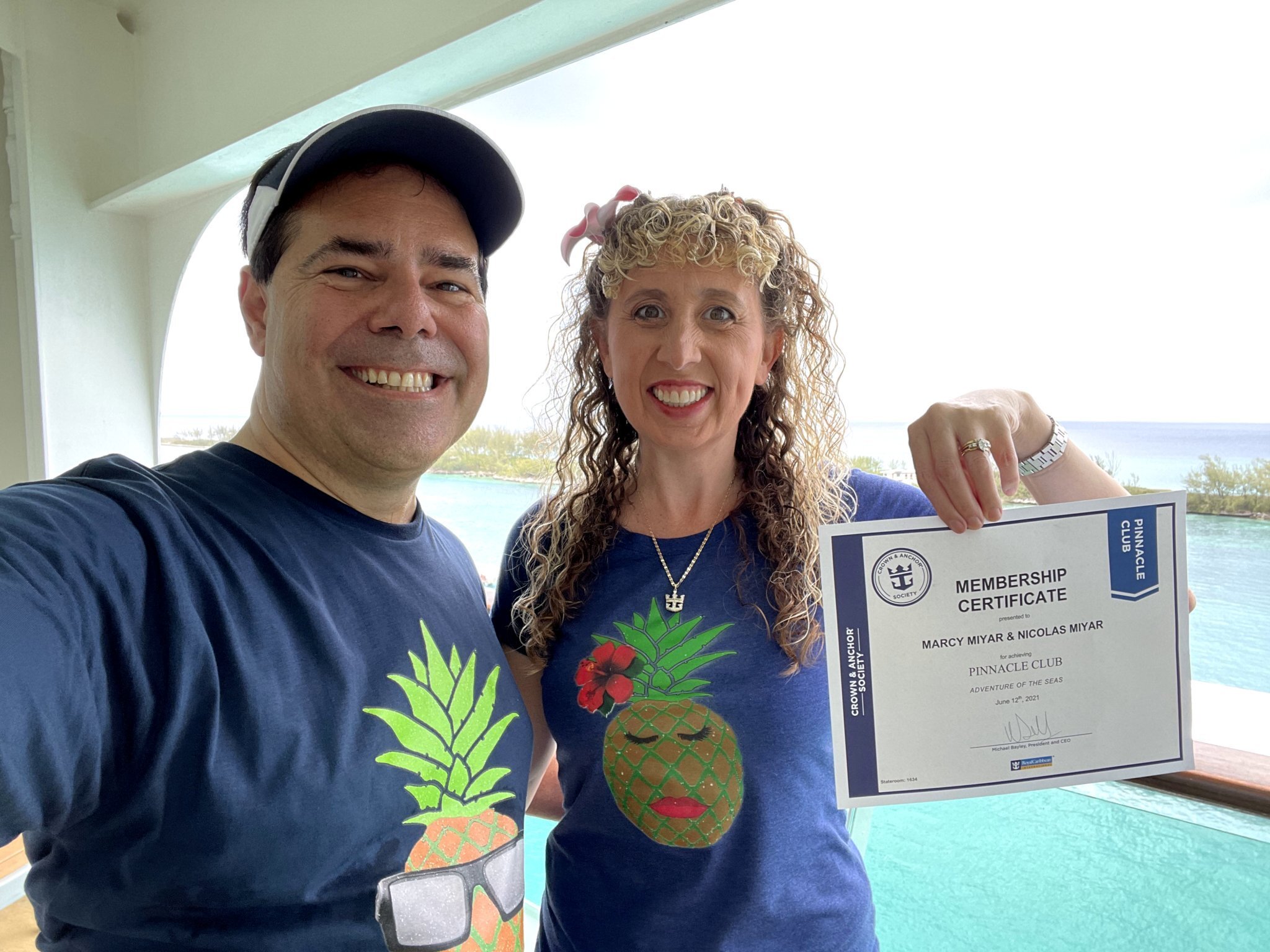 Royal Caribbean's customer loyalty program is called the Crown and Anchor Society. You earn points based on how many nights your cruise is, as well as your cabin type or if you are going solo.
There are six tiers in the program:
Gold: 3 points
Platinum: 30 points
Emerald: 55 points
Diamond: 80 points
Diamond Plus: 175 points
Pinnacle Club: 700 points
As you progress through the tiers, you earn rewards such as discounts on internet, onboard merchandise, beverage packages and certain fares, just to name a few.
It may seem like getting to 700 cruise points is impossible, but it can be done. There are many different ways to achieve it, and I wanted to share how we did it.
Starting out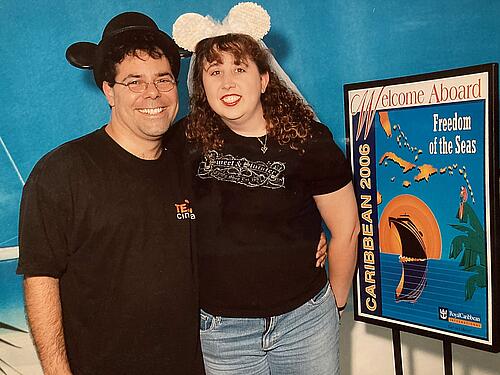 My husband and I took our first Royal Caribbean cruise on the Freedom of the seas in 2006 for our honeymoon. After that, we cruised once a year, always in October for our anniversary.
In 2010, we started doing weekend cruises on Monarch of the Seas. One morning, we went to the next cruise desk to book our annual anniversary sailing. The crew member there told us we really should be striving to become Diamond. He then told us how to earn extra points to help us ascend the tiers faster. His advice was to start booking junior suites. By doing that, we would earn two points per night. So for many years, that's what we did.
By February 2011, we were Diamond. Then it became a goal to get to Diamond Plus. We continued to book junior suites exclusively and reached Diamond Plus in October 2015.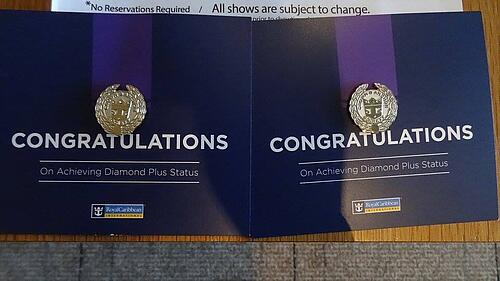 At this point, we were content (at least I was). Diamond Plus is a great tier to be at. It's a large tier (175-699 points) and as you progress through it, you get more benefits.
At 340 points you receive what is called a "single supplement discount", which is great for solo cruisers. Typically, if you cruise by yourself, you are paying double occupancy (unless you find the rare single cabins which are only available on select ships).
With the single supplement discount, instead of paying 200% fare, you're only charged 150%. Sailing solo also earns you an extra cruise point per night.
This became important to us as now achieving Pinnacle status before turning 50 years old became my husbands goal.
Full speed ahead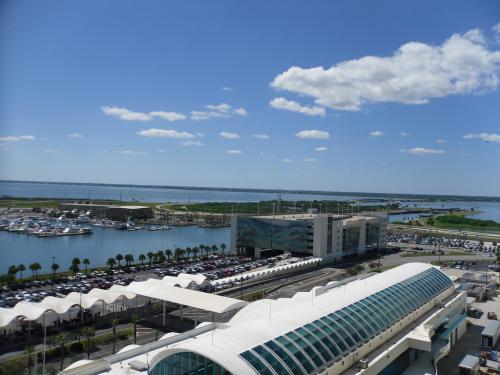 In 2016, we started what I call "points chasing;" booking like crazy to get to Pinnacle as fast as we could. We are lucky that we live in Central Florida, because we have access to four cruise ports ranging in drive time from 45 minutes to 4 hours. We also have no children, so we weren't tied to school schedules. We were able to cruise any time of the year.
Our game plan was to fit in as many weekend sailings as possible to maximize our points. We ended up doing nine cruises that year.
To keep all of these cruises straight, we made up an Excel spreadsheet with not only our budget for each cruise, but also how many points we would accumulate per sailing. We literally titled it our "Pathway to Pinnacle" spreadsheet.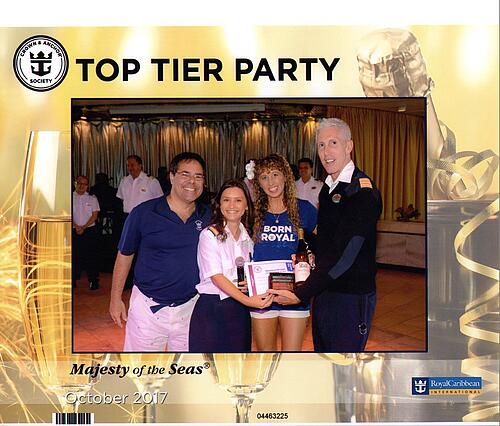 In 2017, we crossed the 340 point mark and I started doing solo cruises. Not only did I sail alone, I was also in a junior suite. That earned me three points per night! Since we're married, my husband was able to share my points, even without having to sail. That year ended with 14 more cruises sailed, three of which I did as a solo traveler.
In 2018, we were assigned a new Royal Caribbean vacation planner who told us what a lot of her clients were doing to make it to Pinnacle faster. On the cruises where my husband and I were together, she suggested I book the junior suite we always sail in by myself and have my husband book an interior room. That way we'd always be getting the maximum points on every sailing.
I thought that would be way out of our price range, but in reality it only ended up being a couple hundred dollars more because of the single supplement discount. We dubbed that our "triple points scam." We were now earning three points per night on every sailing.
That moved us up fast. From January 2018 until the end of 2019, we earned 246 points. By this point, we reached 661 points.
Road block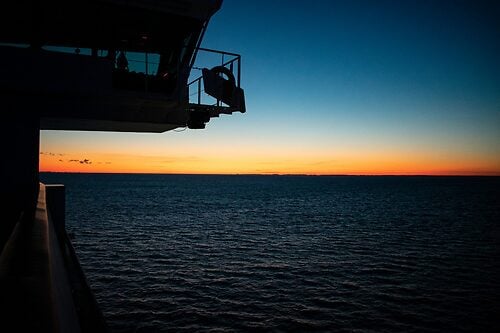 In 2020 we did two weekend sailings in January and February for a total of 697 points. We now just had to wait until our April cruise on Harmony of the Seas to turn Pinnacle. And then, two weeks after our last sailing, the pandemic struck and the entire cruise industry was shut down for the next 15 months!
We were literally going crazy. Just three points away!
We booked and rebooked every month. Our disappointment grew with each subsequent cancellation until finally in June 2021, we were able to book the first sailing in North America. We flew to Nassau to board Adventure of the Seas and finally earn that coveted 700th cruise point.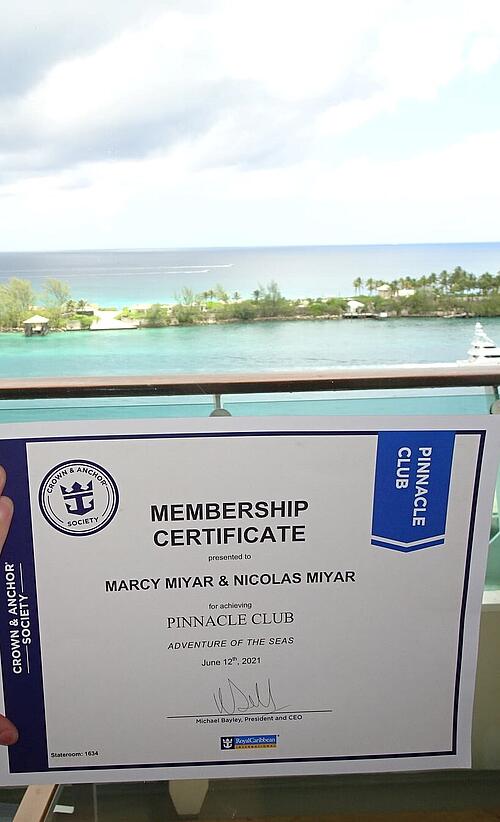 In all, it took us thirteen and a half years to get to Pinnacle, not counting the year and a half the cruise industry was shut down.
Oh, and in case you were wondering, we did make it before my husband turned 50, with one month to spare!