In:
As your Royal Caribbean cruise approaches, there is one important step you shouldn't overlook: selecting an early check-in time.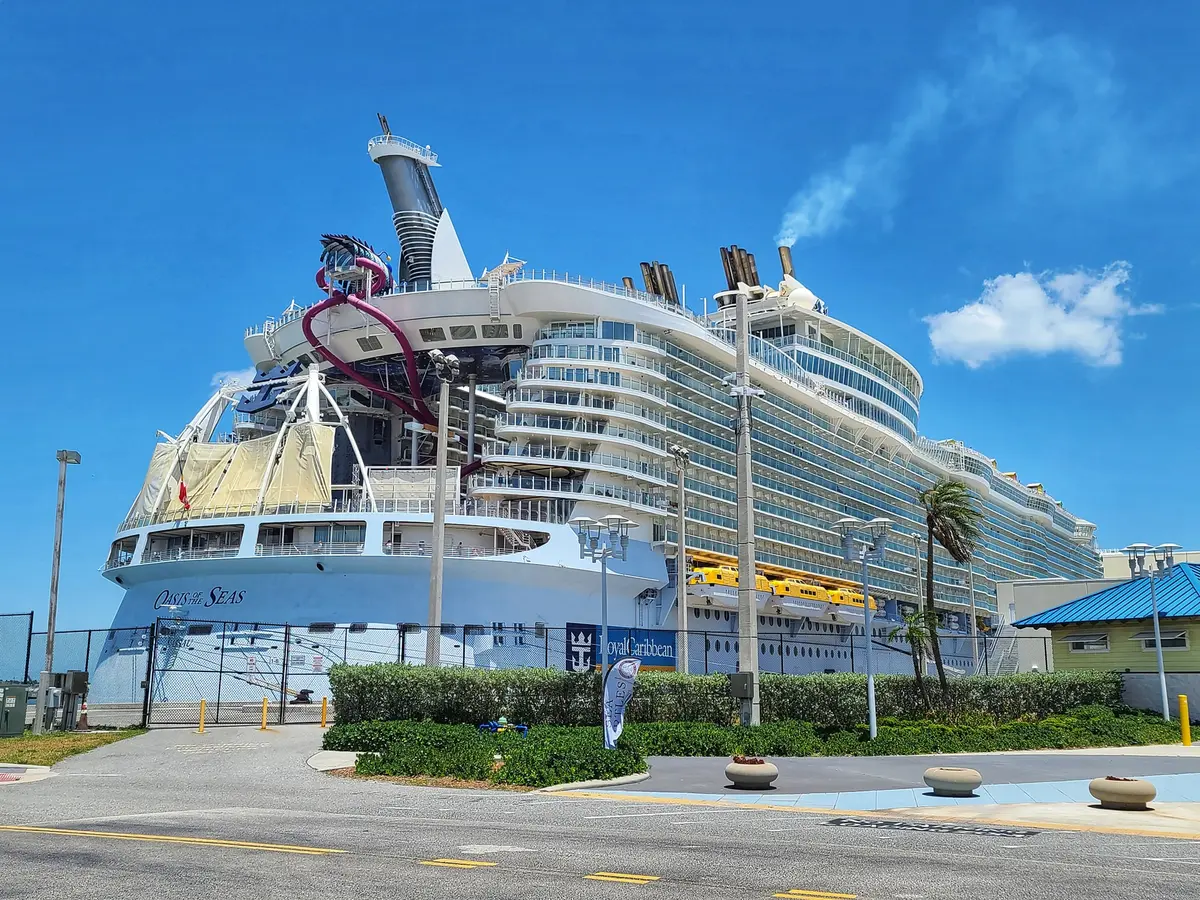 45 days prior to your cruise, you can check in to your sailing via Royal Caribbean's website or the Royal Caribbean app. During the online check-in process, you'll upload identification documents, provide credit card information, and, most importantly, select a check-in time.
Your check-in time is the time at which you can enter the cruise terminal on embarkation day. The earliest check-in time is around 10:30AM and the latest in mid afternoon, and we always recommend reserving the earliest time available.
The earlier you get onboard your cruise, the more quickly you can start the vacation you've been dreaming about for so long. Beyond just starting your vacation earlier, though, are a range of other benefits you can experience by boarding earlier than most other passengers.
Here are the top 11 reasons to get as early a check-in time as possible for your cruise.
Fewer crowds at the cruise terminal
One of the best reasons to get an early check-in time is to avoid crowds at the cruise terminal. The embarkation process is fairly straightforward, but it entails going through several lines before you can board your ship.
First you'll enter a line outside the terminal for other passengers with your same check-in time. Then, as you enter the terminal, you'll enter a line to have your documentation checked. Finally, you'll enter a line to go through security.
Waiting in line is not anyone's idea of a fun vacation, so make sure to get an early check-in time to be among the first in the cruise terminal.
Best parking spots at the port
If you have an early check-in time, you'll be among the first to arrive at the cruise terminal. Even though 1,000 other passengers may have your same check-in time, there will be far less competition for a great parking spot compared to later in the day.
If your check-in time isn't until 1PM and you plan to park your car in the lot, you'll be stuck with the worst spots. Getting an early check-in time means you can snag the coveted spots near the entrance of the closest garage to the terminal.
Avoid parking garage delays
It's an all too common scenario: you're ready to park your car but are stuck in a long, slow moving line of traffic. No one likes being stuck in traffic at any time, but especially when you're ready to board your cruise!
Depending on your cruise ship, between three thousand and seven thousand people will board the ship on the same day. Managing thousands of people is never easy, and this can lead to crowds not only in the cruise terminal, but also in the parking garage.
Avoid delays to park your car by selecting an early check-in time. If you're lucky, you'll be among the first to park your car, which will surely be quicker than later in the afternoon.
Start your vacation sooner
Who doesn't want to start their vacation as soon as possible? Having an early check-in time for a Royal Caribbean cruise means you can get your vacation started earlier than other passengers.
The earlier you check-in and board your ship, the faster you can explore your ship, order your first cocktail by the pool, and hang out in a jacuzzi. With the earliest check-in times, it's feasible to be onboard before 11:30AM, allowing you to make the most of your first day onboard.
Passengers with late check-in times—think 1:30 or 2PM—will feel a lot more rushed on embarkation day. After they get onboard and eat a quick lunch, they'll have to rush to their eMuster safety drill station and get ready for dinner.
Why rush when you can relax? Reserve an early check-in time to kick your vacation off the right way.
Best selection of dining times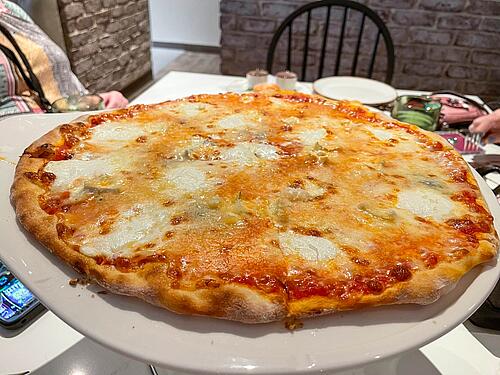 Royal Caribbean's dining packages can offer a great value on specialty restaurants, but they come with one major disadvantage: you can't make dining reservations until you board the ship.
This means you may be limited on dining times and restaurant availability compared to those who paid full price for each restaurant by booking their reservations without a dining package. And since dining packages are extremely popular, many other passengers will be rushing to make dining reservations on embarkation day.
Related: The Ultimate Guide to Royal Caribbean's Unlimited Dining Package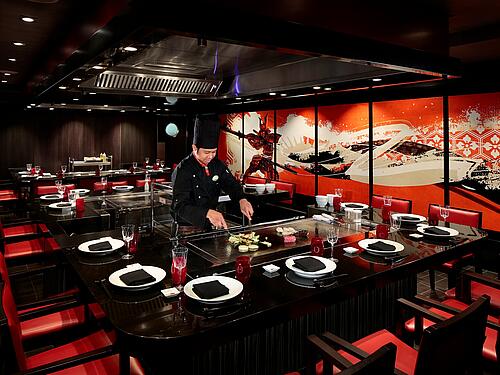 Popular dining times—from 6 to 7:30PM—can book up quickly. One way to snag the best dining times is by getting onboard early and immediately heading to a specialty restaurant. Luckily, you can make reservations for all specialty restaurants at a single location, so there's no need to visit every single restaurant to book your dining time.
Note: The exception is with Izumi Hibachi. If you plan to make hibachi reservations, be sure to head to Izumi once onboard.
Beyond specialty dining, though, you can be among the first to head to the Main Dining Room to confirm or request reservations. If you have any questions about your dining time or would like to request a new table, you can do so before other passengers arrive.
Shorter lines for the buffet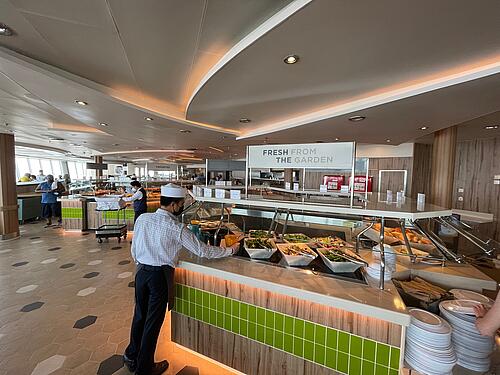 Nothing screams "first day of a cruise" quite like rushing to the Windjammer for embarkation day lunch. Royal Caribbean's buffet gets extremely busy on embarkation day as thousands of hungry passengers search for a quick lunch to start their vacation.
One of the best advantages to having an early check-in time is getting onboard before most other passengers, and this also means getting to the Windjammer more quickly. If you're one of the first to board your cruise ship, you'll encounter fewer lines and crowds at the buffet, making the start to your vacation much less hectic!
Related: Where can I eat on the first day of my Royal Caribbean cruise?
Alternatively, you could choose to dine elsewhere instead of the buffet. Other restaurants are open on embarkation day, from specialty dining venues like Chops Grille to quick grab and go spots like Park Cafe. While the Windjammer is convenient, it can be uncomfortably busy on the first day of your cruise.
Register kids at Adventure Ocean more quickly
Cruising with kids? If you plan to drop your kids off at Adventure Ocean, you can register them for the program on embarkation day.
Adventure Ocean, Royal Caribbean's children's programming, is complimentary for ages 3-17, but all children must be registered. The best time to register kids for Adventure Ocean is on embarkation day, and registration opens around 12:30PM.
Related: 50 best cruising with kids tips & secrets
Registration only takes a few minutes, but you'll want to avoid the lines you might find later in the afternoon. The earlier you register your kids at Adventure Ocean, the less you have to worry about, and the sooner you can start trying fun activities onboard.
Try activities before everyone else
Speaking of fun activities, the sooner you get onboard, the sooner you can try signature activities like the FlowRider, rock climbing wall, Skypad, and waterslides.
Not all passengers know that these activities are open as soon as you board the ship, leading to far fewer lines and wait times.
If you're eager to try the zip line, head to the sports deck right after lunch. Unlike on a busy sea day, you might be one of the only passengers in line, allowing you to fly across the zip line several times in a row with no wait!
Be sure to confirm activity times in the Royal Caribbean app's daily schedule to make sure the activity you're interested in is open. We also recommend wearing tennis shoes on embarkation day if you plan to participate in sports activities.
Reserve entertainment and activities before other passengers
There are certain activities and production shows that must be reserved in advance, and spots can fill up quickly. Comedy shows, the escape room, and the North Star observation pod are all examples of activities that require a reservation.
Luckily, you can pre book some entertainment and activities ahead of time on Royal Caribbean's Cruise Planner website. Broadway shows, for example, can be reserved at no extra cost starting 30 days before your cruise. We recommend doing this to ensure you can reserve the best day and time that work for you.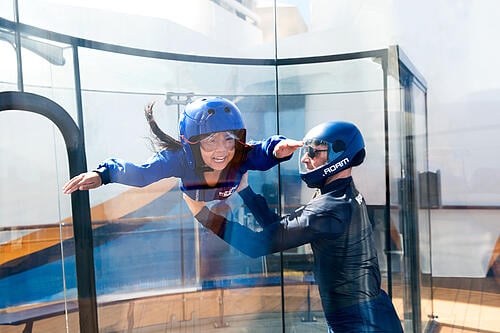 Some activities, though, can only be reserved once onboard. If you're sailing on a Quantum Class ship and want to try RipCord by iFLY, the ship's indoor skydiving simulator, you'll need a reservation. While you can reserve the paid option of this activity before your cruise (a 2 minute flight), the complimentary option (a 1 minute flight) is only available to book onboard.
Related: 15 free things to try on your next cruise
The limited amount of complimentary flights will fill up more quickly than you think, so having an early check-in time gives you a head start on reserving these activities.
Be the first at the pool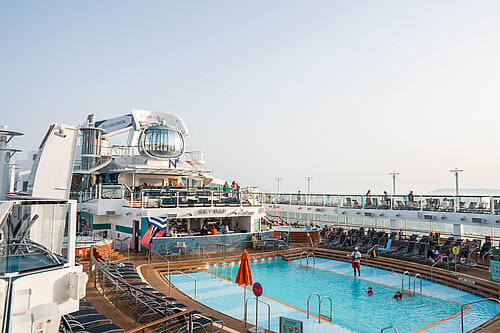 Crowded pool decks are a common sight on a cruise ship, but not on embarkation day. If you want to avoid crowds, pack your swimsuit in your carry-on bag and head to the pool right after you get onboard.
Embarkation day is perhaps the most empty you'll see a cruise ship pool during your entire vacation. With so much happening on the first day, from exploring the ship to unpacking, many cruisers wait to use the pool until later in their cruise.
Related: 25 things you need to know for the first day on a cruise ship
Plus, most passengers don't think to bring a bathing suit in their carry-on bag. If they dropped off their luggage with the porters at the cruise terminal, they'll be swimsuit-less for the majority of embarkation day.
Even so, you can still encounter crowds at the pool on embarkation day, especially if you're on a short weekend cruise. Having an early check-in time means you can eat lunch and change into your bathing suit before most other passengers have boarded the ship!
Hotel check-out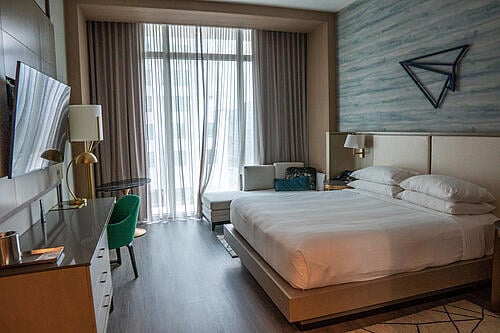 Many passengers stay at a hotel the night before their cruise begins, especially if they fly to the cruise port. Most hotels require you to check out around 11AM, which coincides perfectly with the earliest check-in times for a Royal Caribbean cruise.
If you need to check out of your hotel at 11AM but your check-in time at the terminal isn't until 2PM, this could lead to several hours waiting around with your luggage.
Getting the earliest check-in time possible means you can wake up, have breakfast, and head to the cruise terminal as soon as you check out of your hotel.