In:
Planning a cruise can be just as fun as setting sail, and the best place to start your cruise planning process is on the Royal Caribbean Cruise Planner website.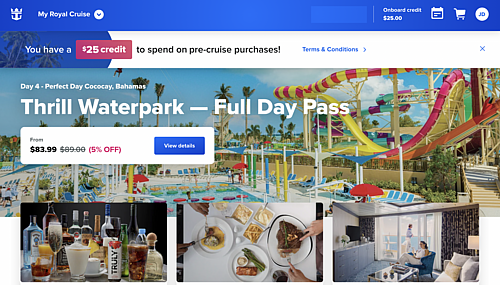 Royal Caribbean's Cruise Planner is where you can book add-ons like shore excursions, drink packages, specialty restaurants, and internet packages. It's your go-to place to see what is available on your upcoming cruise.
If you're new to Royal Caribbean, the Cruise Planner can feel a bit overwhelming at first. Knowing the ins and outs of the Cruise Planner can not only help you find the best add-ons for your cruise vacation, but save you money along the way.
Here's our Ultimate Guide to the Royal Caribbean Cruise Planner site.
How do I access the Cruise Planner?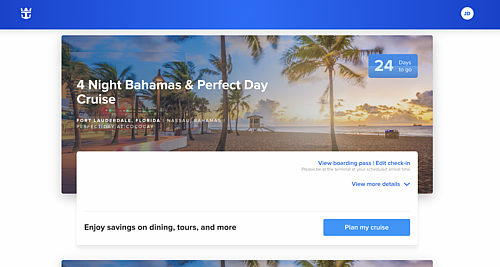 To access the Cruise Planner site, go to Royal Caribbean's website and click "Sign in" on the top right corner. Once you've signed in, you should see a list of your upcoming cruise(s).
Scroll to the cruise you'd like to plan and click "Plan my cruise". This will open the Royal Caribbean Cruise Planner site.
If you do not see a list of your upcoming cruises, click "Add another cruise" and link your reservation number to your Royal Caribbean account.
What is available to reserve on the Royal Caribbean Cruise Planner site?
Everything from catamaran tours to sushi making classes can be reserved on the Cruise Planner site. Let's dive in to see what options are available.
Beverage Packages
Royal Caribbean offers three beverage packages available for purchase on the Cruise Planner: the Deluxe Beverage Package, Refreshment Package, and Classic Soda Package.
The Deluxe Beverage Package includes all alcoholic beverages, soft drinks, specialty coffees, bottled water, fresh squeezed juices, etc.
The Refreshment Package includes all non-alcoholic beverages.
The Soda Package includes unlimited soda refills with an included Coca Cola souvenir cup
Related: Royal Caribbean Drink Package Info, Tips, Pros & Cons
If one person in a cabin purchases a Deluxe Beverage Package, all adults in the room must also purchase the package. That being said, Royal Caribbean often makes an exception to this rule if the second adult in a room does not consume alcohol.
In this case, it's recommended to call Royal Caribbean at 1-800-398-9819 to explain your situation. The second guest will, most likely, be required to purchase a Refreshment Package in lieu of a Deluxe Beverage Package.
You'll also find a few other beverage packages available on the Cruise Planner:
Water Bottle Package (12 or 24 bottles)
Cafe Select Coffee Card, which entitles guests to 15 espresso-based specialty coffees
Classic Soda and VOOM One Device, combining a VOOM internet package with the soda package
Spa & Fitness
If you're planning to treat yourself to a day at the Vitality Spa, consider reserving a treatment on the Cruise Planner prior to your cruise.
You can reserve anything from traditional massage therapies, couples treatments, acupuncture, body therapies, facial treatments, teeth whitening, salon services, and more.
Related: First time cruisers: Royal Caribbean's Vitality Spa
Royal Caribbean's Vitality Fitness Center is complimentary for guests, but fitness classes come at an extra charge. You can reserve these classes once onboard or purchase a class package on the Cruise Planner.
Personal training and nutritional consultations are also available to reserve.
The Key
The Key is Royal Caribbean's VIP access program. It offers guests perks like priority boarding, VIP seating at events, private meals, and special times at onboard activities.
This add-on must be purchased before your cruise and is priced per person, per day. Depending on the sailing, you can find The Key priced anywhere from $20 to $35 per person, per day.
We've done several reviews of The Key on Royal Caribbean Blog with varying opinions. If you're considering The Key, browse through our reviews to learn more about the pros and cons of this VIP service:
Arcade
If you're cruising with kids, you'll likely find yourself at the arcade at one point or another during the sailing.
Royal Caribbean's arcades come at an additional cost, and you can purchase credits while onboard or beforehand in the Cruise Planner.
There are three arcade credit packages available:
$25 arcade credit
$50 arcade credit
$100 arcade credit
Purchasing credits via the Cruise Planner can save money compared to the price onboard. For example, $25 of arcade credit can be purchased for $20, $50 of credit for $40, and $100 of credit for $80.
Shore Excursions
The Shore Excursions tab is where you can browse and purchase tours for your upcoming cruise vacation.
You can filter excursions by activity level, duration, and interest to find the excursion that fits your needs best. While you aren't required to reserve a Royal Caribbean shore excursion, it's worth browsing what's available to get a better understanding of activities available in each cruise port.
For more information on planning shore excursions, check out our best tips & tricks:
Dining
The dining tab of the Cruise Planner is where you can (1) purchase dining packages and (2) reserve individual meals at specialty restaurants.
Purchasing a Royal Caribbean dining package can offer a nice value for those hoping to dine at several specialty restaurants. Three packages are offered by Royal Caribbean depending on your cruise length:
Unlimited Dining Package (unlimited lunches, snacks, and dinners at specialty restaurants)
3-night Dining Package (3 dinners at specialty restaurants)
Chops + 1 Dining Package (1 dinner at Chops Grille and 1 dinner at a second specialty restaurant)
You can also reserve individual meals at specialty restaurants for lunch or dinner on the Cruise Planner. This is recommended only for those not purchasing a dining package.
Related: Food on a Royal Caribbean cruise
Internet
There are two types of internet packages available for purchase on Royal Caribbean's Cruise Planner website:
VOOM SURF & STREAM is the highest speed internet package which supports web browsing and streaming videos on sites like YouTube, Netflix, etc. This package typically costs around $20 per day for one device.
VOOM SURF supports web browsing but does not have the same speed as the stream package. This package is priced around $18 per day for one device.
Onboard Activities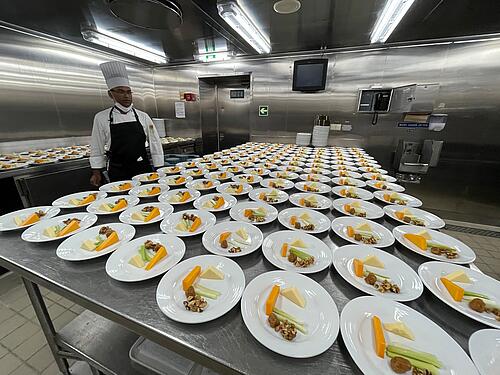 If you're interested in purchasing a backstage tour of your cruise ship, visit the Onboard Activities tab on the Cruise Planner.
This is where you can book the "All Access Ship Tour," which brings passengers to crew-only areas of the ship like the galley, engine control room, laundry room, and bridge.
Related: Royal Caribbean's behind-the-scenes tour: here's what it's like
Outside of the behind-the-scenes tour, you may also find activities like a sushi making class available to book.
Photo
If you plan to purchase professional photos taken by Royal Caribbean's photographers, a photo package will offer a better deal than purchasing each picture individually.
There are several photo packages available to purchase on the Cruise Planner site:
Photo Package: Up to 50 Prints or Digitals
Photo Package: 10 Prints or Digitals
Photo Package: 5 Prints or Digitals
Private Photo Session
Prices for photo packages can vary, but expect to pay around $140 for 50 prints/digitals, $110 for 10 prints/digitals, and $68 for 5 prints/digitals.
Gifts and Gear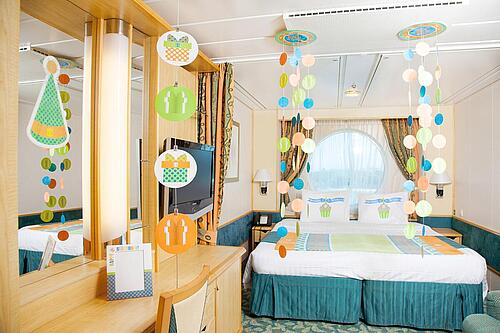 If you'd like to surprise your spouse or kids when they walk into your cabin for the first time, visit the Gifts and Gear tab on the Cruise Planner.
This section is where you can purchase stateroom surprises and decor that will be delivered to your stateroom on embarkation day.
Gifts include chocolate covered strawberries, champagne, birthday cake and decor, happy anniversary decor, and cheese trays with wine.
There are also gifts catering to kids, such as a Royal Caribbean beach towel and beach toys.
How can I make reservations on the Cruise Planner?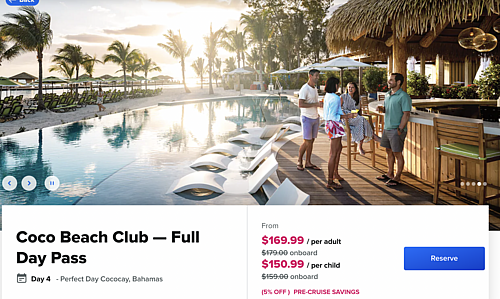 Once you find a cruise add-on you'd like to purchase, click the "Reserve" button. You'll be prompted to select the guest, date, and time for each purchase. You can then add the reservation to your cart.
Payments can be made with either a debit/credit card or onboard credit.
Can I link reservations together to make bookings with friends and family?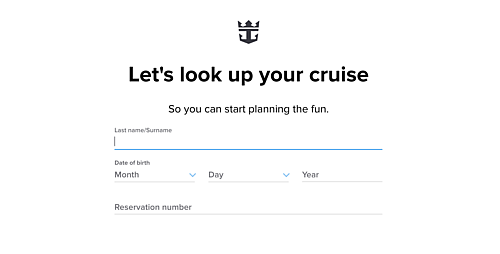 If you want to reserve a specialty restaurant or other cruise add-on with friends and family not sailing in your stateroom, be sure to link your reservations together. You can link reservations together with the reservation number and last name of the guest who is in a separate cabin.
Once reservations are linked together, you can purchase and reserve cruise add-ons for those guests in other staterooms. This is helpful when trying to reserve a specific dining time with guests outside your cabin.
Should I book a cruise add-on now or wait for the price to drop?
It's tempting to "wait it out" before purchasing cruise add-ons like drink packages and shore excursions. No one wants to pay more than necessary, but waiting to book add-ons on the Cruise Planner will, more often than not, end up costing you more money than booking right away.
Everything on the Cruise Planner can be canceled up to 48 hours before your cruise begins. Therefore, if you purchase a shore excursion for $200 and later see the price has dropped to $150, you can cancel and rebook the excursion with no penalty.
It's better to book add-ons as soon as possible to ensure the price does not increase. The last thing you want to happen is see a drink package price of $65 per day and wait for a lower price only to find out the price increased to $80 per day!
How do I cancel and rebook on the Cruise Planner website?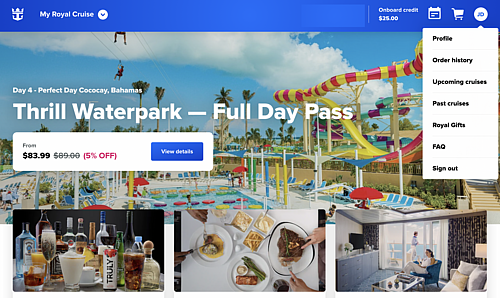 Canceling and rebooking is easy to do on Royal Caribbean's Cruise Planner site.
In the top right corner of the Cruise Planner, you'll see your initials in a little circle. Click on this circle and scroll down to "Order History".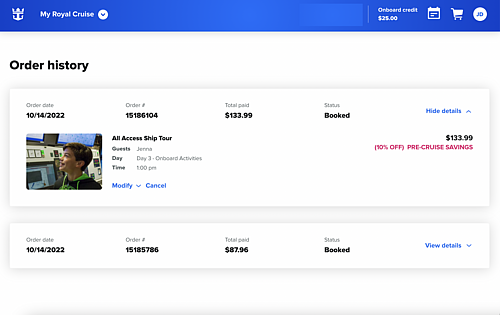 On the Order History page, click on "View Details" on the add-on you'd like to cancel. You'll then see the option to cancel the purchase and you will be refunded the amount paid.
Interested in more cruise planning inspiration? Check out some of our latest articles: