In:
I purchased The Key on my recent Harmony of the Seas cruise to experience what the program offers and decide if it is worth the extra cost.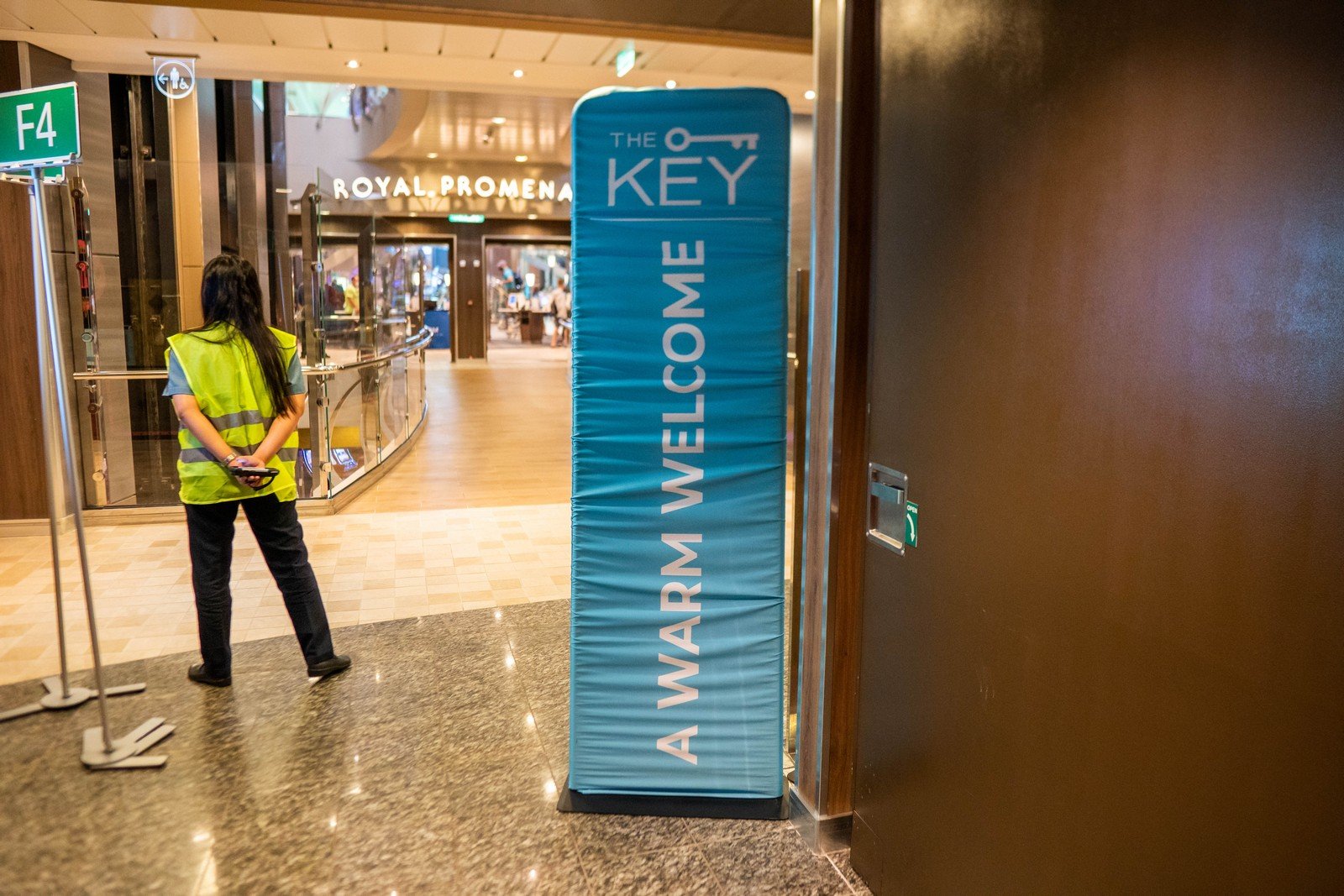 The Key is an add-on offered by Royal Caribbean that can enhance your cruise experience. It provides a more "exclusive" feel to embarkation, onboard activities, entertainment, and disembarkation. 
So far, the Royal Caribbean Blog staff cannot agree whether The Key is worth it or not. Matt Hochberg thinks The Key is not worth it whereas staff writer Haley Mills thinks the Key is worth the extra cost.
I went into my sailing with an open mind, but my overall impression of The Key throughout this week was in agreement with Matt. I think the benefits sound better on paper than they do once onboard.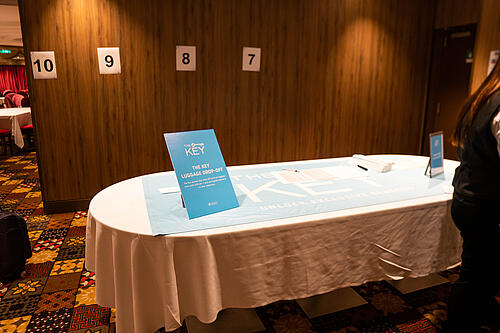 Here were the benefits of The Key for my January 2022 sailing on Harmony of the Seas:
Early access at the terminal
Drop off your carry-on luggage in the Main Dining Room on Deck 3 by 2:00PM - your carry-on luggage will be hand delivered to your stateroom
Exclusive welcome lunch in the Main Dining Room featuring the Chops Grille menu
Private time at some onboard activities such as rock climbing, FlowRider, etc.
Priority departure from ship-to-shore at tender ports
Early access at shows in the Main Theater on Deck 4, however a reservation is needed
VOOM Surf & Stream package (1 device per guest)
Private a la carte breakfast and choice departure on disembarkation day
Originally I thought complimentary room service would be included with The Key, as it had been recently on other itineraries and ships, but it was not listed in my benefits. Also, our itinerary did not have any scheduled tender ports, so this benefit was not needed.
The cost of The Key for my 7-night cruise was $279.93, or about $39/day.
If I did not purchase The Key, I would have purchased an internet package separately at $19/day. If you take that cost into consideration, purchasing The Key was technically around $20 extra per day than just buying an internet package.
Embarkation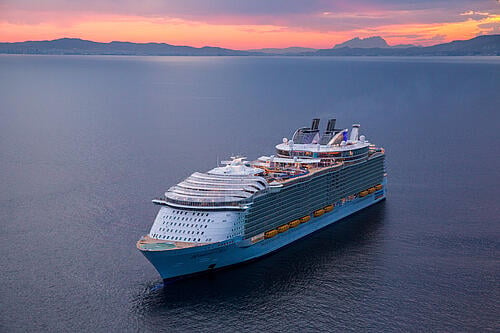 When I checked in to my cruise on Harmony of the Seas online a few weeks ago, I received an 11:30AM check-in time. When I purchased The Key a week before my sailing, it also told me to arrive at 11:30AM for priority boarding, so it wasn't any earlier than my original time.
I will say that the priority boarding was really quick. From arrival at the terminal to stepping foot on the ship was only about 15 minutes, and there were only a few people in front of me in line.
I breezed past a longer line of non-Key passengers at check-in, although their line did seem to be moving reasonably quickly.
I honestly don't think The Key saved me a huge amount of time, though, as I probably would have been able to get on the ship in 30 minutes without The Key as opposed to 15 minutes with The Key.
Once on the ship I headed straight to the Main Dining Room for the The Key's exclusive embarkation day lunch.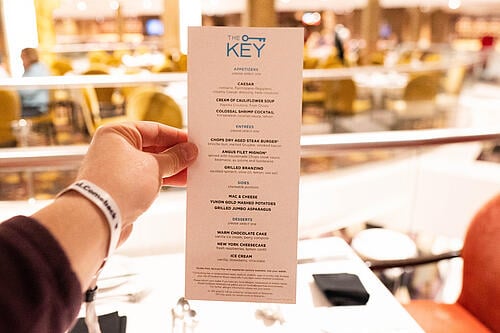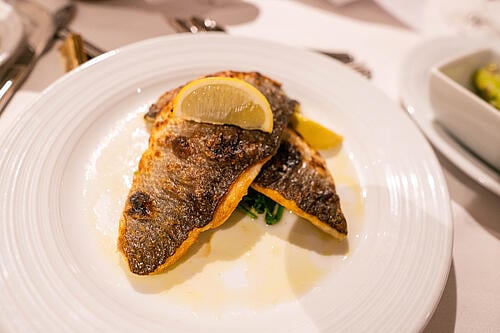 The lunch uses a limited menu from Chops Grille and it was a relaxing meal far removed from the hectic atmosphere of embarkation day. While it was a nice benefit of The Key, I do not think it necessarily adds much value to me for a few reasons:
You can always just reserve lunch at Chops Grille on your own during the cruise. The cover charge for lunch is usually only around $25 and you will get access to the full menu as opposed to a limited one.
What I usually do on embarkation day is eat a quick lunch at the Windjammer. I am always eager to explore the ship right away, so having an easy lunch at the buffet means I can start exploring sooner as opposed to a more lengthy sit-down meal.
This is a personal preference, but I prefer other specialty restaurants like Jamie's Italian and Izumi to Chops. Therefore, for me, Chops is not a huge selling point of The Key.
One aspect of embarkation with The Key that I did enjoy was being able to drop off my carry on luggage in the Main Dining Room. After I finished lunch, my stateroom was ready and my luggage was waiting for me in the cabin.
Reserved activities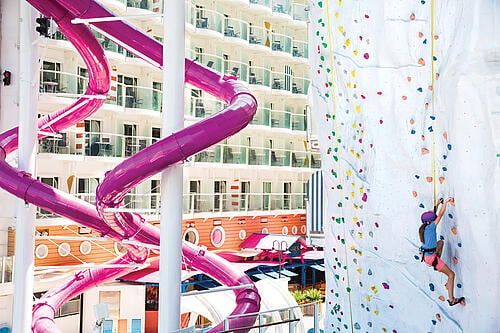 One benefit of The Key is having special times reserved for Key guests at onboard activities. On ships like Harmony of the Seas there are a ton of activities available for guests. Lines often appear, of course, meaning that you may not be able to try an activity as many times or as quickly as you want.
On my sailing, these were the reserved activities and times for Key guests:
Day 2: Flowrider from 9am-10am, Zipline from 2pm-2:30pm
Day 3: Ice Skating from 8:45am-9:45am, Ultimate Abyss from 12:30pm-1pm
Day 5: Ultimate Abyss from 3pm-3:30pm
Day 6: Zipline from 10am-10:30am, Rock Climbing Wall from 12pm-1pm
Having reserved activity times was something I took advantage of during my cruise, so I was able to try every signature activity onboard without waiting in lines. All things considered, though, I don't think these few activities make the extra cost of The Key worth it.
My sailing had around 50% capacity and there were hardly ever lines for activities anyway. I could have waited maybe 5 minutes for the zipline during a regular time instead of 1 minute during the reserved time for Key guests.
Perhaps the reserved activities are more useful when the ship is at full capacity and lines are longer, but for now I don't think it is a huge selling point.
Early access to entertainment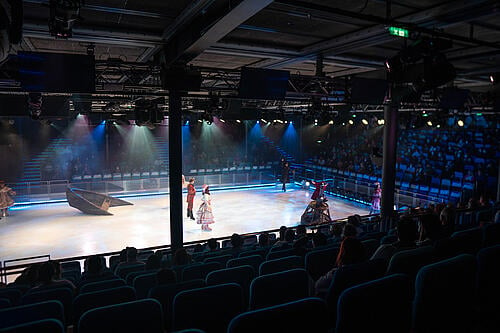 Another benefit of The Key is early access to entertainment onboard, meaning you can get the best seats in the venue. I, however, don't want to wait around for over a half hour before the show starts. I usually walk in only 5-10 minutes before the show and easily find a seat. 
Again, maybe this would be a better benefit if the ship was at a higher capacity. With limited capacity, it is not difficult to find a good seat even if I show up right before the show begins.
One way I feel this could be better is to have select seats reserved for The Key members so you do not have to show up so early before the show begins, but still be able to get a good seat.
Disembarkation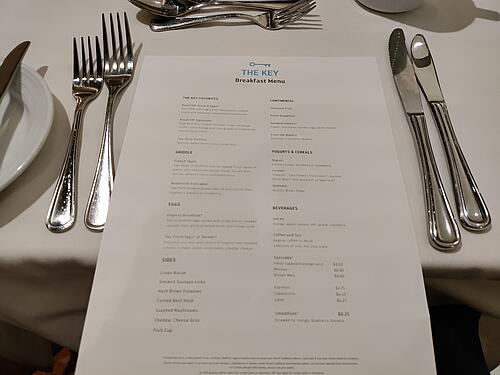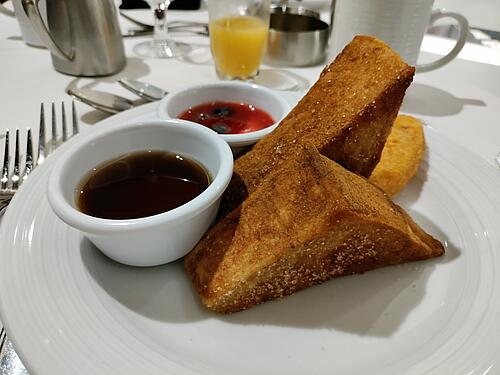 An exclusive a la carte breakfast is available for Key guests on disembarkation day. This is similar to the embarkation day lunch and it provides a more peaceful atmosphere than eating elsewhere before getting off the ship.
I enjoyed the disembarkation breakfast and having a quiet place to go on my last morning of the cruise. The menu is largely the same as you can get during breakfast in the Main Dining Room on other days of the cruise.
Another disembarkation benefit of The Key is having a select luggage area in the terminal just for Key guests. As I only travel with a carry on which I take off the ship myself, I did not use this benefit.
Final Thoughts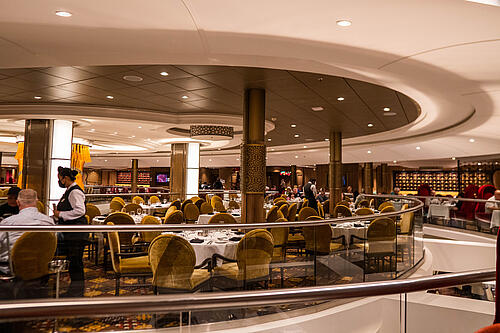 I think The Key would be more beneficial during a sailing with higher capacity. I thought many of the benefits listed were fine in theory, but did not make much of a difference once onboard. Reserved activity times and early access to entertainment aren't as important when the ship is at half capacity.
Likewise, getting on the ship with The Key was not significantly quicker than without. And while the embarkation lunch was nice, eating lunch at Chops Grille is something you can do at any point during the cruise for a reasonable price. 
I do wish room service was available for free on my cruise like it had been a few months ago, as I would have used this service several times throughout the sailing.
Some guests may love the exclusive embarkation experience and other Key Benefits. For me, though, I would rather purchase an internet package separately and use the money spent on The Key for other purchases onboard like a dining or beverage package. I think these would have a bigger impact on my day-to-day cruise experience as opposed to the benefits through The Key.