In:
Royal Caribbean's VIP-access program, The Key, is being offered again on cruise ships and you might be wondering if it's worth it.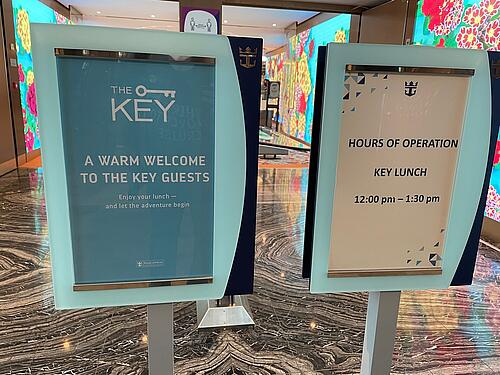 The Key advertises as offering guests that purchase special perks and access while onboard that would otherwise not be available to them.
Internet access, early check-in, special times at signature attractions and more are included with The Key.
Does this extra cost amenity make sense to get for your family? I tried The Key out again on an Odyssey of the Seas cruise in 2021 to get a sense of what to expect for anyone sailing in 2022 and beyond.
What is The Key?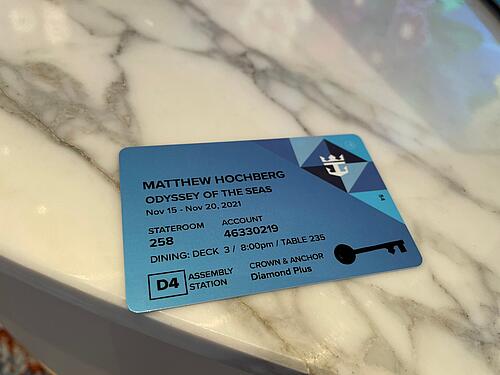 The Key is an optional add-on anyone can purchase for their Royal Caribbean cruise that includes special access and perks.
Think of it like a way to pay extra to get VIP treatment, faster access, or otherwise nice to have extras.
Royal Caribbean offered The Key for a few years, but then suspended it as cruise ships began restart in 2021.  The cruise line has brought back The Key for sailings, albeit with some notable changes.
Guests need to purchase The Key before the cruise begins on Royal Caribbean's Cruise Planner website.
Here is a list of the benefits you get with The Key:
Early access at the terminal.
Drop off your carry-on luggage in the Main Dining Room on Deck 3 by 2:00 PM - your carry-on luggage will be hand delivered to your stateroom.
Exclusive welcome lunch in the Main Dining Room featuring the Chops Grille menu (open from 12:00 PM - 1:30 PM). Royal Caribbean recommends arriving to the terminal no later than 11:30 AM for you to have enough time to enjoy lunch with us!
Complimentary room service for your entire cruise, along with 25% off all onboard dining purchases
Private time at some of our onboard activities such as rock climbing, FlowRider, etc.
Priority departure from ship-to-shore at tender ports.
Early access at shows in the Main Theater on Deck 4, however a reservation is needed so don't forget to book once you're onboard.
VOOM Surf & Stream package, now including high speed internet, for one device (1 package per guest).
On debarkation day, enjoy a private á la carte breakfast and choice departure.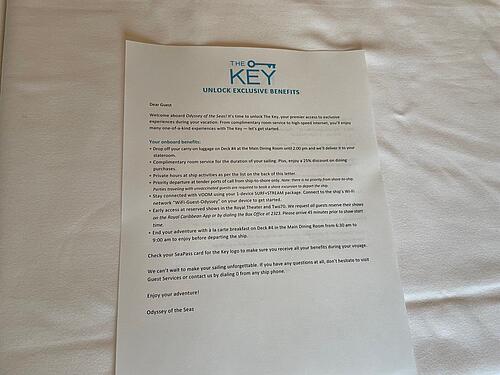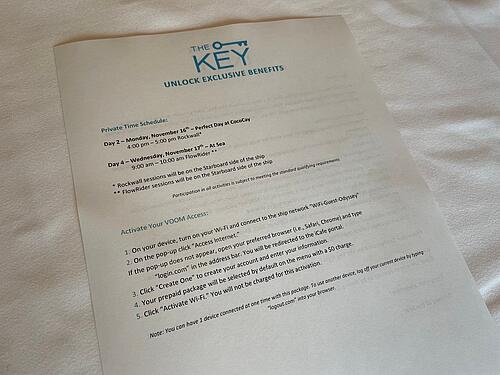 The early check-in is between 11:00 AM - 11:30 AM. If guests are not able to make the early access window, Royal Caribbean says they should arrive within their appointment time and will receive priority access into the terminal.
A full list of benefits will be given to you once you board the ship with ship-specific benefits.
How much is The Key?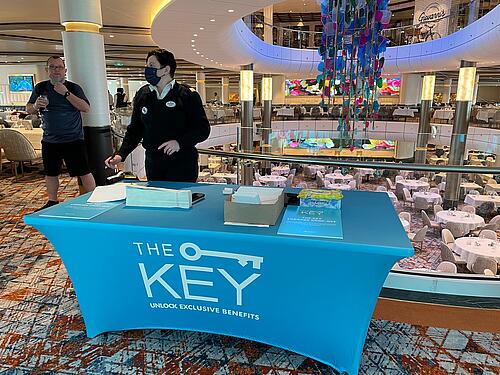 The price of The Key varies, and starts at $25.99 per day, per person, although there can be discounts available to bring that price down.
All guests over the age of 6 in the same room must purchase The Key.
When you get to the cruise terminal, and subsequently onboard the ship, there will be special signs to indicate where guests with The Key can go.  In addition, your SeaPass card will have a special sticker to easily identify yourself as having The Key.
Is The Key worth it?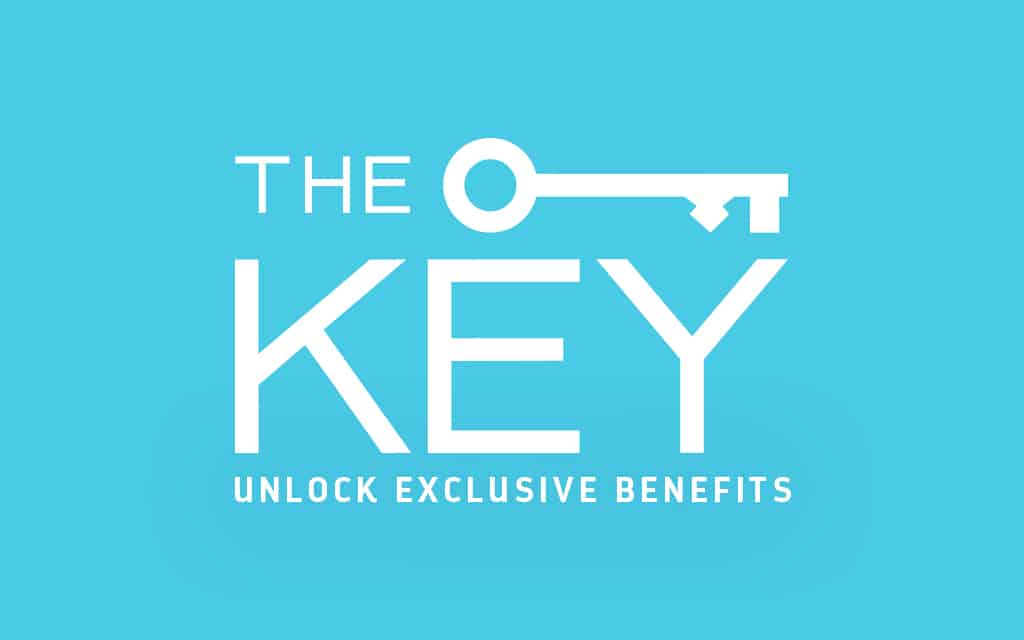 The Key certainly sounds like a good investment for a lot of cruises, especially those new to Royal Caribbean, because it offers benefits and access that might not otherwise be available to them at all.
In my experience, I found the benefits sound a lot better on the surface than they really are.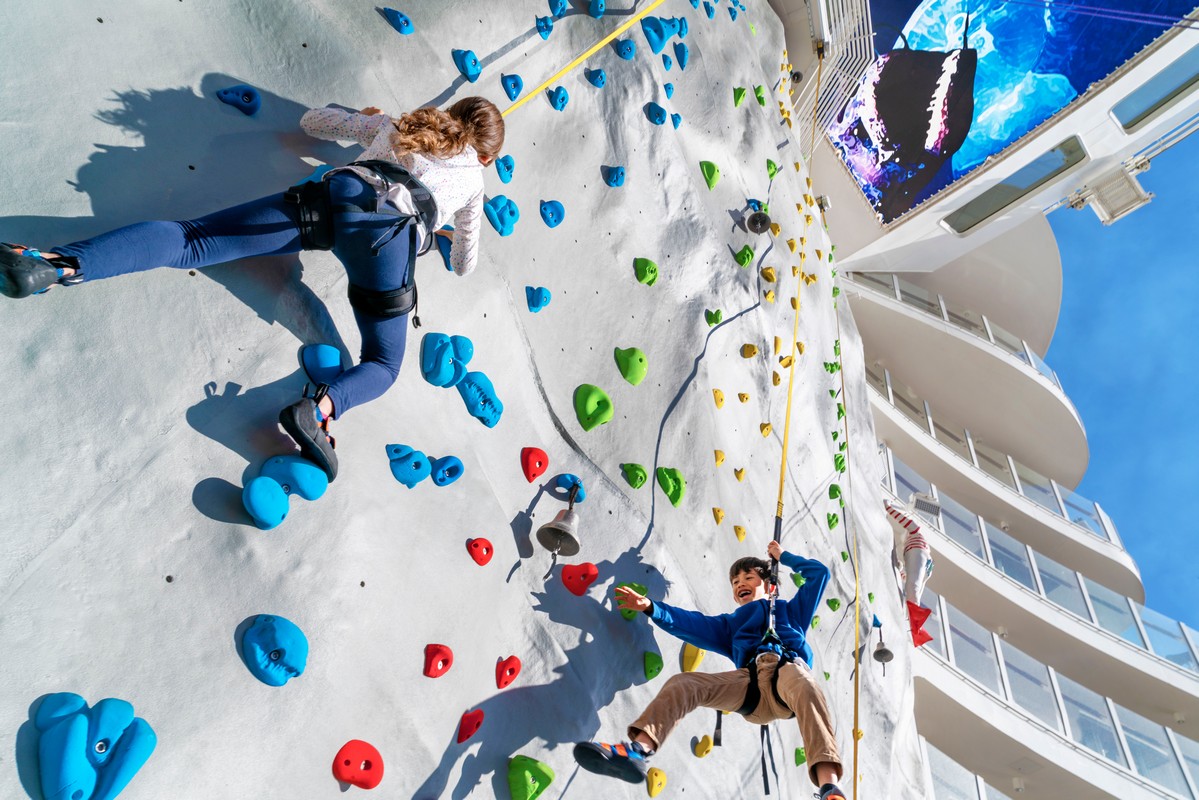 Many benefits can be obtained in a different way, but without having to spend extra for it. Or the benefits are simply not as lucrative as it sounds. Here are some examples:
Getting an early check-in time is easy (and free) if you just watch the Royal Caribbean app for when check-in windows will become available to book, and then book a time as soon as possible.
Welcome lunch with Chops Grille menu can be bought separately at the restaurant or at a different restaurant.  Dining packages offer a good discount on how much lunch will cost.
Private time at onboard activities tends to be very few (just two times on our Odyssey of the Seas cruise), and at less than ideal times.
Reservations for shows can be made on your own via the Royal Caribbean app
The only perk that is truly unobtainable on your own is the ability to drop off your carry-on luggage on embarkation day.  Of course, this benefit lasts just 2 hours on the first day of the cruise, so the value is quite limited.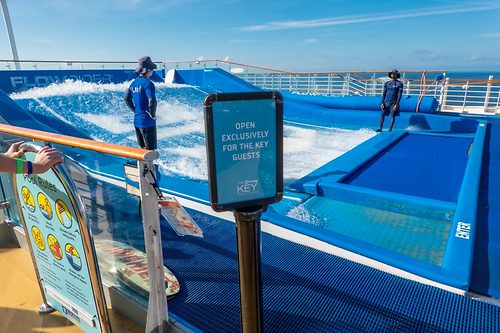 Unfortunately, the private times at attractions were limited and at inconvenient times.  A 9am Flowrider time and a 4pm rock wall session are both times of the day where competition for these venues is less to begin with.
I would also argue both attractions on Odyssey of the Seas with special times for guests with The Key have a limited appeal than other activities where it would be far more useful. 
Free room service is indeed a very nice benefit, but I question how often anyone will order room service to truly take advantage of it.  Breakfast room service is likely the most beneficial time to use room service, but there are so many easy grab and go breakfast options that I think in general, the idea of having room service is better than the actual thing.
The priority for tendering is largely useless since Royal Caribbean ships rarely ever tender, thanks to more and more ports having piers.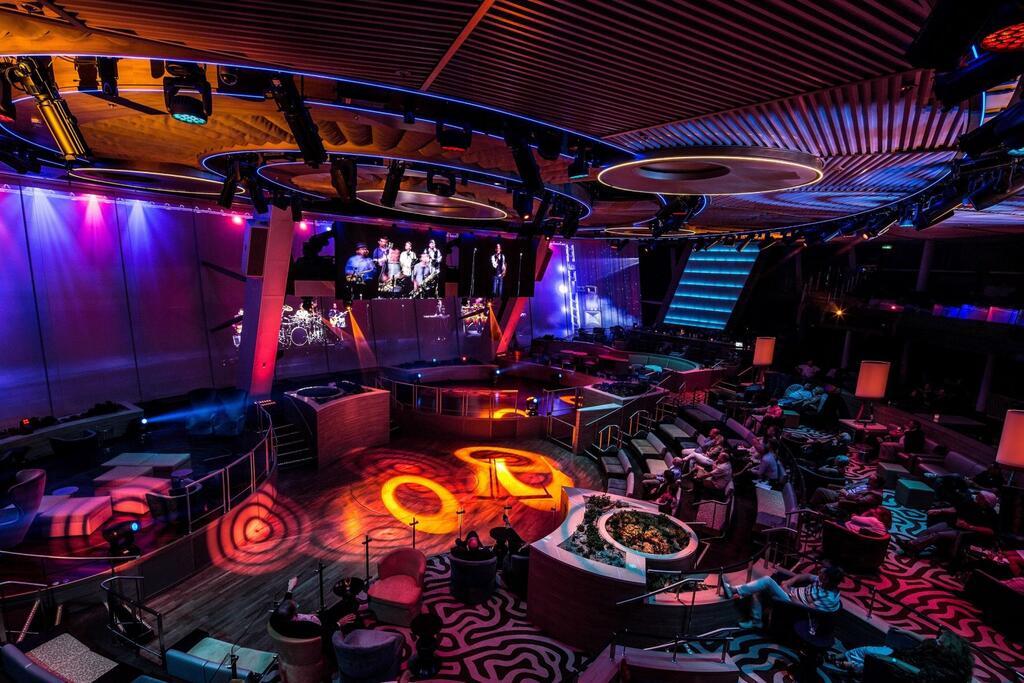 The Key could be better in certain situations, such as when sailing on Oasis or Quantum Class ships, which have more entertainment venues where the Key can help with seating.  Then again, Royal Caribbean wants you to arrive 45 minutes early to the theater, which seems to negate the point of having a reserved seat, in my opinion. That is a very long time to wait for a show.
While the check-in time advantage could be helpful to ensure you are among the first to board, Royal Caribbean says if you miss the 30 minute window of arrival right at the beginning, you will not be able to use this benefit.
The Key includes Voom Surf and Stream access for each person, which arguably makes up the bulk of the daily cost. Internet access on Royal Caribbean is not cheap, and if you were already going to buy a wifi package, sometimes the additional cost to get The Key is not much more. Other times, it is notably higher. In addition, with multi-device internet plans, the Key doesn't scale to families or larger groups if internet is always purchased.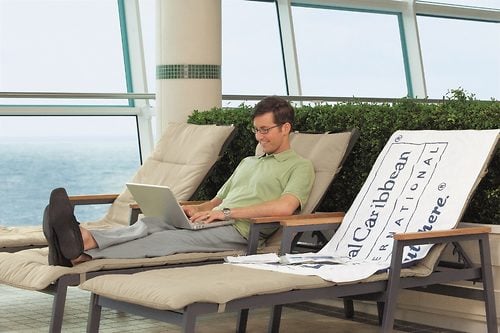 The Key may be a good choice for someone who is going to buy internet access no matter what, and is sailing on a ship with a lot of shows they want to see.
But having tried The Key before and after the cruise industry shutdown of 2020/2021, I do not think it is worthwhile for most people simply because the benefits look better on paper than they are in practice.
If you are Diamond or higher in Royal Caribbean's Crown and Anchor Society and/or a suite guest, some benefits overlap with The Key, further reducing The Key's value.
Don't forget you have to buy The Key for all guests in the room over the age of 6, whether they will use all the benefits or not.
I think with a little bit of footwork, you can get similar results on your own and save money on your cruise vacation. Skip The Key, and instead focus on how to get an early check-in time, buy a dining package, pre-purchase wifi, and I think you will find yourself still having a great time onboard.