In:
One of the best aspects of any cruise vacation is planning what to do in port, but it can quickly become overwhelming with hundreds of tours and ideas to choose from.
If you're cruising to the Caribbean, you'll find a wide range of tours from beach days to catamaran cruises, zip line adventures, ATV excursions, and much more.
Although you'll likely have an amazing port day no matter which excursion you book, there are some excursions that stand out from the rest, and every Caribbean island offers unique activities and attractions.
Let's discuss the best shore excursion to book in every Caribbean cruise port to help you make the most of your next Caribbean cruise.
Antigua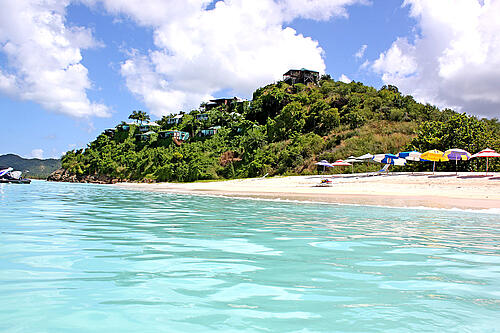 Antigua is home to 365 beaches, so it's no surprise that a beach day is a must while on the island.
If your cruise visits Antigua, make the trip to Valley Church Beach, located only 20 minutes by car from the cruise port. The beach remains relatively undeveloped, making it a serene day for those looking to relax in the sun and sand.
Excursion Focus: Valley Church Beach in Antigua
Aruba
Cruising to the ABC islands calls for beaches, culture, and unique excursion opportunities. If your cruise itinerary visits all three islands (Aruba, Bonaire, Curacao), we recommend making Aruba a beach day.
The most famous beach on the island is Eagle Beach, a wide stretch of sand with pristine turquoise waters. The beach offers excellent swimming as well as the opportunity to snorkel or rent water sport equipment.
Related: Visiting Eagle Beach in Aruba on Freedom of the Seas
Barbados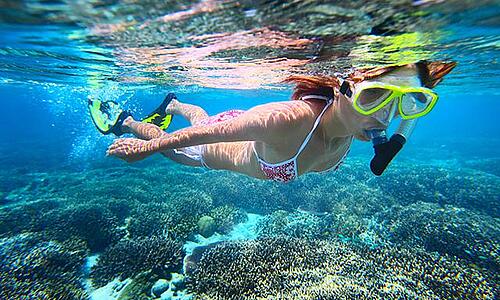 Visiting Turtle Bay in Barbados is among the most popular shore excursions on the island.
Royal Caribbean offers the Swim with Turtles, Shipwrecks, Snorkel, and Beach excursion, during which visitors take a boat ride to Turtle Bay where they can observe sea turtles in their natural habitat.
The excursion also includes snorkeling above a shipwreck and time to chill out at a nearby beach.
Belize City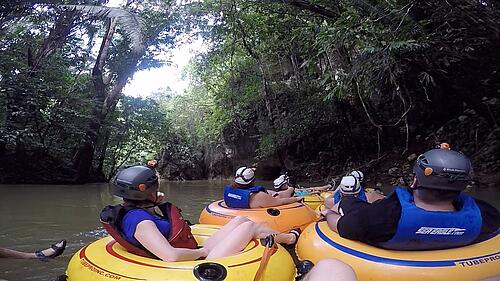 Adrenaline seekers will love the opportunity to tube down the Cave Branch River, an underground cave system in Belize. Following a 45 minute hike through the rainforest, visitors can explore the cave's unique geology and ecosystem while cruising down the river.
Tubing the cave system is a popular excursion choice in Belize and can be booked through Royal Caribbean or independent tour companies. This excursion is not recommended for those with mobility issues.
Bermuda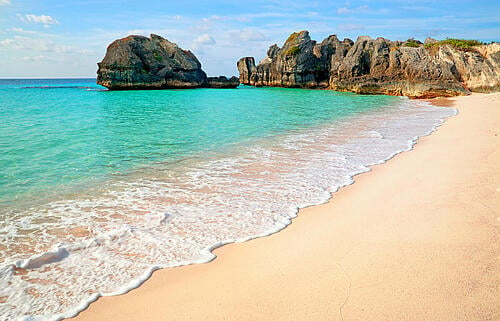 Bermuda is a gem of a cruise port, and while it's technically not located in the Caribbean sea, we've included it on this list because visits to the island can be found on many Caribbean cruise itineraries.
One major plus of visiting Bermuda on a cruise is that ships often dock overnight, giving you 2-3 days to explore the island's highlights. Bermuda has excellent public transportation and it's easy to get around without booking an official shore excursion.
Related: What to do in Bermuda on a cruise
Visiting Horseshoe Bay is a must while in Bermuda. There are on-site amenities including chair and umbrella rentals, bathrooms, and food.
Those looking for more active or cultural opportunities may also want to consider renting a bicycle to explore the Bermuda Railway Trail or walking the streets of downtown Hamilton to take in local culture and lifestyle.
Bonaire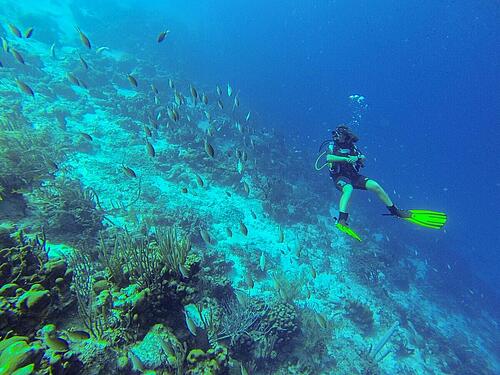 Bonaire is a port perfect for an adventure-filled, active day. As one of the world's best diving locations, many cruisers explore underwater to spot the coral reefs and marine life that make this island a diver's paradise.
If scuba diving is of interest to you but you're not certified, consider booking a Discover Scuba tour. This tour will give you the necessary skills to partake in an assisted dive with an instructor.
Excursion Focus: Discover Scuba tour
Snorkeling opportunities are fantastic on the island as well, and many passengers find that renting an ATV or golf cart provides the perfect way to explore as much of Bonaire as possible in one day.
Related: Renting an ATV in Bonaire
Costa Maya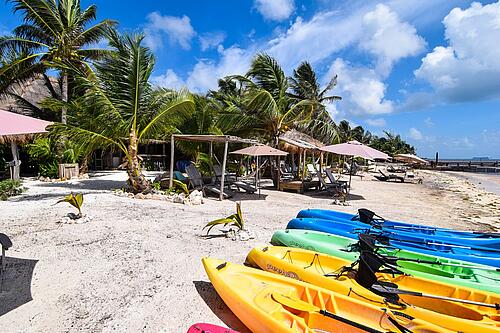 As one of the most common cruise ports in the Caribbean, there is no shortage of things to do in Costa Maya. Instead of offering just one "best" shore excursion in this Mexican port, we have three, one of which is sure to fit your cruising style.
If you're looking for a beach day, book a day pass to Maya Chan Beach Resort. This all-inclusive day pass includes transportation, beach beds, all-you-can-eat food, an open bar, use of snorkeling gear and glass bottom kayaks, bathroom facilities, lockers, wifi, and more.
Excursion Focus: Maya Chan Beach in Costa Maya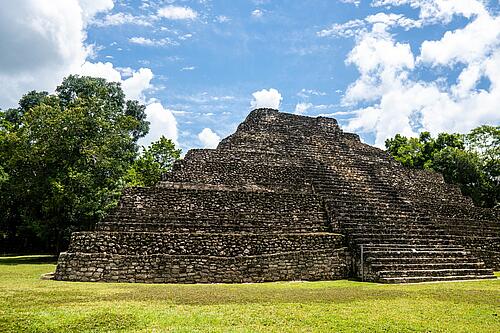 History lovers will want to book a visit to the Chacchoben Ruins, which were estimated to have been settled around 200 B.C. As the ruins are located a 45 minute bus ride away from the cruise port, booking an excursion through Royal Caribbean directly is recommended.
Excursion Focus: Chacchoben Ruins in Costa Maya
Finally, those interested in exploring more of Costa Maya's culture may want to make the short trip to the nearby town of Mahahual. This small town has plenty of local businesses, restaurants, and day passes to beach clubs to enjoy.
Related: Visiting Mahahual while in Costa Maya
Cozumel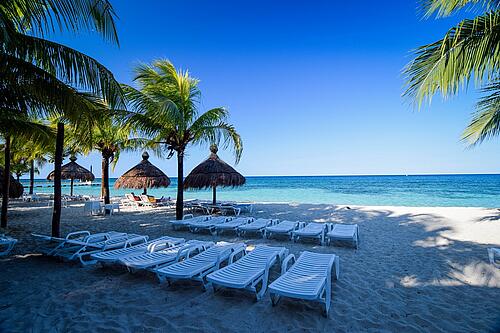 Cozumel is another of the most popular cruise ports in the Caribbean, and we recommend booking a day pass to a beach club while in port.
There are several day passes to choose from, but our favorites are Nachi Cocom and Paradise Beach. Read our full reviews of each day pass here to pick the one best suited for you:
Curaçao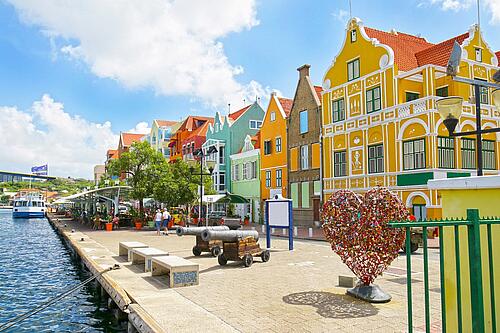 While there are plenty of excursions offered in Curaçao, many cruisers enjoy strolling through the capital of Willemstad without an organized tour.
Walking across the Queen Emma Pontoon Bridge is a highlight for many visitors in addition to visiting local shops, cafes, and restaurants and taking a trip to a nearby beach.
Related: Spending the day in Curacao without a tour
Dominica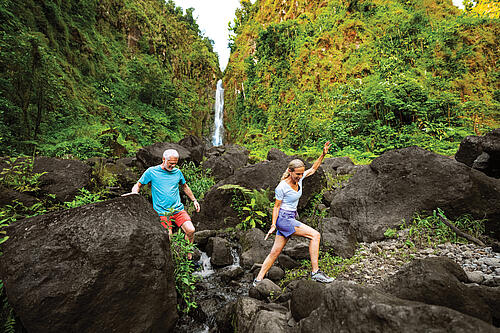 Dominica has lush, dramatic landscapes, and one of the best ways to explore the island is by booking a shore excursion to the rainforest.
The River Tubing, Rainforest Drive, and Hibiscus Falls excursion offered by Royal Caribbean provides the best of Dominica's natural beauty with an active adventure.
The tour begins with a tubing adventure and visit to Hibiscus Falls, a 40-foot waterfall leading to an emerald green pool perfect for taking a swim. Following a visit to the falls is a longer, 90-minute tubing adventure through mini-rapids and slower-flowing waters through the rainforest.
Falmouth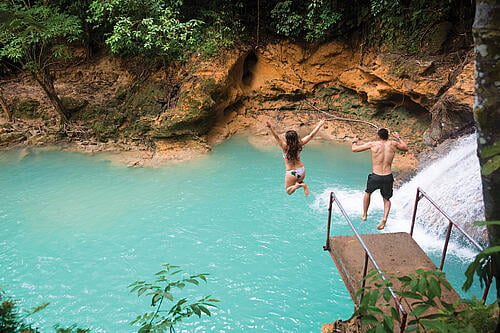 While some ports are best for exploring without an organized tour, we recommend booking a shore excursion in Falmouth to make the most of your day in port.
Falmouth offers beaches and jungles, so there's something for everyone and every fitness level.
Active adventurers may want to book the Blue Hole, Dunn's River Falls & Chill at Reggae Hill shore excursion. This tour includes diving and swimming at Jamaica's famous Blue Hole followed by the chance to climb small waterfalls and explore caves. The excursion ends with a relaxing afternoon at a park with reggae music, lunch, and beverages.
If climbing waterfalls and diving sounds like the exact opposite of a relaxing day in the Caribbean, consider booking a day pass through ResortForADay.com. There are six day passes listed on the website, most of which are all-inclusive and include transportation from the ship.
Freeport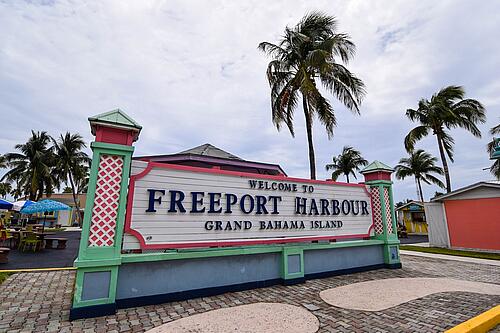 While Nassau and Perfect Day at CocoCay are the most popular cruise ports in the Bahamas, you'll find plenty of itineraries visiting Freeport, Grand Bahama Island.
Freeport may not offer as many shore excursions to choose from compared to other Bahamian ports, but many visitors plan for a beach day or visit the Lucayan National Park.
Booking the Lucayan National Park Kayak & Nature Tour is a fun excursion to book through Royal Caribbean, as it includes a guided kayak tour through mangroves and creeks in Lucayan National Park followed by a beach break.
Grand Cayman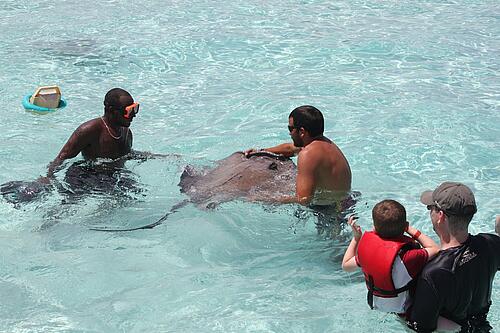 Grand Cayman is home to one of the most beautiful beaches in the Caribbean: Seven Mile Beach, and visiting the beach is a popular excursion choice for those looking to explore Grand Cayman without an organized tour.
Related: 11 of the most beautiful beaches in the Caribbean
If you'd prefer to explore underwater as opposed to laying on a beach, book a tour through Stingray City, an area of shallow sandbars with an abundance of stingrays. Booking a tour to Stingray City means you'll have the chance to snorkel and interact with not only stingrays, but turtles, starfish, and other marine life.
Grenada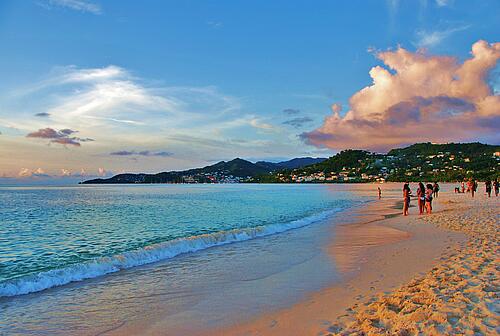 Grenada is known as the Island of Spice, and we recommend splitting your port day into two sections: a cultural tour and time at the beach.
The best way to do this is through a shore excursion that combines both attractions of the island. Royal Caribbean's Spices and Sunshine tour first brings visitors to the Laura Spica Gardens, where they'll learn more about the various spices and herbs produced on the island.
Following this cultural insight, visitors travel to Grand Anse Beach, often considered the best beach on the island.
Labadee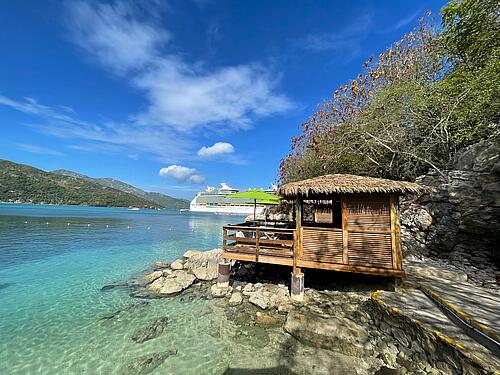 Royal Caribbean's private destination of Labadee offers more than enough to enjoy without spending anything extra on excursions. However, there are several additional activities to book that can offer a more enhanced experience in port.
Those looking for a more luxurious experience in Labadee may want to rent a private cabana. Cabanas include a cabana attendant, bottled water, snorkel gear, floating mats, and more.
More information on Labadee cabanas: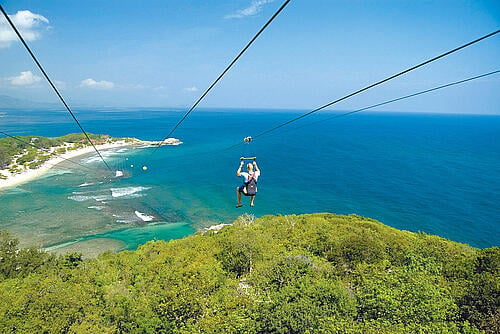 Outside of cabana rentals, you may wish to book a ride on Labadee's famous zipline or a ride on the Dragon's Tail Coaster. Both activities are sure to get your adrenaline pumping and can be fun options when traveling with kids.
Excursion Focus: Zipline at Labadee
Martinique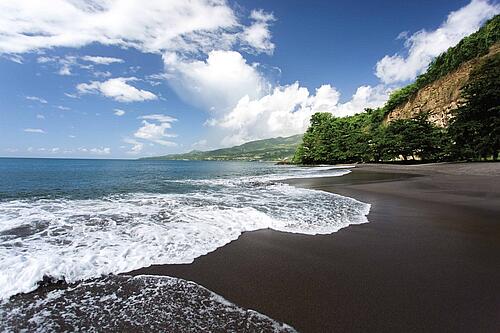 Martinique is a French territory that is undeniably French, and while it may not be a very common port stop, the island offers activities for all interests.
Because you won't find many cruises visiting Martinique, we recommend making the most of your time on the island through an island tour. Booking an island tour means you can see multiple of the island's highlights, from beaches to markets and historic ruins, in one day.
You can choose to book a tour through Royal Caribbean or through an outsider provider.
Related: 5 quick and easy tips for finding a great shore excursion on your own
Nassau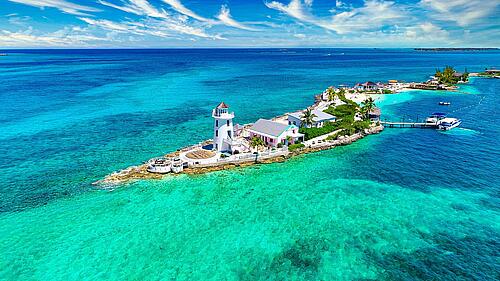 Nassau is an extremely common port on cruise itineraries, and most visitors to New Providence Island will opt for a beach day.
Our favorite shore excursion in Nassau is a day trip to Pearl Island. Located 30 minutes away from the cruise port by boat, Pearl Island offers a small, turquoise beach, bar and lunch buffet, lounge chairs, watersports equipment, and more.
Excursion Focus: Pearl Island Beach Escape in Nassau
If you're looking for other ideas of how to spend a day in Nassau, check out our article on the best things to do in Nassau on a cruise.
Ocho Rios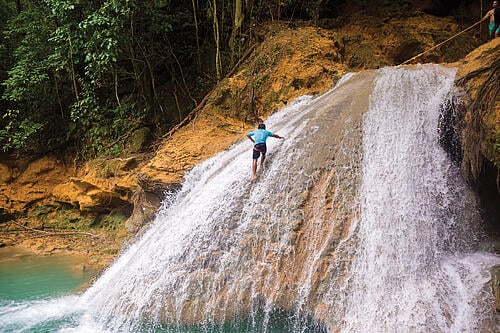 While most cruises stop in Falmouth, Jamaica as opposed to Ocho Rios, you'll find that they offer several of the same excursions.
While we mentioned booking an excursion to Dunn's River Falls from Falmouth, the waterfalls are much closer to the Ocho Rios cruise port.
If you are interested in exploring the natural beauty of Jamaica's lush rainforest, your best bet for an excursion in Ocho Rios is one that visits Dunn's River falls and the surrounding area. Due to the falls' proximity to the cruise port, you won't have trouble finding an excursion through Royal Caribbean or independent tour companies.
Perfect Day at CocoCay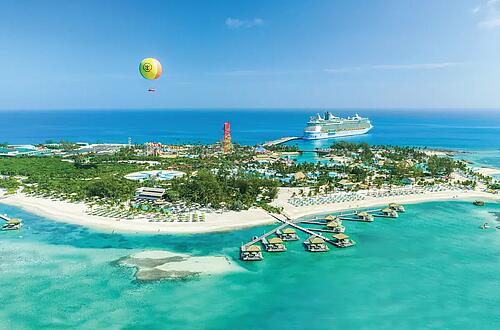 Perfect Day at CocoCay, Royal Caribbean's private island in the Bahamas, is one of the most beloved ports among Royal Caribbean fans.
Included at Perfect Day at CocoCay is beach access, food, drinks (juices, water, tea, etc.), beach chairs, umbrellas, Splashaway Bay, Captain's Jill's Galleon, Oasis Lagoon pool, and more. Most is included in the cruise fare, so it's not necessary to book an excursion on the island.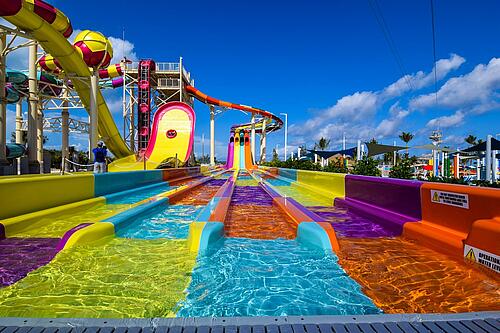 There are, however, several other activities on the island for an extra cost including Thrill Waterpark, a zipline course, jet skis, kayaking, the Coco Beach Club, and cabanas, just to name a few.
If you're considering booking an excursion or rental at Perfect Day at CocoCay, you may find the following guides and reviews helpful:
Progreso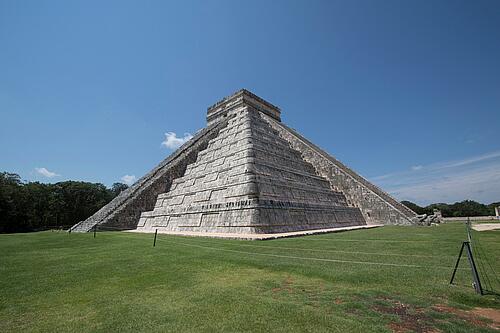 Located on the tip of Mexico's Yucatan peninsula is the port of Progreso, and our most recommended shore excursion in this port is a visit to Chichén Itzá, one of the New 7 Wonders of the World.
While you can visit Chichén Itzá from Cozumel, it's much easier to visit the site from Progreso as it does not require a ferry ride from the island of Cozumel to mainland Mexico.
Due to travel time required, we recommend booking an excursion to Chichén Itzá through Royal Caribbean directly. Excursions run around $104 to Chichén Itzá per adult and $164 for a combined trip to Chichén Itzá and a nearby cenote.
Puerto Plata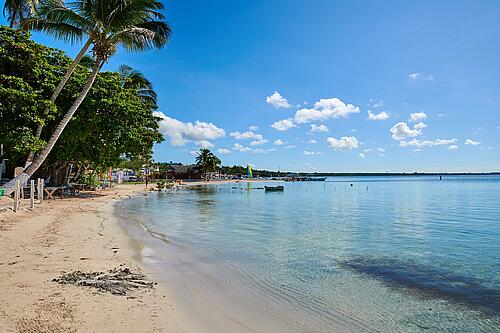 Natural beauty is in abundance in the Caribbean, and that remains true in the Dominican Republic, where visitors can enjoy beaches, jungles, and waterfalls.
One of the most popular excursions in Puerto Plata is a visit to the Damajagua Waterfalls, a lush area of the forest with 27 waterfalls to explore. You can swim, slide down, and jump off waterfalls, and it's a fantastic way to cool down in the Caribbean heat.
You may also find an excursion option combining a visit to the waterfalls with a zip line for extra fun!
Roatan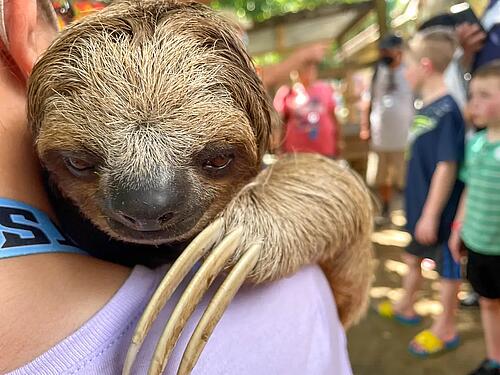 Many Western Caribbean cruise itineraries include a stop in Roatan, an island off the coast of northern Honduras.
There are a lot of excursions to choose from in Roatan, from petting sloths and monkeys to spending the day at a beach resort.
Instead of choosing one excursion over another, we recommend booking a private tour of the island with Victor Bodden Tours. These tours can be customized to your liking and come at a reasonable price, even for solo travelers.
San Juan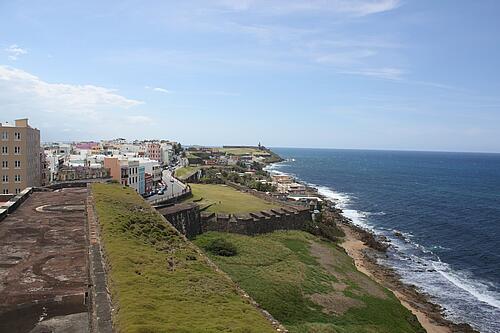 San Juan, Puerto Rico is a Caribbean cruise port where booking an organized shore excursion isn't totally necessary.
Cruise ships dock directly in Old San Juan, the historic, colorful neighborhood of San Juan. Visitors to Old San Juan can spend time exploring the city's historic forts, walking the old city walls, dining at a local restaurant, and relaxing in one of the city's parks and squares.
Related: Things to do in Old San Juan
St Croix
Biking is one of the best ways to explore a new destination, and if you're interested in an active excursion, consider the Bike St. Croix tour offered by Royal Caribbean.
This tour takes guests on a 10-mile bike ride along St. Croix's coastline, through sugar plantations, and in the port city of Frederiksted. It includes commentary from a local guide, as well, meaning you'll not only take in the sights, but also the culture and history of this Caribbean island.
St Kitts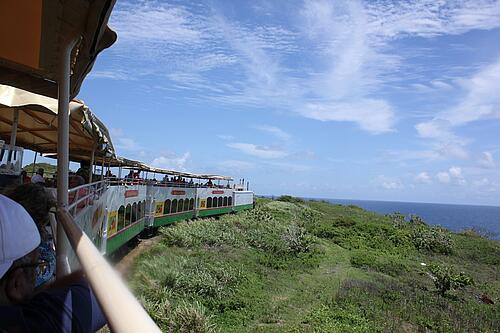 A unique shore excursion opportunity in the Caribbean is taking a ride on the Caribbean Scenic Railway in St. Kitts.
The main industry in St. Kitts used to be sugar cane, and the train was originally built to transport sugar cane around the island. The train rides through the countryside of St. Kitts, giving visitors the opportunity to enjoy beautiful views of the island's natural landscapes.
Excursion Focus: Caribbean Scenic Railway Tour in St. Kitts
St Lucia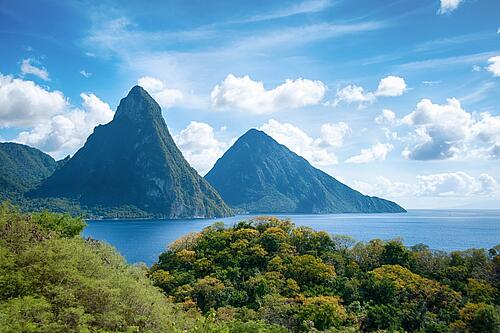 St. Lucia is famous for the Pitons, two mountainous volcanic plugs that rise over 2500 feet above sea level.
Many visitors to St. Lucia put the Pitons on their must-do list, and there are many shore excursions to take guests to these iconic peaks. Traveling to the Pitons via boat is recommended over a car or bus, as the roads can be quite windy and aren't ideal for those prone to motion sickness.
Royal Caribbean offers the Coastal Cruise to the Pitons excursion, a four hour tour including roundtrip transportation to the Pitons and a swimming stop at one of the island's bays.
St. Maarten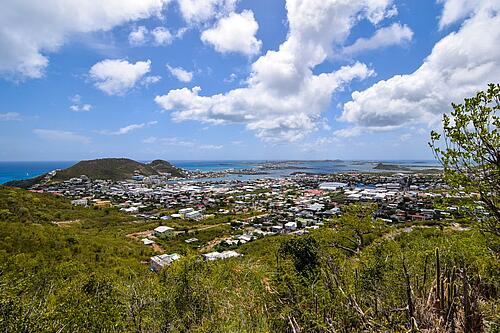 St. Maarten is a favorite port among cruisers for the wide variety of options offered on the island. From watching planes land at Maho Beach to walking the streets of Philipsburg and discovering the Dutch and French sides of the island, it can be difficult to decide what to do in port.
Therefore, we recommend booking a taxi for the day in St. Maarten to bring you on a private, customizable tour around the island. The island is fairly small, so it's possible to see all of St. Maarten's main highlights in one day on both the French and Dutch sides.
If you're feeling more adventurous than traveling via taxi, consider renting a bicycle and exploring St. Maarten on two wheels!
Excursion Focus: Cycling in St. Maarten
St. Thomas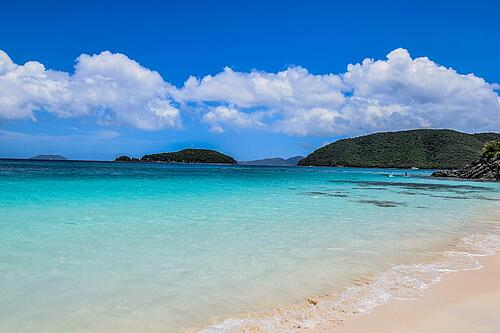 If you're visiting St. Thomas and looking to experience one of the most pristine beaches in the Caribbean, book an excursion that visits St. John.
St. John is a true island paradise, and many excursions visit the famous Trunk Bay Beach, known for its soft, white sand and underwater snorkeling trail.
While you can visit St. John without an excursion, it can be challenging to find a taxi to bring you to the ferry terminal, travel to and from the island via ferry, and find a taxi back to the ship. Because of this, we recommend booking a tour to visit St. John.
Related: Guide to visiting St. John on a Royal Caribbean cruise
St. Vincent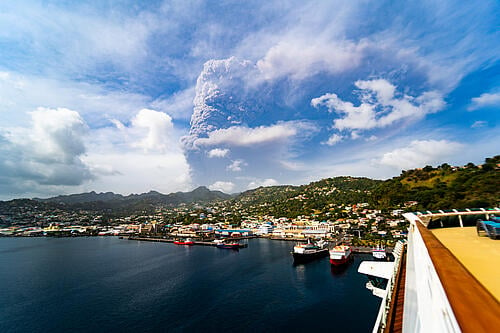 Cruise itineraries visiting St. Vincent are few and far between, but that doesn't mean there isn't plenty to discover in this small island nation.
One of the most unique tours offered in St. Vincent is a hiking trip on Mount Soufrière, the largest peak on the island and an active volcano. Rising over 4,000 feet above sea level, the hike is no walk in the park, but offers unbeatable views of the country and the unique opportunity to experience an active volcano up close.
Tortola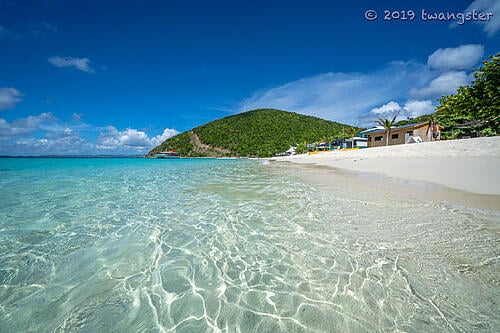 If your cruise visits the British Virgin Islands, consider making a day trip to the small island of Jost Van Dyke from Tortola. While on this small island, you can swim and snorkel in a protected cove with extremely soft sand and clear waters.
Planning a shore excursion? Here are more of our top tips & tricks: