In:
If you are looking for a relaxing day in Cozumel, Mexico that offers fun in the water and much (if not all) included in your price, there are plenty of resorts to consider.
If you were to ask me, the gold standard for all-inclusive day pass spots in Cozumel has been Nachi Cocom, but on a recent Royal Caribbean cruise stop in Cozumel, our family tried to make a last-minute reservation and Nachi was sold out.  After spending some time researching our options, we decided to give Iberostar Cozumel a try.
Description
Iberostar Cozumel is a five star family friendly all-inclusive resort, located on the western side of Cozumel in the same area many resorts (like Nachi) are found. A taxi ride will take about 10-15 minutes to reach Iberostar Cozumel.
Iberostar is a family of all-inclusive resorts that you can find around the world.  In fact, most of the guests you are likely to encounter at Iberostar Cozumel are resort guests, rather than cruise ship guests. 
We purchased a day pass to Iberostar via Resortforaday.
The resort itself is a large, sprawling retreat.  The lobby area is located in an enormous open air atrium, where you receive wristbands to identify yourself to staff around the resort.  Despite the fact you are a day guest at a hotel resort, admission to Iberostar Cozumel gets you access to essentially everything and anything a resort guest would get, minus a hotel room.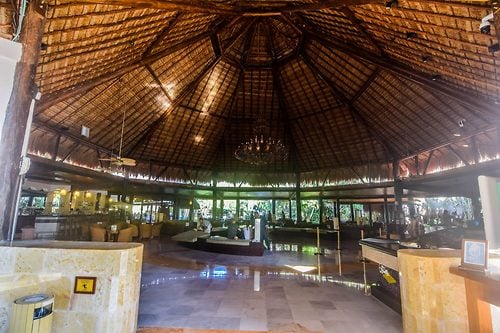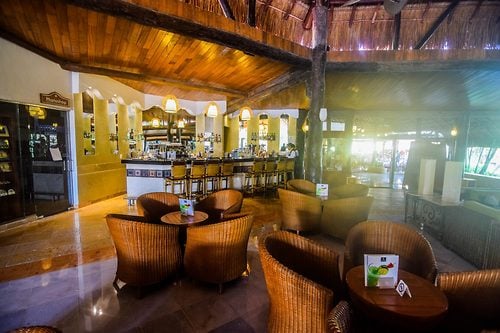 The grounds at Iberostar are immaculate and sprawling.  Not only is there a beautiful collection of flora to see anywhere you walk, you will also find flamingos, peacocks, and other beautiful animals along the way.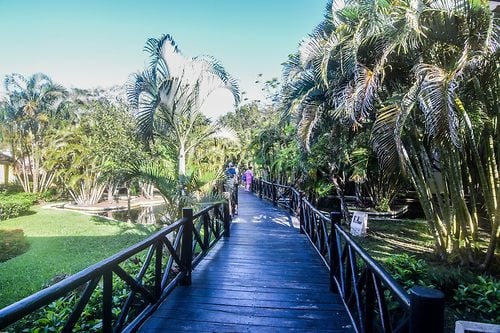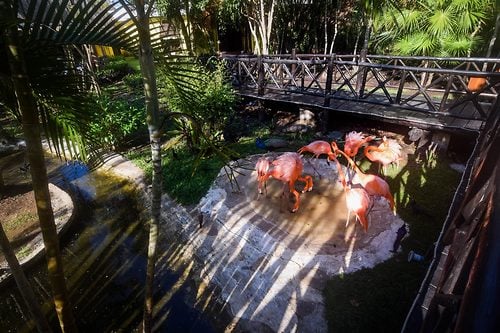 Your day pass includes:
Access to Iberostar from 8am to 6pm.
Unlimited meals & snacks at your choice of open establishments. This includes breakfast and lunch.
Unlimited drinks (alcohol & non alcohol)
Full access to beach
"Lake style" pool and separate kiddies pool
Lounge chairs and towels
Kids Club with supervised activities for ages 4-12
3 Lit Tennis Courts plus 1 multi-purpose court for basketball or volleyball
Activities program by the pool and beach.
Use of snorkeling equipment ($2 USD fee for Marine Park not included)
Kayaking and catamarans
Fitness Center
Complimentary Wi-Fi
If that sounds like a lot, that is a lot to be included with a day pass. While I think most cruise passengers are primarily interested in beach or pool time, coupled with drinks and meals, there are lots of activities you can take advantage of as well. 
Iberostar describes its pool as "lake style" and it is indeed massive.  It is essentially three main pools, along with a rather large kiddie (shallow) pool that all intertwine.  The result is one of the loveliest resort pools I may have ever been to at any resort in the Caribbean.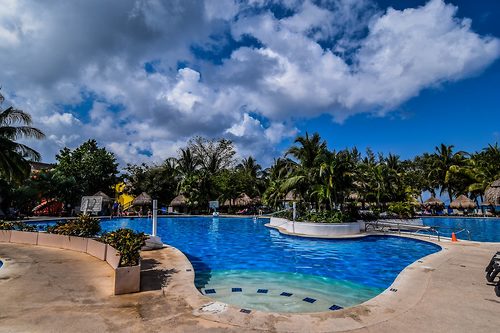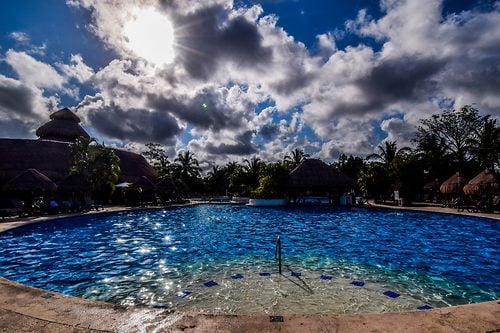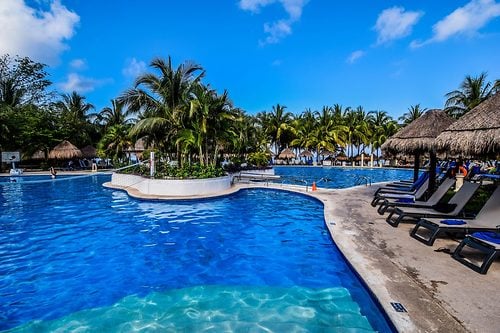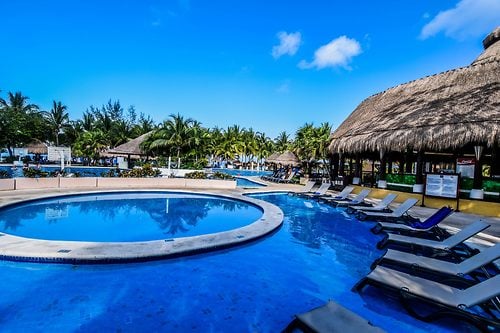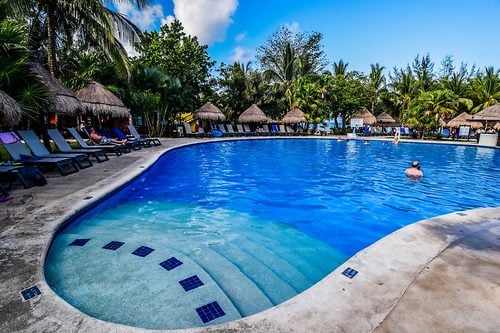 There is a swim-up bar in the middle, lounge chairs in the shallow end of the pool, basketball hoops, and plenty of room to relax. In short, it is an impressive pool.
Naturally, Iberostar offers a large white sand beach area.  The pool is close enough to the beach that you can fairly easily walk between the two areas.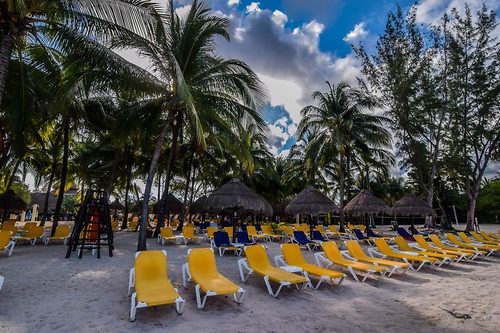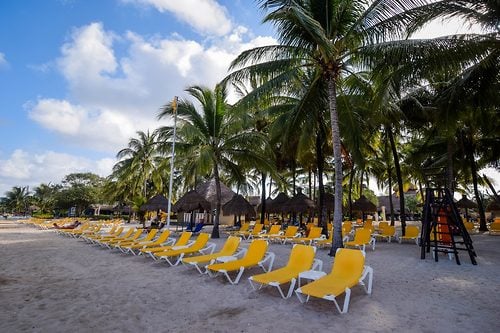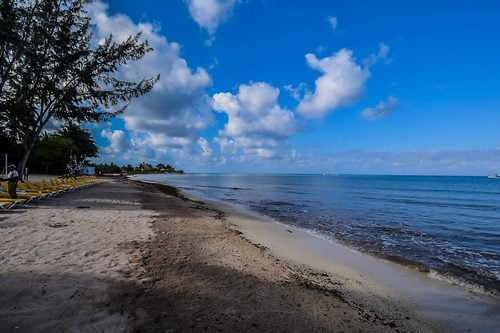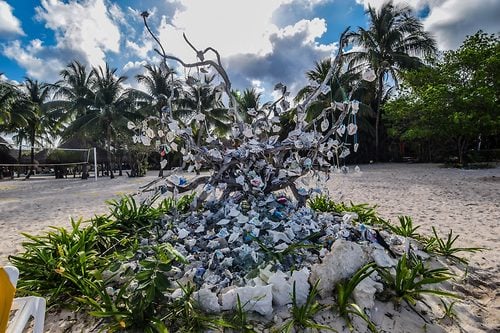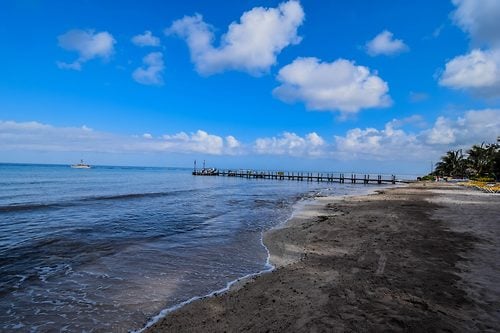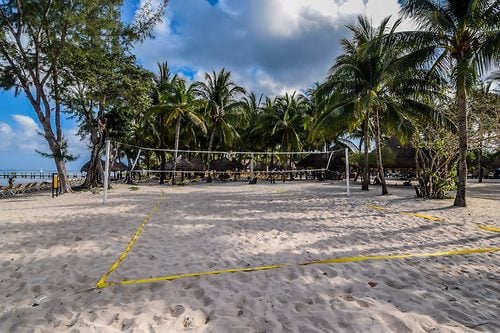 Admission to Iberostar Cozumel gets you unlimited food and drink during your stay.  There are a few restaurants around the resort that you may visit and enjoy.  Something that distinguishes Iberostar is the fact breakfast is served along with lunch later in the day. The food is served at any of the buffet-style restaurants, with one large restaurant and a grill located within steps of the pool and beach.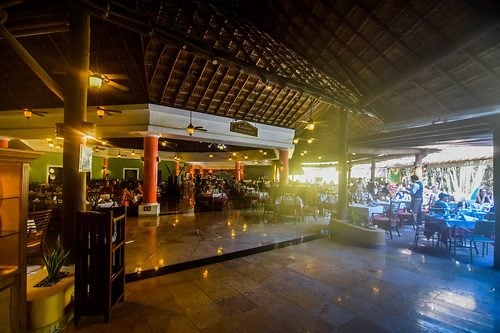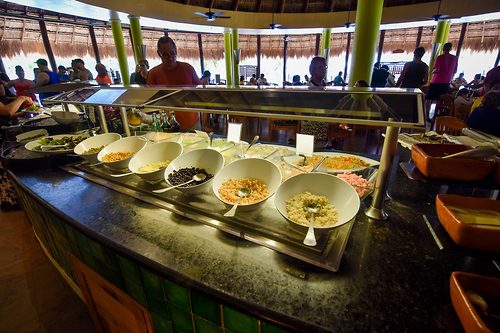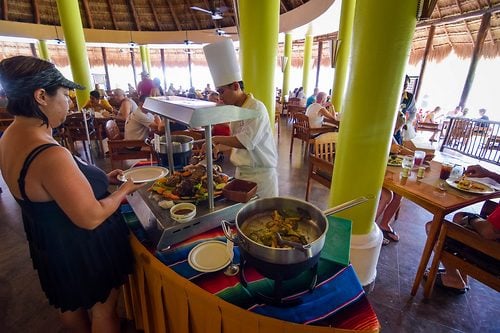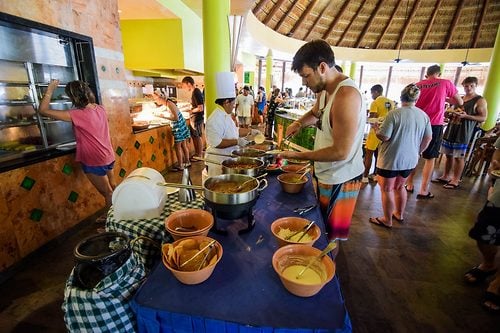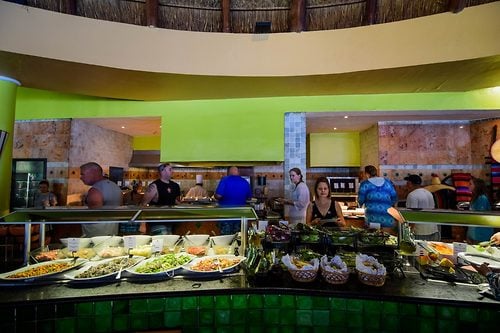 Much of the food offered is American fare, with a few Mexican dishes thrown in.  The menu at Iberostar rotates on a daily basis, with the idea that resort guests will be there for a week or so, and thus, get different choices each day to mix things up. As a result, the exact menu you get may differ depending on the day.
Unlimited alcoholic and non-alcoholic drinks are available as part of admission.  There are roaming waiters around the pool and beach area, along with the aforementioned swim-up bar, and some bars around the resort you can visit.
Comments
For a family looking to enjoy a relaxing day at a beautiful resort, Iberostar Cozumel fits the bill nearly perfectly.  It is an impressive resort that rivals many all inclusive experiences we have had in the region.
In general, we enjoyed our time at Iberostar and had a fun day splashing, eating, and drinking. I was truly impressed by the resort grounds and what they offered.  In fact, I found the assortment of activities very impressive.  Yoga, aquatic aerobics, archery, tennis, skeet shooting, snorkeling, etc.  Where most day pass resorts are limited to a beach, pool and snorkeling equipment, Iberostar shines with its rich array of things to do.
I had two gripes about my visit to Iberostar that prevent it from being my top choice for a day pass option in Cozumel. 
We arrived right around 9am or so, and already 65-75% of the pool chairs had been reserved.  There were not people actually there, but the "chair hog" situation was worse than anything I have seen on a Royal Caribbean ship.
Second, the lunch offered was fine, but lacked Mexican cuisine that I think many (including myself) look to enjoy while in Cozumel.  The lunch offered consisted mostly of American food, with a taco making station that was sufficient.  There were no quesadillas, guacamole, chips, or salsa to enjoy during our visit.  The flip side to this issue is my children had no problem chomping down on burgers and hot dogs all day long.
The level of service in terms of getting drinks while lounging was more than acceptable.  Roaming waiters took drink orders and once the initial surge of drink orders subsided, it was quite easy to get refills.  Of course, the assortment of bars around the resort means getting one on your own is easy enough.
Inevitably, I have to compare Iberostar Cozumel to Nachi Cocom resort, because Nachi has been my go-to recommendation for a while.  Iberostar's grounds and range of activities exceed what Nachi offers.  The quality and variety of food is better at Nachi, and Nachi's personalized waiter approach is still a preferred method in my opinion.
In terms of cost, Iberostar Cozumel cost us just about the same as most other all-inclusive day pass resorts in Cozumel. We paid $72 per adult and $36 for kids 3-12.
Overall, Iberostar Cozumel is a beautiful resort that is a good choice for groups that are looking for a phenomenal pool day, and/or lots to do around the resort, in addition to all the food and drink they care to enjoy. The reserving of chairs and food selection may or may not be an issue during your visit.  Our family certainly had a fun day at Iberostar and would love to return again just for that pool.