In:
Odds are if you are reading this review of Mr. Sanchos, then you probably heard about it from a friend, colleague or some online who recommended as a good choice.  Mr. Sanchos is among one of the more well-known all-inclusive beach spots in Cozumel and it is why we decided to try it out after hearing so much how others enjoyed it.
Description
The staff at Mr. Sanchos recommends making a reservation in advance to ensure a spot for you and your family.  It is not uncommon for Mr. Sanchos to sell out, and reservations can be made via the Mr. Sanchos web site. Reservations require a small deposit at the time of booking.
Mr. Sanchos is located south of where the cruise ships dock, and is roughly a 15 minute cab ride away.
Mr. Sanchos offers two admission options: A la Carte section (Pay as you Go) or the All Inclusive Day Pass. The resort claims there are two separate areas, and they do not mix All Inclusive Guests with Pay-As-You-Go customers.  For the purposes of this review, we opted for the all inclusive day pass option.
Upon arrival, you check-in and pay the remainder of the cost owed for the day.  Your admission gets you unlimited access to the beach, pool, food and drink for $55.. There is optional aquatic park add-on that costs $12 extra per person.
After checking in, you are escorted to the spot of your choice along the beach. Your admission gets you beach chairs, a table and umbrella.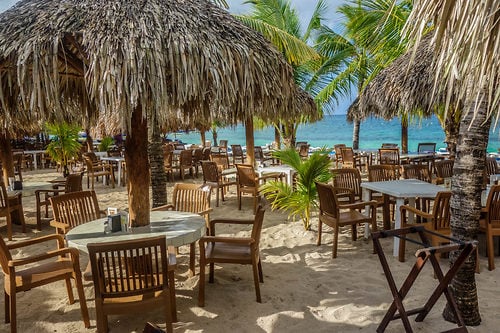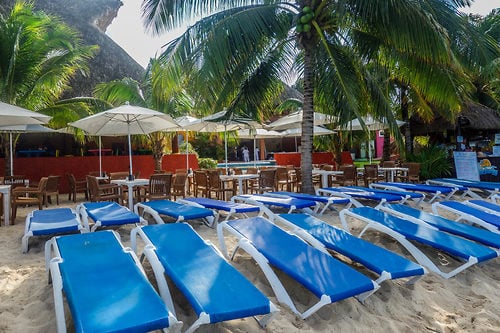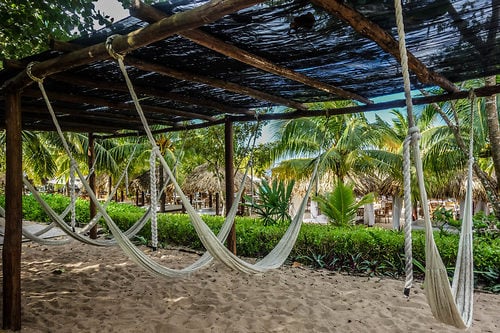 Mr. Sanchos has a rather large footprint, with at least three large pool areas, a couple of buffet restaurants, multi-story spa, shopping plaza, and more.  Something I have never seen at an all-inclusive beach resort is a small shopping district at the front of the resort where you can buy a lot of the typical Cozumel souvenirs found downtown.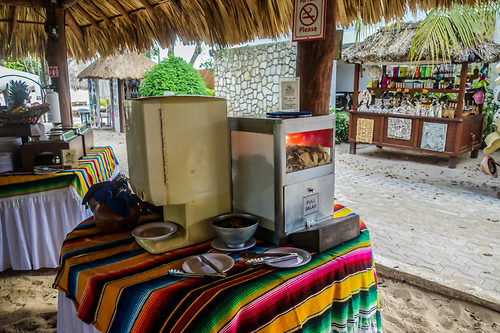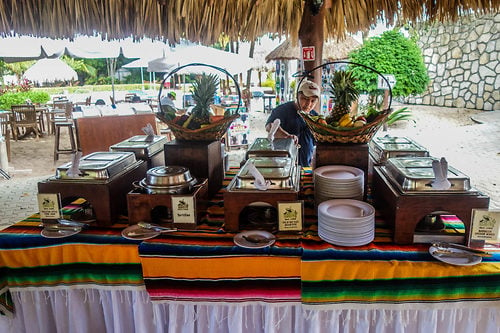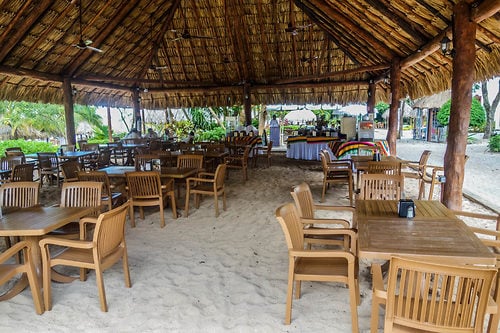 After picking your chairs for the day, the wait staff will introduce themselves to you and they are your go-to point for any beverage or food order you want. On our visit, we were introduced to two waiters, with at least one of them usually around to take any order.  Mr. Sanchos offers unlimited food and drink, so there is no limit to how much you can order or how often.
The beach area is where most guests will spend their time, with lots of space to lay out and enjoy the water.  Entering the water, there is a good mix of sand and rocky areas and lots of fish swimming about.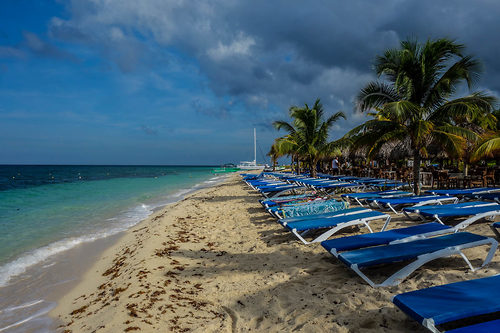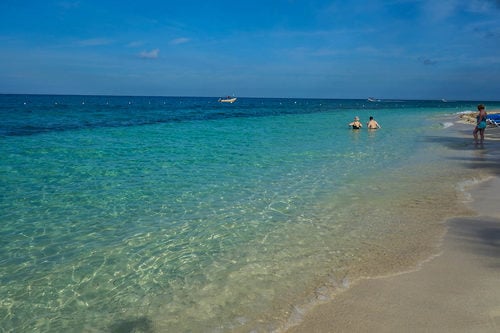 Speaking of the ocean, the aquatic park is a popular option with families.  The $12 aquatic park entrance gets you all-day access to the inflatables located just off shore.  Swim vests area available upon request.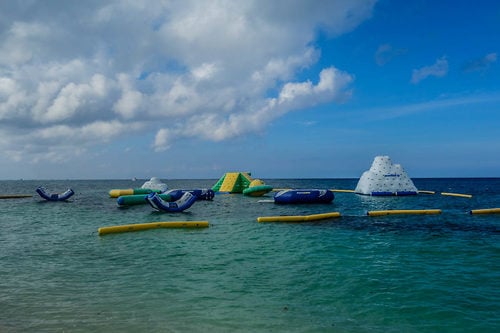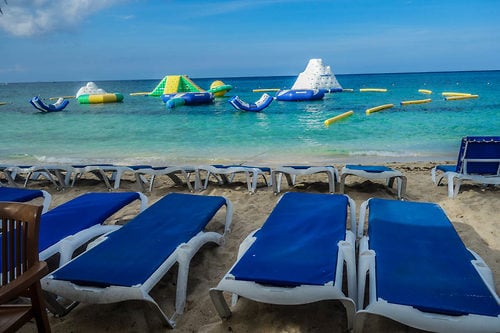 The aquatic park includes:
Large climbing Iceberg
Climbing rock
Two large trampolines
Two medium trampolines
Pyramid slider
Two water totters
Moonwalk with two bouncers
Rock slider
Stadium ball
There are three pools, two of which feature a swim-up bar, in-pool seating and even swings around the bar to enjoy as you sip a drink.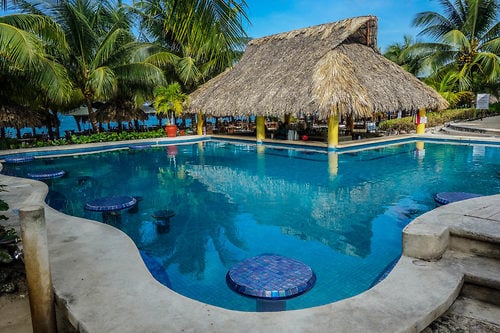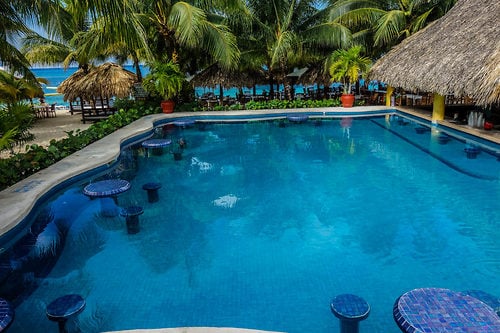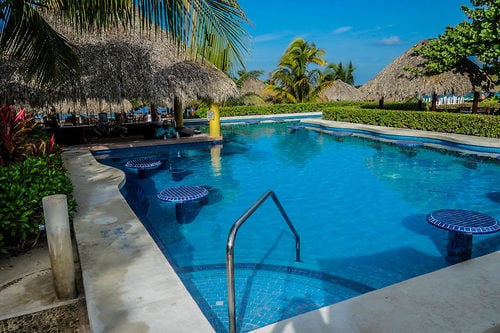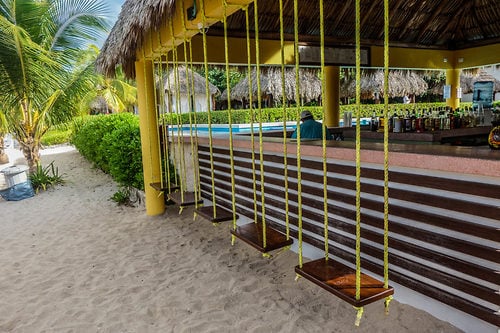 The menu at Mr. Sanchos offers quite a variety of food, with a mix of Mexican favorites (tacos, ceviche, fajitas, guacamole, etc) and American fare (hot dogs, hamburgers, etc).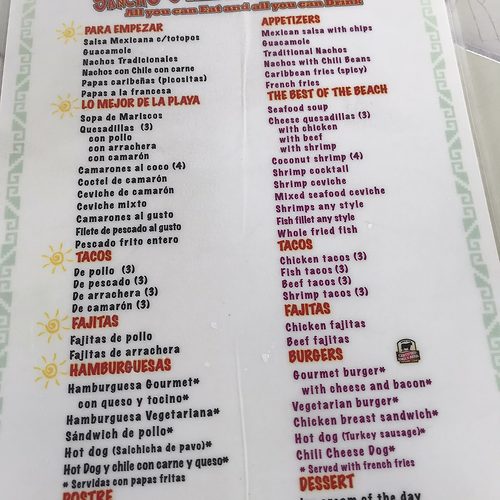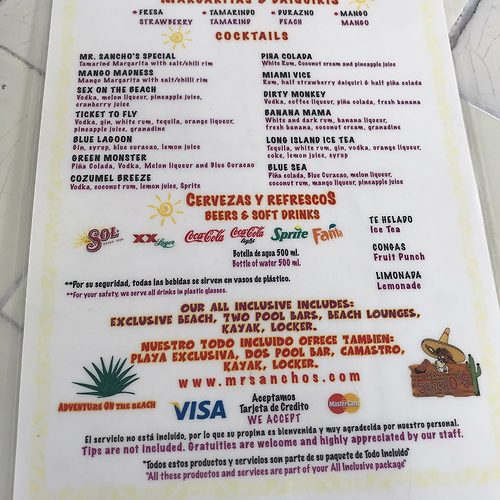 Comments
Mr. Sanchos has earned a reputation over the years for being a premier all-inclusive choice in Cozumel and after spending a day here, I can see why that is the case.  
The sheer amount of offerings included (and not included) in your admission stood out to me instantly from arriving at Mr. Sanchos.  They have a very large beach area, multiple pools, aqua park, water sports, bars and more to choose between.  Where other all-inclusives in Cozumel may offer a pool or a beach bar, Mr. Sanchos has multiples of each, which means you never have to stray far to run into something to do.
The service at Mr. Sanchos is impeccable, with the waiters almost hounding you if you need anything else.  While in the pool, the pool bartender got to know my name and had beers ready for me the instant my current beer dropped below half.  He wrote my name on it and whistled to inform me it was ready when I was.  That is some serious attention to customers.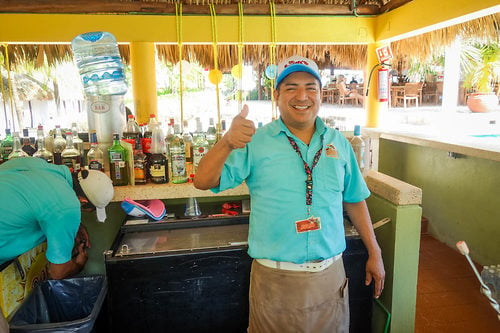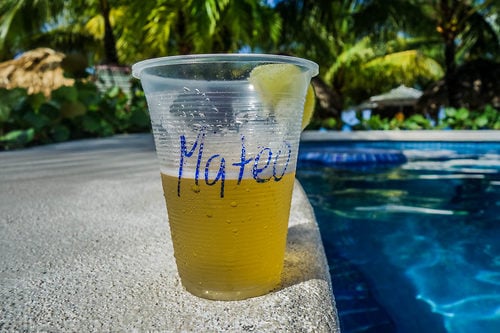 Perhaps the greatest asset Mr. Sanchos offers is possibly its largest detractor, in that its sheer property size and capacity had me questioning what it would be like in Mr. Sanchos if they ever came close to selling the place out.  To be perfectly honest, we had no crowding issue on our visit.  But I could not help but notice the amount of seating offered at Mr. Sanchos and contemplated what the experience would be like on a day where they surpassed 75% capacity.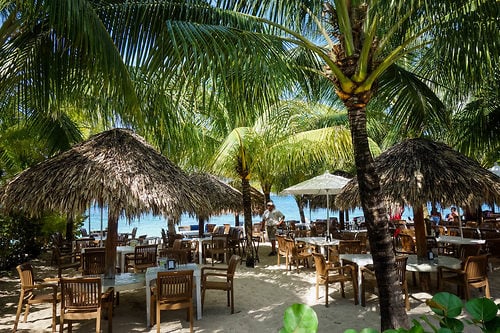 A big draw for a lot of families is the aqua park, which features a number of inflatable objects a short swim from shore on the left side of the beach.  If someone in your family is interested in climbing up inflatable pyramids or platforms and jumping back into the ocean a lot, then this is a great add-on to consider.  I bought passes for me and my 7 year old daughter, but I quickly realized she was a bit too young to enjoy the activity.
Overall, Mr. Sanchos offers a compelling all-inclusive spot to enjoy a day in Cozumel.  Mr. Sanchos is a great choice for larger groups, especially if some or all are interested in more than simply lounging by the ocean or pool.  The activities and aqua park seem to resonate with a lot of our readers who travel with kids or young adults. The all-inclusive option allows for a lot of indulgence while visiting the beach club, so it behooves you to sample as much as you can.
How to book: Reservations can be made online via the Mr. Sanchos website or third-party reseller.