In:
Over the years I've visited Cozumel at least a dozen times and always find myself doing the same thing. On my most recent cruise to Cozumel, Mexico I decided to step outside of my comfort zone and try something new. So off to the cruise planner I went and I came across an excursion called, Fury Catamaran snorkel and beach break.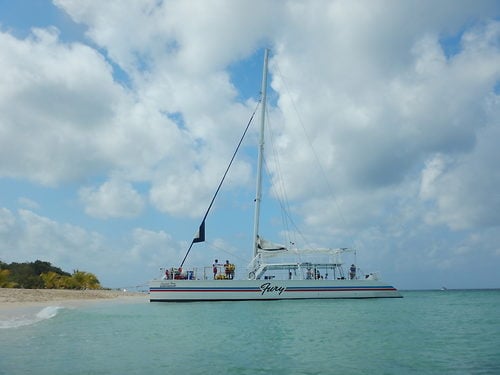 The price in the Royal Caribbean cruise planner is listed at $78 for adults and $59 for children. I happen to book during a weekend cruise planner sale and it was listed as 25% off.

I should mention you can book directly through their website and it's the exactly the same excursion. In fact, I think half my boat booked through Royal and others through Fury directly. So I would check both options and see what's the better price.
The meeting time for our excursion was 8:30AM, so we were up early to meet on the dock. In Cozumel, you have that pier you walk down to enter the shopping area, our catamaran was docked right before that. I would say no more than 100 yards from walking off the ship, so that was really convenient.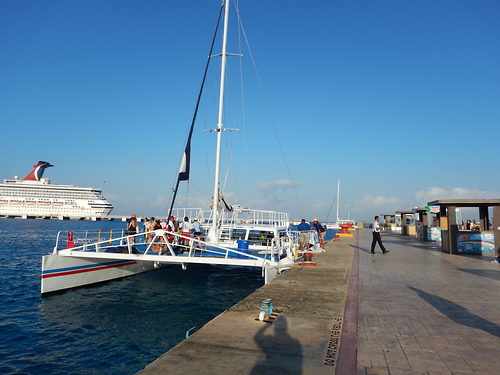 We didn't end up leaving until 9:15AM because we were still waiting on some guest. They do handout soft drinks and water while you are waiting.
Our day was split into three different activities, which I really enjoyed. The first part was snorkeling for an hour, a beach break for an hour and a half, and ending with an hour ride back to the ship.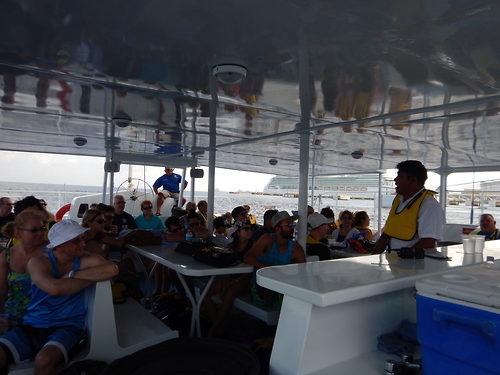 Stop one was snorkeling; we were only 5 minutes from the pier so it was a quick ride over. During the short ride they explain our day, what to expect, and all the safety tips. They provide you with snorkeling equipment when you board. We were here for an hour and it was actually a perfect amount of time. Beautiful coral and fish all over, I really enjoyed this snorkeling.
Our second stop was the beach break; they have a private beach, which is about 20 minutes away. During our cruise over they started serving rum punch, beers, or soft drinks, which are all included.
The beach was nice and everything on the beach was also included. They had beach chairs, aqua park, kayak's, paddle boards, beach beds, and of course an open bar.
The bar served the same thing as the catamaran so rum punch or beer. If you are hungry they also serve hamburgers for $10 and that was the only upcharge option for the day.
The final part to our excursion was the one-hour ride back. During the ride back they keep bringing you drinks and asking if you need anything. I laughed that they don't let you go 5 minutes without checking in on you, really outstanding service the whole day.
They also have some fun line-dancing going on during the ride back, but you can also just sit and enjoy the views.
The excursion lasted 4 hours and I found that to be a perfect amount of time. And since we started early in the morning we had the whole afternoon open in Cozumel. This excursion would be perfect for someone who doesn't like to sit and do the same thing all day or just looking for something totally different.
I was so happy I tried the Fury Catamaran and I plan to return again soon! Feel free to leave any questions below or if you have tried Fury and what you thought.