In:
Please welcome guest blogger Kayla Gillman, who is here to talk about her recent visit to Royal Caribbean's private destination of CocoCay in the Bahamas.
For an upgraded beach experience on Royal Caribbean's private island Coco Cay without the cost of a cabana, you may want to consider the shaded Beach Loungers located on the South Beach of CocoCay (the beach formerly known as Barefoot Beach). 
I recently had the chance to visit the island while aboard Majesty of the Seas, and since it was my friend's first cruise, wanted to do something a little extra special during our visit.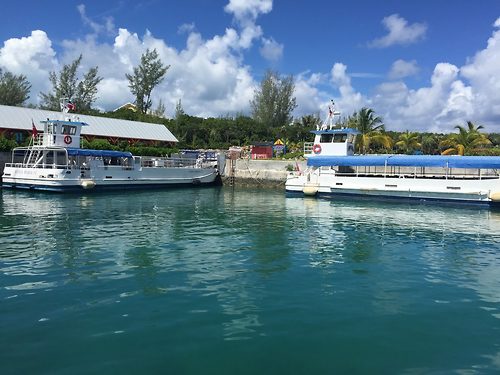 We disembarked the ship in the morning around 10:30 AM, and made our way to the Shore Excursions desk on the island. Here, we were asked to step around to the back of the building where a tram quickly scooped us up, and brought us on our way down to the Lounger area. If you are not a fan of long walks on the beach, this would be a great option for you. However, I have found that walking down to this area of the island to be quite enjoyable as you get a chance to see the vast majority of the island along your way.
Upon arrival, we walked over to the shaded bar area where we were greeted by our attendant. She handed us our towels, and showed us which loungers were still available to us (the loungers are available on a first come; first serve basis so if you have a particular space in mind plan on getting there early).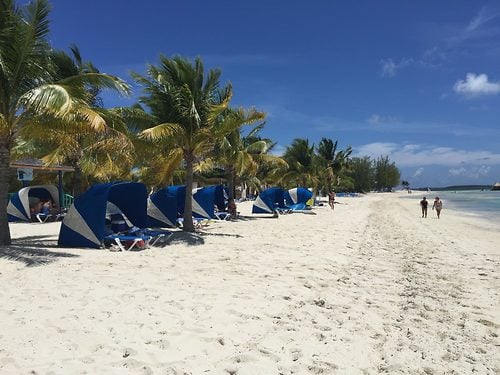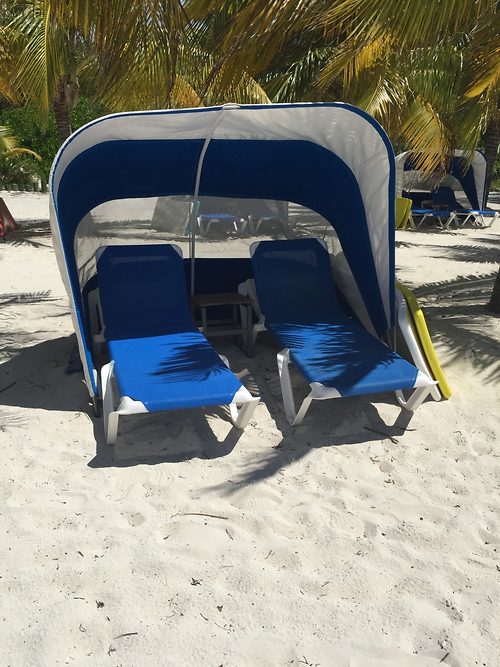 We selected our lounger, and our attendant followed us with a cooler of water and a fruit plate. Our two beach mats were already brought out and leaning up against one side of our clamshell lounger.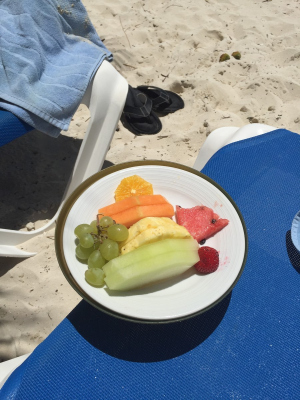 We relaxed for a little bit and grabbed a Coco Loco (souvenir cup and all!) from the bar where we were first greeted by our attendant, who was available there for us the remainder of the day.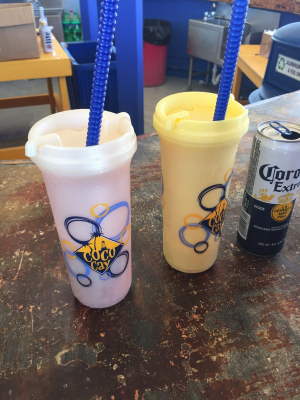 I have to say, I thought that for what we paid for two people this was an excellent value as the beach mats alone run $18 per person. We very much enjoyed floating along the beach with our drinks and relaxing in the shade of our cabanette. I would highly recommend this to anyone looking for a quiet, calm beach day.
It also appears that there is quite a bit of construction happening in the area – it looks like there have been some new cabana structures added to the area as well, but I did not notice them in use.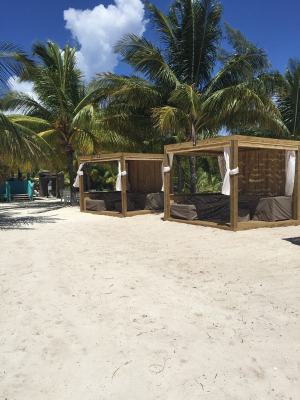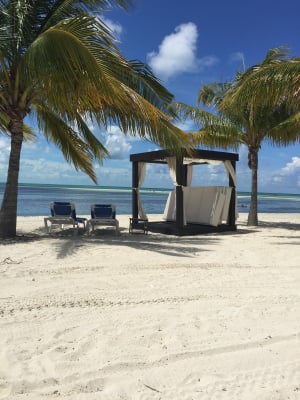 Need a break from lounging around? The excitement of the brand new Floating Bar is just a quick walk away – you can see it from your lounger!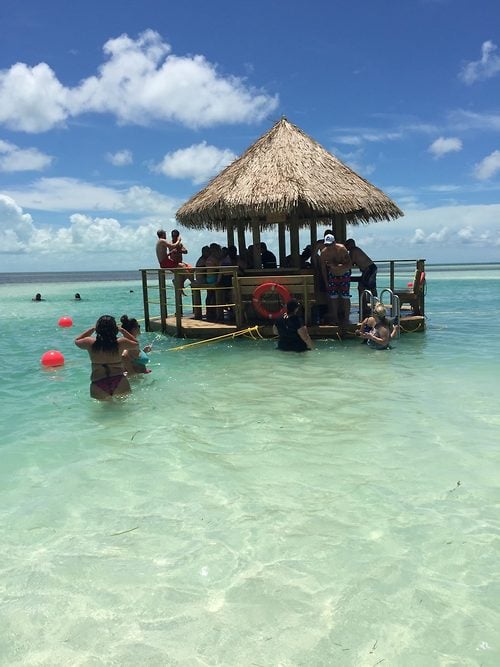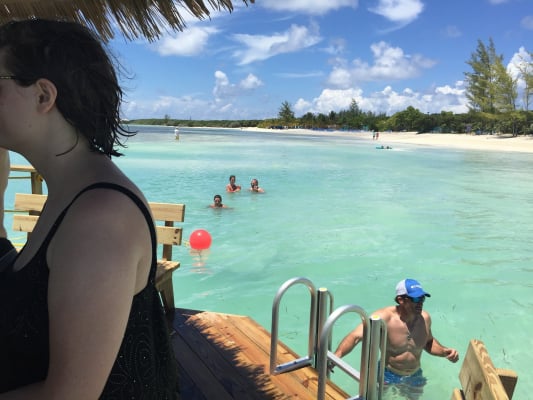 We swung by here for a quick drink, and I have to say this is quite a welcome and fun addition to the beach.
At the end of our day, we turned our towels back in to our attendant and wandered our way back down the beach and made our way back to the tenders. Looking forward to the chance to book one of these loungers again and enjoy a fun day on Coco Cay!
Beach Loungers may be reserved ahead of your cruise via the Cruise Planner. They run $59.00 for two people, and included you receive 2 floating beach mats, 2 bottles of water, towels, and transportation in addition to the reserved shaded "clamshell" loungers. Keep in mind when reserving the loungers, that you will only need to book under one person – this will cover the admission for two people to your lounger.
#TeamCocoCay #ClubCocoLoco #SorryMatt