In:
Amid the glitz and glamour of the mega announcement that Royal Caribbean will invest $200 million to upgrade its private destination of CocoCay in the Bahamas, it is easy to overlook some of the smaller details. 
Sure, there will be incredible water slides, over the water cabanas, an impressive wave pool, and plenty of beach fun to go around, but scouring the various concept art, we came up with seven smaller details that are part of the plans for Perfect Day at CocoCay that we think are worth mentioning...and looking forward to trying out.
It is worth mentioning that we found these details by looking closely at artist renderings.  This artwork may not necessarily represent what will actually be the final product, nor what may actually be something offered at CocoCay.  
A covered pier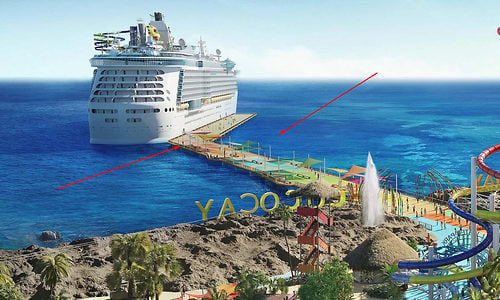 It is safe to say a lot of people are excited for Royal Caribbean to add a pier to CocoCay for the sole benefit of increasing the likelihood of being able to go to CocoCay.  Tendering is dependent on ideal sea and wind conditions, which has resulted quite often in ships having to skip scheduled stops in CocoCay due to poor conditions.
While a pier makes it a whole lot easier to get to the island, anyone that has walked on a pier can tell you one thing that you quickly notice while walking down the pier is how hot it can get there.  There is no shade, as it is often a concrete walkway in the middle of the shore.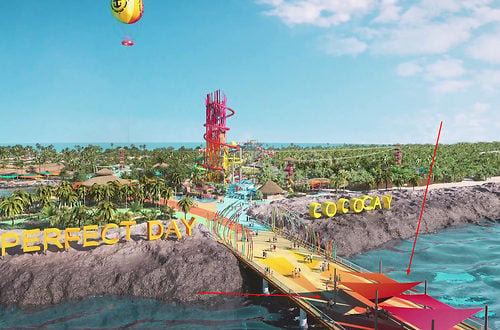 Royal Caribbean appears to have remedied that issue by providing a covered pier walkway for guests to enjoy, which means less of that "surface of the sun" heat!
Geyser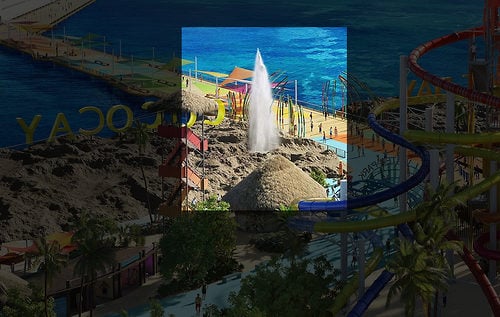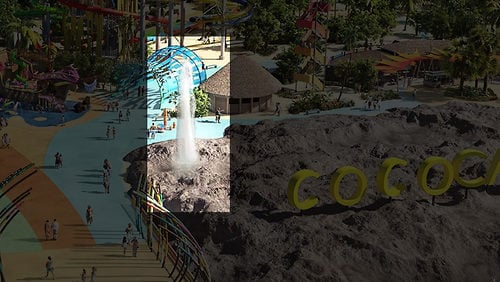 With all the excitement of Perfect Day at CocoCay, it is easy to overlook a new feature that is sure to be the focus of plenty of photos. 
At the Arrival Plaza, there appears to be a geyser, or some other sort of water spouting semi-natural phenomena.
Tidal wave slide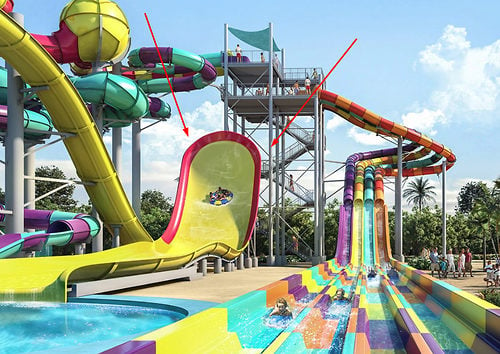 Up until now, Royal Caribbean's Liberty of the Seas was the only place to try out the Tidal Wave water slide, which is a fun raft ride that features a Boomerang style slide.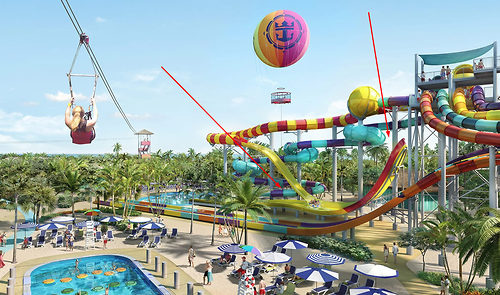 CocoCay will offer its own Tidal Wave slide at the Family Tower area of Thrill Waterpark.  It looks like Royal Caribbean will call it The Twister, and describes it as, "takes two riders down its winding tubes on a tandem raft."
Rock climbing wall in the pool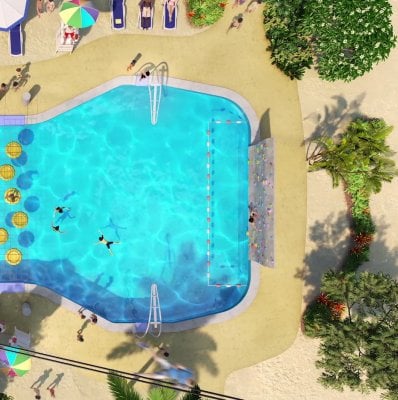 Royal Caribbean made a name for itself years ago when it added rock climbing walls to its cruise ships. Back then, that was a revolutionary change.  Now, all Royal Caribbean ships offer this signature activity and it appears CocoCay will take the idea one step further with a rock climbing wall... over water!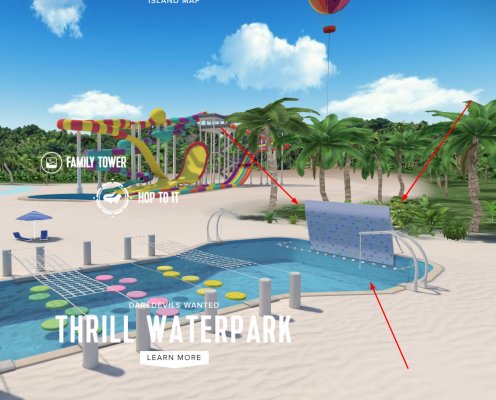 Thrill Waterpark will offer a rock climbing wall that is built over the pool, which means "falling off" is just as fun as going up!
Twin pool rope swing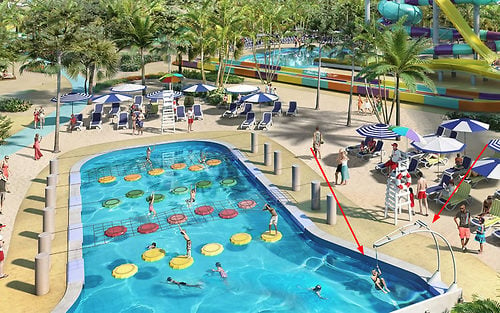 Speaking of pool fun, there will be twin rope swings at Thrill Waterpark, where you will be able to practice your back flip/summersault combo.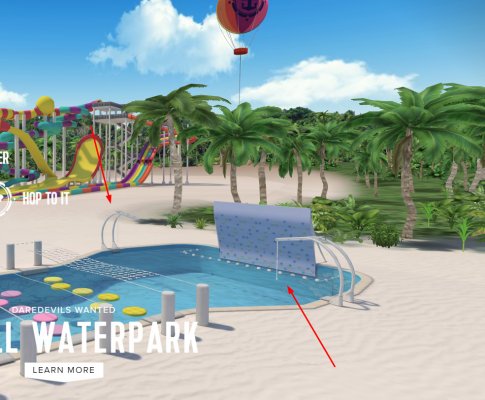 The renderings appear to show two rope swings on either end of the pool.
Beach teepees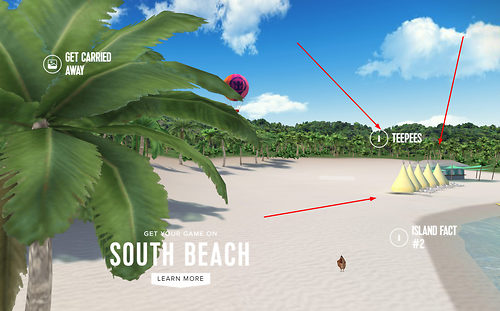 You have heard of beach cabanas, bungalows and beds, but prepare yourself for beach teepees!
Located on South Beach, Royal Caribbean describes them simply by saying, "Kick back in your own beachfront glampsite."  
Zorb balls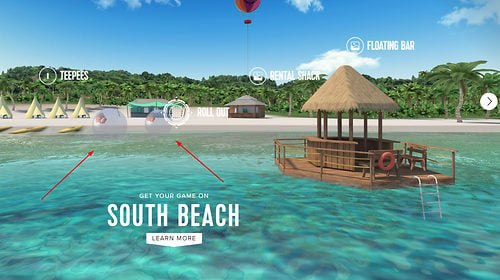 South Beach will also be home to a new kind of activity, called zorbing.
Basically, you enter an inflatable zorb ball and, uhh...., zorb around!  From what we understand from hours of scouring the internet, zorbing involves entering these giant inflatable balls in a hamster ball-like activity.
Which of these under the radar activities are you most excited about? Is there something else you spotted in the artist renderings worth mentioning? Let's talk about it in the comments for this post!