In:
Work continues on the new adults-only area at Royal Caribbean's private island in The Bahamas.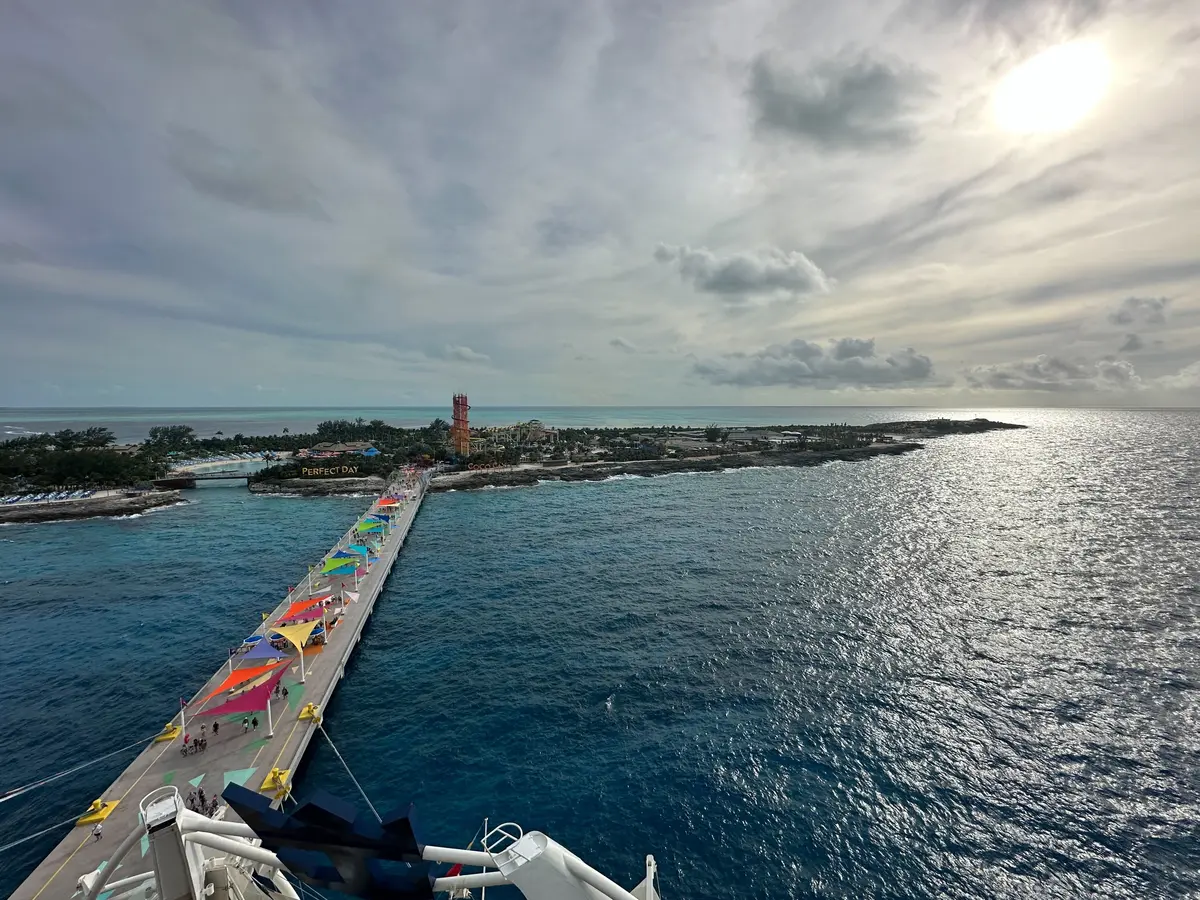 After visiting Perfect Day at CocoCay on November 5th, I was able to get photos of the progress being made on the new expansion that will add an a haven for adults.
Read more: 41 Perfect Day at CocoCay tips and secrets
Hideaway Beach will open in late January 2024 and will be open to only cruise ship passengers that are 18 years old or older.
This area is not included, and the exact cost to enter is priced dynamically based on your sailing and what time of year you're going. 
Here's a look at the changes and updates I saw while visiting this weekend.
Construction photo update
Hideaway Beach will be located on the western side of the island, essentially "behind" Thrill waterpark.
Access on foot is closed off to passengers, but we were able to get photos from the back of Allure of the Seas.
The most visible building under construction is On The Rocks, which is the first sports bar to be added to CocoCay.
Located on the rocky shore, it will be where to go to watch live sports and play games, such as pool and shuffleboard.
Looking further back, I can see the pool for The Hideout is starting to take shape. This is where you'll find poolside cabana with in-water loungers, outdoor shower access, Bluetooth speaker, floating beach mats, resort-style seating, a cooler, sink, mini fridge, charging outlets, ceiling fans, and private lockable storage space.
At the end of CocoCay is more construction work, that looks to be primarily staging for Hideaway Beach construction, along with new buildings going up.
New tram station added
When you walk down the pier, it's apparent they are adding a tram station near the current tram station to take guests to Hideaway Beach.
Royal Caribbean provides tram service around the island at no additional cost so that guests can easily get from point A to point B.
Currently, the new station is hidden behind planters to prevent guests from accessing the area.
Coco Beach Club cabana policy changes
I was also made aware of two changes to the Coco Beach Club cabanas during my visit to the island.
First, is cabana guests must wear wristbands, even when not leaving the cabana. 
The other policy change is for additional guests at a Coco Beach Club Cabana. 
If you want to add more than the 8 people included with a single cabana purchase, there is a charge of $50 per person, plus the purchase of a Coco Beach Club Day Pass per guest, for a maximum of 2 additional people.
Previously, only a Coco Beach Club Day Pass was necessary.