In:
Before the global health crisis, the British Colonial Hilton was a popular shore excursion choice for many cruisers, so is the resort still a good choice now?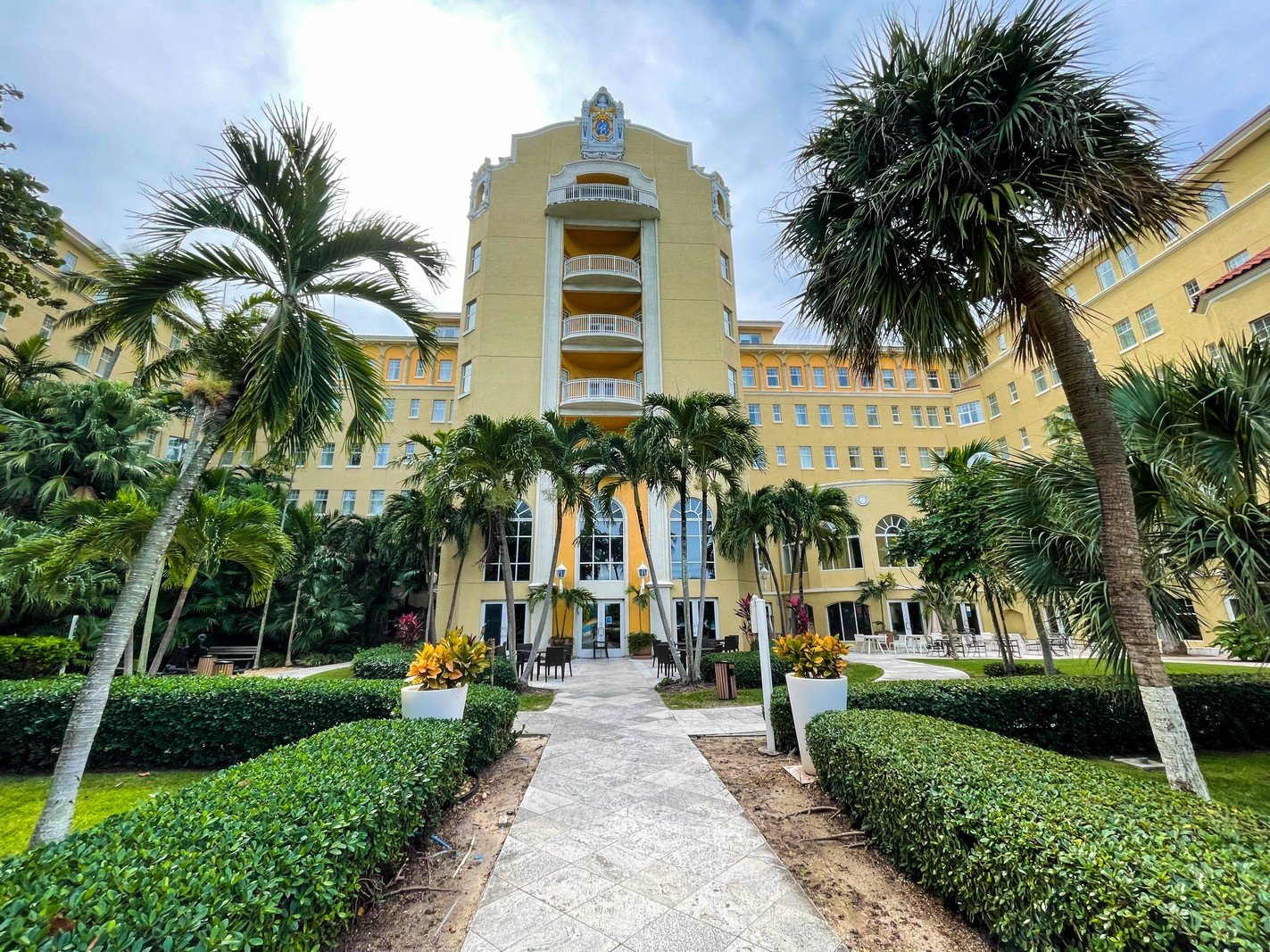 Nassau, Bahamas is one of those ports of call where planning ahead is important to ensure you have a good day ashore, and many readers want to know recommendations for a good tour option.
Having been to the British Colonial Hilton in the past, I wanted to know how it held up as an option to visit since the cruise industry restarted operations in 2021.
I purchased a day pass to the British Colonial Hilton for a visit in November 2021 while sailing on Odyssey of the Seas.
Overview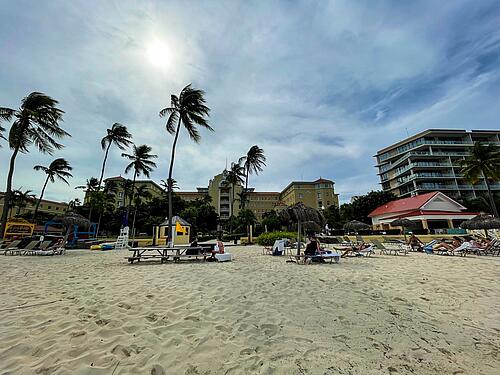 I bought a pass to the British Colonial Hilton through the third-party website, ResortForADay.com, which sells the day passes. You put a deposit down at the time of purchase, and pay the remainder balance upon arrival at the resort.
The price I paid was $85 per adult ($40 per kid), which is not cheap for a non-all-inclusive resort. However, that price does get you a $40 food and beverage credit per person for the adults ($20 for the kids).
Getting to the resort from the ship is super easy, because you can walk there. It is a short 10 minute walk out of the port area and along the water to the resort. It is essentially adjacent to Senor Frogs. You could take a taxi if you wanted, but the walk is pretty short.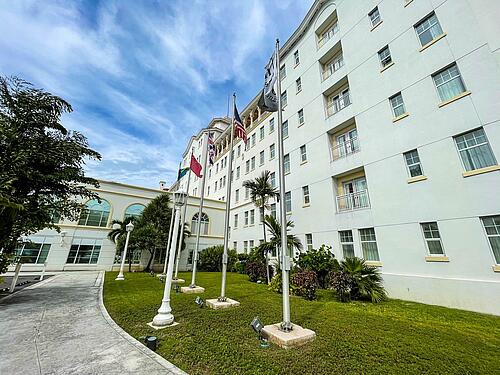 The British Colonial Hilton advertises itself as offering the only private, white sand beach in downtown Nassau. There is also a pool you can use as well.
Day pass admission gets you:
Beach access
Beachfront swimming pool
Lounge chairs, umbrellas & towels
Non-motorized water sports: kayaks, snorkeling gear
When you arrive at the hotel, you walk into the lobby to check in.  You will need a printout of your reservation, form of identification, and a way to pay the remainder balance.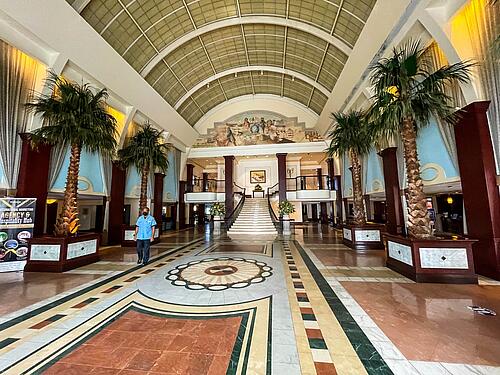 Once check-in is complete, you are given a wristband and voucher for your food and beverage credits.
As advertised, you have access to sit wherever you like at the beach or pool.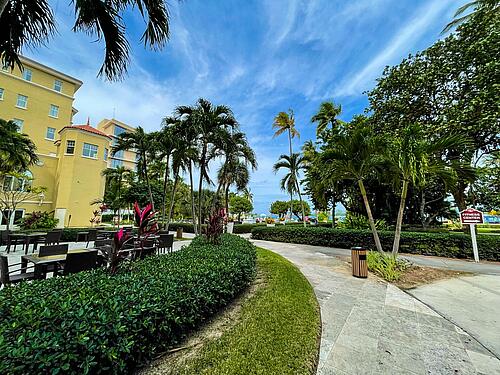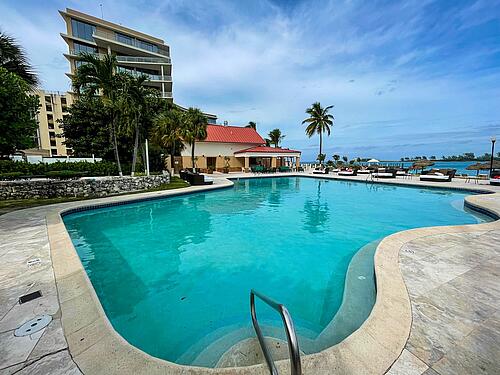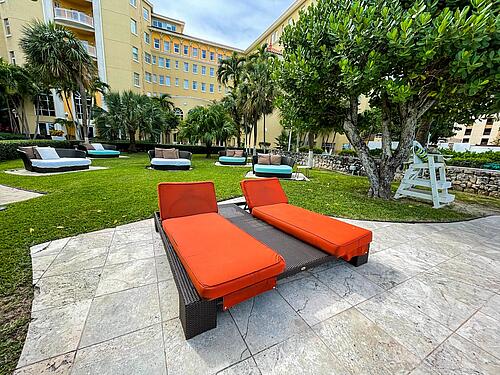 The pool is rather large, although it lacks nearly any shade.
The beach area is wide, and there are chairs and palapas available.  Since this is a resort, hotel guests will be around and depending on the time of year, there may be more demand for chairs and umbrellas than other times.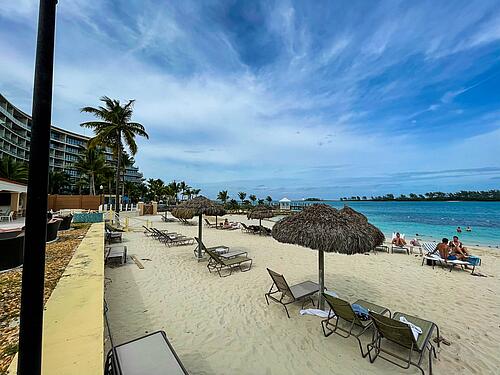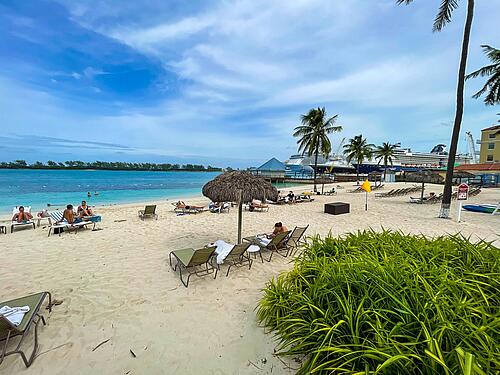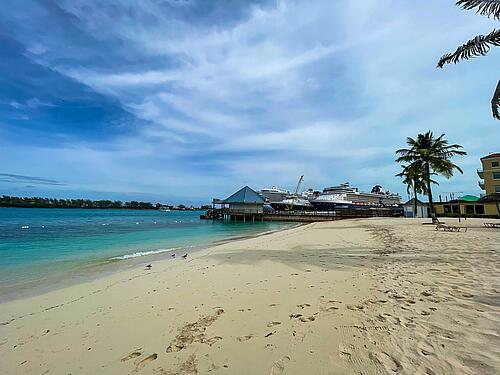 Your food and beverage credit entitles you choice of food and drink off the menu, which helps offset the admission cost considerably. There are two issues with the food and drinks: first, the bar wasn't open at all. Instead, the towel attendant took food and drink orders, but it required you to go to his shack to place orders. He would deliver the food once it arrived. 
I can't say that is always the case these days, as I went on what seemed to be a slow afternoon in November.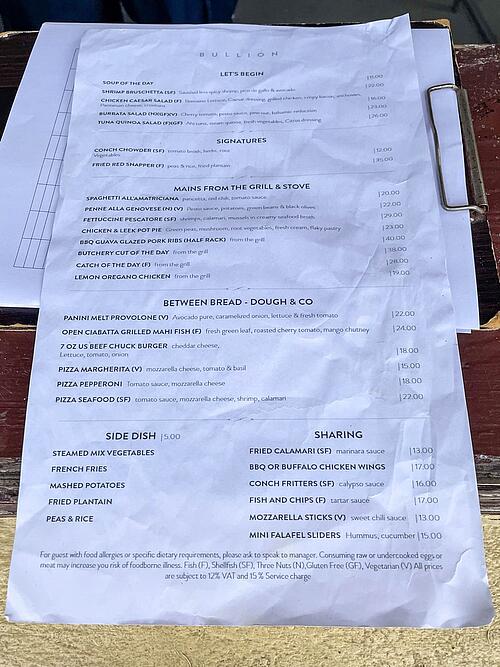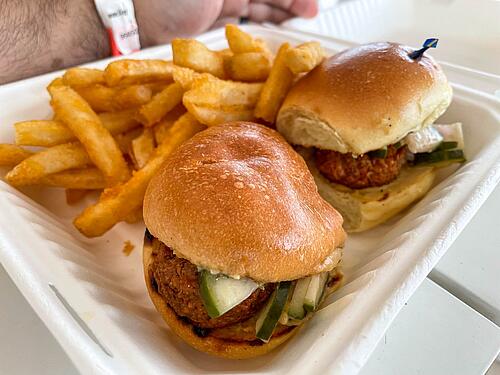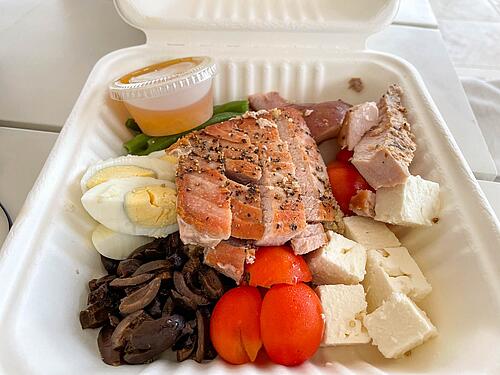 In addition, the menu is not cheap. Most entrees are around $20 and a cocktail is around $15, which means that $40 credit goes very quickly.
Comments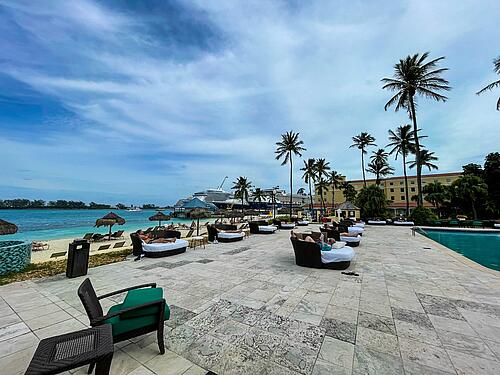 Finding a great shore excursion in Nassau is tough right now with the port construction projects going on and the downtown area struggling to fully re-open since Covid. So a day at the British Colonial Hilton means a safe bet as to what you can do, which means something right now.
The day pass is not cheap, but in the grand scheme of Nassau excursions it comes in right in the median of tour prices, especially when you factor in the food and drink stipend you receive.
Considering the Atlantis resort is not accepting day pass guests until further notice, there is not much else that compares for families. Other Nassau resorts offering day passes all have minimum ages that preclude anyone travelling with younger kids.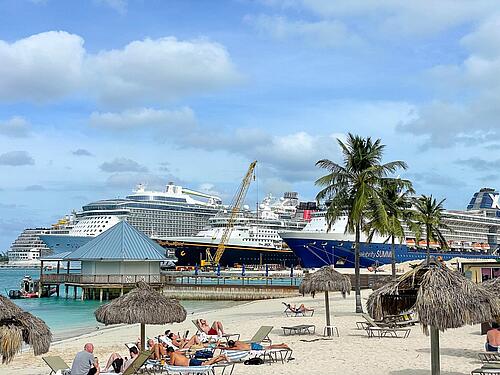 The beach is great, and I thought the sand was quite soft and powdery, especially compared to the sand at CocoCay. 
If you are at all concerned a day at the British Colonial Hilton has changed or degraded at all since cruises restarted, the answer is no. I found my visit to be very much inline with past trips here, and it delivered on a conveniently located beach and pool day.
The two issues I have with the British Colonial Hilton is the lack of shade by the pool, and the high prices for food and drink. 
I got around these problems by grabbing a seat near the shuttered pool bar, which had shade, and only ordering enough food to use up my credits.
The food was pretty good, but overpriced.
If you want a beach and/or pool day while your cruise ship is in Nassau, Bahamas, the British Colonial Hilton remains a good choice, especially for families.
Cost: $85 per adult, $40 per child (ages 6-12. Children 5 and under are free).