In:
Many people visiting Cuba on a Royal Caribbean cruise are very likely visiting Havana for the first time, and for those that want to see the highlights of the Old City of Cuba's capital, Royal Caribbean's Old Havana City Sightseeing tour offers just that.
We were also one of those first timers in Cuba on a recent Majesty of the Seas cruise, and picked this tour as a way to cross off some of the most famous landmarks in Havana.  It is impossible to see all of Havana in just one day, but this tour aimed to take us to the more popular spots.
Description
The Old Havana City Sightseeing tour is listed as a 4 hour bus tour that drives through much of Havana and offers stops at four places along the way.
This tour is offered directly by Royal Caribbean, and we booked the tour prior to the cruise.  The list price for this excursion is $99 per adult and $79 per child.
In the case of this tour, guests are instructed to meet onboard the cruise ship in the ship's theater.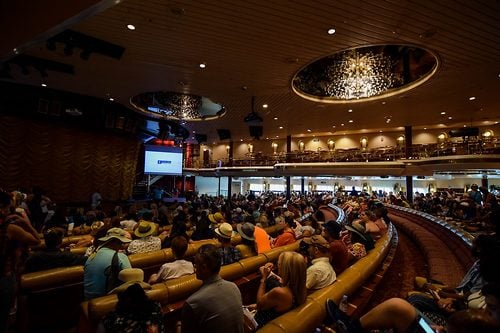 Royal Caribbean splits up guests among different buses, with each bus on its own schedule and with its own tour guide.  When it is time for your tour group to depart, Royal Caribbean escorts guests off the ship, through Cuban Customs and onto a waiting bus.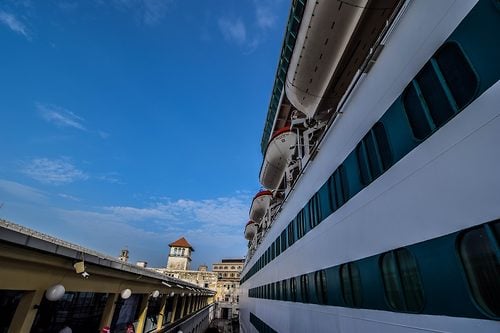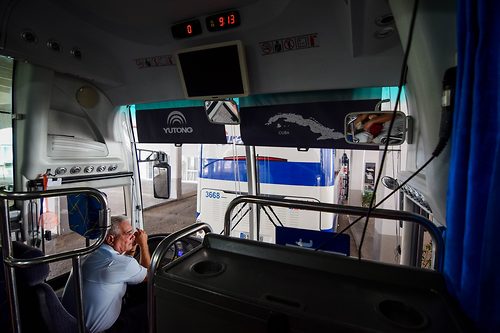 This may sound simple, but it does take quite a while.  Going through Cuban Customs, security and money exchange goes at a snails pace in a very un-air conditioned building.  I estimate it took us 90 minutes to go from when we arrived at the theater to actually boarding a bus.
Once on the bus, your tour leader will introduce themselves and welcome you aboard.  By far the best part of the tour is the fact you will go all around Havana in an air conditioned coach bus.  I cannot understate the value of having an air conditioned base of operations to fall back on.  Havana is quite a hot and humid place to visit, and unlike so many other spots in the Caribbean, air conditioning is quite rare in Cuba.
While on our tour, we had the same bus, bus driver and tour leader for the entire duration of the excursion. This meant we could leave anything we wanted onboard the bus and it would be waiting for us when we got back.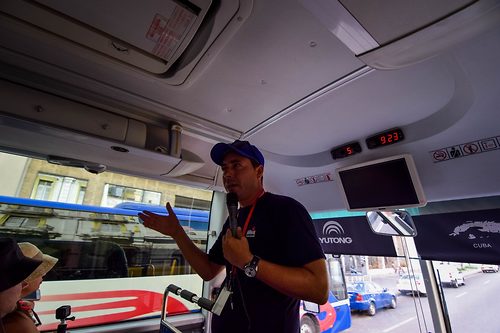 The Old Havana City Sightseeing tour makes four stops as it navigates the streets of Havana.  These stops include:
Morro Castle
Plaza de Revolucion
Cristo de la Habana statue
Colon Cemetery
The exact order you visit may vary, as our tour guide optimized the tour to visit spots with little to no shade earlier in the day and save the spots with shade for later in the day.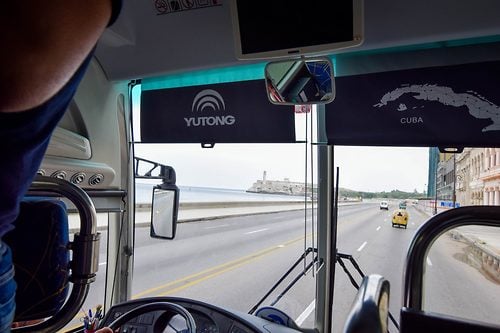 A great deal of other sights will be visible from the bus as you drive through Havana and your tour guide will narrate the entire trip. Many blog readers asked us after the tour if there were any restrictions on what we could see or photograph and there really were none.  Our tour guide was more than happy to answer any and all questions we had and helped shed some light onto the Cuban way of life.
Our first stop was the Colon Cemetery, which is where a great deal of Cuba's most famous filmmakers, politicians and baseball players are buried. The bus dropped us off towards the entrance, and then a special guide escorted us through the cemetery and pointed out some of the more famous mausoleums.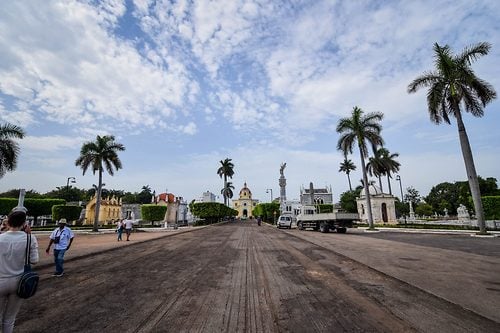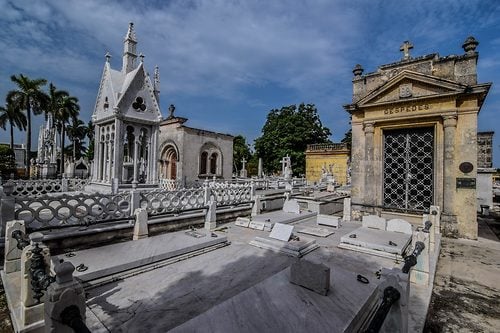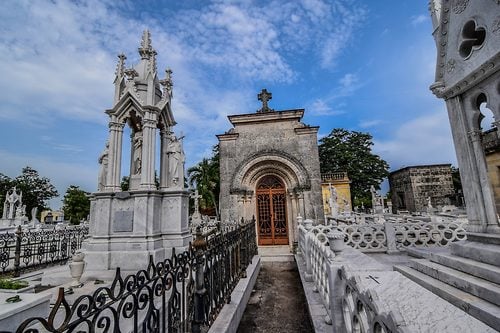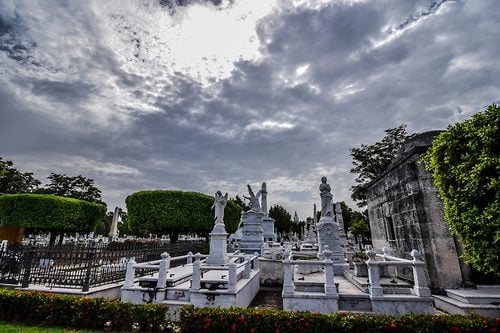 The cemetery is massive, and there is not enough time to even see half of it, but it was incredible to see the detail in some of the burial spots.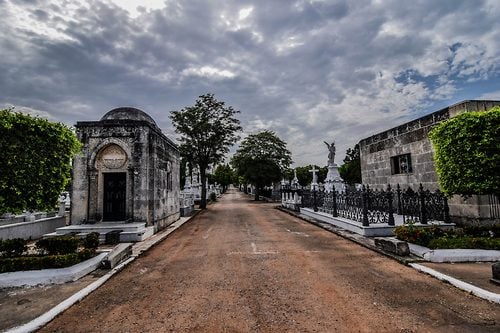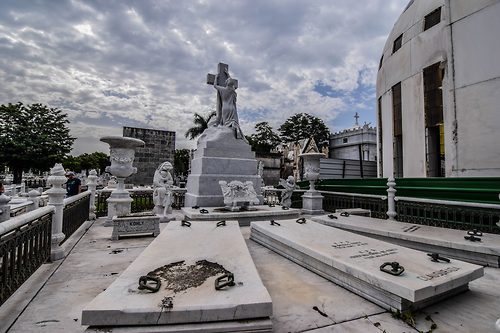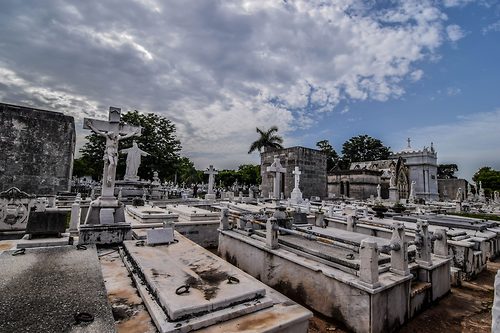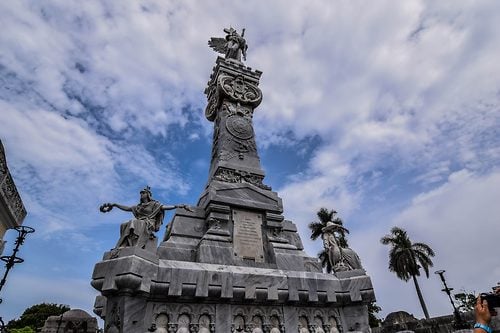 Our next stop was Revolutionary Square, where some of Cuba's most famous speeches were given.  Odds are if you watch an old news reel of some of Cuba's early days following the Communist Revolution, you will see someone speaking from this area.  It is basically a very large parking lot, with some government buildings surrounding it.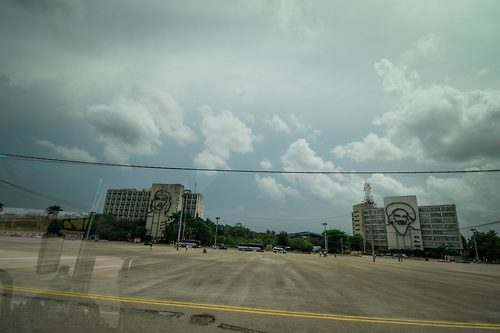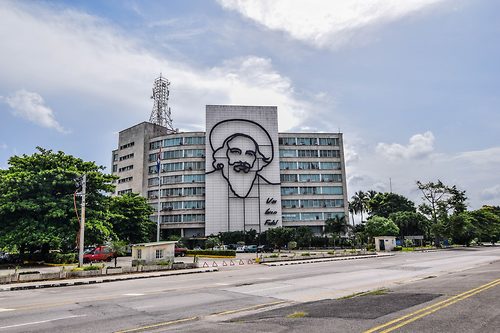 There is also a fleet of classic American cars (or at least the exterior of classic American cars) that double as taxi drivers show off in the area.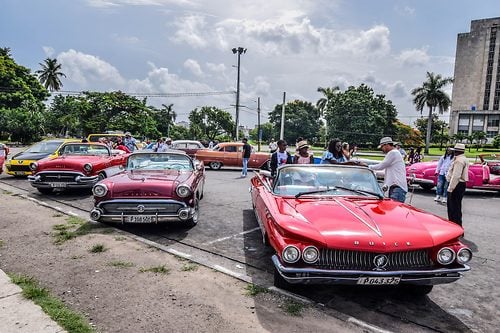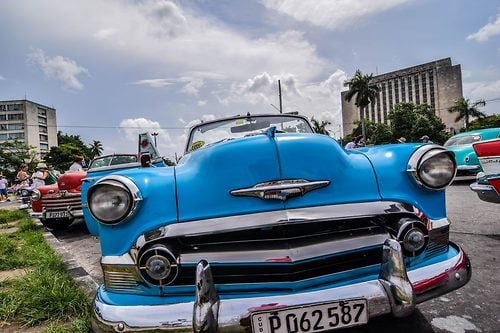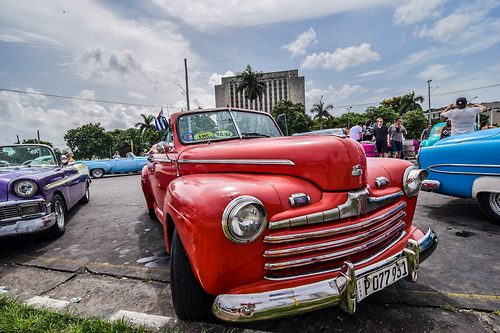 After a quick introduction to the history of this area, we were given some time to walk around on our own and check it out.  Most people tended to flock towards the classic cars to see them up close and take photos with them. There is no cost to any of this (unless you opt for a ride), although if you get into the car, a tip is customary.
Our next stop goes to check out Cuban sculptor Jilma Madera's Cristo de la Habana statue, which keeps watch over the bay from a hilltop.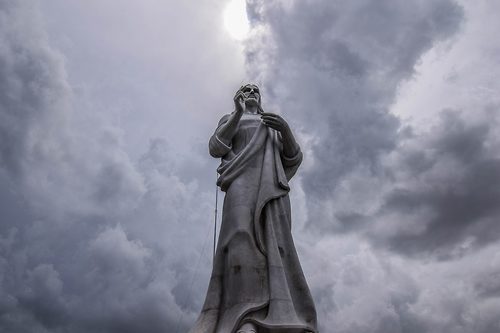 The Christ of Havana statue is a large sculpture representing Jesus of Nazareth that was commissioned in 1953. The statue was carved out of white Carrara marble, the same material used for many of the monuments of the Colon Cemetery.  The statue is about 20 metres (66 ft) high including a 3-metre (10 ft) base.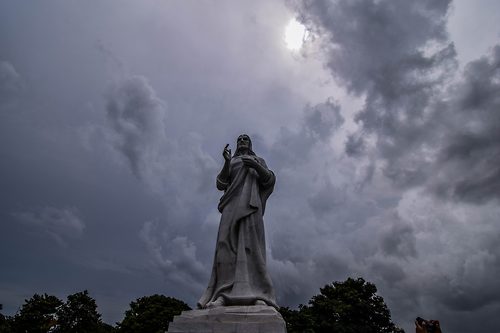 The park where the statue is located provides a great view of Havana, your cruise ship and the harbor.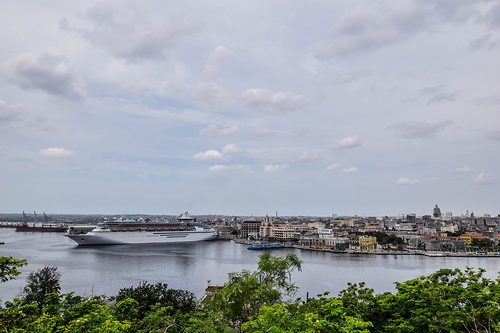 The final stop took us to Morro Castle, a stately fortress at the mouth of Havana harbor.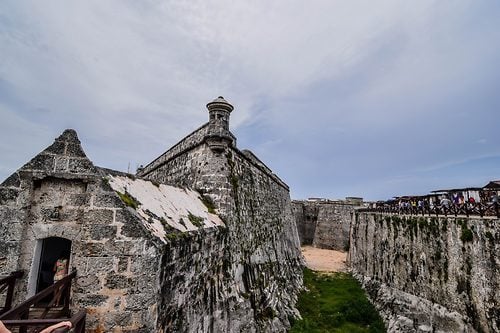 Not only is the castle a fine example of Spanish colonial defenses, but there is also a bit of shopping you can do inside and outside the fort.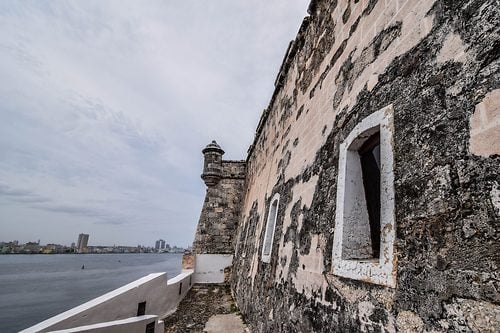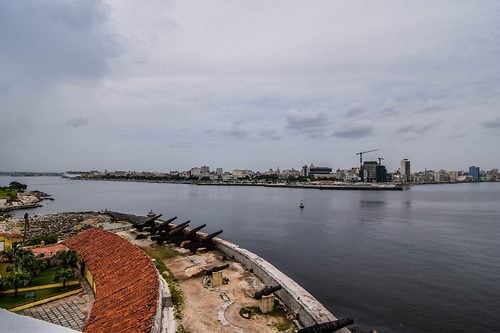 The tour does not actually include admission to the fort, but you do get to go inside a small part of it that leads up to the entrance.  You are free to walk the grounds of Morro outside and explore without any cost.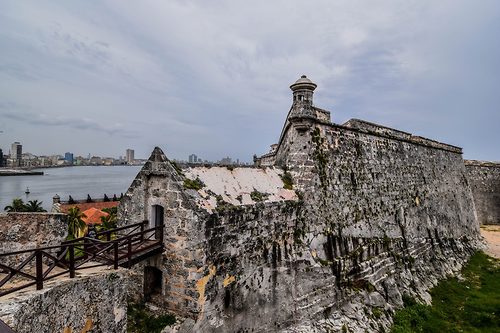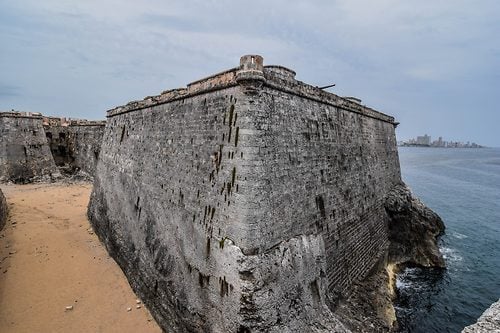 When you get off the bus, there are a number of shops set up outside the fort you can browse.  In addition, you will be taken into a rum and cigar shop inside the fort that is optional to visit.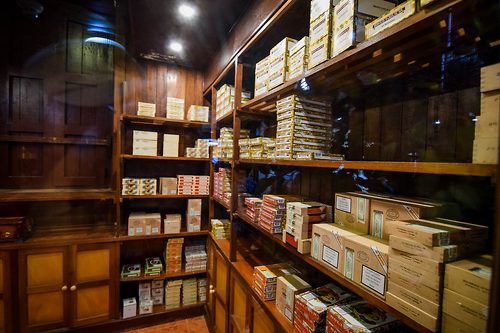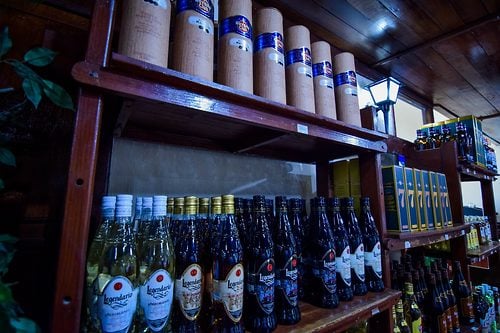 Most of the stops are 15-30 minutes in length.  The stop at Morro took about one hour and the Colon Cemetery was closer to 30 minutes.
At the conclusion of the tour, the bus returns to the port area, although you are free to tour on your own after that.
Comments
Going to any port of call for the first time means you likely have your own list of landmarks you would like to see, and Havana certainly has plenty of good candidates.  The Old Havana City Sightseeing does a good job at providing an introduction to Havana and overview of some of the more notable spots.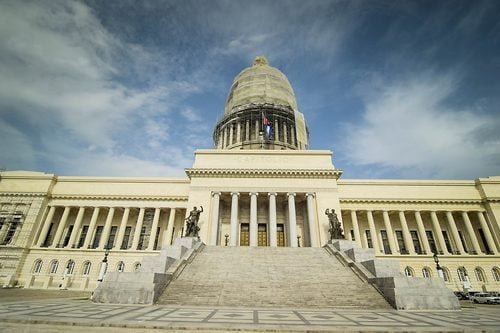 Of course, this is a group bus tour, which means the pace of the tour is largely dictated by the tour leader (and whomever shows up last to board the bus) and it does not leave a lot of room for personal exploration.  That is not necessarily a bad thing either, but do not expect a hands-on walking tour of the city.
The best part of this excursion is the air conditioned bus.  Having a bus to go back to between stops and relax, recuperate from the heat and humidity, and rest makes for tackling a city as large as Havana much easier.  Everyone's patience is higher when air conditioning is involved and after taking this tour in July, I do believe it helped make the overall experience better.
Our tour guide was also very knowledgeable about Cuba's history and current role today.  He encouraged us to ask questions and always took the time to explain concepts and programs that are not something you may find elsewhere in North America.  
Between the places we stopped to see and the many other places we saw from the bus, I felt the Old Havana City Sightseeing excursion provided a great starting point for my first visit to Cuba.  I may have preferred slightly more time on my own to explore, but the tour was perfect for anyone who has never been to Havana previously. 
Cost: $99 per adult, $72 per child.