In:
If you've cruised in the Caribbean, there's a good chance you've visited Cozumel, Mexico. Between the gorgeous beaches, incredible snorkeling and proximity to Tulum and Cancun, this is a popular port for cruisers. 
In fact, Cozumel has over 3.6 million annual visitors just from cruise ship traffic alone!
As someone who loves to cruise, I've been to Cozumel probably a dozen times. At this point, it feels like I've done everything that the island has to offer. Now, one of my favorite ways to spend the day in Cozumel is at an all-inclusive resort.
With a day pass to an all-inclusive resort, you can access almost everything the resort has to offer while enjoying unlimited drinks and food. This can be a great option for cruisers who want to enjoy a low-key day in port while still enjoying the amenities of an all-inclusive resort. 
There are also day passes to all-inclusive clubs in Cozumel - including the Del Mar Latino Beach Club. 
Description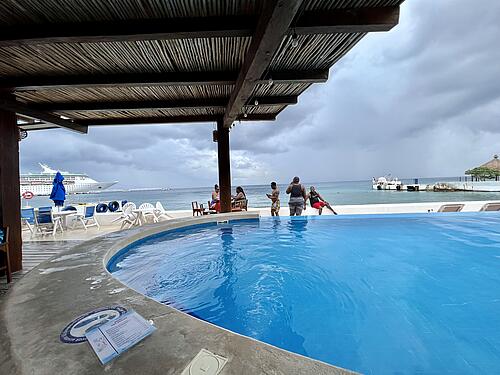 Del Mar Latino Beach Club is described as being the perfect place for those looking to enjoy a relaxing atmosphere with Latin Caribbean ambiance. 
With a regular rate of $39.95, this beach club offers a truly all-inclusive experience in Cozumel. Located within walking distance of the cruise ports, this exclusive club only allows a maximum number of 30 people each day. 
A daily pass to Del Mar Latino Beach Club includes unlimited food and drinks; you also have access to the pool, loungers, bathroom facilities and internet.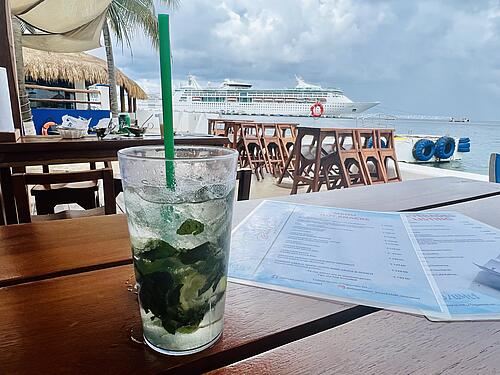 Since this club is meant to offer a relaxing and intimate experience, Del Mar Latino Beach Club is fairly small. The beach club features a large pool surrounded by sun loungers and umbrellas. Del Mar Latino Beach Club also features a bar lined with high-top tables and chairs.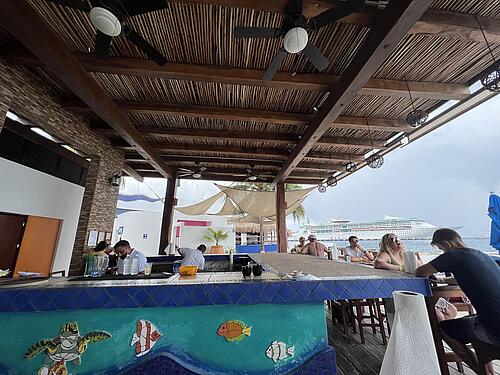 We booked this beach club the week before our cruise; luckily, the club still had availability for the day that we would be in Cozumel. Since Del Mar Latino Beach Club caps the daily admittance at 30 people, reservations should be booked in advance to secure a slot. 
It appeared that the days leading up to our arrival were already booked, so we were excited to see our port day had availability. It was $8 for a deposit to reserve our slot for the day, in which the remaining balance would be due at arrival.  
Getting to the club
According to the information that was emailed with our reservation, the Del Mar Latino Beach Club operates from 9am to 5pm. 
When we arrived in Cozumel, we took our time in the morning getting breakfast on the ship since we had the full day. By the time we started walking to the club, it was pouring rain - so we waited in the Duty Free Shopping area for the rain to pass.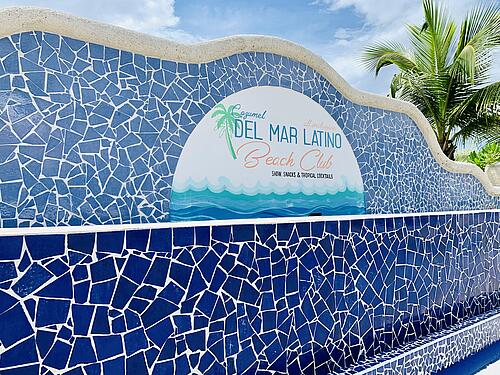 Our phones indicated that it was a short walk from the cruise terminal upon our arrival. The Royal Caribbean terminal is just a 5 minute walk to the entrance of the beach club. We walked outside of the terminal and, sure enough, we arrived quickly to Del Mar Latino Beach Club.
I felt safe walking in this area, especially considering there was a lot of traffic and a taxi would have probably taken just as long.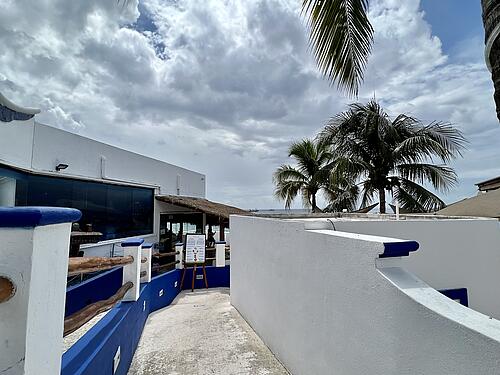 When we arrived, we walked up to the bartender and checked in. They had a list with our names on there and we paid the remaining amount for the day. We were given wristbands to wear for the day.
All-inclusive experience
Upon arrival, we quickly made our way to the bar and ordered a round of piña coladas. There's no better way to start a day in Mexico than with a cool, refreshing piña colada! It was delicious and creamy. 
After looking around the club, we decided to get in the pool. The pool is a decent size with plenty of room for everyone to sit comfortably. We had a gorgeous view of the ocean and the cruise ships nearby.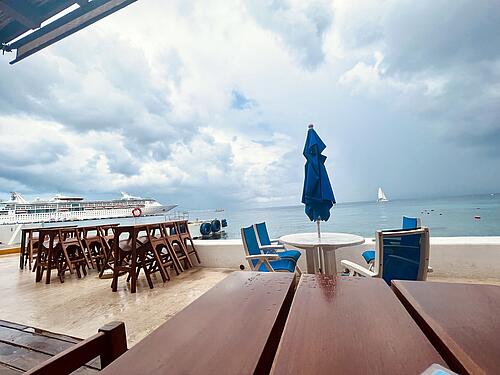 The waitress came over to us multiple times during our time in the pool. My choice of drink is always a mojito and Del Mar Latino Beach Club's mojitos were absolutely delicious!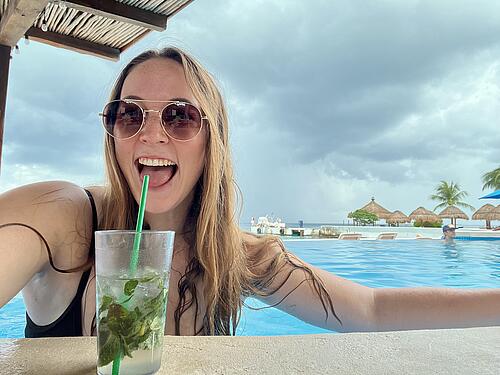 We also tried a Miami Vice, Chunky Monkey and Tequila Sunrise. There wasn't a cocktail at this beach club that we didn't enjoy! The drinks went down smoothly and we were having a wonderful time relaxing in the pool and listening to the music played by the DJ. 
As we lounged in the pool, we realized we did not bring towels with us off the ship. We reviewed the reservation notes and found that it did not state to bring towels; however, it also didn't state that towels were included. We inquired with the staff about towels and they stated we could rent them for $5 each. This was reasonable, but we opted to just air dry after we enjoyed some time in the loungers. This was an oversight on our part and we should have brought towels just in case. 
After a few drinks in the pool, we had the munchies and decided to order food. Since everything was included from the snack menu, we ordered a variety of options. We tried the quesadillas, fried chicken tacos and chicken strips.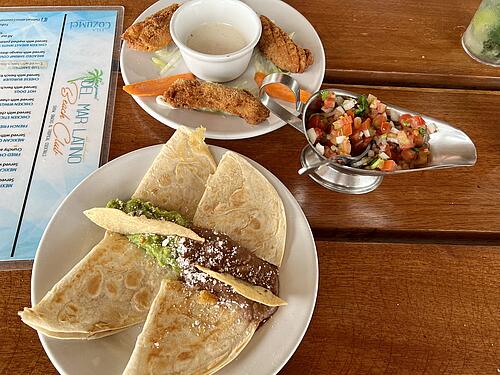 Everything we ordered was hot, fresh and very tasty. We even ordered a second round of food because the portions were snack size and we enjoyed everything we tried.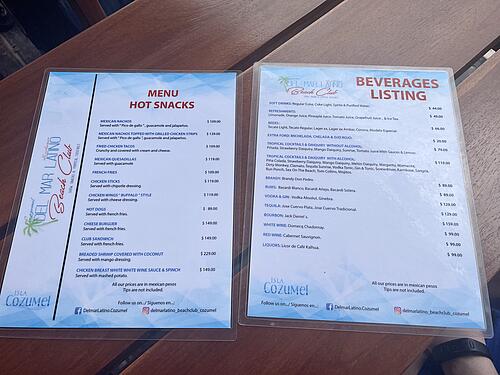 Throughout the day, we also made trips to the beach club's bathroom facilities. These were well-kept and clean, which we appreciated. 
After 4-5 hours at Del Mar Latino beach club, we decided to walk back to the cruise terminal and head back to the ship after a wonderfully relaxing day. 
Final Comments
There are a few components that make an all-inclusive day pass worthwhile: fair price, attentive service, well-kept pools and freshly made food and drinks.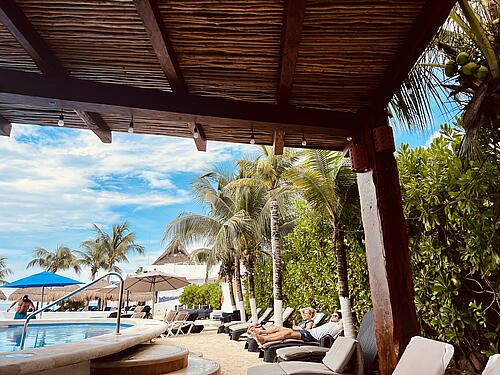 We were very satisfied with our experience at Del Mar Latino Beach Club and felt all of these expectations were met.
To start, the price of $39.95 feels like a great value considering the drinks and food are unlimited. We had a tasty lunch and multiple drinks during the day, so the price of admission was very fair just in the amount of food and drink we consumed.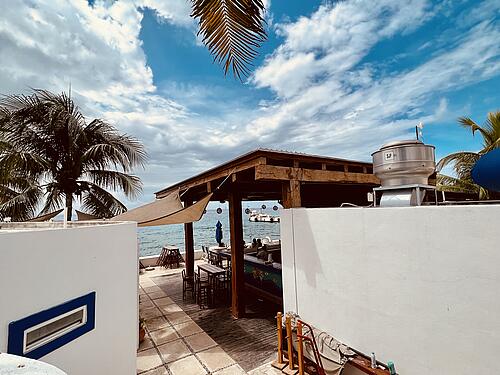 We found the drinks and snack menu to have a wide selection to choose from. We tried almost every drink on the menu and agreed that the mojitos were the best, although everything tasted yummy. We also enjoyed everything we ordered from the snack menu - especially the quesadilla! 
The pool was well-kept and very comfortable; we saw a pool attendant come around and check the levels of the pool while we were swimming. The pool is also covered, which was nice since it rained a few times throughout the day.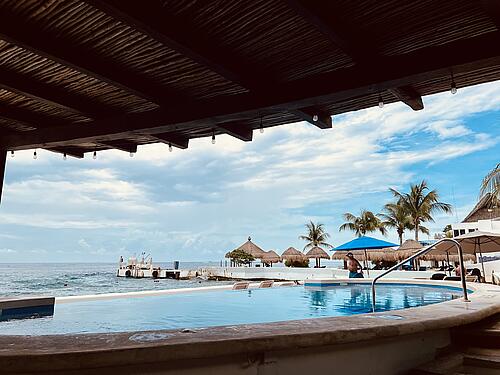 We were very impressed with the service provided as well. There was a waitress who attentively served us in the pool and brought us drinks throughout the afternoon. It was nice that we didn't need to get out of the pool to get another drink. We were always served our drinks quickly!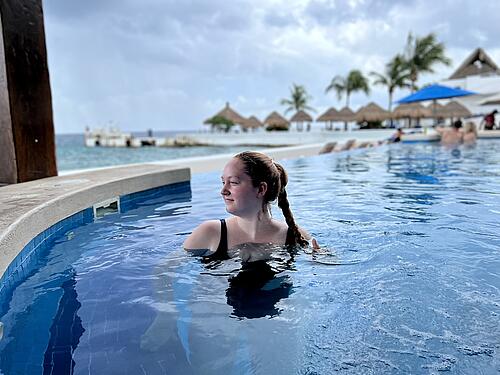 The overall ambiance was very low-key and relaxing, especially with the wonderful ocean views and delicious drinks. With less than 30 people at Del Mar Latino Beach Club during our stay, it never felt cramped or crowded. 
Since this exclusive club is located near the cruise port, there isn't a sandy beach to enjoy. If you are hoping to sit on a beach during the day, this might not be the best option. There is a man-made entrance to the sea from the club, but you're essentially jumping right into the sea. I didn't see anyone in the ocean during our time there, so I think most people stick to the pool.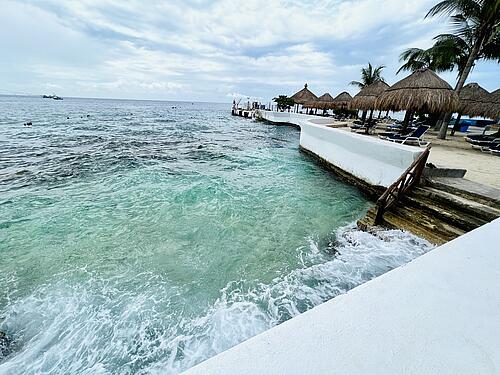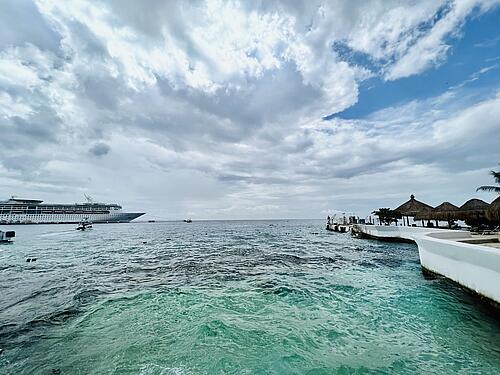 I would absolutely return to this beach club because of the incredible value and overall convenience to the cruise port. It was great being able to walk right to the club and not need to take a taxi. I live near the beach here in Florida, so I am fine sacrificing a beach day for a day at this exclusive and relaxing beach club.