In:
One of the most popular all-inclusive beach resorts in Cozumel for cruise ship passengers is Nachi Cocom Beach Club, but how does the resort hold up following the cruise industry shutdown?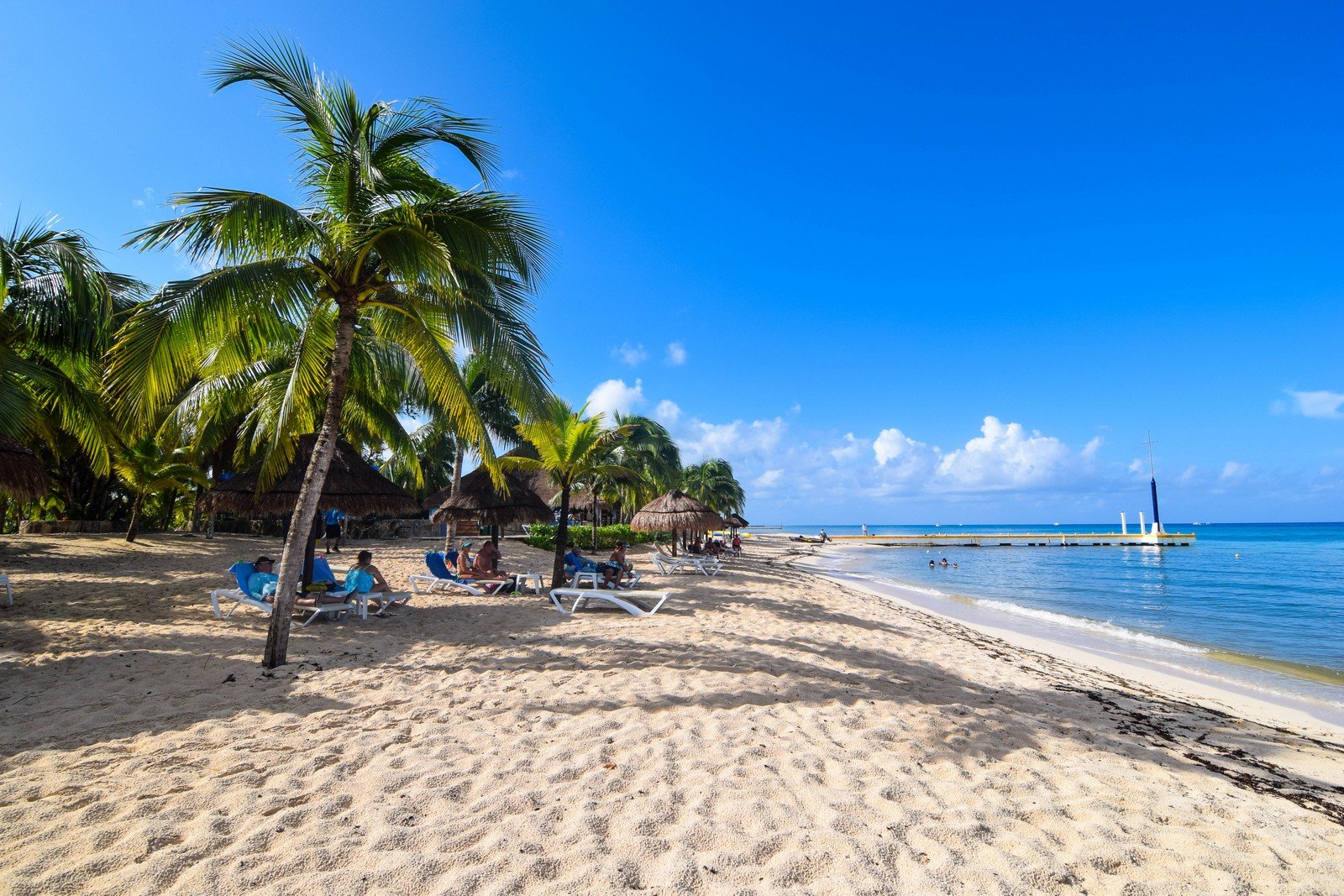 For years, the resort was one of the best and highly recommended spots for cruisers who wanted to enjoy a beach day that included all the food and drink they could want, with the added bonus of having a limited capacity. Unlike other beach resorts in Cozumel, Nachi promised a hard cap of 130 guests per day.
I wanted to see if Nachi is still as good as I remember it, and if many months without cruise ship guests impacted the experience at all. 
I visited Nachi Cocom in September 2021 while sailing on Odyssey of the Seas to check it out for myself.
Overview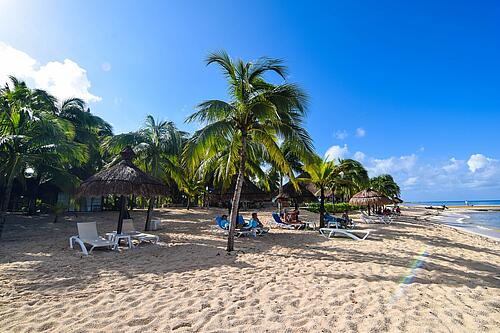 Nachi Cocom Beach Club is about a 15 minute taxi ride away from where Royal Caribbean docks its ships, and it has among the best reputations for an all-inclusive beach day. For a group of 5, it cost $23 each way via taxi.
Guests can choose between the beach, pool and hot tub, while enjoying unlimited food and beverages (alcoholic and non-alcoholic).
The facilities include:
ocean view swimming pool with swim-up bar
Large Jacuzzi
Beach chairs with your own palapa
Large restaurant area if you prefer to dine there
Beach bar
Restrooms
Hammocks
Fresh water showers
Wifi internet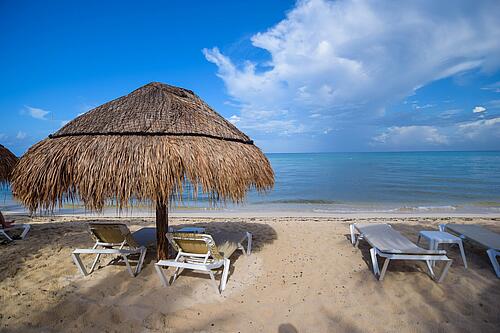 When you arrive at Nachi, you take a group photo that can be purchased later if you wish, and then you check-in. Reservations are highly recommended because the resort can easily sell out. You can make a deposit online and pay the remainder when you arrive.
At the time of review, the cost of admission was:
Adult (16 years old and over): $59 per person
Child 12-15 years old: $45 per person
Child 04-11 years old: $19 per person
Infant 3 and under: $0
After being checked-in, you will be escorted to a palapa of your choice along the beach. 
As is the custom with almost every all-inclusive resort in Cozumel I have been to, there is a waiter assigned to you that can handle all of your requests for food and drink.
The beach is pristine and has soft sand.  There is a large water front that is mostly free of any large rocks, so getting in and out of the water was easy.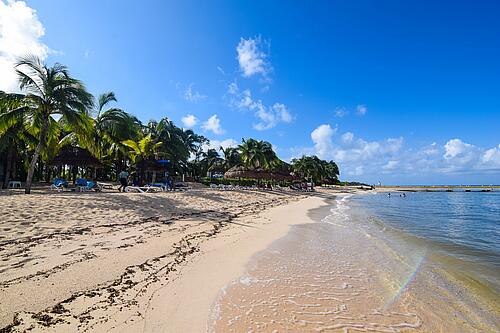 The water clarity and color was not as good as previous trips, but that has more to do with the weather and you can expect likely better conditions when you visit.
One thing Nachi does not have is any sort of inflatable water toys that other beach resorts in Cozumel offer.
Nachi does not offer activities, but they do partner with a third-party company that offers beach massages, water sport rentals, parasailing and more.  The representatives for this company can be found roaming the beach, if you so choose.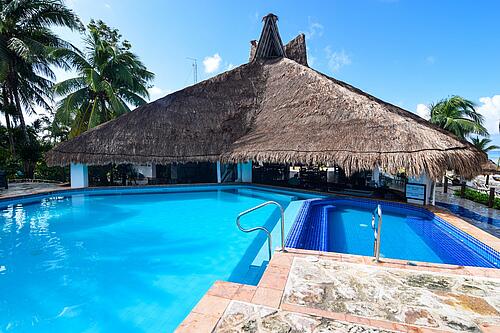 There is a large pool you can go to at any time as well. Seating outside the pool is limited, with a few tables that offer little shade.
There are two bars at Nachi: the beach bar and the pool bar.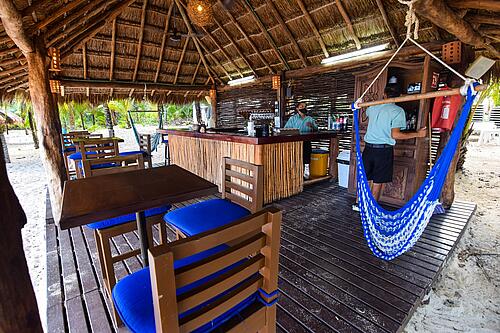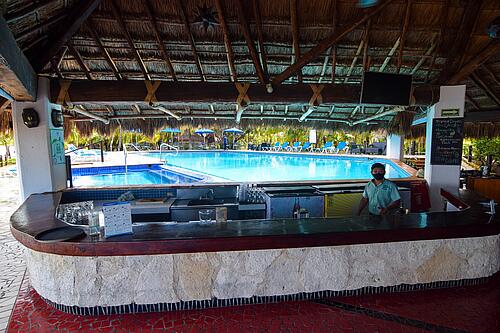 Your waiter can bring you anything you want to your beach chair, but some people like to sit at the bar.
You will find a menu of alcoholic and non-alcoholic drinks to enjoy throughout the day, such as beers, cocktails, mixed drinks and more.
Comments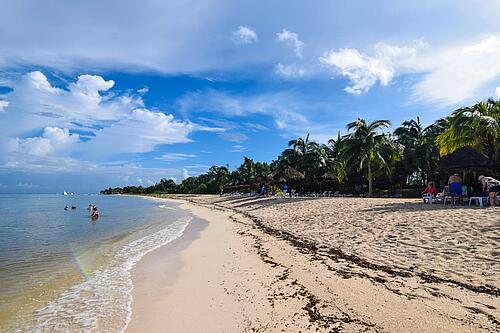 The only questions I had coming into my visit to Nachi Cocom was is it still as good as I recall from previous visits, and were there any noticeable changes following cruise ships returning again.
The answer is I did not see anything out of the ordinary, and I was pleasantly surprised how similar things are to before the shutdown.
Guests were instructed to keep their face masks on when they initially walked in and while being checked in.  After that, masks could be removed.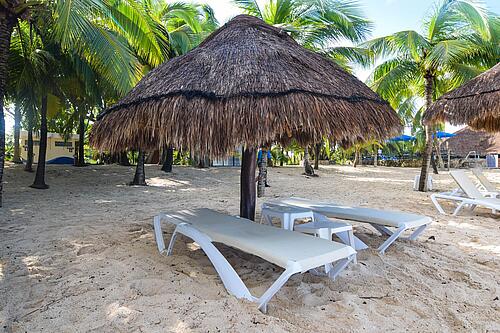 Nachi delivers on two basic promises: unlimited food and drink and a hard capacity on how many guests can be there. On the day I visited, there were quite a few people at the resort, although most seemed to be there from the Carnival Cruise Line ship that was in Cozumel that day as well.  After lunch, most guests had departed.
Anyone looking for a relaxing place to enjoy unlimited food and drink at the beach will find Nachi among the best choices. Their pool is larger than I remembered, but not nearly as large as Paradise Beach.
The food was great and had a mix of American and Mexican dishes. The Mexican food was freshly prepared, and while not the most authentic Mexican fare, it was certainly better than anything I run across back in the United States.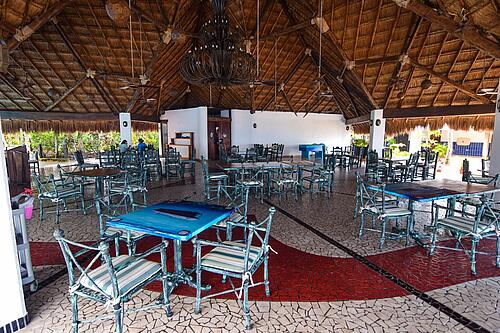 If you had to find fault with Nachi, it would be it lacks the inflatable toys many families look for in a beach day.  If that is important to you, Mr. Sanchos or Paradise Beach would be better options.
In short, Nachi Cocom is still a great choice for anyone that wants to enjoy a beach day with as much to eat and drink as they like. The price for adults remains a great value, especially if you will have a few drinks during your stay.