In:
Is it possible to have a bad time at an all-inclusive day pass beach resort? It depends on how many other people are trying to do the same thing.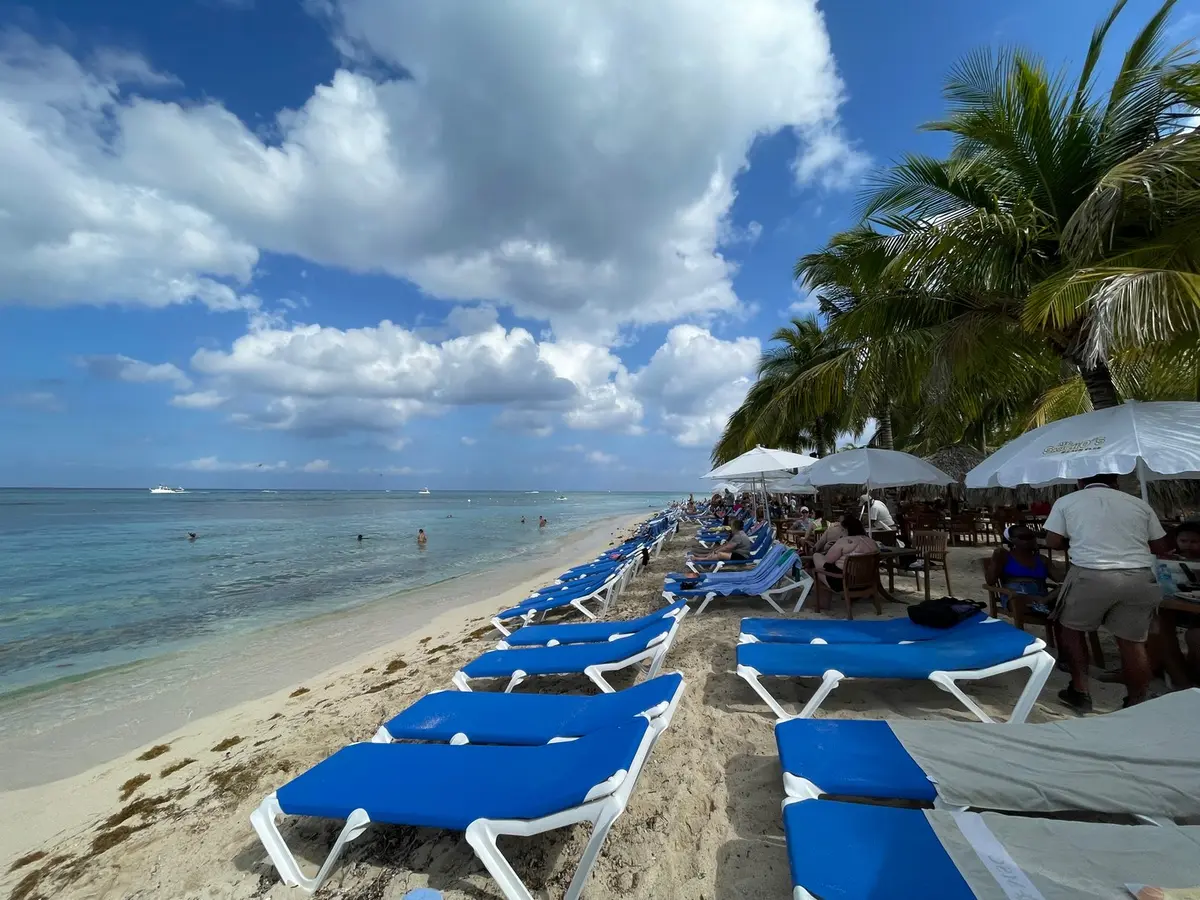 Since cruise ships restarted sailing in 2021, I've made an effort to re-visit some favorite spots in the ports of call Royal Caribbean's ships visit to ensure the experience has not changed since the last time.
In March 2022, I had the opportunity to visit Mr. Sanchos in Cozumel, after having visited Paradise Beach and Nachi Cocom recently. 
My goal was to see how it stacked up to the other resorts, and see what's changed since my last visit in 2018.
Overview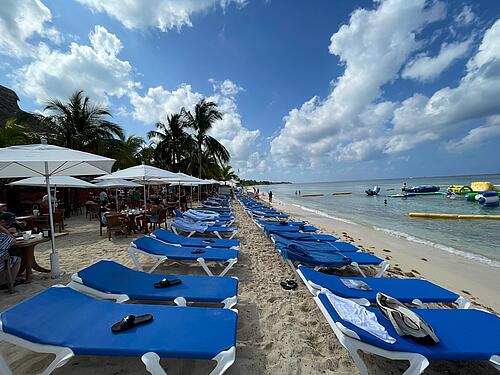 Like so many other all-inclusive beach resorts in Cozumel, Mr. Sanchos advertises unlimited food, drink, beach and pool access for one price.
Located on the south western side of Cozumel island, it's about a 10-15 minute taxi ride from where Royal Caribbean docks.
Reservations are optional, but it's a good idea to make a reservation to assure your family of a spot. A deposit is required in advance.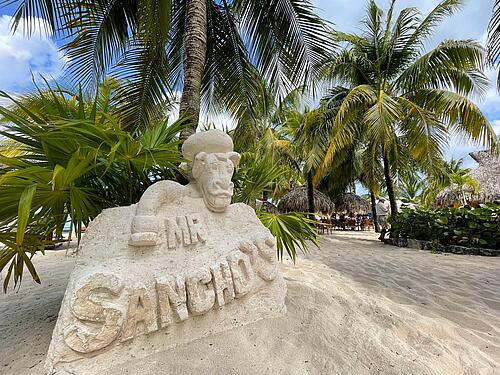 Once you arrive, you will check in and pay the remainder of the balance.
Before you get to the beach or pool, there are a series of souvenir stands that you can stop at in order to buy something. Some people buy it before or after their visit, although most tend to walk past it all.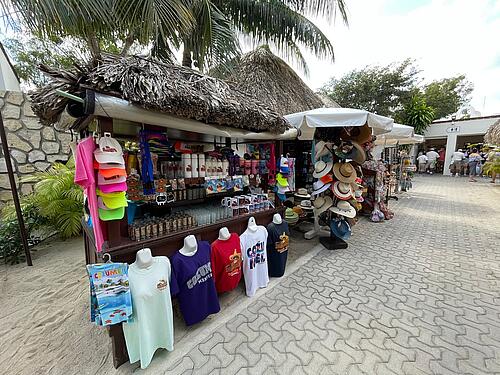 At this point your waiter is assigned to you, which means this is the person to place all your food and drink orders.  This person will also assign you a set of chairs and umbrella.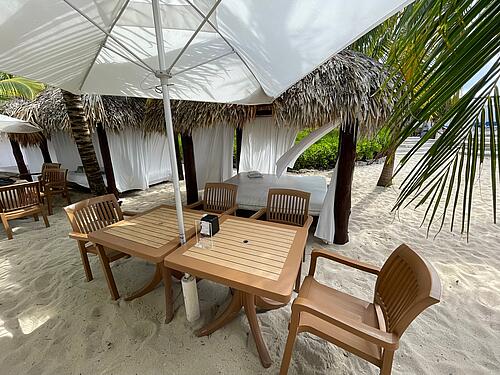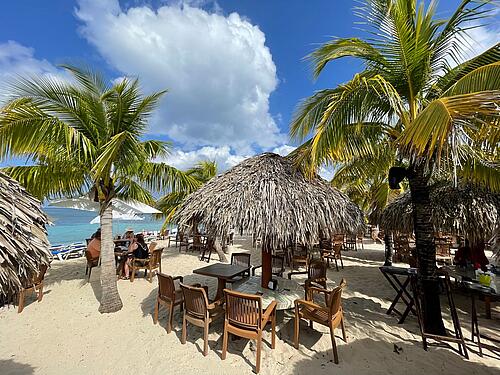 Most people end up near the beach, but you could ask for an open set of chairs elsewhere, including closer to the pool.
The layout of Mr. Sanchos is a series of pools with swim up bars that extend parallel to the beach.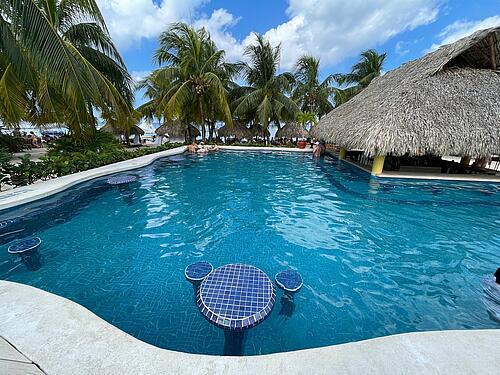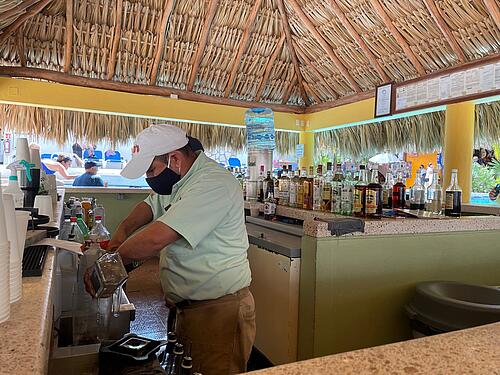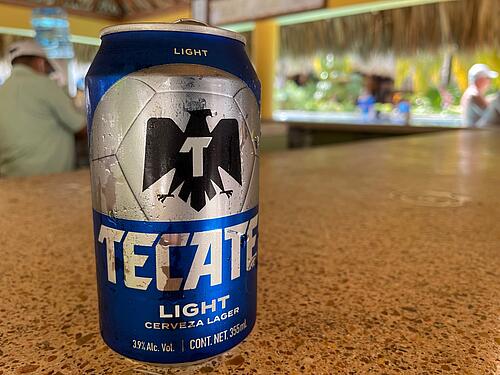 The beach itself looks great, although there is substantial seaweed and rocks in areas under water, so it's necessarily to tread lightly.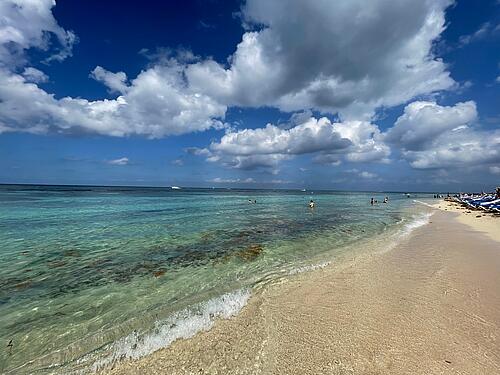 There's an optional aqua park with inflatable objects to climb on. Access to this costs extra.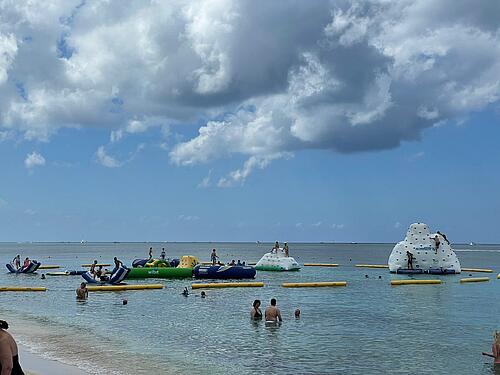 The aquatic park includes:
Large climbing Iceberg
Climbing rock
Two large trampolines
Two medium trampolines
Pyramid slider
Two water totters
Moonwalk with two bouncers
Rock slider
Stadium ball
Each of the pool areas has a swim up bar, along with seating around the edge. There's enough room to wade and enjoy a drink. Kids may find enough space to swim a bit.
Food and drink is included with admission, and you'll find the typical mix of Mexican fare and beach-friendly options.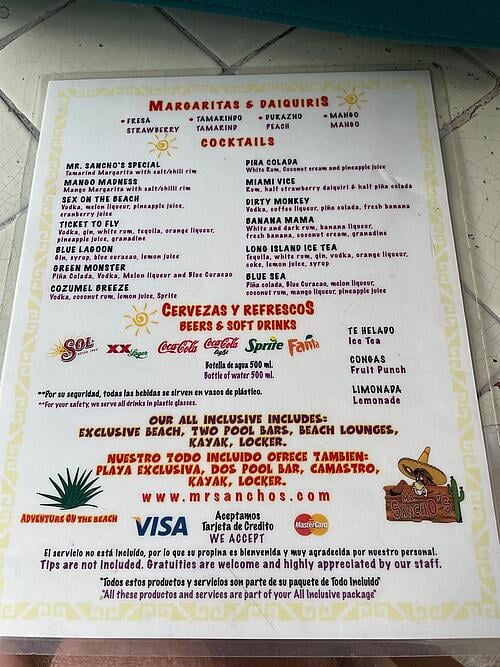 You have the choice of going to a buffet station and serving yourself, or asking your waiter to bring you the food. No difference in price.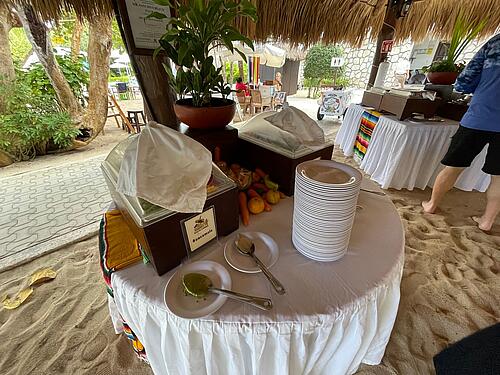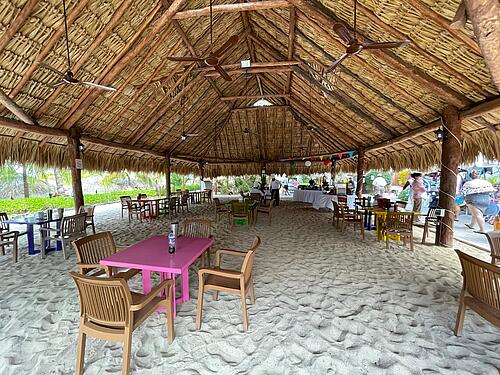 Comments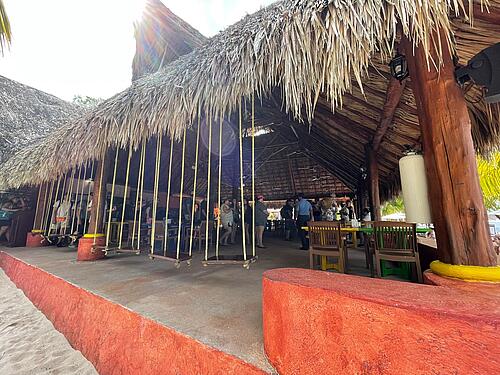 Mr. Sanchos tries to offer everything you might want in an all-inclusive beach day, and its popularity seemed to have lead to the one faux pas of any beach spot: overcrowding.
On the day I visited, there were at three or four cruise ships in port, and by mid-morning I noticed almost all the tables and chairs were occupied. The result was an experience I found to be overcrowded and unenjoyable.
Our waiters did a good job of keeping up with demand, but the pools and beach were pretty full. On an island where there are so many different beach options, I found it disappointing how busy things were because it felt like we were all pushed together a little too much.
It didn't help there were two different families who smoked cigarettes adjacent to our table. I asked the waiter if there was perhaps a non-smoking area we could be moved to, but he said smoking was allowed anywhere outdoors. Obviously this was just bad luck of the draw in terms of being close to these folks, but it also detracted from the experience.
Then there is the food, which was equally poor. Much of the food came overcooked and under impressive.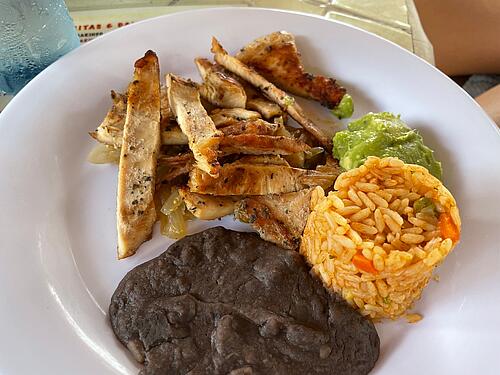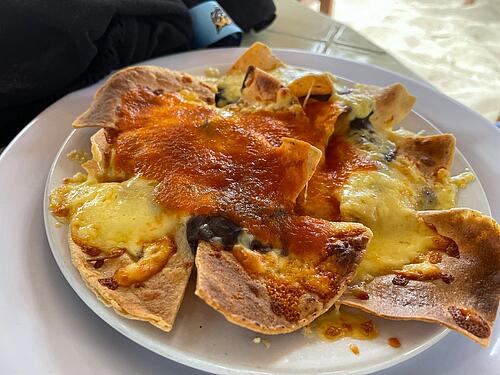 Being in Mexico, I'd expect the Mexican fare to be better than average, but I found much of it to be something I might get back at home in a Chilis. Then again, Chilis doesn't serve up nearly as dry food as we had.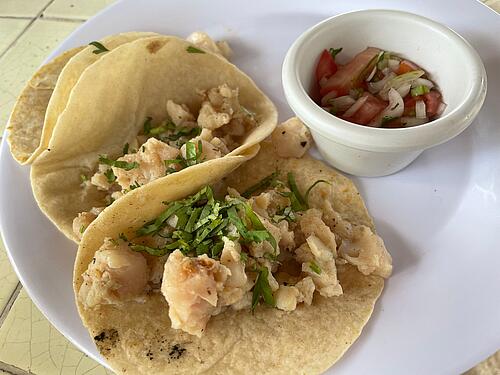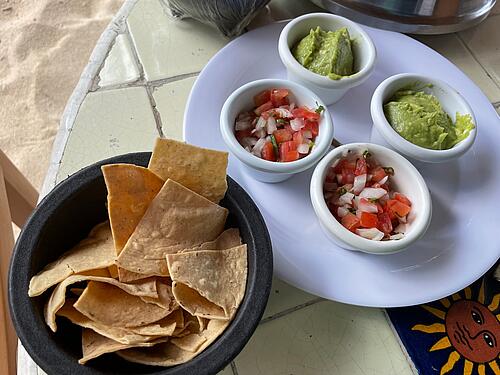 I freely admit that one visit is not necessarily indicative of what your experience was like, but Mr. Sanchos seemed to be too crowded when you consider the other options available.
There were certainly people enjoying themselves, and my kids had a good enough time splashing around. But the overcrowded setting, poor food, and murky ocean water left me wanting to leave.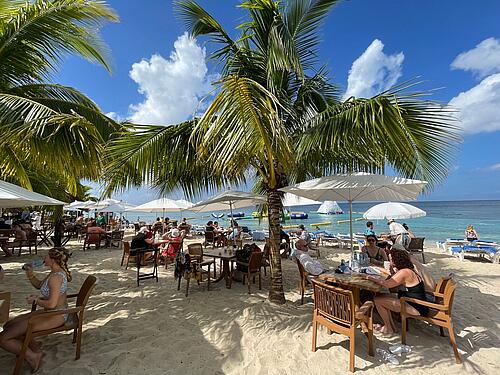 In fact, I cannot recommend Mr. Sanchos if you're looking for an all-inclusive beach day. I think Nachi Cocom is a far superior all-inclusive option because they limit the amount of people each day.  If you want something else with more for the kids, consider a Cozumel day pass to a resort. 
It's a shame we didn't have a better time, but the overcrowding ended up overshadowing what is otherwise a picturesque beach to enjoy.
How to book: Reservations can be made online via the Mr. Sanchos website.