In:
Spending the day in Cozumel, Mexico means time playing and relaxing by the ocean, and one of the most popular spots for cruise ship guests for many years has been Paradise Beach.
Unlike some other beaches in Cozumel, Paradise Beach offers an a la carte experience, where you only pay for the activities you want to enjoy.  This means a lower admission cost than some other popular beach options.
It had been eight years since our last visit, so on a recent Royal Caribbean cruise to Cozumel, we decided to see how Paradise Beach stacks up to the competition.
Description
Paradise Beach is about a 15 minute taxi ride ($15 one way) away from where Royal Caribbean docks their cruise ships in Cozumel, and easily accessible by taxi. It is located on the western side of Cozumel, one of many beaches that are popular with tourists.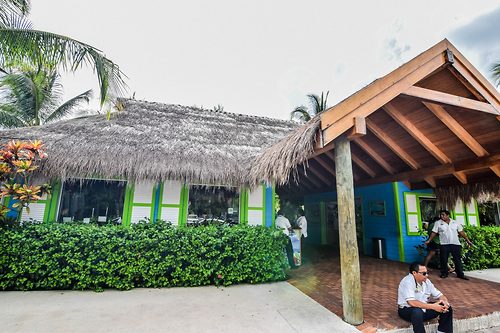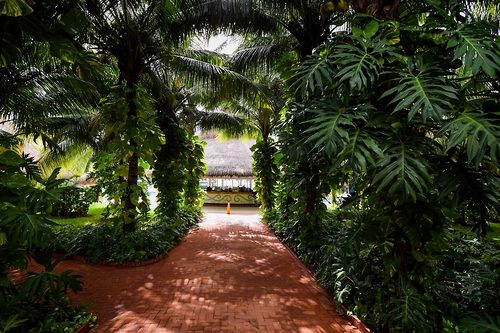 Paradise Beach offers beach access, a large swimming pool, dining and drink service, and water toys in the ocean.  What makes Paradise Beach stand apart is that is not all-inclusive, which means you are charged for what you want to enjoy.
Admission to Paradise Beach is just $3 per person.  For that price, you can sit on the beach or go to the pool and enjoy the entire day.  Granted, that does not include anything other than facility access, but for some people that is all they really want. It is worth noting that a $10 minimum food order is kindly requested for pool access.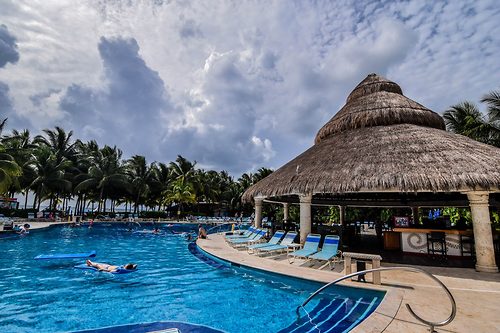 More realistically, you have the option of purchasing food, drink or activity access.  Paradise Beach prides itself on offering a low cost of entry and reasonable prices for the things to do there.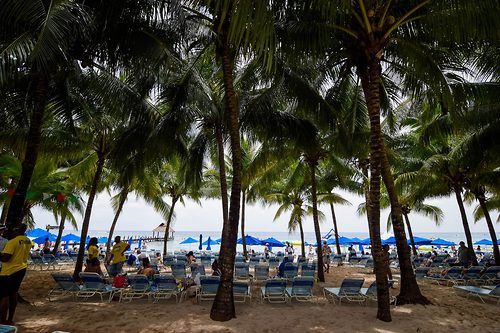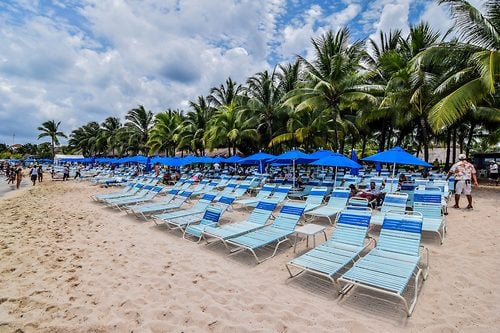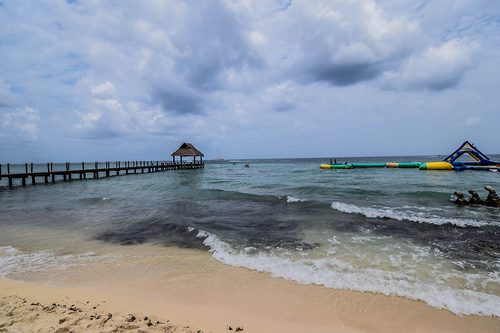 Speaking of prices, Paradise Beach offers a Fun Pass that costs $18 and you can use the kayaks, snorkel gear, stand up paddle boards and access to the inflatable water toys, which include:
water trampolines
14 ft. climbing iceberg
water slides
a floating multitier Jungle Joe climbing structure
Jungle Joe 2
Wibit Flipper
Aqua Glide blast bag
the Rock-it circular water rocker
Jungle Joe x1 aqua glide revolution
water mats
coconut tree climb
bungee-trampoline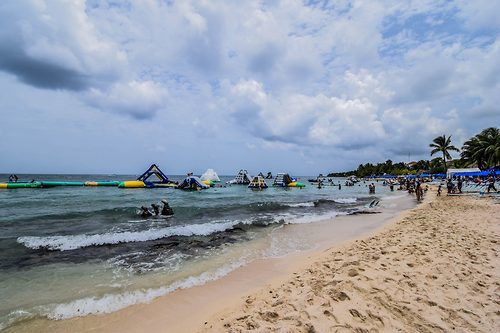 As you arrive, the staff at Paradise Beach will escort you to any available chairs you prefer, either on the beach or near the pool. The staff roam the grounds of Paradise Beach regularly to take food or drink orders, and deliver it right to you.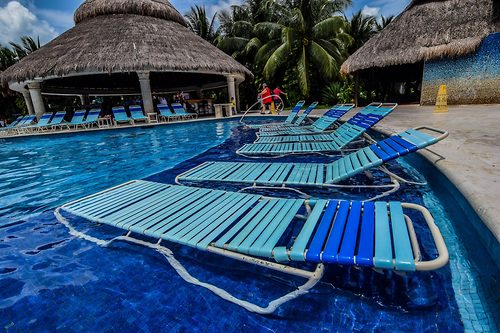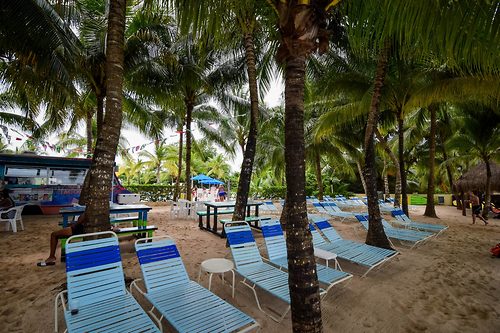 Speaking of the pool, Paradise Beach has a massive pool area that offers shallow and deep(er) areas.  You can find chairs out in the sun, under a tree or somewhere inbetween.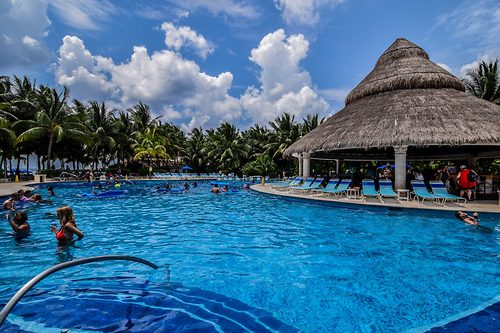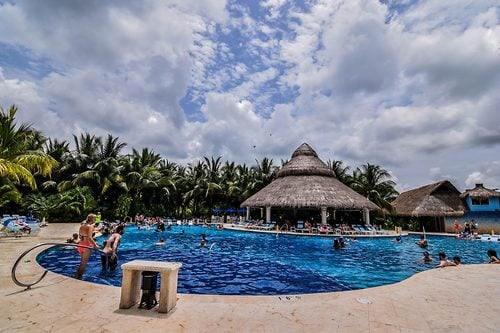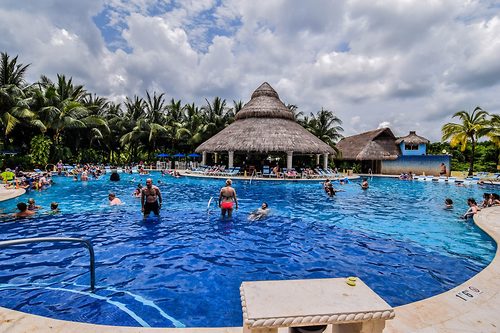 As its name implies, there is also a lovely beach that you can have access to while at Paradise Beach. It is indeed a large sandy beach and can accommodate quite a number of guests.
Food and drinks are available by ordering from the wait staff (copy of the menu.  There is certainly a large variety of alcoholic beverages you can enjoy, which is expected at any tourist beach spot in Cozumel.  In addition, the food is a mix of traditional Mexican fare and some American dishes
Comments
The appeal of Paradise Beach is quite simple, have a fun day by the beach or pool (or both) and pay just for what you want.  Unlike some other all-inclusive options, Paradise Beach does not include everything because they do not believe you need to have everything included.
Without a doubt, if you are looking to only spend part of your day at the beach or pool, Paradise Beach is the go to spot.  The opportunity to drop in and spend just a few dollars on admission is quite appealing.  Moreover, their prices for beer or cocktails are reasonable (definitely cheaper than the cruise ship prices).  Even if you drink quite a bit, you may still find yourself spending less overall than at an all-inclusive.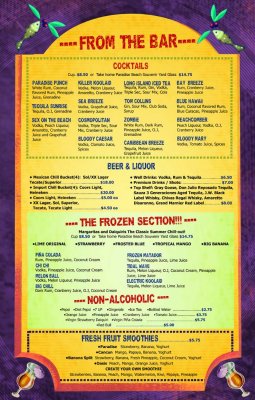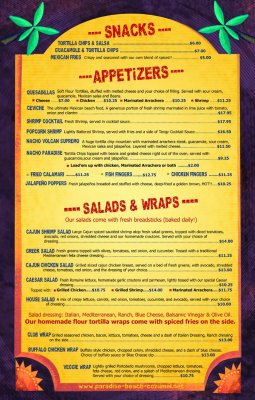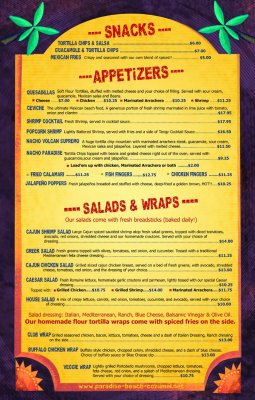 Perhaps the most intriguing aspect of our visit to Paradise Beach was the service.  I was curious how attentive the wait staff would be, especially since our cruise ship had a late arrival (noon) and we did not arrive to Paradise Beach until well into the afternoon.  Despite the late arrival time, we never waited more than a few minutes to get an order in.  Some of the waiters had handheld tablets that they could put orders immediately into the system, and then be delivered later on by other waiters.  
Coming back to Paradise Beach after so many years, it definitely holds up as a premier spot for any cruise ship guest to enjoy.  Paradise Beach has been synonymous with recommendations for a good beach day in Cozumel for quite a long time.  If you happen to search the internet for recommendations, inevitably Paradise Beach will always be among the suggestions.  
Overall, Paradise Beach impressed us with its combination of large beach and pool area, along with very good service.  When you combine the low cost of admission, Paradise Beach is a great spot to enjoy being outdoors.  Unless you are planning on doing some serious drinking and/or eating, the value proposition of Paradise Beach is quite high.  Families especially are sure to find the low cost for kids (we were never charged for our two daughters on our visit) a welcome change.
How to book: No reservations required or available. Just show up. Website