In:
One of the most popular ways to spend time in Cozumel is by going to an all-inclusive beach, and there is no shortage of choices.  So when I ran across the El Cozumeleno resort offering day passes, I had to check it out for myself.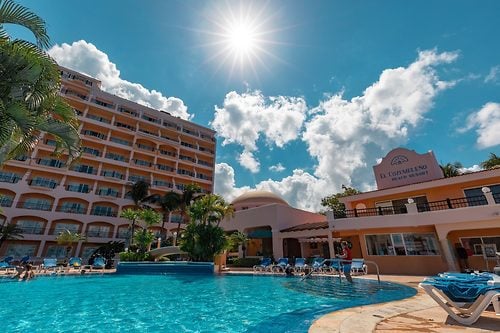 Photo by Cruise Life Rick
El Cozumeleno is an all-inclusive resort that offers day passes for purchase, which grant access to the hotel grounds.  This includes the beach, pool, dining facilities, snorkeling, mini-golf and more.  It looks like the total package, but how would it stack up to the many other all-inclusives in Cozumel?
Description
Located on the north end of Cozumel, El Cozumeleno is not in the usual area where you find the most popular all-inclusives.  El Cozumeleno is one of many hotel resorts on the north side that cater primarily to guests who are staying in Cozumel multiple nights.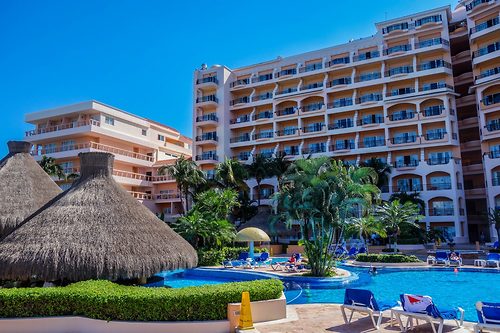 The resort advertises itself as offering a lot for your time and money. There is a huge selection of activities, options and ways to spend your day while on a cruise in Cozumel. Note that this is not a Royal Caribbean excursion, and can be booked via one of many third-party websites that sell day passes.
Checking in at the front desk, you are greeted with a welcome drink and explanation of what's included with your stay.  Essentially, you have access to anything a hotel guest would have, minus pool towels.
Here is exactly what is included with your day pass:
All food and open bar
Snorkel gear
5 swimming pools, Jacuzzis and wading pools
Restaurant a la carte and buffet style right on the beach
Restaurant a la carte (air conditioned)
5 Bars
Diving class in the pool
Mini golf & tennis court
Game room - pool table, table games, table tennis, table soccer
Fitness Center
Beach chairs
Swimming pool lounges
Sandy beach and great snorkel area
Kids club activities program in a special designed kids club
Wi-Fi in lobby area
As is the case with many all-inclusive resorts, you head outside and pick a few chairs to be "your spot" for the day.  There is ample seating along the beach, or in one of the pool areas. 
There are two main beach areas at El Cozumeleno, with one being primarily for enjoying the sun and surf, and the other beach used more for snorkeling (although there is plenty of seating there as well).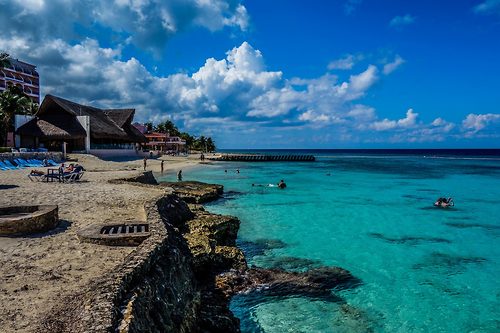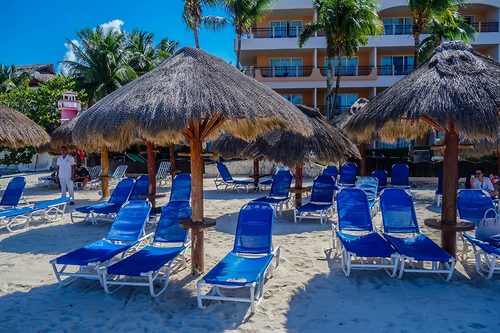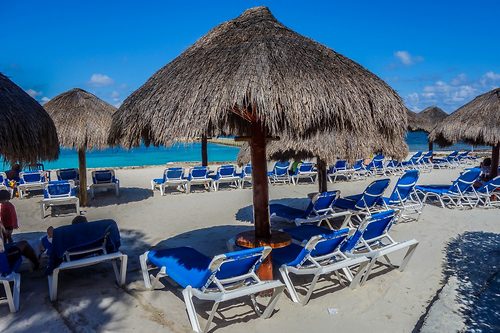 In addition, El Cozumeleno has a sprawling pool complex, which is also split up into two areas. The main pool is massive, with various depths and even part of the pool completely under a shaded area for those that want refuge from the sun.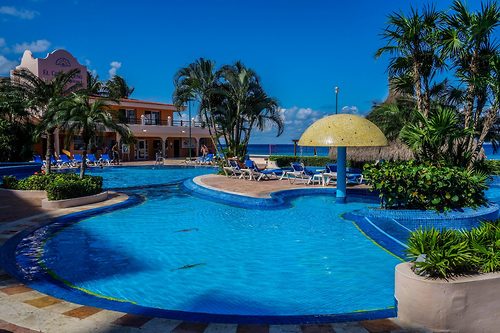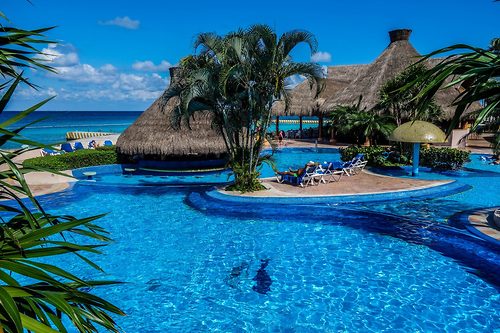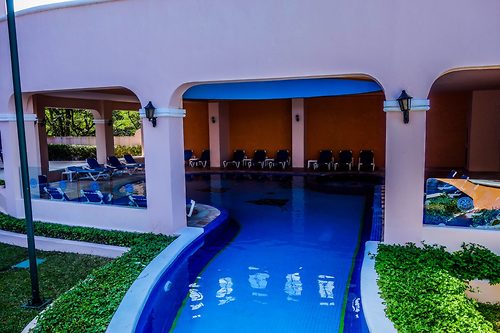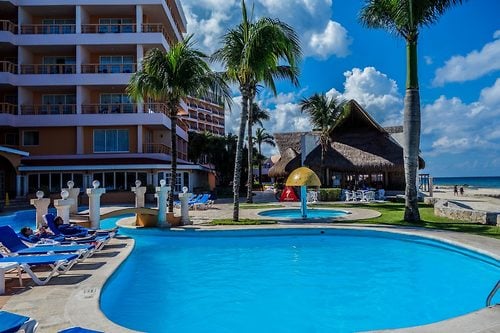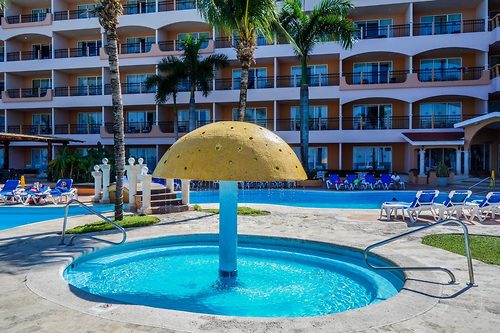 There is a swim-up bar, as well as roaming waiter service.  The wait staff will consistently stop by to bring you any food or drink you would want.
If you prefer, there is a buffet restaurant between the two pools that is convenient to the beach or the pools.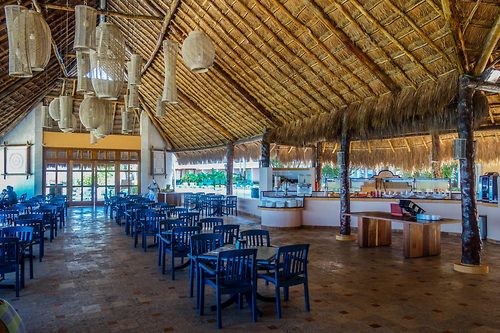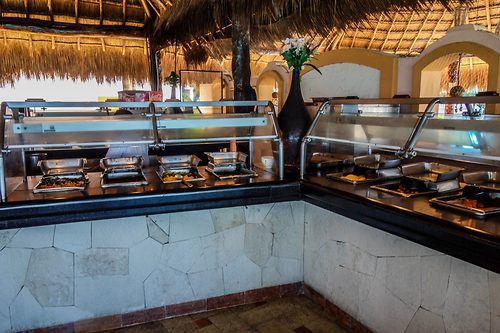 Speaking of food, there is a lot of it with a good mix of Mexican favorites and more familiar American fare.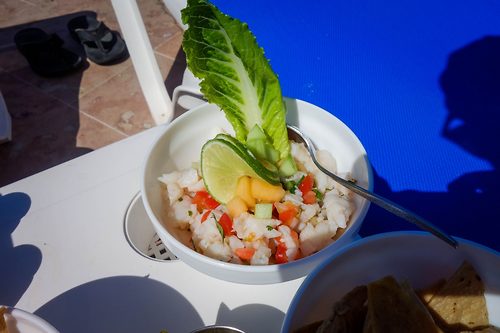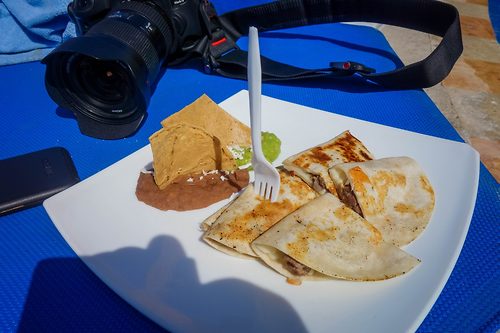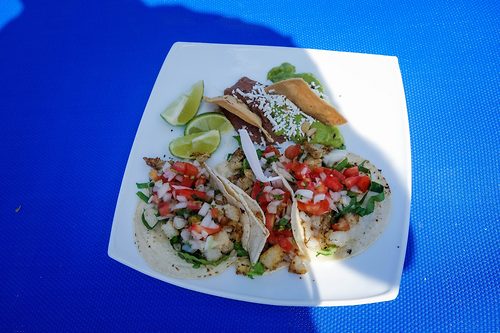 El Cozumeleno offers programming and services beyond the usual beach and pool activities.  There is a child care facility adjacent to the pool, such as programming for all guests (Spanish language lessons, water aerobics, etc).
There is also a mini-golf course and playground near the pools.  The pools, beach and facilities mentioned are all relatively close to each other, which keeps things manageable in terms of not venturing off too far from anyone.
Comments
In my opinion, there are four components that make a great all-inclusive beach experience:
Well-kept and appealing aquatic facilities
Excellent waiter service
Freshly made and tasty food
Fair price
Having visited a number of all-inclusive resorts in Cozumel, often there is one or two of those components that a resort struggles with and it ends up dampening the experience.  I was pleasantly surprised to find El Cozumeleno bucked that trend and hit all four targets.
First and foremost, the resort is quite lovely.  It is large without feeling overwhelming, and offers plenty of space on the beach and by the pool.  Their pool facility is particularly impressive, with a large amount of space and nicely set up.  We found ample seating, both in the shade or in the sun. 
The beach offers palapas, hammocks, beach chairs and like the pool, there is lots of seating.  Between the two beaches, you should find a spot to enjoy the day.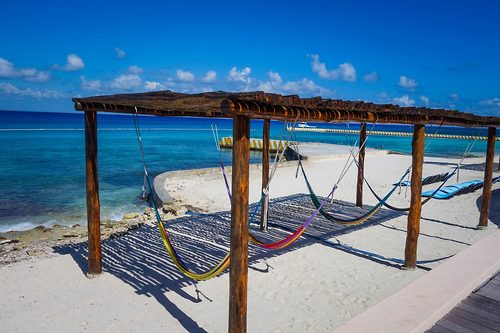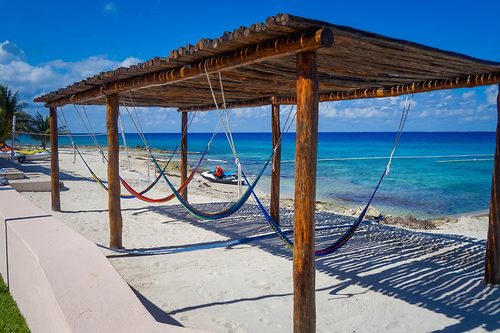 Equally impressive was the food and service at El Cozumeleno.  We had a team of two waiters who were essentially "assigned" to our group and would regularly come around to see if we needed anything.  In my opinion, you want waiter service that is borderline annoying just so that you are not the one hunting them down to make a request. The waiter team was quite attentive and always had a smile when taking a new drink order, or bringing us our fifth order of chips and salsa.
Speaking of chips and salsa, the food came out fresh and tasted great.  Being in Mexico, I expect a certain level of authentic fare that should exceed the kind of Mexican food we can get in the United States. Their ceviche and fish tacos were excellent, along with fresh salsa.  They offer food like pizza or burgers, which were nothing special but certainly not inedible either.
After spending a day at El Cozumeleno, I believe I have found the new gold standard of all-inclusive beach days in Cozumel.  Their facility was superior to Nachi Cocum, and their service definitely equaled it.  The food offered rivaled any other all-inclusive beach in Cozumel, and I was all too willing to order multiple dishes while there.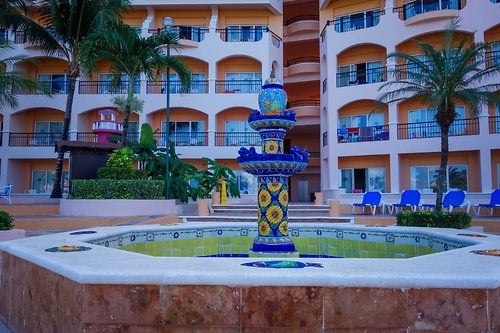 At the time of our visit, the price was $54.99 per adult and $25.99 for children aged 3-11 years old (2 and under are free). The price mirrors most other all-inclusive beaches in Cozumel, and is an excellent value.
In short, El Cozumeleno is the best overall all-inclusive resort we have visited in Cozumel to date. Between the beach, pool, food and service, it is "the total package" and I instantly wanted to go back on a future visit to Cozumel. It offers enough for families to enjoy, while still retaining a sense of relaxation if you want to find a quiet corner of the resort.