In:
If there is a downside to having a really, really good time on any shore excursion it is that you begin to wonder if subsequent times going on that same excursion will match the first time.
Maya Chan Beach in Costa Maya, Mexico has been the high water mark for any all-inclusive excursion I have tried, ever since we went there back in 2010.  Having an opportunity to return eight years later, I was excited to try it again, but I was concerned perhaps the second visit would not match up to my first time.
While on Royal Caribbean's Rhapsody of the Seas, we booked a visit to see if it could match up in a way similar to the hit Foreigner song.
Description
Maya Chan Beach is an all-inclusive spot that offers all the drinks and food you like right on a prime spot in Mahahual, Mexico.
This excursion is booked directly via the Maya Chan website.  The process is fairly smooth, with some emails traded back and forth before completing the booking.
Maya Chan Beach is not near the port area of Costa Maya, so you will need to take a taxi to get there. The folks at Maya Chan Beach arrange transportation back and forth.  Upon exiting the port area, you take a short walk down the street and meet up with the Maya Chan Beach representative, where they immediately hail a taxi for you.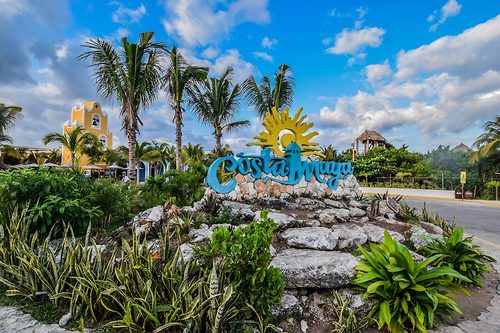 On our visit, the Maya Chan Beach representative informed us that the entire area (including Maya Chan Beach) has been inundated with seaweed.  They showed us photos of the beach area, and told us they had a team of guys working to clean the beach. They offered to give us a full refund if we decided the seaweed was too much of a problem.  Since the problem was not just limited to Maya Chan, we decided to go forth with the excursion. I appreciated their honesty and offer for a refund, as the flow of seaweed is hardly something they can control.
The taxi ride to Maya Chan Beach takes around 20-30 minutes, and passes through much of Mahahual. Most of the ride is over dirt road, which was recently smoothed over for a much improved ride.  The road used to be riddled with holes, but this time around it was quite smooth (minus the incredible amount of speed bumps locals have installed).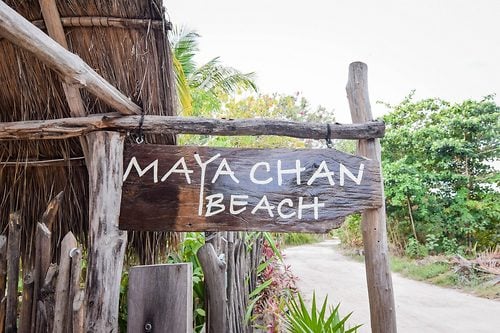 Upon arrival to Maya Chan Beach, the representative meets you at the entrance and gives you a quick run down of how things work, along with a welcome drink.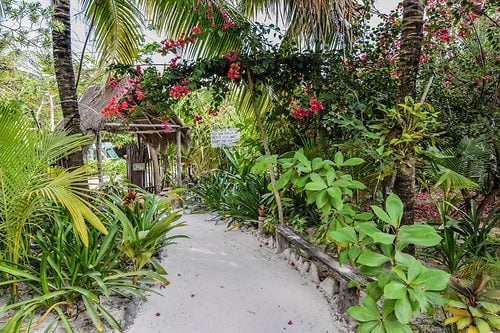 Each family/group is assigned a palapa area, that has enough seating, hammock and sun bed to enjoy.  There are palapa areas of various sizes to accommodate different sized groups.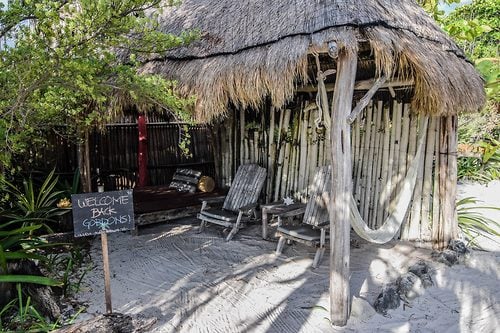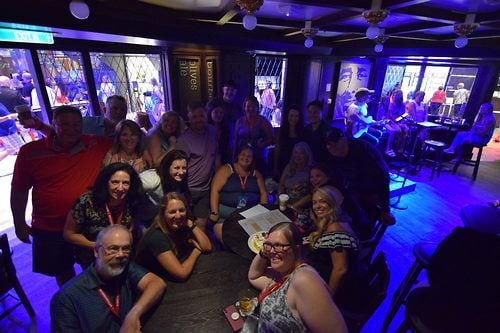 By far the best part of Maya Chan Beach is the level of service you receive.  Their team is comprised of a staff that speak perfect English and are constantly roaming the grounds to assist in getting anything.  The quality service was exactly as good as on our first visit, and it meant we never waited long for anything and always had drinks and food.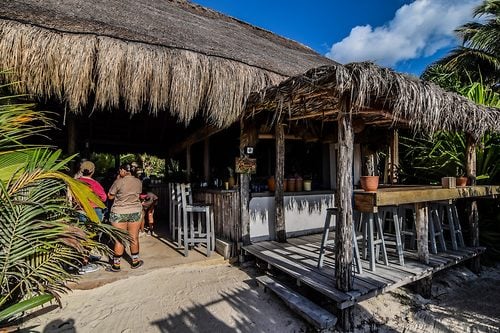 In terms of food and drink, you are greeted with a serving of chips, freshly made salsa and guacamole.  Refills are available at any time.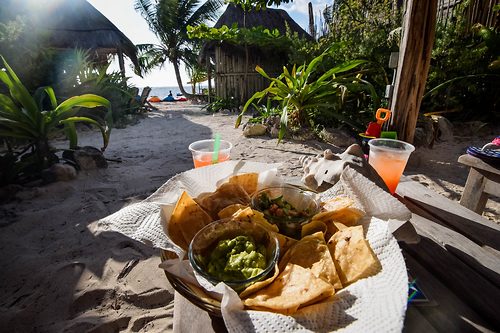 Their cooking staff creates a lunch each day from scratch, that is a buffet of create your own tacos to enjoy.  Truly great food all around.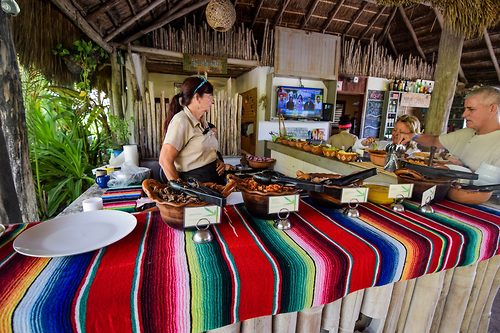 There is a full bar of drinks you can enjoy throughout the day.  You can opt to get it yourself from the bar, or have one of the servers bring it to you.  
In fact, the staff set up a pseudo-floating bar off the beach to enjoy.  I loved the creativity.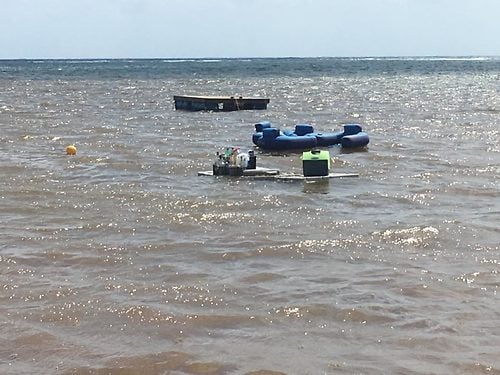 Besides eating and drinking, a day spent at Maya Chan is about enjoying the beach.  While Maya Chan does not have a pool, it does have a large amount of beach access for its guests.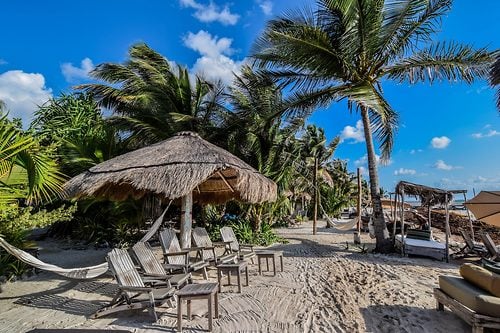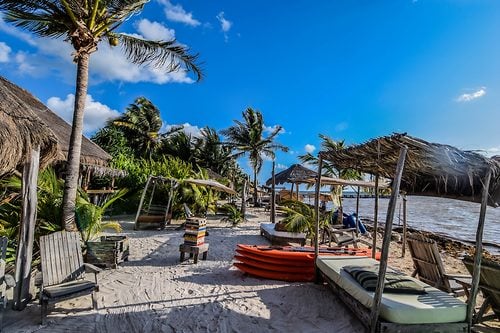 As I mentioned, the inundation of seaweed made getting out past the first 10 feet a little icky, but they did provide water shoes you could borrow.  
Your day pass includes access to:
Free WiFi
Kayaks
Snorkel equipment
"Cleanest bathrooms in town"
Lockers
Showers
Maya Chan also built an observation tower, which you can climb up to and enjoy a perfect view of the beach and surrounding area.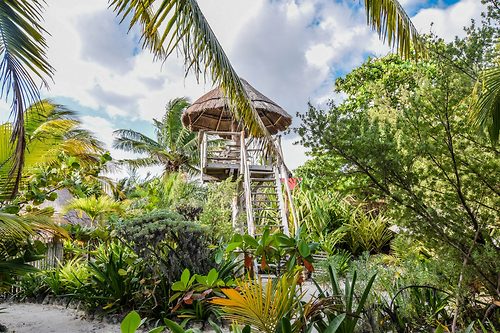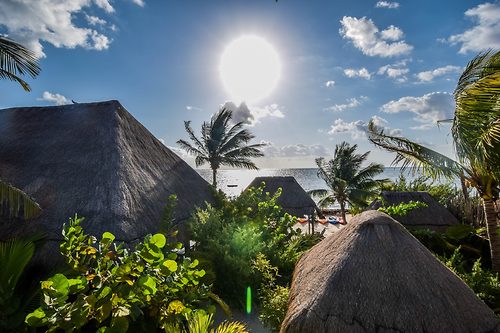 Maya Chan is also home to a couple of dogs and a cat.  The pets are well behaved, and if you like dogs or cats, they roam around and are happy to come say hello in exchange for a good scratch behind the ears.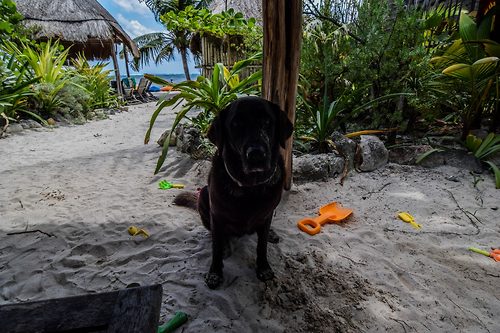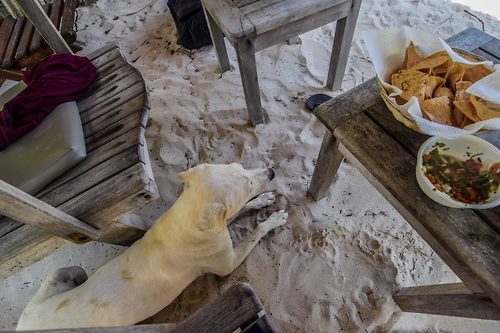 Comments
These days, there are a lot of all inclusive day pass options at pretty much any Caribbean island you visit.  What seperates Maya Chan from the rest is the level of service and quality overall experience they offer.
Maya Chan bills itself on its service, and I think that has to do with the fact the beach is owned and operated by a few American ex-pats, who understand really well what tourists are looking for in a beach day. The attention to detail the staff provides is exquisite, and why we came back.
Despite eight years between visits, I think Maya Chan absolutely lived up to my expectations from my first visit.  Our family had a great time enjoying a relaxing beach day.  When we arrived to our palapa, there was a bucket of beach toys waiting for my kids to use.
The one issue we encountered was the seaweed, which Maya Chan has no control over.  They did have at least four guys working from morning to afternoon to clear the stuff off the beach, and by lunch there was a path to the water.  Moreover, I really appreciated the fact they offered us a warning and refund prior to going to the beach.  That kind of honesty goes a long way.
There are no guarantees with anything, but if you are headed to Costa Maya and want the kind of beach day that is very, very, very unlikely to disappoint, booking Maya Chan Beach is a great idea.
Cost: Adults: $59, Kids 0-3 $19, Kids 4-7 $39, Kids 8-17 $49.
Reservations can be made at the Maya Chan website.