In:
There's a charming small town just minutes away from one of Mexico's busiest cruise ports, and it's by far my favorite place to visit on any Caribbean cruise.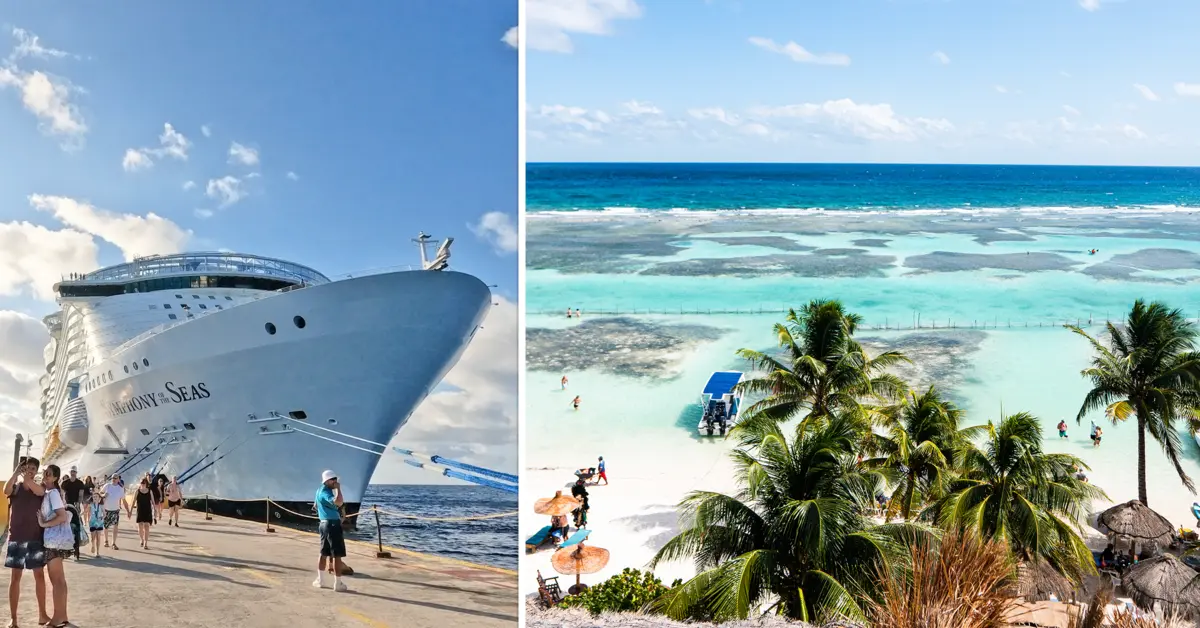 With lively culture, gorgeous beaches, and world-famous cuisine, visiting Mexico is a must whenever I'm planning a Caribbean cruise. Yet as a culturally-focused traveler, I'm more interested in exploring local places rather than spending the day at a gated resort.
So when I first discovered Mahahual, a small fishing village located just 1.5 miles from the Costa Maya cruise port, I knew I had to check it out. With a little over 2,500 residents, it's worlds away from destinations like Cancún and Puerto Vallarta, and I was intrigued.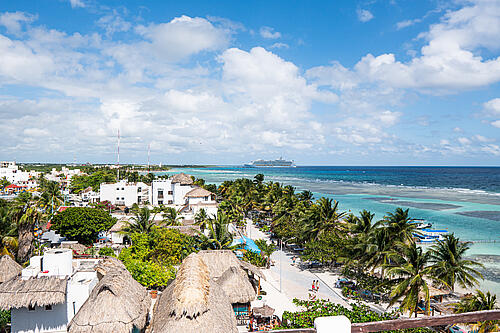 I visited Mahahual for the first time last April and immediately fell in love with the town's relaxed, beachy vibe. I couldn't wait to return, so when I booked another cruise to Mexico, I knew I'd be heading back.
Let's take a walkthrough of a perfect cruise ship port day in Mahahual, from sunbathing at the beach to endless tacos and guacamole. If you're planning a cruise to Mexico soon, this may just be the best place to visit.
Getting there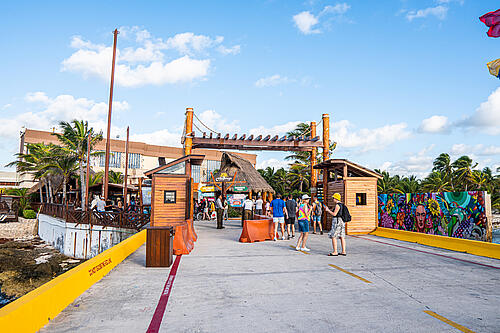 The town of Mahahual is split into two sections: the main town—where most residents live—and the boardwalk.
The boardwalk, known as the malecón in Spanish, is the main tourist area of the town, and it's where most visitors will spend the day. Getting to the Boardwalk is easy, but you'll first have to navigate the maze of the Costa Maya cruise port!
Once you walk off the ship and enter the Costa Maya cruise port, you'll be met with a maze of restaurants, bars, shops, and even a pool. Although the port area is nice (it even features its own aviary), I'd highly recommend leaving port and heading to Mahahual for a more authentic travel experience.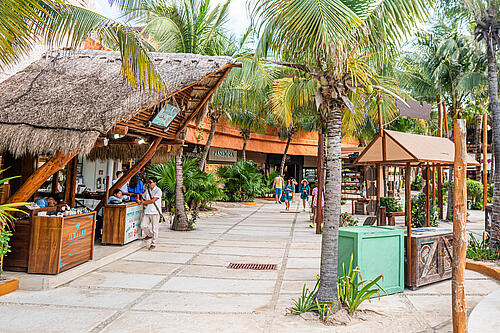 To do so, keep heading left through the port, following a path that will eventually lead you to a line of taxis. Taxis to Mahahual are $4 per person each way.
On my recent port day, we took a taxi to the Faro de Mahahual, a 72 foot lighthouse marking the start of the town's oceanfront boardwalk.
Exploring Mahahual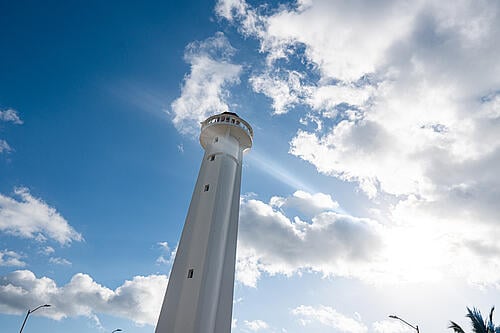 We arrived at the lighthouse around 8AM local time, just as Mahahual started to wake up. The breezy morning weather made for an excellent time to walk the boardwalk.
Mahahual's malecón is car-free and lined with coconut trees, shops, and beach clubs. The town is an up-and-coming diving destination, so there are plenty of small bungalows and hotels along the way.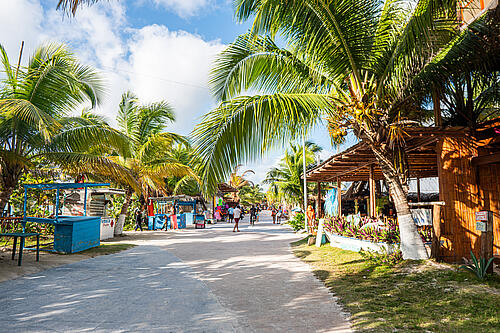 Several massage stands were set up along the boardwalk, too, which are guaranteed to be priced lower than on the ship!
Although the morning in Mahahual is quiet, it's the best time to walk the mile-long boardwalk. Temperatures are comfortable, there are few crowds, and you'll get a better taste for the tranquil atmosphere of the town before other tourists arrive.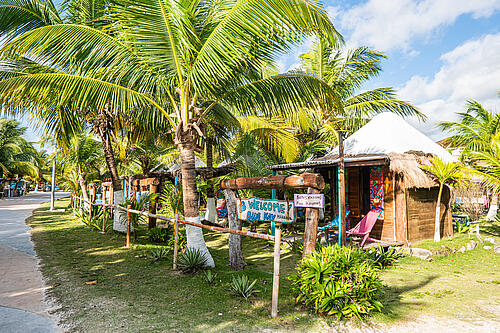 After 20 minutes walking the boardwalk, we were ready for Mahahual's main attraction: the beach.
Beaches in Mahahual and Costa Maya, Mexico
Mexican law states that all beaches must guarantee free public access to anyone; there are no private beaches in the country! Because of this law, the beach in Mahahual is accessible to any visitor, but there are a few things to be aware of.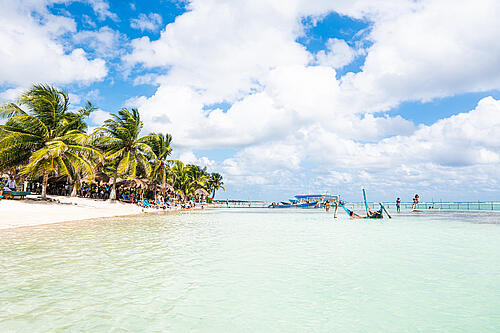 Beach clubs
Mahahual's coastline is full of beach clubs and hotels, most of which use beach space for chairs and umbrellas. While you can technically access the beach at any location, use of beach equipment is reserved for guests at the respective businesses.
Therefore, booking a day pass to a beach club is the most comfortable option for a beach day in Mahahual. Some beach clubs offer free entry if you buy food and drinks whereas others offer an all-inclusive cover charge.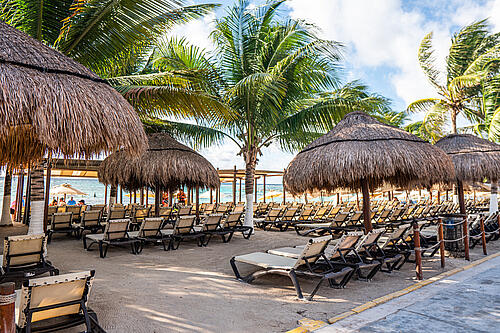 Here are a few of the best beach clubs in Mahahual:
The Krazy Lobster
Nacional Beach Club
Malecón 21
Maya Chan is another popular day pass in Mahahual, but it is not located in the town center.
Free beach access
If you're hoping for a free beach day in Mahahual, your best bet is to find a quiet spot of sand in between beach clubs. To do this, walk further down the boardwalk where there are fewer businesses and tourists. You can place your towel on the sand here for free!
Jaime's at the Blue Reef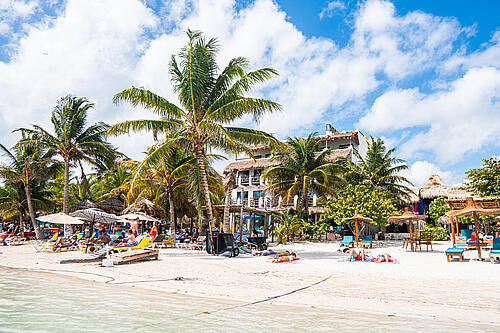 My favorite beach club in Mahahual is Jaime's at the Blue Reef, and this is where we spent the majority of our day in town. At $56 per adult, a day at Jaime's provides an all-inclusive experience with unlimited food and drinks.
The menu has a variety of both Mexican and American dishes, including quesadillas, onion rings, ceviche, and tacos. We dined on chips and salsa, guacamole, and several types of tacos, and everything was delicious.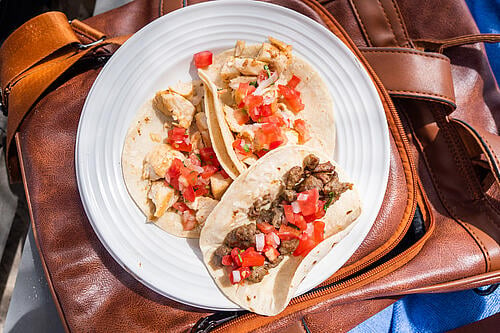 Jaime, the owner of the Blue Reef, even made us a special dish of rice with freshly caught shrimp cooked in white wine and pepper. The hospitality of the Blue Reef keeps me coming back each time I visit Mahahual!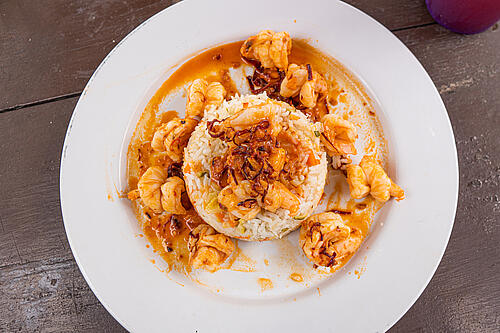 Beach club access also includes a private, padded beach chair placed perfectly in the shade of coconut trees and palapas.
In between food and drinks, taking a dip in the ocean is a must. Although this region of Mexico is prone to seaweed, most beaches in Mahahual are protected by a barrier in the water, and we found the water perfectly clear during our stay.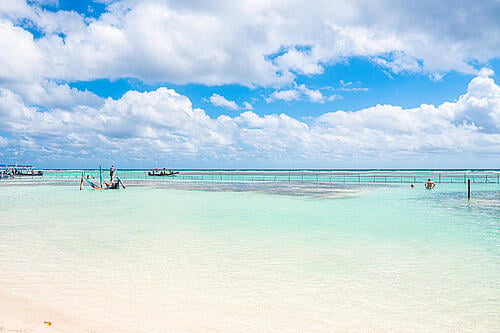 Of course, you can't beat the views from the rooftop at Jaime's at the Blue Reef, either, which feature the most spectacular panoramic views Mahahual has to offer.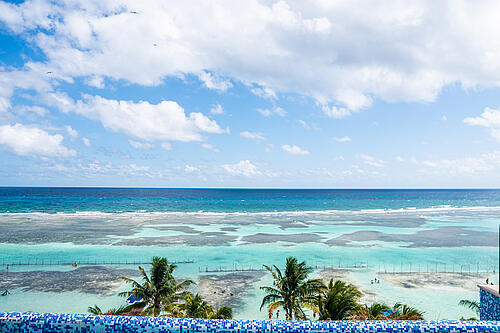 Like always, my time at the Blue Reef was a highlight of my day in Mahahual.
What to do in Mahahual
Although a day in Mahahual is best spent at the beach, there are a few other ways to enjoy your time in the town, too, from dining to cycling and more.
Food & Drinks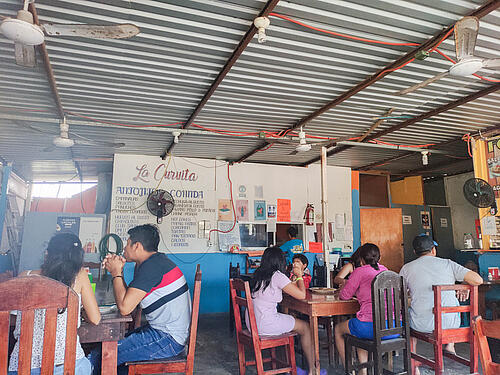 One of the best reasons to cruise to Mexico is for the food, of course, and Mahahual boasts plenty of culinary options to match any tastes. As the town receives many tourists, both American and Mexican fare can be found in town.
Many visitors will dine at one of Mahahual's beach clubs. If you're looking for a restaurant more off the beaten path, though, walk a few blocks away from the busy oceanfront.
Here you'll find restaurants frequented by Mahahual locals, such as La Curvita, which serves breakfast and lunch dishes for under $5 USD. Menu highlights include tortas, quesadillas, Mexican-style eggs, fajitas, empanadas, and more.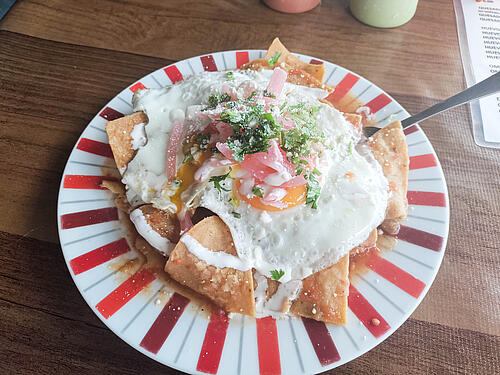 A variety of bakeries and cafes are located along the boardwalk as well. Panadería La Tartaleta is a fantastic spot for coffees and pastries, whereas La Dolce Vita makes unbelievably fresh smoothies.
The passionfruit, mango, and banana smoothie is one of the best drinks to try in Mahahual, so I made sure to pick one up on my recent port day.
Cycling
Because Mahahual's boardwalk is car-free, it's a popular spot for bike riding. Several cycling excursions cruise the boardwalk each day, but you can also rent a bike on your own.
Bike rentals cost between $3-8 for a rental, which you can rent for only an hour or for the whole day.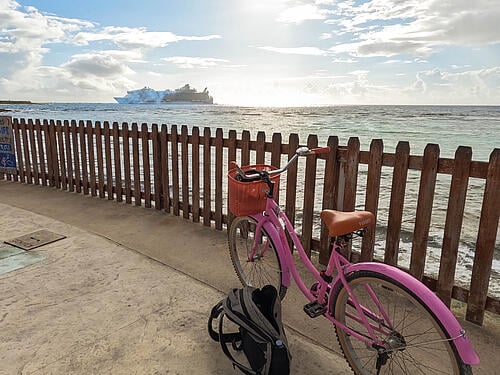 Although I didn't have time to cycle during my recent visit to Mahahual, I'd recommend this option for those looking to see as much of the town as possible in a short port visit. You can ride bikes past the boardwalk and onto a sandy beachfront road or head to the local side of Mahahual to ride amongst the neighborhoods there.
Diving
The waters off the eastern coast of the Yucatán peninsula are known for having some of the best scuba diving in the world. If you'd like to give diving a try, you can do so in Mahahual.
Several diving companies are located throughout the town, but if you are trying for the first time, I'd recommend a Discover Scuba lesson from Mar Adentro Diving, located right off the boardwalk in Mahahual.
Back to the ship: why you should visit Mahahual on your next cruise to Mexico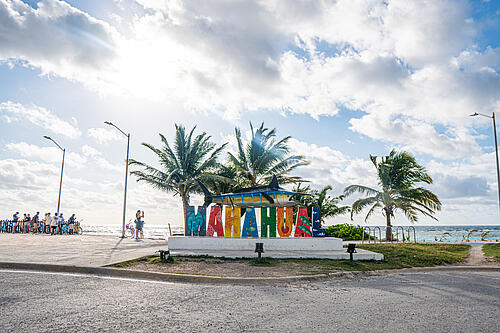 After a wonderful day walking around Mahahual and suntanning at Jaime's at the Blue Reef, it was time to head back to Symphony of the Seas. While taxis are available directly from the Blue Reef, we wanted to walk down the boardwalk one last time.
Now mid-afternoon, the boardwalk was packed with visitors from the two cruise ships in port. Music was pumping at beach clubs, street food vendors were rolling carts down the street, and vendors were ready to sell any type of souvenir and trinket you could imagine.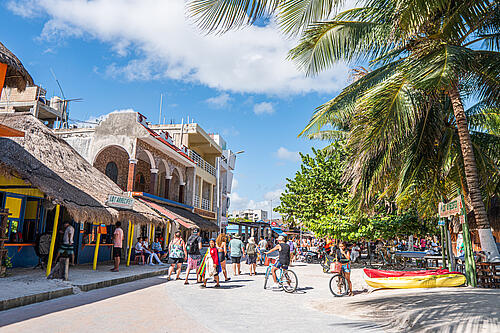 Like any tourist area, it's important to be prepared to be asked to buy souvenirs, massages, and food. A simple "no, gracias" is a polite way to dismiss any vendors on the beach or boardwalk, and they weren't pushy.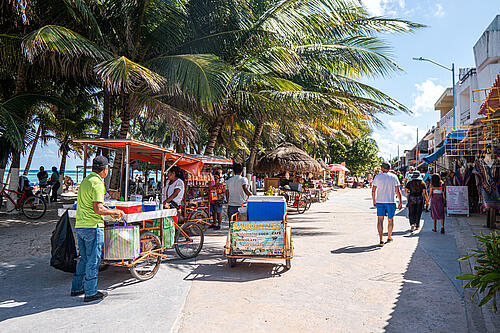 We walked the mile back to the lighthouse, where we were easily able to get a taxi back to port for $4 per person.
My day in Mahahual was the highlight of my cruise vacation. The town's small, walkable size makes it easy to explore, and it has everything you could need in a port day: great food, picturesque beaches, plentiful activities, and affordable prices.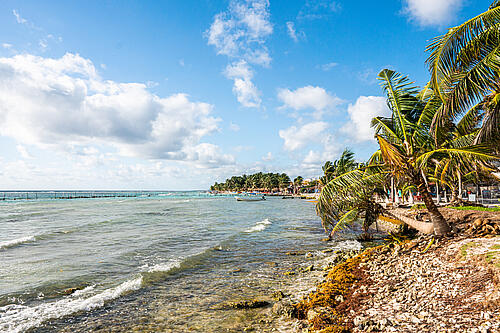 I love the energy of Mahahual, and even though many tourists visit each day, it still has a laid-back feel. Combined with the friendliness of everyone I encountered in town, Mahahual is a place I plan to visit over and over again.
If you have a cruise booked that visits Costa Maya, don't hesitate to leave the port area and take a taxi to Mahahual.