In:
A mere half mile from where the cruise ships dock in Nassau, Bahamas, Margaritaville opened its newest resort in July 2021.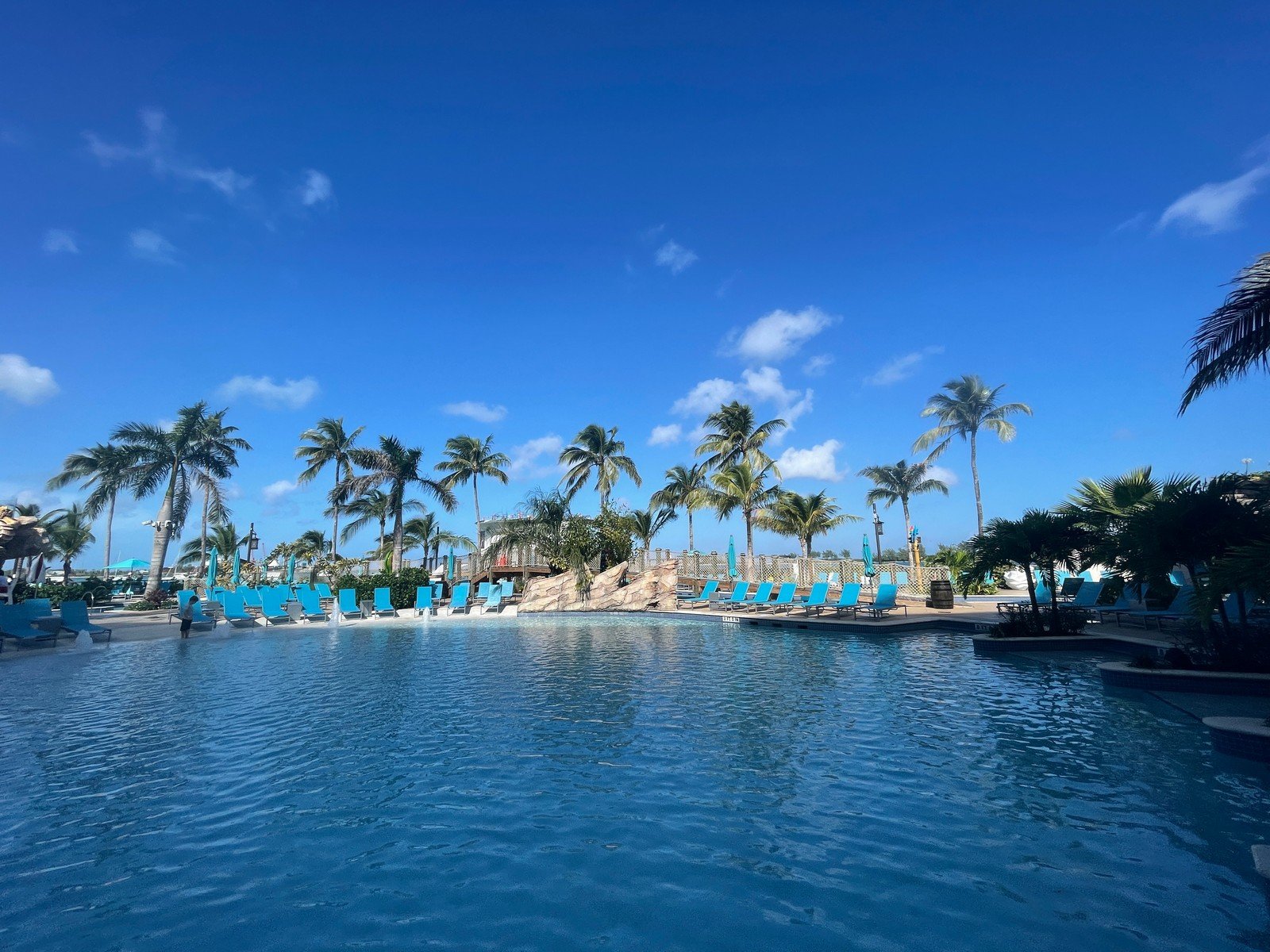 The resort offers day passes that cruise passengers can purchase to experience some of the resorts amenities. 
What does a Margaritaville Beach Resort day pass include, and how is the experience? Marcy visited the resort on a December 2021 cruise to check it out.
What's included?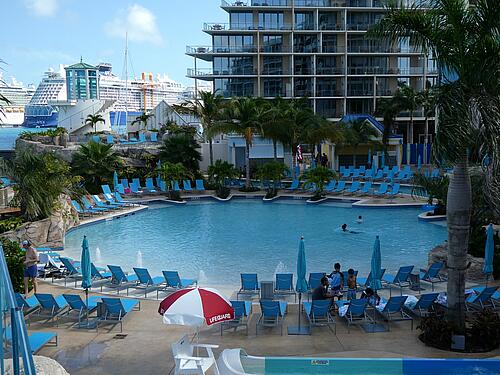 The day pass includes:
The "Fins Up" Water Park admission
$25 food and beverage credit
Private beach access (chairs first come, first serve)
Complimentary Wi-Fi.
Cost and Cancellation policy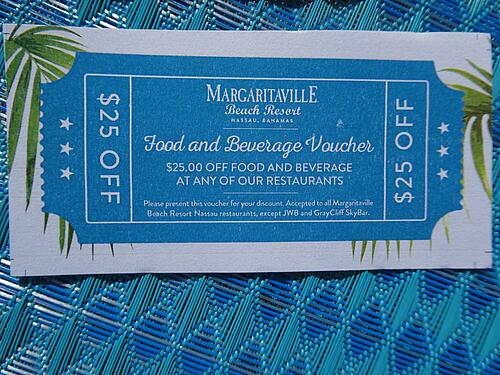 The current price for the day pass is $115 per adult, $45 for children 3-12 and under 3 years old is free.
You can cancel your pass up until 11:59 p.m. the day before your arrival on their website, however, you can cancel by email up until 10 a.m. the day of your arrival. 
That's great flexibility if the weather happens to be bad.
My experience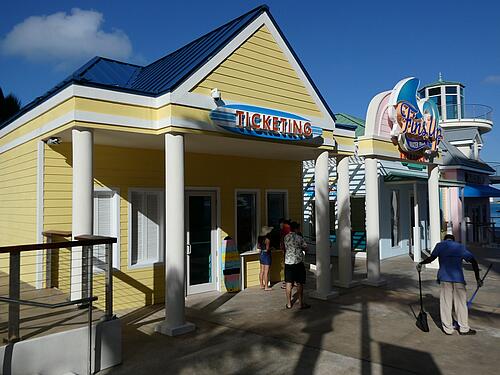 I booked the day pass online via the third-party website resortpass.com. 
While Margaritaville doesn't give an exact number, it is stated on their website that they will limit the number of passes sold per day.  I received my confirmation email that stated I had to check in at the front desk with a valid photo ID.
We went to the resort on Sunday, December 19th while our Royal Caribbean cruise ship was docked in port for the day.
We decided to do the half mile walk from the ship to the resort, which took fifteen minutes (six of which was just getting out of the port). The walk between the ship and Margaritaville is relatively flat.
We arrived at the resort and headed inside to check in.  We were stopped and told the policy had changed and were directed around the corner to the water parks ticket booth.  We provided our names and were given a wristband and our $25 per person food and/or drink coupons.
The Fins Up Water Park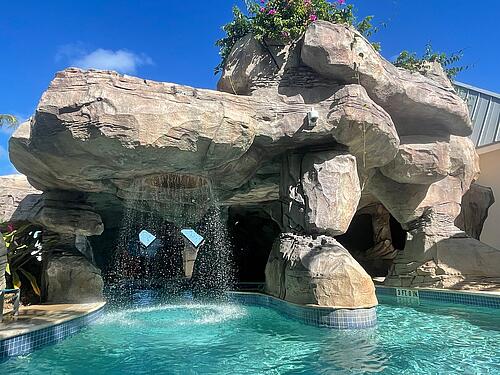 The water park opened at 10 am, and we were there right at opening.
The first thing I noticed was how clean it was. The park features one pool, a lazy river, a kids slide, three larger slides for all ages, one hot tub and a flow rider type ride that is a scaled down version of the ones on Royal Caribbean's ships.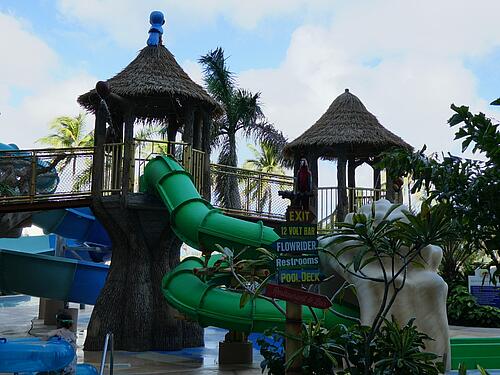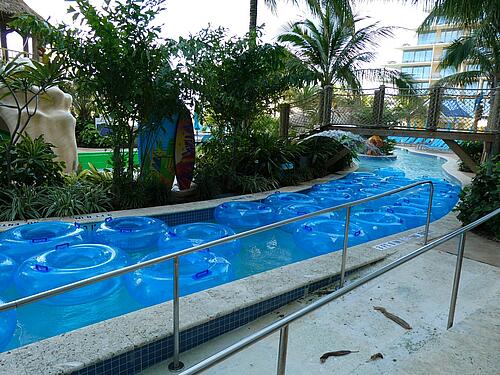 There is also a ledge 10 feet up that you can jump off of into the 11 ft. deep pool.  That was something I had never seen before at a water park.
The pools are not heated, so being December, it was a bit chilly. However, it was a sunny day so the water felt nice. 
There's a rock climbing wall however, it was not staffed nor did we see anyone climbing it.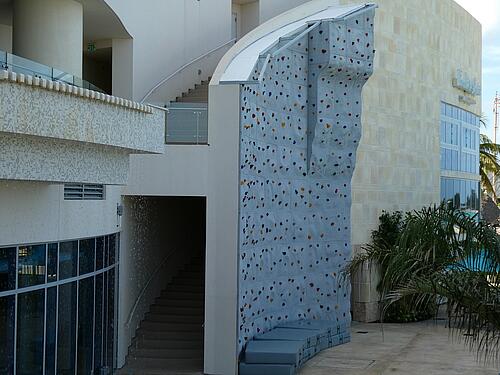 Lounge chairs and beach towels are complimentary. There were also lockers located near the restroom & changing rooms. I wanted to get one so my husband and I could store our valuables and enjoy the lazy river together but we were told they were just installed and were not in use as of yet.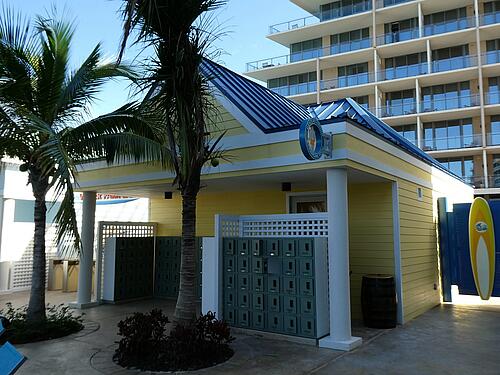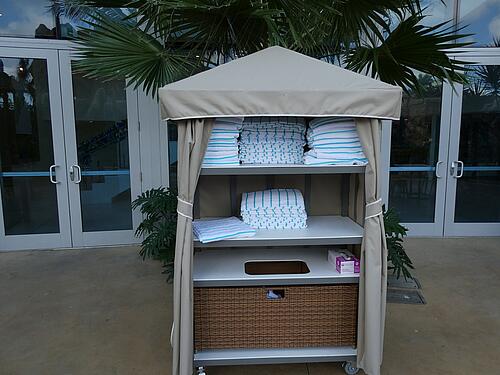 The complimentary WIFI was easy to access.  After signing in, a pop up message said the WIFI would only be active for a one hour window.  Ours ended up working the entire four hours we were there so I'm not really sure what the actual rule is.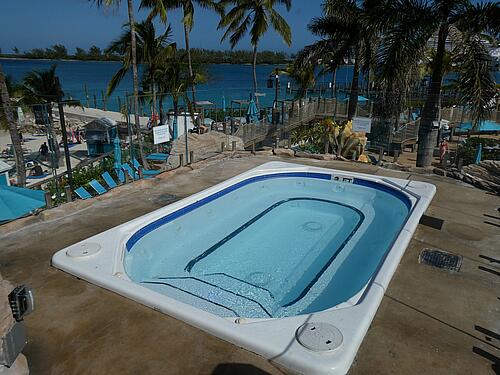 The overall atmosphere was enjoyable.  There were jumbo screens on the hotel itself that played every genre of music you can think of.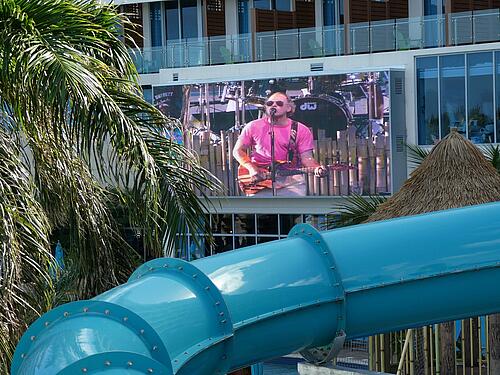 We heard everything from Bruno Mars to U2, country music, 1960's blues, 1980's classic rock, Christmas music from the Monkees to Mariah Carey and of course plenty of Jimmy Buffet.  The volume of the music was perfect.  It was raised but not loud to the point where you couldn't hold a conversation.
Food and drinks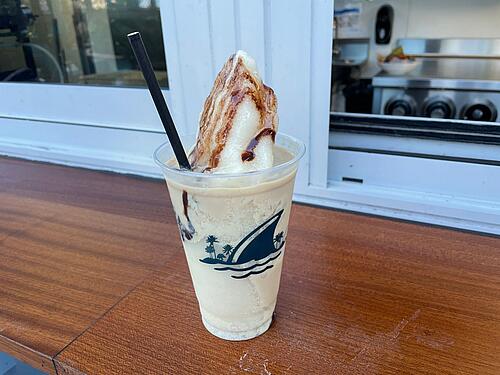 This is the area that needs the most help, especially if you want to enjoy some cocktails, or any beverage at all. 
There are two areas to get drinks while visiting. The one by the food window was closed, so there was only the main bar that had one bartender the whole time we were there.
It's obvious they have a bit of a staffing issue.  In fact, on their website, they mention that they offer poolside food and beverage service which we did not experience.  
Make sure to bring your wallet because the food is expensive, and this is coming from someone that frequents Walt Disney World ,so I'm used to overpriced food.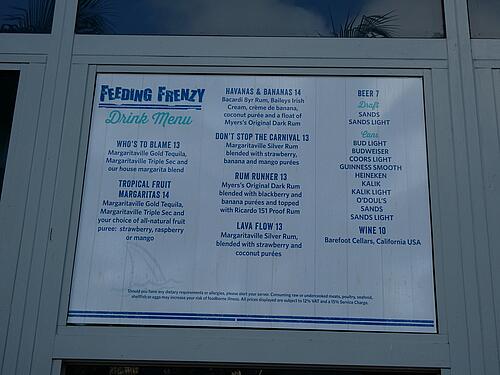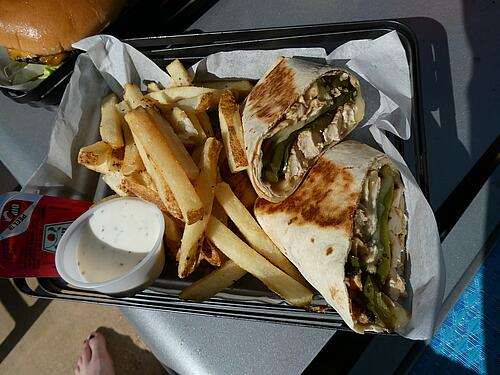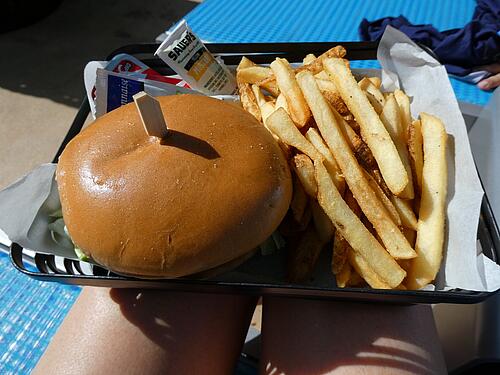 We ordered a chicken wrap and a burger (both included fries) and two beverages with alcohol that totaled $85.  Remember we did have two $25 food credits so that brought it down to $35 but that just seemed very overpriced to me. 
Gratuity and VAT taxes were automatically added.  They only accepted credit cards, no cash. 
I really did enjoy my chicken wrap.  It was made to order so even though it took about 15 minutes to get the food, it was fresh and delicious.  My husband wasn't impressed with his burger though.  It was overcooked and bland.  The drinks were very good. 
Final thoughts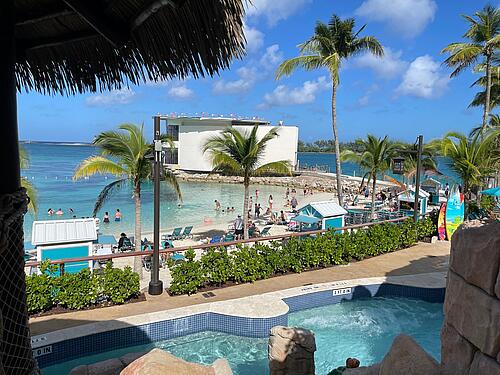 Overall, I really enjoyed the day. It wasn't crowded, I assume because not many people are aware of the day pass offer.
I love a lazy river so I could have just floated around in there all day.  My husband's favorite activity was the ten foot jump, he said it was the best thing there.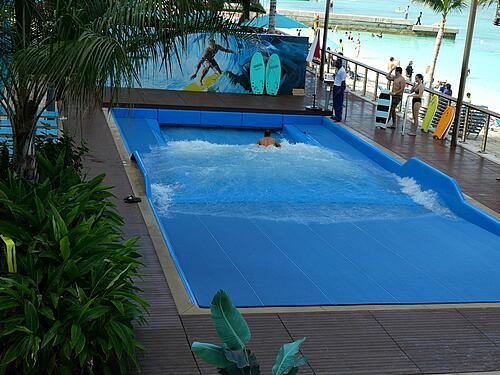 Would I do it again?  Maybe. It was a great day but the way I look at it, I could get a full day at CocoCay's water park, which offers more activities for a cheaper price that also includes food.
However, if you're looking for something new to do in Nassau, or you're a fan of Jimmy Buffet and the Margaritaville brand, then the day pass is definitely for you.