In:
Chances are if you are sailing on a three or four-night cruise with Royal Caribbean you are stopping in Nassau, Bahamas. This has been a very popular port of call for the cruise line for many years. The actual distance from Miami to Nassau is only 184 miles, so this is usually the first or last stop of the cruise.
There are many excursions offered my Royal Caribbean in the cruise planner for Nassau, but there are not many options for those who might be on a budget. Let's take a look at my top 5 things to do in Nassau without breaking the bank.
5. John Watling's Rum Distillery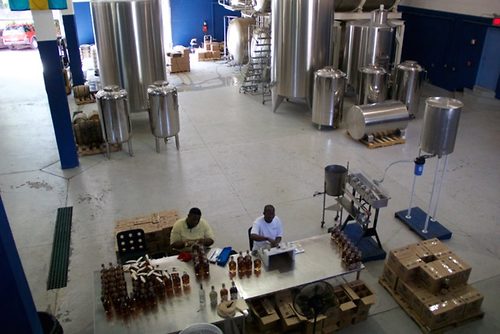 No matter what bar you visit in Nassau, you will notice they serve John Watling's Rum. That's because the distillery is right here in Nassau, in a home that's over 200 years old. When I visit the distillery I always walk, but it does take 20-25 minutes and a rather large hill up getting there. So if that's concerning to you just jump in a $10 cab ride.
When you arrive you are greeted with a sample of their famous piña colada. They then give you a quick 10-15 minute tour of the grounds and you end up in their gift shop where you can take the rum home with you. The tour and visit the property is completely free. They do have a nice bar where you can sample their three types of rum or order a full piña colada you sampled coming in.
4. Graycliff Hotel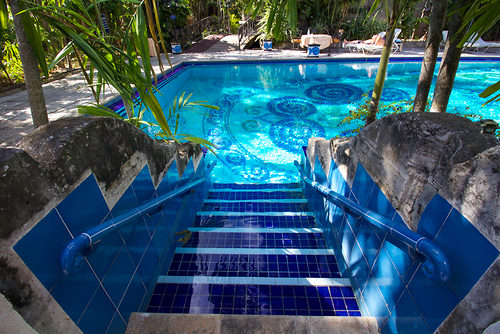 Visiting this hotel is a pretty unique experience when you compare it to big resorts. The property itself is not very large and open to explore. They do offer day passes around $99pp, but let's not forget we are looking for ways to save money and still enjoy all that Nassau has to offer. They have a few dining rooms in the hotel and really amazing to see the table setups. You can order pizza here, which is what they are famous for which is around $20.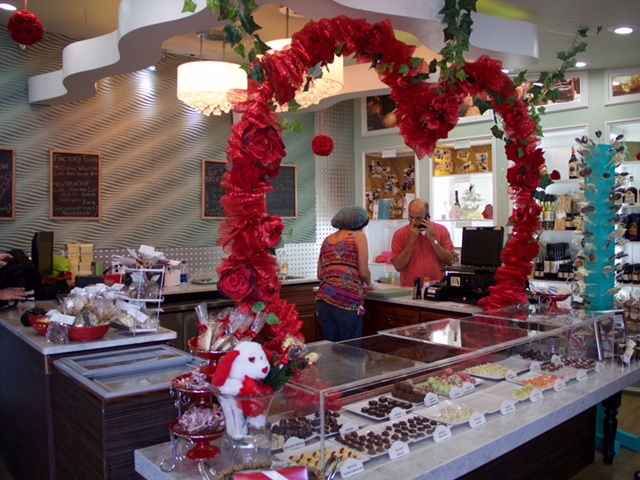 Once you leave the hotel, right beside it is the Grayliff Chocolate factory. They make everything on the property and hand out free samples once you walk in the gift shop.
3. Queens Staircase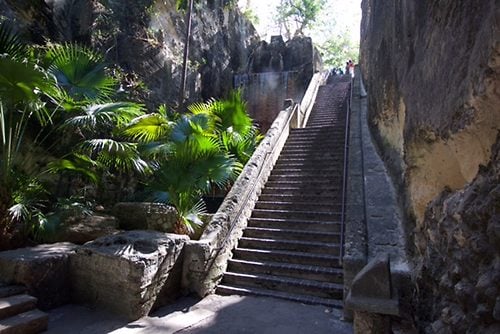 The Queen's Staircase is almost hard to describe other than using words like, breathtaking. The walk here is only 10-15 minutes and very safe along the way, just look for the Nassau Hospital and the staircase is directly behind it.
Slaves carved the staircase in 1793 and there are a total of 66 steps down into a protected area for the Queen during that time. The area is totally shaded and feels really cool walking through it. Again this option is free to the public, but watch out for the locals trying to act like tour guides and expecting a tip. There is also a little fort outside the staircase you can explore too.
2. Baha Mar Resort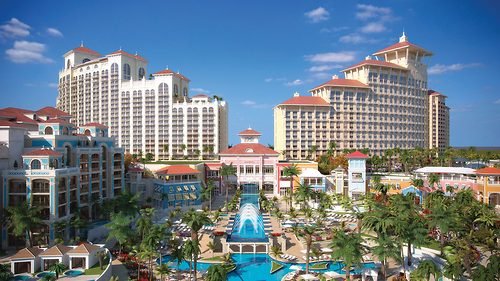 There is a lot of history around building the Baha Mar Resort on Cable beach. However, it's finally open as of Spring 2017. The resort is on the other side of the island from where you dock, so you must take transportation over. In Nassau they have a city bus that the locals take for $1.25pp and you jump on it near McDonald's. I know you must be thinking, how did the Atlantis not make this top 5 list, but this property is brand new and being over on Cable beach is a win for me.
My first time to the resort on the side of the island, I could not believe how beautiful and clean it was. Unfortunately, you can't take use of the pool or beach on the property while visiting but you can gamble, shop, bar and explore the grounds.
1. Junkanno Beach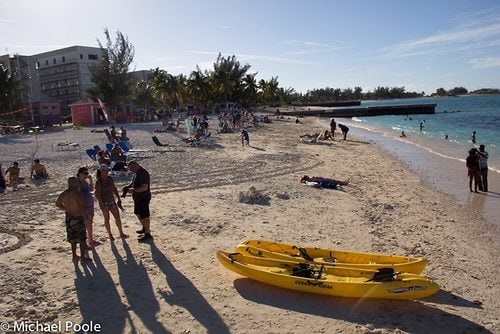 Coming in at number one is Junkanno Beach; you can't be in the Bahamas and not enjoy their beautiful beaches. This beach is a short walk from the port and is open to the public. I discovered this beach many years ago and have been visiting ever since. I like being able to walk and leave whenever I want and the best part they have very cheap drinks at the tiki hut on the beach, like $2 beers.
They also have clean public restrooms on the beach that are fairly new. If you are looking for that free Wi-Fi they have that too! A few years ago I wrote my first blog post just on this beach so you can find more about the beach here.
Let me know what you enjoy doing in Nassau below, I'm headed there in a few weeks and would look to try something new on the island!