Excursion Focus: British Colonial Hilton in Nassau, Bahamas
In:
Odds are if you take a Royal Caribbean cruise to somewhere in the Caribbean, there is a good chance you will stop in Nassau, Bahamas.  Nassau is one of the busiest cruise ports in the region, and offers quite a variety of shore excursions to consider.
On a recent stop in Nassau while on Royal Caribbean's Anthem of the Seas, we decided to check out a well-respected resort just steps away from the port that offers a day pass for guests to enjoy their facilities without breaking our budget.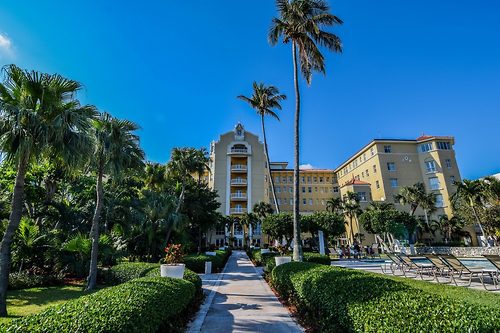 Description
Located a short walk from the cruise terminal in Nassau, the British Colonial Hilton resort faces the entrance to Nassau harbor, and offers guests full access to the resort's pristine beach and pool. Guests that want to enjoy pool and beach time will find a convenient option on lovely grounds. The resort underwent an extensive refurbishment in 2009.
We reserved our spot at the British Colonial Hilton through a third-party website, ResortForADay.com.  The site will reserve each person a place at the resort, which only sells a limited amount of day passes. The day pass includes
$40 food and beverage credit per paid adult
$20 food and beverage credit per paid child
Beach access
Beachfront swimming pool
Towels, pool chairs and lounges
Beach chairs and lounges, umbrellas
Non-motorized water sports: kayaks, snorkeling gear
Transportation to and from the resort is not provided, but considering the location of the British Colonial Hilton to the cruise port, it is largely unnecessary if a leisurely 10 minute walk is not out of the question. If you need to take a cab, the price is $9.00 based on two and $3.00 for each additional person. The cab ride is also 10 minutes away from the hotel.
Arriving at the resort, you will enter the cavernous lobby to check-in.  The day pass is good from 9am until sunset. The bar takes the last food orders at 4.30pm with the bar closing at 5pm. Guest are welcome to stay in outdoor pool / beach area until sunset, however the lifeguard leaves at 5:00.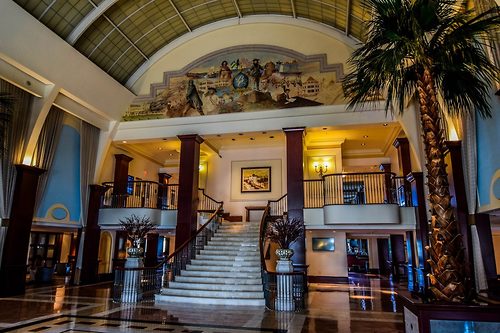 Following check-in, guests receive a special wristband and can then head to the pool and/or beach.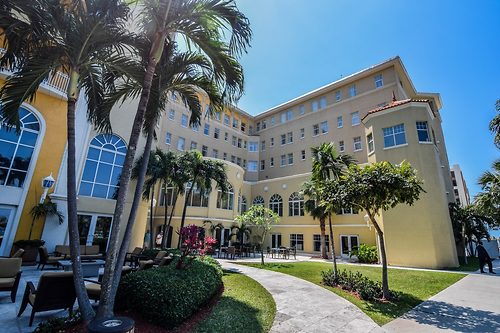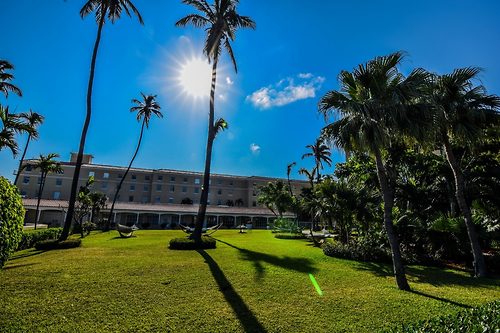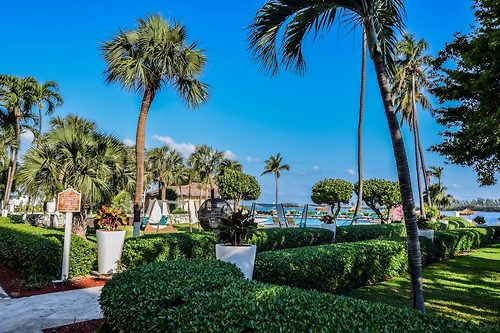 The pool area is located just outside the lobby, past the lush garden. It is a good sized pool, with a shallow and deep end, suitable for anyone that is comfortable to swim.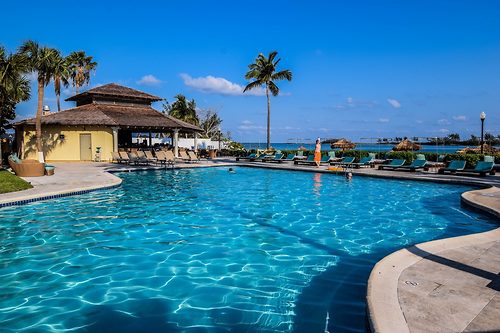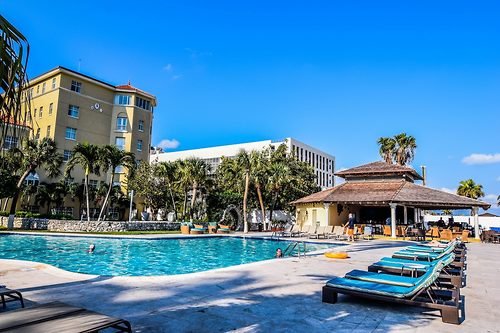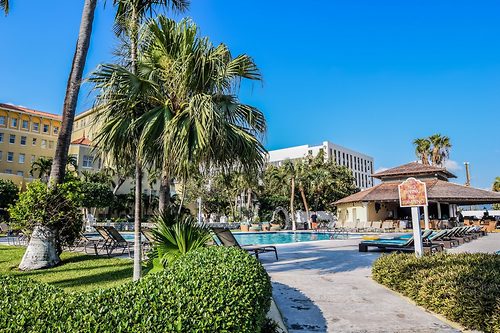 There are also lots of lounge chairs surrounding the pool, but shaded spots are quite limited.  In fact, at the pool the only shad provided comes from trees, so if shade is important to you, be sure to arrive early in the morning to grab a spot.  If all else fails, there is shade under the bar.
The beach area is quite large, and offers a great view of Nassau harbor.  In fact, it is a fantastic spot to watch cruise ships arriving or leaving, provided you happen to be there when such an event occurs.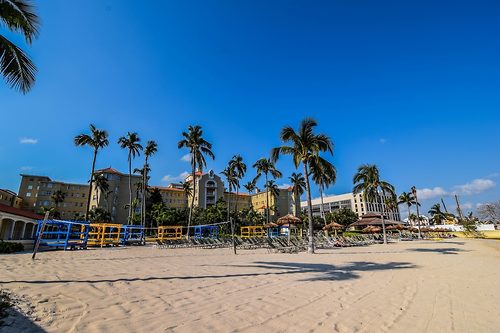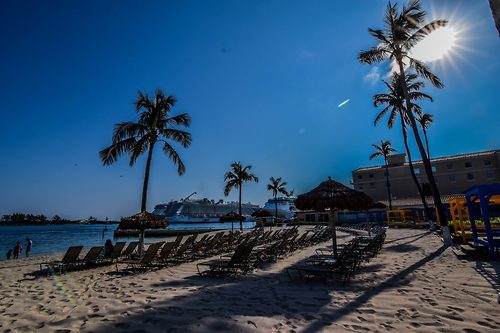 Your day pass admission also includes a food and beverage credit, which is enough money to cover a lunch entree and cocktail.  The patio bar food and drink pricing is on the expensive side. Most entrees are around $20 and a cocktail will set you back about $15.  Keep in mind that your food and beverage credit does not cover gratuity or taxes.
Hanging out in the Bahamas #travel https://t.co/8XoqFoXwQw

— Royal Caribbean Blog (@theRCLblog) March 23, 2017
Comments
When we considered the British Colonial Hilton, we wanted to spend our day in Nassau with the option of spending our time in the ocean of pool without spending a ton.  We travel with two young children (ages six and two), so trying to predict if the pool or beach will be to their liking is always tough, and the British Colonial Hilton seemed to fit our group needs.
For the price, I felt like we got exactly what we wanted from our day at the Hilton.  While other resort day pass excursions may have offered more to do than the British Colonial Hilton, we felt like the resort offered a great experience at a reasonable price. The resort grounds are immaculately well-kept, and our kids had a blast swimming for nearly the entire day in the pool.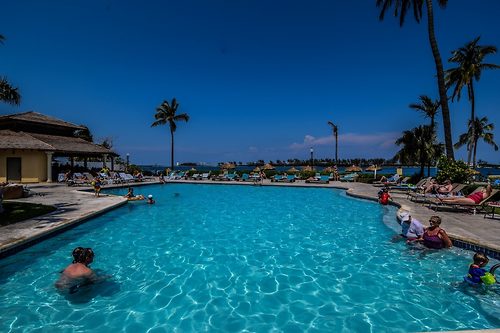 The most obvious alternative we considered was a day pass to the nearby Atlantis resort, but the price difference was massive.  Certainly Atlantis offers quite a bit more to do in an even more luxurious backdrop, however, the price for us was too much to consider.
The two negatives that I noticed from my time at the British Colonial Hilton were the lack of shade at the pool, and the very high price for food and drink.  We were lucky to have arrived before most of the other day pass guests, because we snagged shade under one of the few trees by the pool.  The food and drink prices are something to be aware of, and I would advise only indulging enough to use up your credits.  The cocktail prices make Royal Caribbean's drink prices look like a bargain, so your best bet is to skip the binge drinking for somewhere else.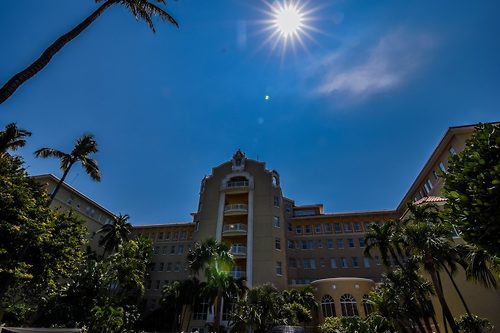 Overall, we really enjoyed our time at the British Colonial Hilton because it was exactly what we were looking for: a relaxing spot for pool and beach time that would suit our family's needs. 
Cost: $65 per adult, $30 per child (ages 6-12. Children 5 and under are free).