In:
Of the popular activities to try while a cruise ship is visiting San Juan, Puerto Rico, going to the beach is in the upper echelon of choices. The Marriott Resort & Stellaris Casino offers day passes (Link contains affiliate link, which means I get paid a finders fee, but no additional cost to you) to purchase, where guests can enjoy access to the resort grounds and I decided to try it out on a recent visit with my family.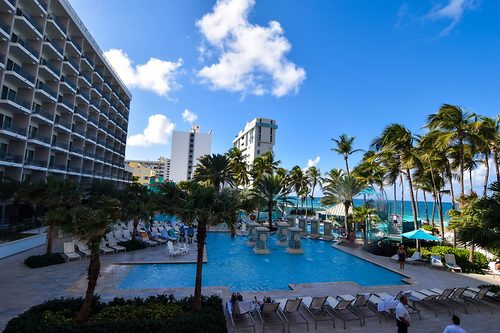 The Marriott advertises itself as a great choice for families of all ages to enjoy time under a palm tree at the beach, or at one of their three pools.  Given the fact it can get quite warm in San Juan, the idea of relaxing in the water sounded like a great idea.
Description
The Marriott Resort & Stellaris Casino is located in an area of San Juan known as Condado Beach. It is a very short taxi ride away from where the cruise ships dock in Old San Juan, and perhaps a 5 to 7 minute ride from when you enter the taxi to when you exit it.
We purchased a day pass in advance from Resortforaday, and the website advertised you have access to the resort from 9am to 5pm with the pass, but when we arrived, the staff informed us we could stay as late as 11pm.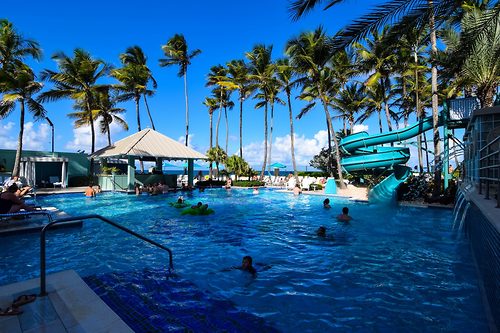 Upon arrival, you check-in at the front desk and pay the remaining balance due for the day pass. You are then given wrist bands that must be worn during your visit. There is a vigilant amount of security guards who monitor all entry and exit points of the resort to prevent people from accessing the Marriott who are not guests.
Here is exactly what is included with your day pass:
$20 food & beverage credit per adult pass
20% discount on nail, massage & body treatments at on-site spa
Beach access, pool access, whirlpool access
Lounge chairs, umbrellas, beach & pool towels
Water slide
Children's pool
Outdoor shower for casual clean up
Bathrooms available for changing
Sauna
Beach volleyball
Children's activities
Walking down to the pool and beach area, you will find multiple pools and even a water slide to enjoy.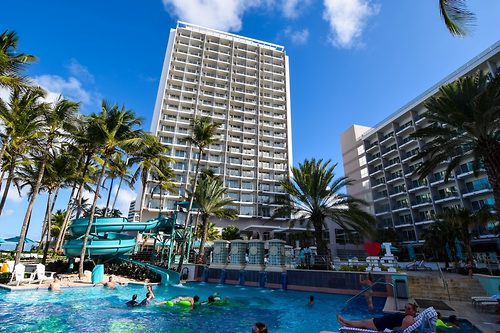 Each pool area features plenty of seating, and the resort's tall buildings tend to cast a shadow on part of the pool area. This means you should be able to find seating in the shade or in the sun.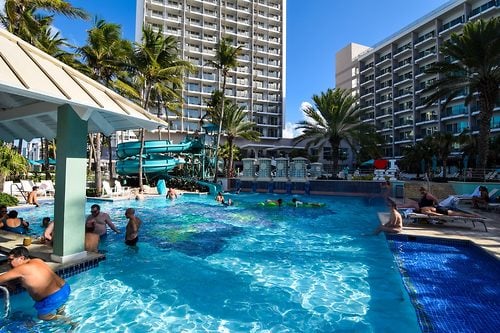 There is a swim up bar in one of the pools, and waiter service that is fairly easy to flag down when needed.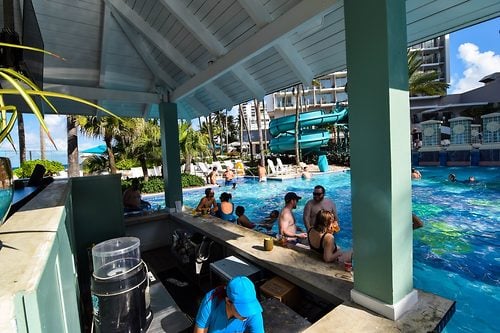 The water slide was a big hit with my kids, who relished going down it all the time.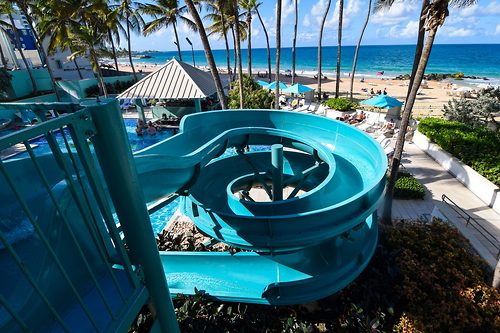 Of course, beach access is also available and the walk from the pool and resort to the beach is a mere few steps.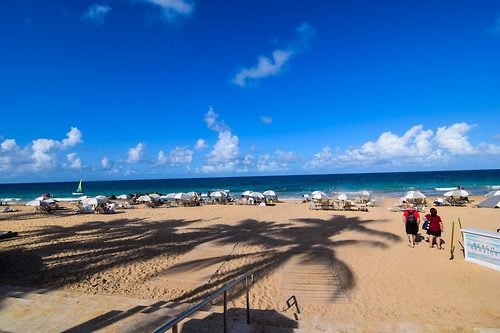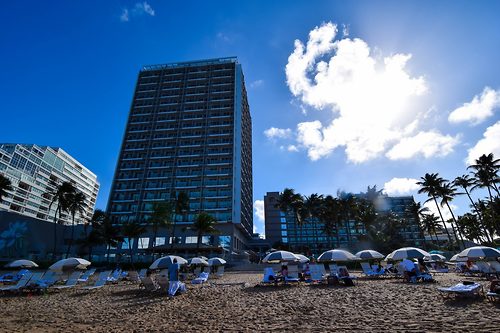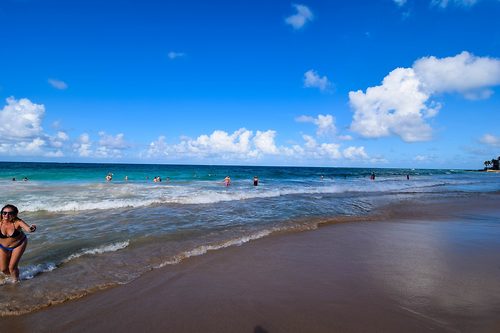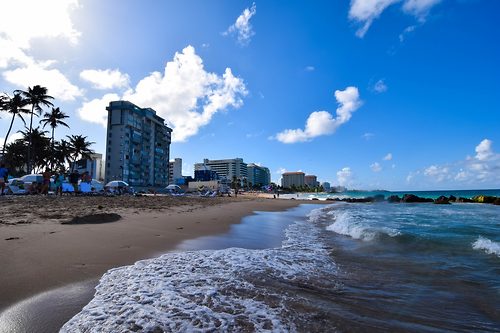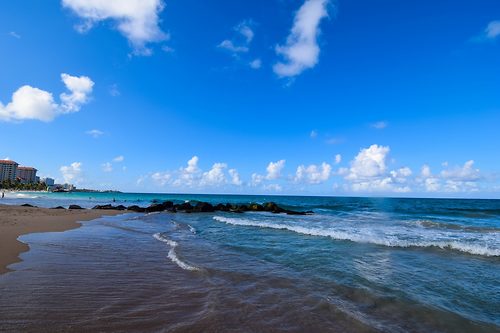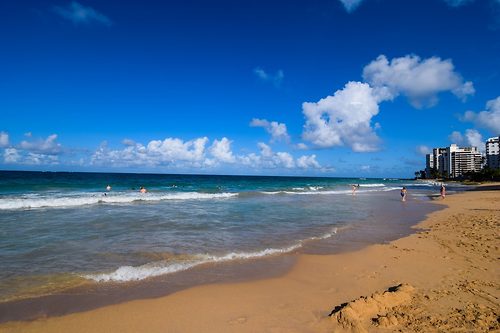 While the Marriott is not an all-inclusive, it does include $20 food & beverage credit per adult pass purchased. You will find pretty standard hotel food and drink, although I was happy to find some local craft beers available on the menu.
Comments
Our family enjoyed our visit to the Marriott Resort & Stellaris Casino because it was exactly what we wanted: a place to enjoy time at the beach or pool, where the kids could splash and play to their hearts' content and my wife and I could relax while watching them.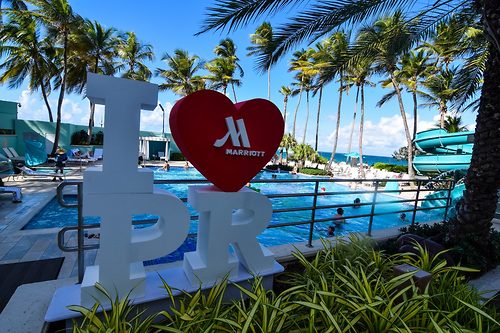 Day passes are not a popular offering in San Juan, so options are limited, but I think we were satisfied with the choice to come to the Marriott. The taxi ride from the port was extremely short, and the resort amenities are exactly what I think most want in a day pass visit. There was plenty of seating (we arrived after lunch), and the resort is well-maintained.
We paid $60 per adult, which does include that $20 food and beverage credit.  So essentially, $40 each to spend a few hours at the resort. That is a pretty good value for access to the resort.
The food is not anything special, and we relegated ourselves to drinks and snacks.  We figured it would be best to spend money on a meal back in Old San Juan. I think most people visiting are interested in essentially a beach or pool day, with snacks and drinks mixed in as well.
Overall, if you are looking for some time in the water while visiting San Juan, the Marriott Resort & Stellaris Casino fits the bill for a fun option. While it may not rank among my favorite day pass resorts in all of the Caribbean, it met every expectation I had for it.  Families should find this to be a good value for spending a few hours beachside or poolside.