In:
Old San Juan, Puerto Rico is a popular cruise port because of it's close proximity to the United States and ample cultural and relaxing activities to choose from.
If you're looking to explore Old San Juan and get a taste of the city without paying for a formal excursion or guide, there are a lot of great places to see that are walking distance from your cruise ship.
We visited Old San Juan on a recent cruise aboard Royal Caribbean's Quantum of the Seas and had a full afternoon and evening in the city to take it all in.  What I love about Old San Juan is how easy it is to explore without fear of getting hopelessly lost.  Since Old San Juan is on a hill, it's fairly easy to get your bearings at any time.  
While there are plenty of excursions available in the surrounding San Juan area, I really like walking around the city to see the many sights (and smells) that are mere minutes from your cruise ship.  When you dock in Old San Juan, you will be let out in the heart of the city and that means you can walk to most everything available.
It is recommended to bring good walking shoes and appropriate clothing for a hot and humid environment.  With San Juan's many hills, temperatures regularly over 80 degrees and lack of natural shade, walking around will definitely burn some calories.
Let's take a look at my picks for things to do in Old San Juan, Puerto Rico.
The forts: El Morro and San Cristobal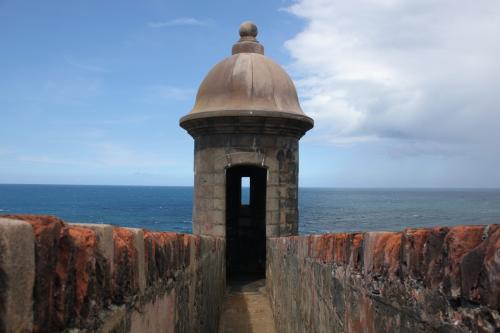 Perhaps the best known tourist attractions in Old San Juan are the two old Spanish forts that used to guard entrance to the city, Castillo San Felipe del Morro and Castillo de San Cristóbal.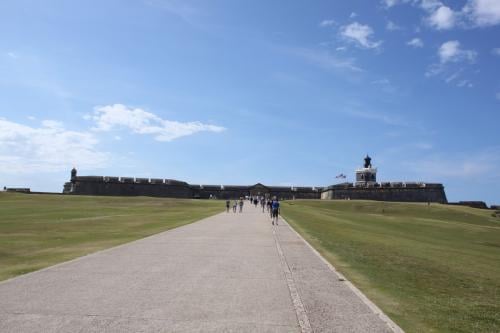 El Morro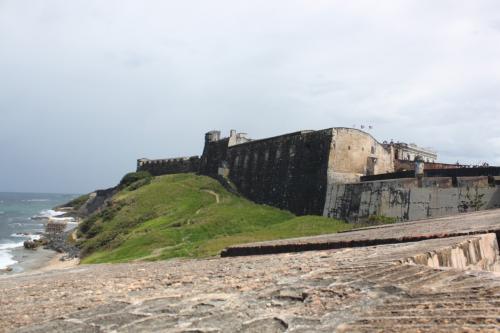 San Cristobal
Both of these forts are on the northern coast of the city and both are United States National Parks.  There is not much to do to prepare to see these forts, you just walk in, pay the admission and then take as much time as you like to explore.
What is amazing about these forts is they give you a very good sense of what life was like for the Spanish troops guarding these fortified positions.  If you take the time to visit the exhibits, you will see the kind of threats Spain faced and tales of when foreign powers tested the Spanish resolve to defend the city.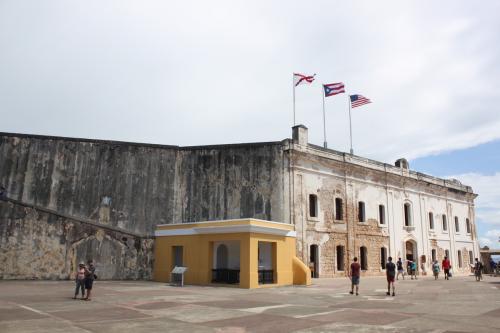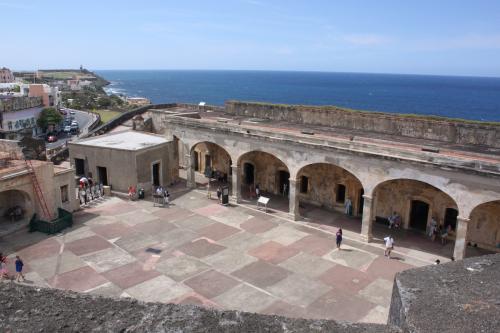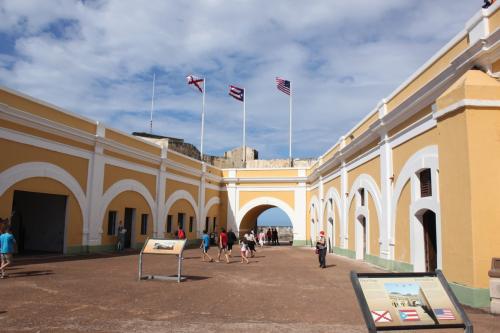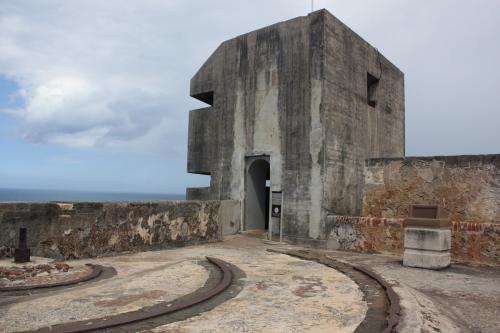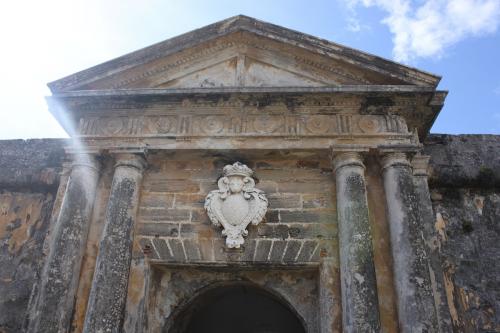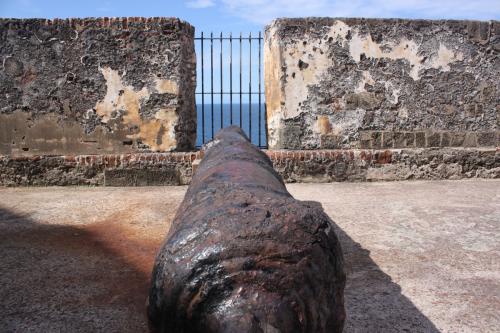 In addition, the views of the city and ocean are unparalleled and you absolutely need to bring your camera here to take some great shots.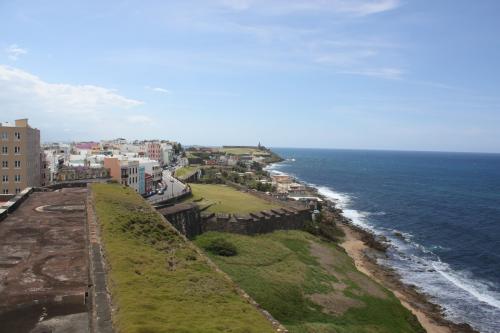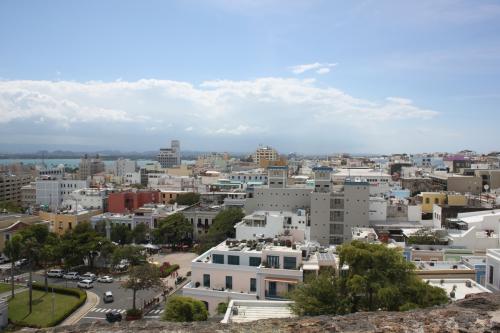 Admission to one fort gets you admission to the other fort for up to 7 days, so if you have time you can visit both.  The popular theory these days is El Morro is the more interesting and distinguished of the two forts, so you have time for just one, go with El Morro.
San Juan Gate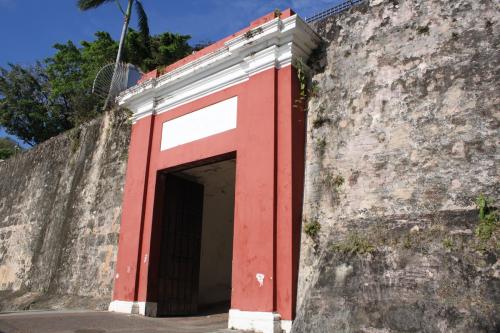 The San Juan Gate is the only remaining city gate and was one of six original massive wooden doors that centuries ago allowed passage into San Juan.
All the gates except for this one remain, and it's a bright red with a Latin inscription at the top that says, "Benedictus qui venit in nomine domini" (blessed is he who comes in the name of the Lord).
Besides being an important piece of San Juan's history, it's located along the Paseo del Morro, which is a 3/4 mile walkway that follows the city wall below El Morro.  It's impressive to see the city walls that at one time controlled complete access to the city and with its location right on the harbor, it's a beautiful spot to enjoy a walk.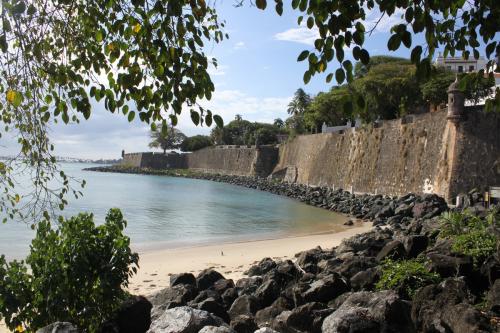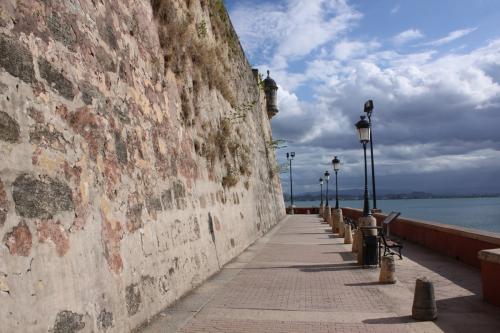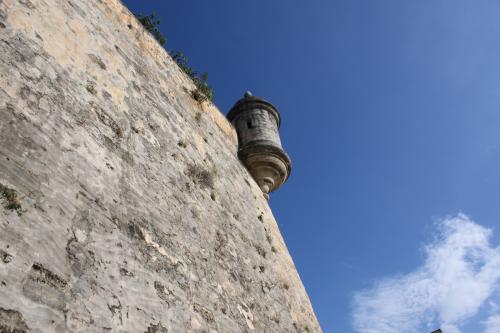 The path to and from the gate are quintessentially old San Juan.  Once again, there's little shade here so bring water for the walk and some sunscreen.
Access to the San Juan Gate is free and you can walk here anytime during the day.
Paseo de la Princesa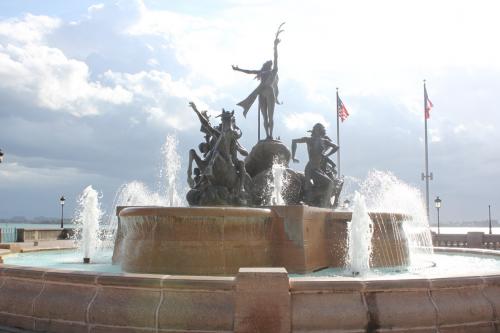 Located near El Morro is the Paseo de la Princesa, a beautiful area between where your cruise ship docks and the San Juan Gate.
The Paseo was originally built in 1853 and has been restored quite beautifully in recent years.  It's essentially a tree-lined promenade that is great for walking, people watching or enjoying the breeze.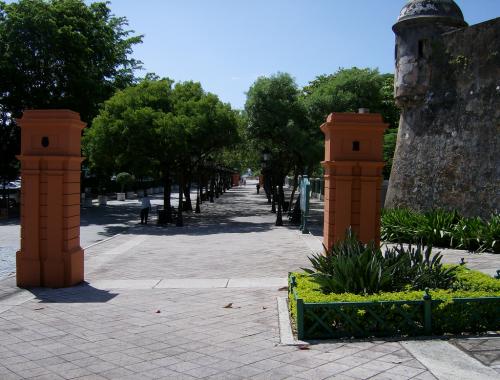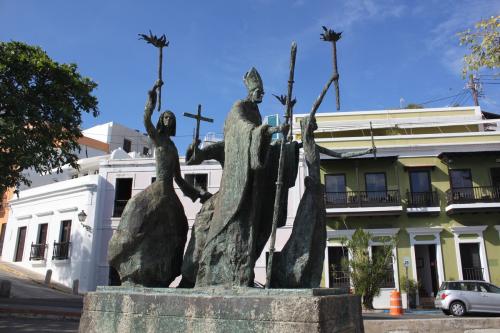 You will also find local street vendors and artisans selling local food and crafts as well.
There are great examples of art to be found here as well.  
If you are thirsty, try a shaved-ice topped with your choice of flavoring known as piragua. For something more filling try alcapurria, Bacalito or Empanadilla's.
Barrachina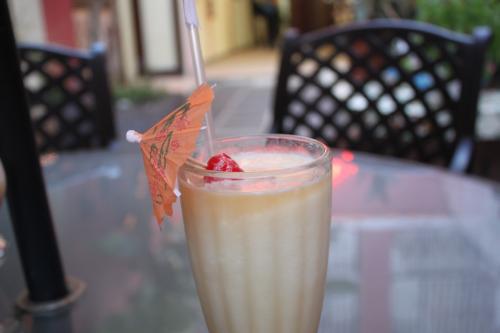 Old San Juan is all about history, including the spot where the Pina Colada was invented, a small restaurant known as Barrachina.
Barrachina is located right in the middle of Old San Juan and it offers a lot of Puerto Rican cuisine, including the original Pina Colada.
While you are indulging in some coconut spirits, you should also have another Puerto Rican specialty: mofongo.  Mofongo is mashed plantains that are usually topped with a meat like shrimp, steak, chicken or octopus and drizzled with a special sauce.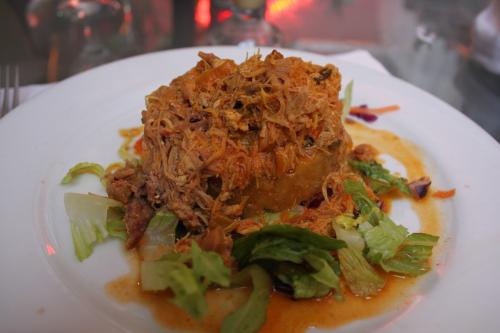 It's hard to describe what mofongo tastes like except that it is quite good and something I always order when I am on the island.
You can certainly try a pina colada or mofongo pretty much anywhere and everywhere in Old San Juan, but for a bit of history (and somewhere to sit down and rest after all that walking), Barrachina is a great spot.
Santa María Magdalena de Pazzis Cemetery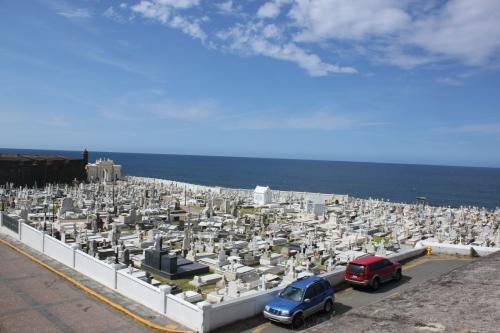 I usually do not try to visit cemeteries but the colonial-era cemetary near El Morro is a pretty interesting spot.
Located outside the walls of El Morro, the cemetary is a famous landmark and is the final resting spot for many prominent residents of Old San Juan. Actors, poets, politicians, artists and more are all buried here and the layout of the graveyard is fairly impressive.
Since I do not particularly care for walking all around the cemetary, you can get a great view of it from El Morro and the area surrounding it so you can get a sense of the spectacle the cemetery is without going inside.
See it all (again) at night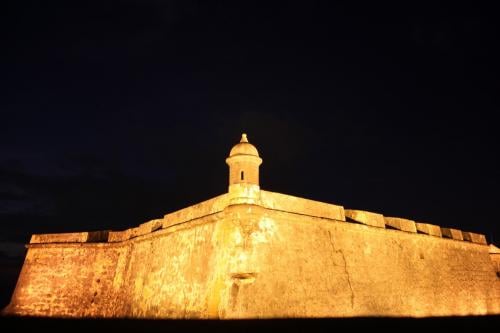 If you are lucky enough to be in Old San Juan at night, the city transforms after the sun goes down.
Nearly all the sights we mentioned already in this post and others are lit up in the evening and it gives them all a very different look that has to be appreciated even if you just visited them a few hours earlier.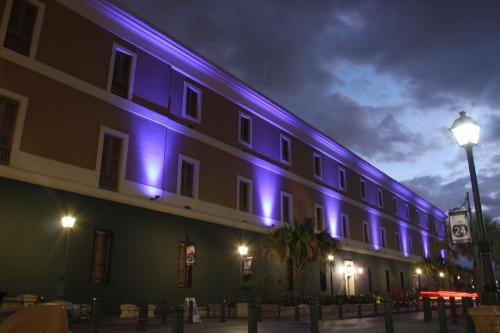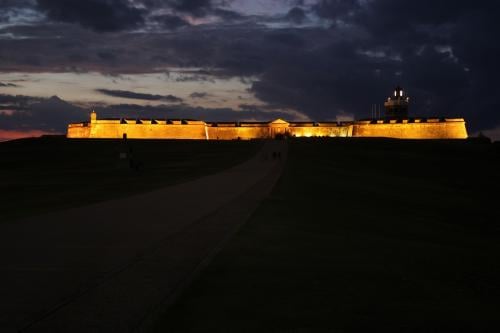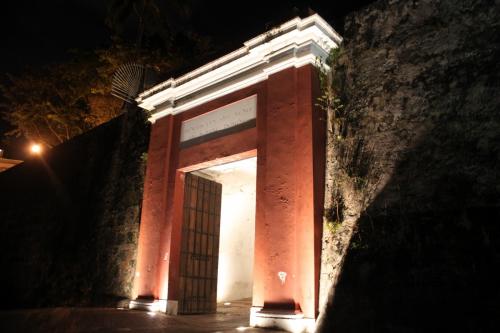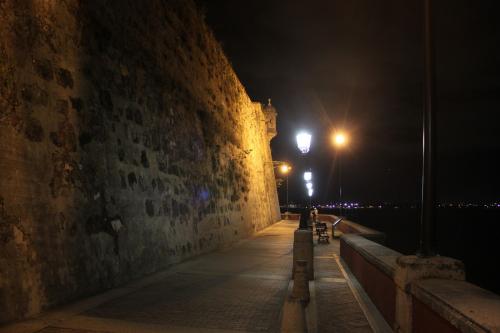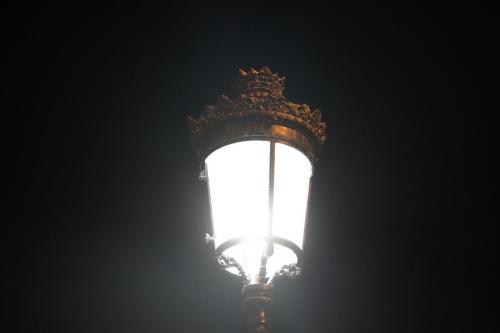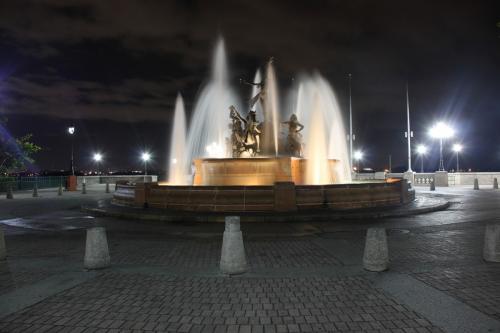 The city does a wonderful job of lighting up the city, so be sure to give yourself time to walk around at night and bring your camera too.
Your thoughts...
Where are your favorite places and things to do in Old San Juan?  Which of these would you most like to see for yourself?  Any questions? Share these and any thoughts you have in the comments!