In:
The hurricanes of 2017 damaged the beach. We do not recommend going here until it is rebuilt.
Picking the right shore excursion for families is always a challenge because depending on the age of your kids, what is appealing to one family might be completely uninteresting to another family.  When you have young kids, the choices become even more complicated.
Just over the French side of St. Martin is a small beach that offers the perfect kind of beach day for young children or anyone that enjoys going to the beach without waves.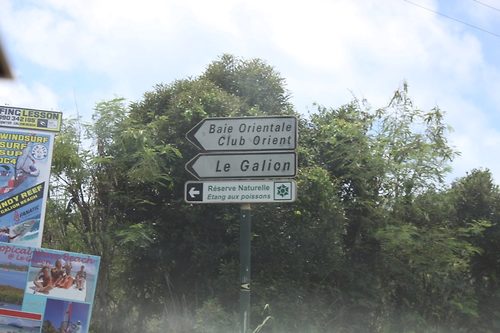 Description
The appeal of Le Galion beach is a horseshoe shaped beach that has little to no waves, which makes it perfect for kids that cannot swim or are not strong swimmers.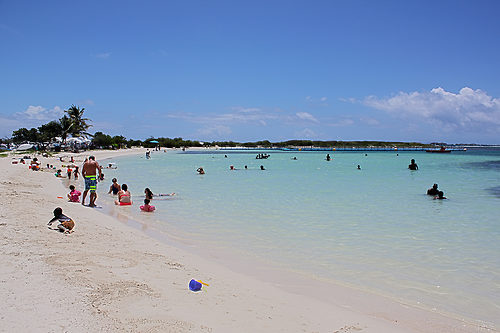 The beach is a short drive from where Royal Caribbean docks its cruise ships and just over the French side of the border.  Upon arrival, there is a large cove surrounded by a beach that provides easy access to the water.
There is no cost to access the beach, but there are charges to use the chairs and/or umbrellas (5 Euros for either).  The beach is frequented by tourists and locals alike, with locals usually setting up further down the beach where they can just put out a beach blanket.
The chairs and umbrellas are provided by the nearby bar and restaurant, which offers waiter service and has a full bar menu, as well as a good-sized lunch menu.  
Over the years, the amenities and offerings at Le Galion beach have been improved and there are diving platforms (complimentary), kayaking, paddle boarding, jet skis and more available for hourly charges.
Comments
Le Galion is a quiet family beach that is great for non-swimmers and kids to have a relaxing day.  The beach is a shallow lagoon, and adults can walk out many dozens of yards from shore and not have the water go past their waist.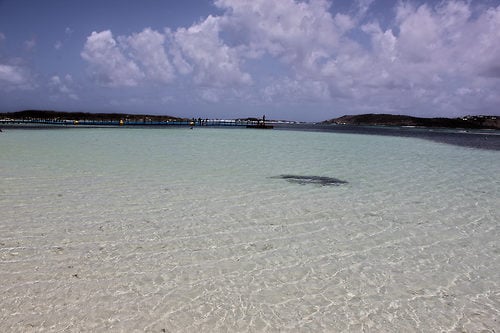 Le Galion also tends not to get as crowded as some other beaches frequented by cruise guests.  It is a laid back beach experience that offers just enough for kids to do, without relying on a ton of water toys that can turn the ocean into a virtual playground.
We have brought our children to Le Galion for years because the beach experience is perfect for kids that just want to splash around without fear of getting knocked over by waves or suddenly finding them in deeper water than before.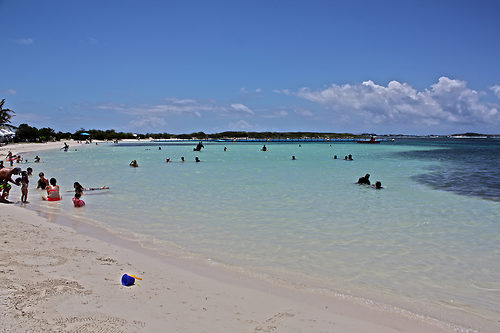 The cost to use the beach chairs and umbrellas is fair and waiter service that brings drinks and food is pretty good.  There is nothing else around, so you are dependent on the beach bar for food and drink, but their prices are fair for the French side of the island and the staff speak English and French fluently.
If you want a quiet, relaxing beach that has little-to-no waves, then Le Galion beach is perfect for you.