In:
Roatan, Honduras may be known for its reefs and perfect snorkeling spots, but for those of us who prefer to keep our faces above water, let me introduce you to my new favorite spot: Maya Key Private Island Retreat.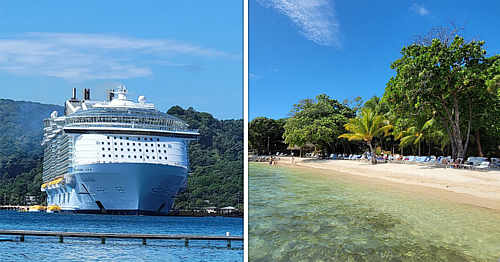 Just a quick 5 minute tender ride from where cruise ships dock in Roatan is the 11.5 acre island of Maya Key. This small island offers two gorgeous beaches, sun chairs, a pool, garden paths, and exhibit centers.
We booked our excursion to Maya Key directly through Royal Caribbean for around $70 per person. The all-inclusive excursion included drinks, food, beaches, pool access, and select activities.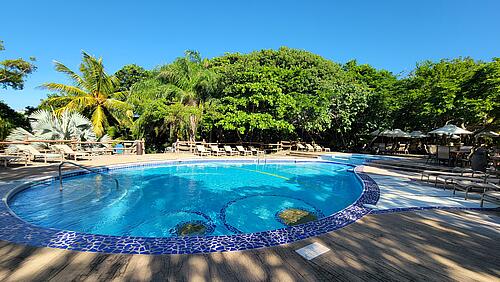 Aside from Perfect Day at CocoCay and Labadee, I had never experienced a "resort" type of shore excursion, so I wasn't sure what to expect with our day at Maya Key.
Would it be worth the money, or would it have been better just to stay on the ship where we could get those same amenities, minus the beach, without paying extra? I headed to the island to find out for myself.
First impressions of Maya Key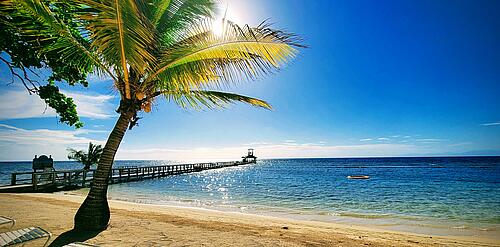 My group of three disembarked Allure of the Seas right away, and we were some of the first to the small island of Maya Key. The tender drops you off at a small dock where you are met by Cindy Carter, an expat who runs operations on the island. She gives a short introduction spiel, and then you can set off to explore!
The need for a speech may seem strange until you learn that Maya Key isn't just any day resort, but a wildlife rescue center.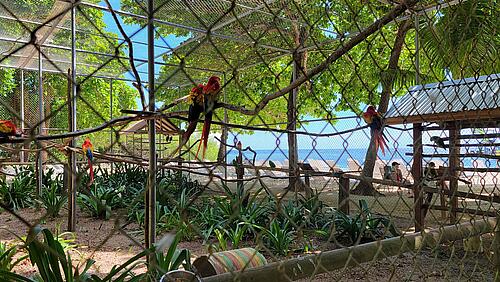 Right off the dock, you'll see a giant sea lion splashing in his pen, and you'll receive a secondary greeting from a big red macaw. Various animals can be found around the island, and you can even take a tour of the greater rescue facility.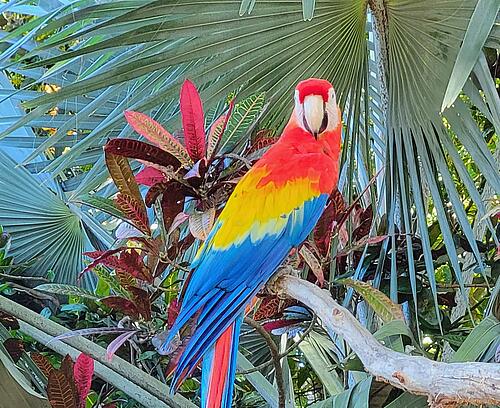 After being welcomed by Cindy and her feathered friend at the entrance, I headed straight for the beach and the clear blue waters. There are plenty of lounge chairs on the beach in both sun and shade.
They are a little packed together in the main section, but I did find some further down the beach, past the snorkeling dock, that no one was using. 
Maya Key beach experience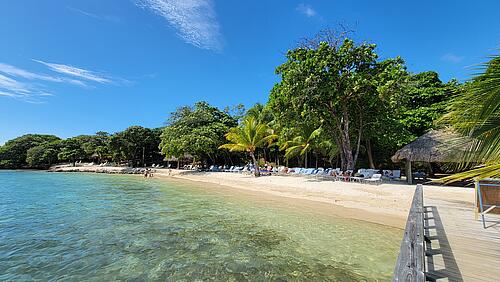 I'm not sure I've ever seen such crystal clear water. I spent most of the day wading around, watching silvery bait fish dart around the kids snorkeling.
Every so often one would pop their head up and yell, "Dad! I just saw a crab!" Apparently there was some kind of fish burrowing in the sand that they were chasing. For those scared of sea creatures, don't worry. You can legitimately see everything around you; the water is that clear!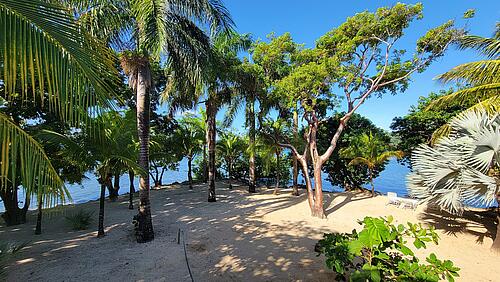 For those that do enjoy snorkeling, tours are offered on the island, but I didn't see many people doing this—I'd guess most serious snorkelers book bigger excursions.
There is also a pretty big inflatable raft park, and the family I saw on it was having a great time challenging each other to races!
Food & drinks at Maya Key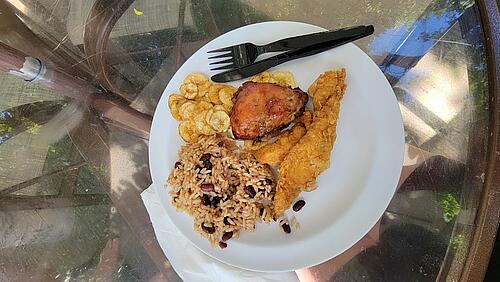 Lunch at Maya Key is included, and it's the typical island barbecue fare that you see on most excursions: jerk chicken, salad, beans, and rice. It was good, and a welcome protein break in the middle of the hot day!
There was also bar service on the beach, though I found it to be a little sparse. It was easier to run up to the bar myself.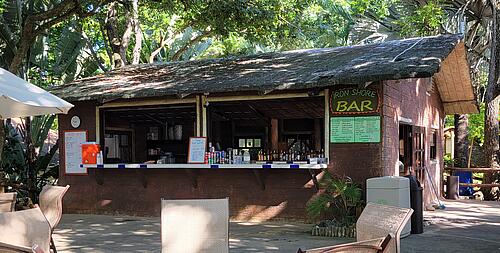 Overall thoughts
If you're looking for an easy retreat option while in Roatan, I'd book an excursion to Maya Key in a heartbeat. It's simple, beautiful, and clean. Not only that, but the resort serves a larger purpose, so animal lovers will appreciate the rescue efforts that the island organizes.