In:
Royal Caribbean's Oasis Class cruise ships are some of the most innovative and popular ships in the world, and Allure of the Seas is no exception.
Allure of the Seas is a destination within itself that offers more than enough to do, experience, and eat for guests of all ages. From adrenaline-filled activities like surfing and zip lining to enjoying world class, diverse cuisine, there's no shortage of ways to keep busy onboard.
If you're considering a cruise on Royal Caribbean's Allure of the Seas, be sure to read through this planning guide to ensure your cruise vacation is off to a great start. Let's jump in!
Allure of the Seas overview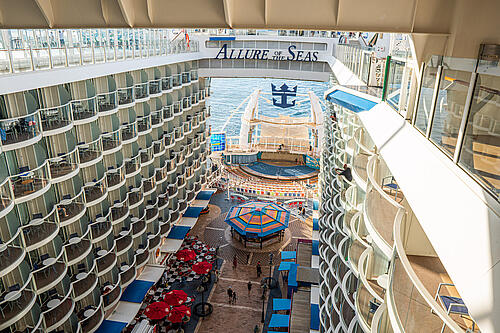 Allure of the Seas is the second ship in Royal Caribbean's Oasis Class, and her inaugural sailing was on December 1, 2010.
She is currently the fifth largest cruise ship in the world, with a length of 1,187 feet and gross tonnage of 225,282. Allure of the Seas has a capacity of 6,780 guests and 2,200 crew, bringing her total capacity to 8,930 passengers!
Allure of the Seas neighborhoods
Like all Oasis Class ships, Allure of the Seas is split into neighborhoods, each with their own activities and amenities. These neighborhoods help spread out crowds and provide unique experiences around the ship.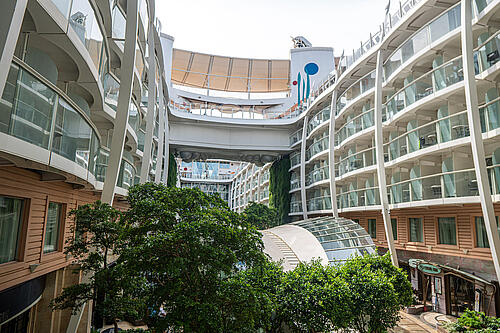 Here are the neighborhoods found on Allure of the Seas:
The Boardwalk, an outdoor neighborhood with a carousel, arcade, candy and ice cream shop, hot dogs, Johnny Rockets, and Mexican restaurant
Pool & Sports Zone, the top decks of Allure of the Seas with pools, hot tubs, and signature activities on the Sports Court
Central Park, a quieter, outdoor oasis with plants, trees, and flowers. Central Park is also home to three specialty restaurants, retail stores, and bars
The Royal Promenade, the main indoor thoroughfare on Allure of the Seas with bars, lounges, shopping, and dining venues
Entertainment Place, the hub of entertainment venues with an ice skating rink, theater, casino, comedy club, jazz club, and nightclub
Youth Zone, home to Royal Caribbean's Adventure Ocean kids programming
Vitality Spa & Fitness, a spa, salon, and fitness center
The distinct neighborhoods on Allure of the Seas mean there is something for everyone onboard, whether you're looking to relax at Central Park or get your adrenaline pumping on the Sports Court.
What makes Allure of the Seas different from other Oasis Class ships?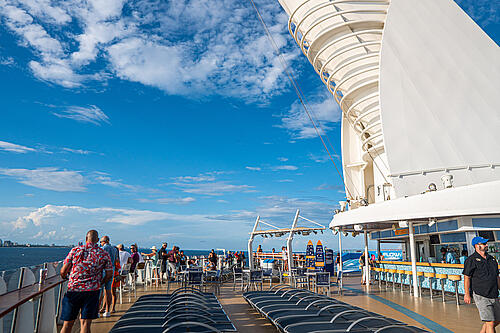 Allure of the Seas is the only "original" Oasis Class cruise ship left, meaning she has not received her amplification and therefore does not have several features and activities found on other ships in the class.
Other Oasis Class cruise ships have features like water slides, the Ultimate Abyss dry slide, Royal Caribbean's newest restaurants, and escape rooms.
While Allure of the Seas may not have these activities and amenities, she offers plenty of unique opportunities not found on other Oasis Class ships, including a Brazilian steakhouse, champagne bar, Sabor Mexican restaurant, and more.
Related: The Oasis Class features that are only left on Allure of the Seas
Allure of the Seas dining & beverage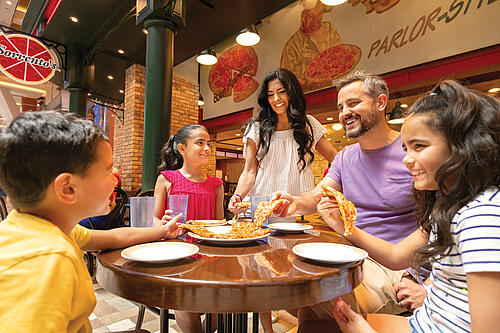 Like all Oasis Class cruise ships, there is no shortage of places to eat on Allure of the Seas. Everything from hot dogs to hibachi and tacos are available, and you're sure to find something to please everyone in your travel party.
Complimentary restaurants are available onboard, but there are also several options for specialty restaurants. Specialty restaurants come at an extra charge, but they offer cuisines and cooking styles not found elsewhere on the ship, and can offer a more upscale dining experience than the complimentary venues.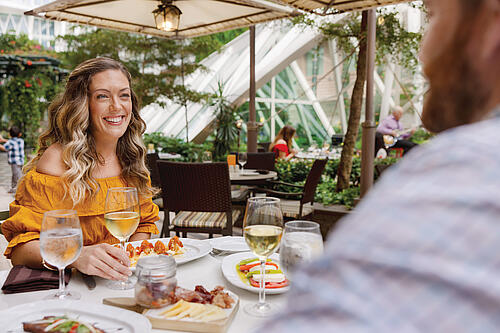 Allure of the Seas complimentary dining options:
Main Dining Room
Windjammer Cafe
Solarium Bistro
Park Cafe
Cafe Promenade
Sorrento's Pizza
Boardwalk Dog House
Wipeout Cafe
Vitality Cafe
Coastal Kitchen (suites only)
Room service (continental breakfast only)
Johnny Rockets (breakfast only)
Allure of the Seas specialty dining options:
Chops Grille
Giovanni's Table
Izumi Hibachi & SUshi
150 Central Park
Sabor
Samba Grill
Vintages Wine Bar
Cups & Scoops (cupcakes and ice cream)
Starbucks
Johnny Rockets (lunch and dinner)
Chef's Table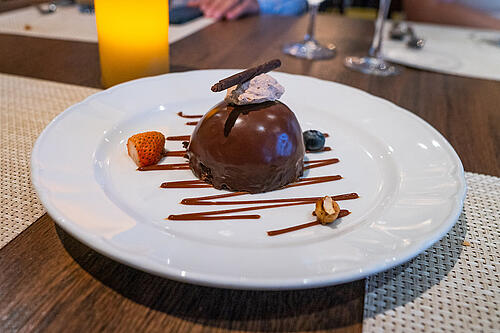 You may want to consider purchasing a dining package if you plan to eat at specialty restaurants on Allure of the Seas.
Related: How to know if you should buy a Royal Caribbean dining package
Allure of the Seas has two restaurants found on just a few Royal Caribbean cruise ships: Samba Grill and Sabor. Because these restaurants are only found on one or two other cruise ships, they can offer a unique dining experience for those who cruise frequently with Royal Caribbean.
Related: I tried Royal Caribbean's least well-known specialty restaurant: here's what I thought
Allure of the Seas Bars & Lounges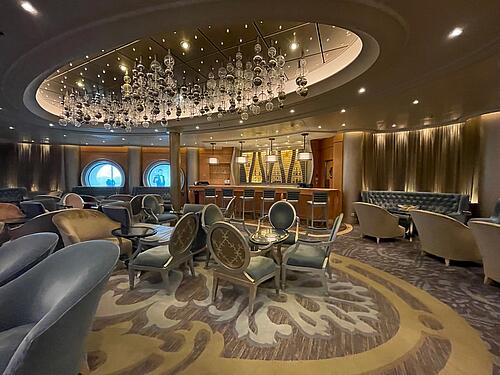 Just like dining venues, there's no shortage of places to find a refreshing drink on Allure of the Seas. Whether you're in the mood for a soda, cocktail, smoothie, or glass of wine, you'll find plenty of places to get a drink onboard.
One unique feature on Allure of the Seas is the Champagne Bar, which offers a selection of martinis. One of the most popular is the Cucumber Martini, made with cucumber, basil, Monin lemongrass syrup, Sweet and Sour, and Grey Goose vodka.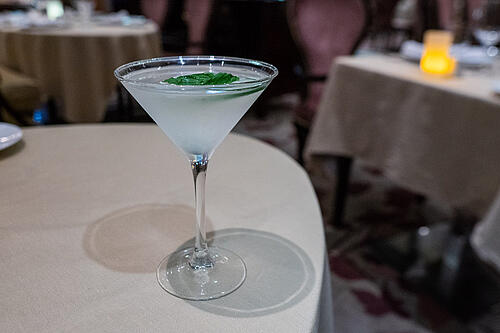 Another classic bar on Allure of the Seas and other Oasis Class ships is the Rising Tide Bar. This bar travels up and down 3 stories from the Royal Promenade to Central Park, making for a unique drinking experience.
Other bars on Allure of the Seas include:
Pool & Solarium bars
Wipeout Bar
Trellis Bar
Vintages Wine Bar
Dazzles Lounge
Schooner Bar
On Air Club
Bow & Stern English Pub
Sabor Bar
If you plan to enjoy several drinks every day of the cruise, it may be worth purchasing a beverage package. Royal Caribbean's drink packages are unlimited, so you can enjoy as many drinks as you'd like without worrying about the cost per beverage.
Related: Royal Caribbean Drink Package Info, Tips, Pros & Cons
Shows & Entertainment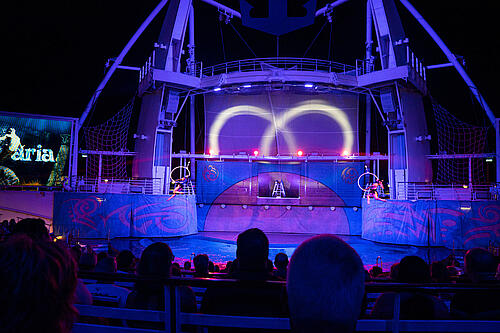 All Royal Caribbean cruise ships are known for offering top-notch, complimentary entertainment, but Oasis Class ships take entertainment to the next level. With diving performances, ice-skating, a Broadway show, and endless live music choices, there's plenty of ways to keep busy on Allure of the Seas.
In the AquaTheater guests can enjoy Oceanaria, an undersea-themed production combining aerialists, acrobats, and high divers. From acrobats standing on each other's heads to jumping off a diving platform 30 feet in the air, the show is sure to impress all guests.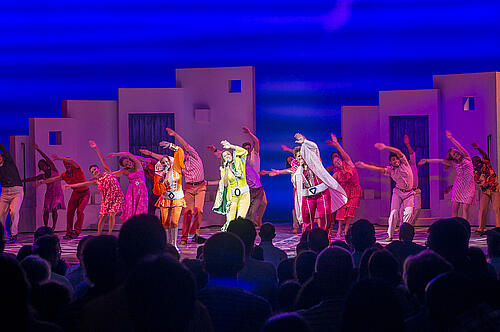 One of the best entertainment features on Allure of the Seas is the full-length Broadway musical, Mamma Mia. This 2.5 hour production is included in your cruise fare and is a highlight of the cruise for many passengers.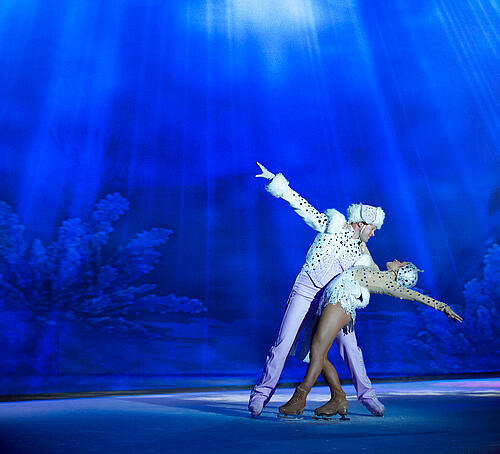 There's also Ice Games, the signature ice-skating show in Studio B, which features a talented international ice cast who spin, dance, jump, and flip on the ice. The show is inspired by Monopoly and is a "game" in which cast members roll a dice, taking them to different areas onboard Allure of the Seas.
Outside of signature production shows, you'll find live music and other events happening throughout the cruise, including:
Guitar music at the English pub
Piano music at Schooner Bar
Jazz band at Jazz of 4
Live music in Central Park
Game shows
Trivia
Karaoke
To find out more about what is happening onboard each day of the cruise, be sure to download the Royal Caribbean app and check the daily schedule. Making reservations to signature production shows is important, too, and it's recommended that you do so as soon as you get onboard on embarkation day.
Related: 30 Do's and Don'ts for the first day of your cruise
Pool deck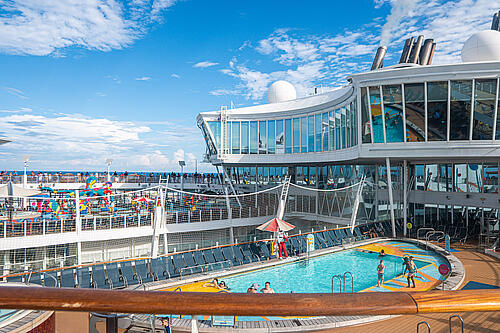 With a capacity of nearly 7,000 guests, it's important to have plenty of pool space on Allure of the Seas, and you'll find several areas to keep cool on warm Caribbean days.
The pool deck on Allure of the Seas has three main pools, one pool area for kids, and several jacuzzis.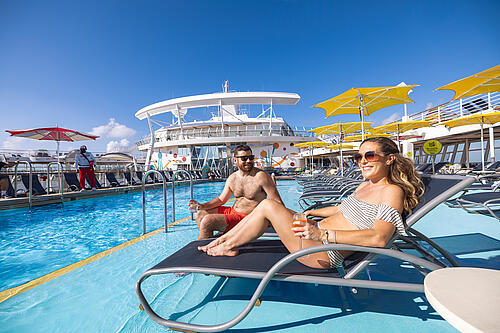 Parents with young children will enjoy the H20 Zone, a splash park featuring water geysers, a small whirlpool, and hot tubs.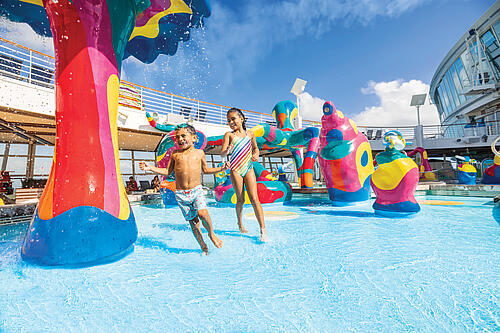 The main pool areas are open every day of the cruise, although they may occasionally be used for activities like the belly flop competition, pool volleyball, fitness classes, swimming laps, etc.
Related: Everything you wanted to know about Royal Caribbean's pools
Also on the pool deck are four bars, a suites-only sun deck, and an area for live bands to play reggae, rock, and contemporary hits throughout the day.
Solarium
In addition to the main pool deck is an adults-only Solarium for guests aged 16 and above. Inside the Solarium is one pool and four hot tubs, two of which cantilever over the side of Allure of the Seas. Padded lounge chairs and other comfortable seating are also available.
Related: Everything about Royal Caribbean's Solarium
The Solarium is also home to the Solarium Bistro, a complimentary dining venue open for breakfast and lunch, and Samba Grill Brazilian steakhouse in the evenings.
Signature activities on Allure of the Seas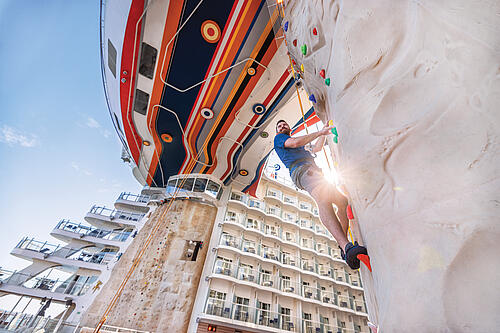 Oasis Class ships offer fun for all ages, and there are a variety of signature activities included in your cruise fare, including:
The FlowRider, a surfing simulator for boogie boarding and standup surfing
The zip line, soaring guests over the ship's Boardwalk neighborhood
Allure Dunes mini golf
Sports Court for activities like soccer, basketball, pickleball, etc.
Ping pong tables
Ice skating in Studio B
Carousel
There are also two arcades located on Allure of the Seas, but these come at an extra cost.
In addition, you'll find a variety of activities throughout the day such as scavenger hunts, pool games, Boardwalk carnival, Royal Promenade parades, and more.
Adventure Ocean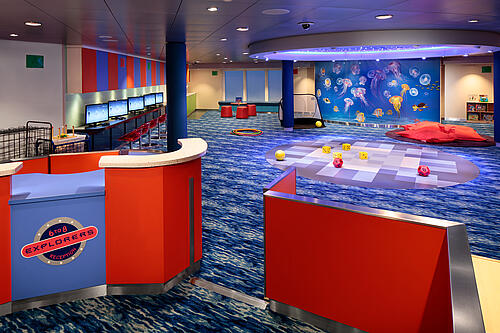 Allure of the Seas offers Adventure Ocean programming for kids aged 6 months to 17 years. Kids are split into the following age groups:
Royal Babies & Tots (6-36 months)
Aquanauts (3-5)
Explorers (6-8)
Voyagers (9-11)
Teen club (12-17)
Adventure Ocean programming is complimentary with the exception of Royal Babies & Tots, which has an hourly fee, and childcare after 10 PM.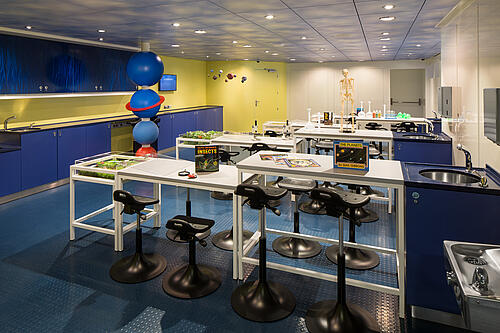 Each age group has their own room for activities, and there is also an Imagination Studio for arts and crafts and a science lab for educational experiments. In addition, child-friendly movies are shown throughout the cruise at the Adventure Ocean Theater.
Teens have access to their own private lounge, The Living Room, and the Fuel Teen nightclub. There is also a private outdoor deck space for teenagers to enjoy.
Allure of the Seas staterooms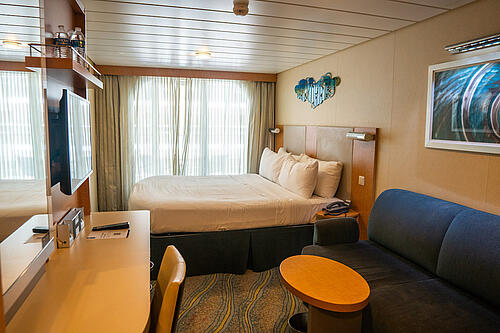 Allure of the Seas offers both traditional cruise ship cabins and a few alternatives only available on Oasis Class cruise ships. Each category offers a different layout, size, and experience, and there's a stateroom to fit any budget.
Before picking a stateroom category for your cruise on Allure of the Seas, it's important to consider your budget, what you're looking for in a cruise experience, and which cabin will fit your family best.
Take a look at a few of our tips & tricks on picking the best stateroom for your cruise: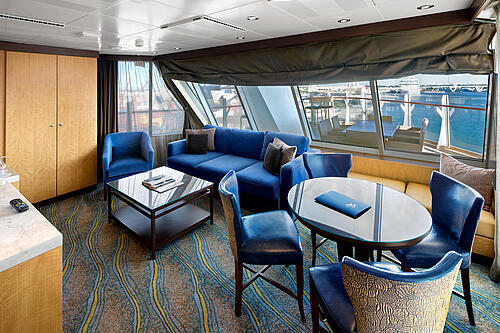 On Allure of the Seas you'll find interior staterooms, oceanview rooms, balcony cabins, and suites.
Interior cabins are the most budget-friendly option, meaning you can save money on the cruise fare and put it toward excursions, drink packages, dining packages, spa treatments, and other pre-cruise add-ons.
Related: I tried the best inside cruise ship cabin hacks to see how well they worked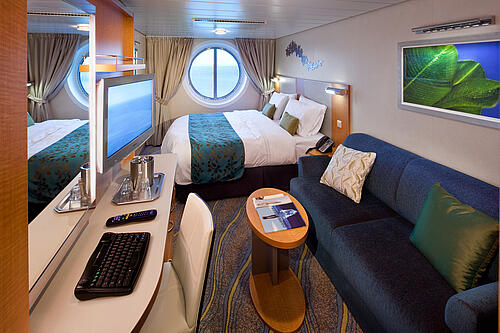 Oceanview cabins have a porthole looking out toward the ocean, and they can be another budget-friendly option while having the benefit of a window view.
Balcony cabins are the most common choice for cruisers, and Allure of the Seas has three types of balcony cabins:
Ocean View Balcony cabins
Central Park Balcony cabins
Boardwalk Balcony cabins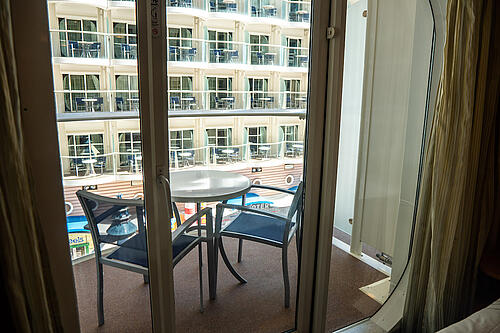 Central Park and Boardwalk Balcony cabins are unique to Oasis Class cruise ships. Unlike an ocean view balcony, they don't offer a full ocean view, but they look out into their respective neighborhoods.
Central Park balconies allow guests to enjoy the peaceful atmosphere of the ship's park and listen to live music in the evenings. Boardwalk balconies, on the other hand, offer a more lively atmosphere and come with a partial ocean view.
Related: Are Boardwalk balcony cabins too loud?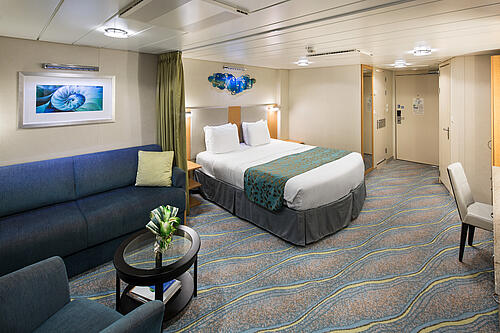 A variety of suites are also available on Allure of the Seas, from a basic Junior Suite to lavish AquaTheater and Loft Suites.
Allure of the Seas offers the Royal Suite Class, an upgraded suite experience featuring a suites-only restaurant, Coastal Kitchen, suite sun deck with daybeds, suite lounge, and access to a Royal Genie (in select cabins).
Related: Royal Caribbean suites guide & review
Allure of the Seas itineraries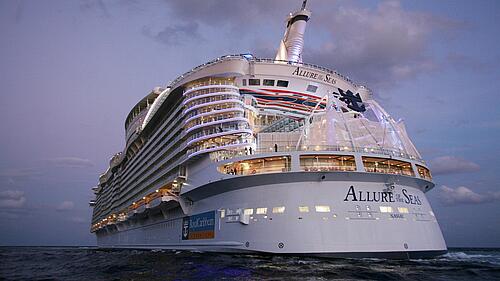 Allure of the Seas sails from Galveston, Texas from November 2022 to October 2023. While in Texas, she will offer primarily 7-night Western Caribbean cruises visiting Roatan, Costa Maya, and Cozumel.
Starting October 2023, Allure of the Seas will move to Fort Lauderdale to offer 3 and 4-night cruises to Nassau and Perfect Day at CocoCay.
Oasis Class cruise ships rarely sail itineraries shorter than 6 or 7 nights, so having regularly scheduled short cruises on Allure of the Seas makes for an excellent getaway on one of Royal Caribbean's most impressive cruise ships.
Considering a cruise on Allure of the Seas? Check out more of our advice for planning the best cruise vacation: