In:
One of the biggest complaints about Royal Caribbean's Boardwalk balcony cabins is that they are too loud, but is it true?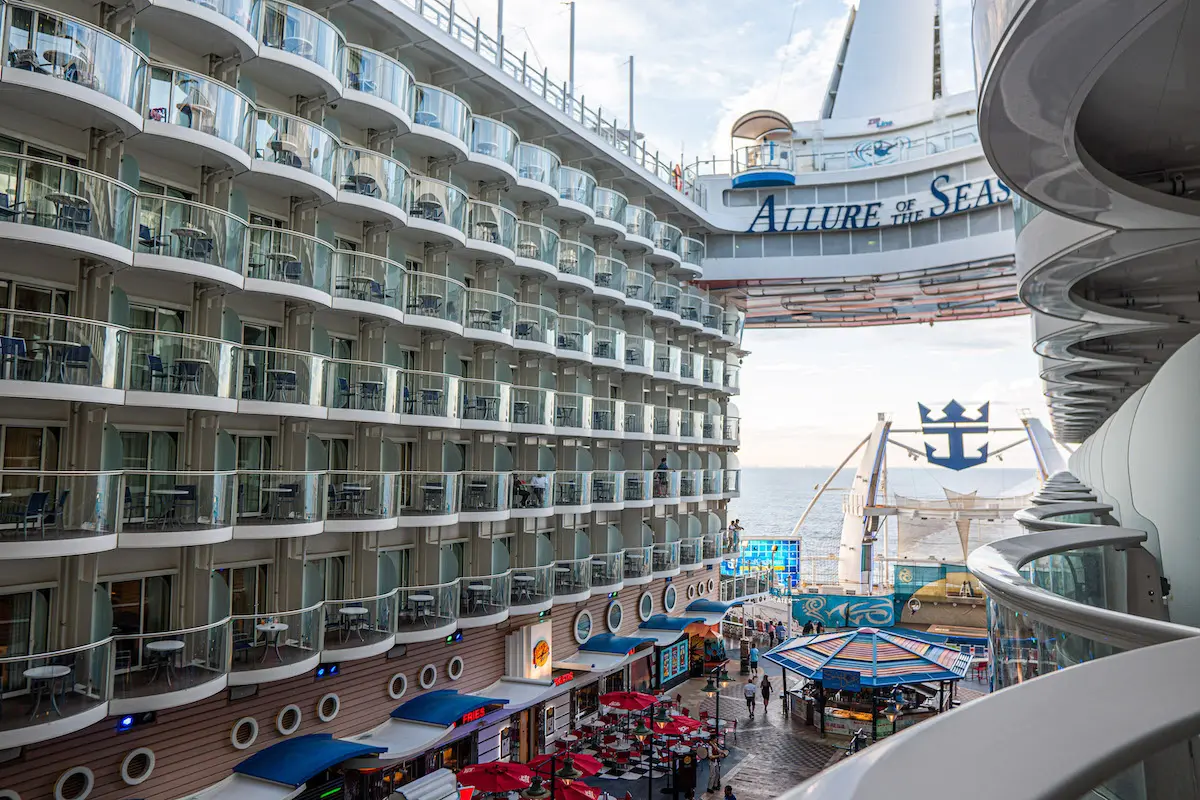 I'm currently onboard Royal Caribbean's Allure of the Seas, and I'm staying in a Boardwalk balcony cabin for the week to see if these unique cabins are worth it—or if it's better to book a different type of cabin.
When I booked this cruise, I was surprised to see a Guarantee Balcony room offered for a lower price than an interior cabin. Booking the cheapest cabin is always a priority, and although I wasn't able to select the exact cabin location, it was too good a deal to pass up.
Related: Should I book a guarantee stateroom on a cruise?
I've called my cozy Boardwalk Balcony cabin home for the past 48 hours, so it's time to answer... are Boardwalk balcony cabins too loud for a relaxing cruise vacation?
What is a Boardwalk Balcony?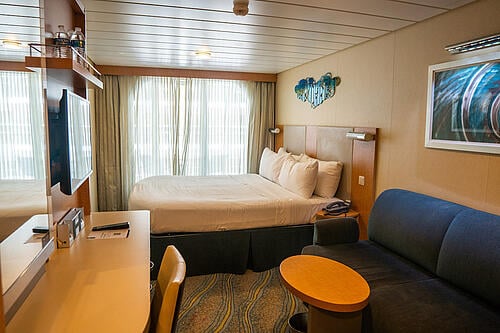 Royal Caribbean's Oasis Class cruise ships are unique in that they have a split design with open-air space in the middle of the ship. Two distinct neighborhoods are found in the open-air areas of the ship: Central Park and the Boardwalk.
Related: Guide to balcony staterooms on Royal Caribbean
Located in these neighborhoods are restaurants, retail, entertainment, and attractions, but they're also home to six decks of balcony cabins on each side of the ship.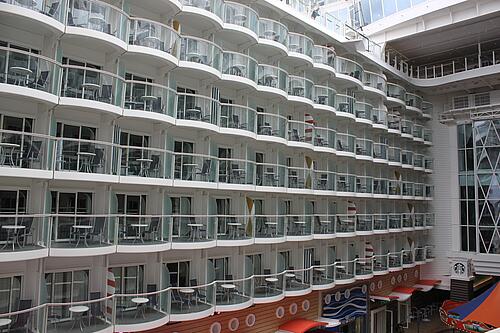 Unlike traditional ocean view balconies, neighborhood cabins look out toward their respective neighborhoods. In my case, my cabin has a view of the colorful, carnival-themed Boardwalk with a limited ocean view to the right.
I was assigned to a cabin on deck 9 directly over the Boardwalk's carousel. The cabin is spacious, well-kept, and a wonderful place to call home for the week, but the question remains…
Are Boardwalk Balcony cabins too loud?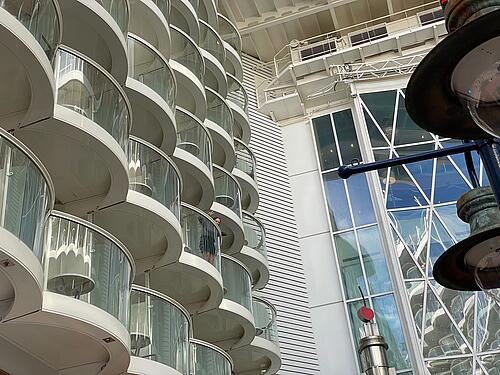 Many of the noisiest areas on Allure of the Seas are located either above, below, or adjacent to my cabin.
Above is the Sports Deck, which hosts sports tournaments throughout the day, and the ship's zip line, which flies a new passenger over the Boardwalk neighborhood every few minutes.
Below you'll find the hustle and bustle of the Boardwalk. Thousands of passengers pass through the neighborhood on any given day, whether they're riding the carousel, grabbing an ice cream cone, stopping by the arcade, or dining at one of three restaurants found in the neighborhood.
Related: All about Oasis Class ships
To the right of my balcony is the AquaTheater entertainment venue, which has several showtimes throughout the cruise and countless activities held there throughout the day.
There's a lot going on on the Boardwalk, but how much can be heard from my room?
Zip lines, sports court, and carousel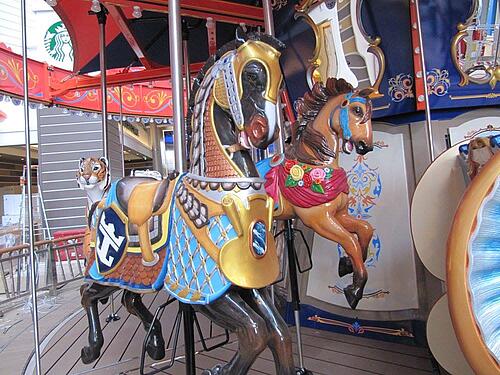 The first noise I noticed while taking a rest in my Boardwalk balcony cabin was a carnival-themed song playing at the carousel. If I had to pick the "worst" part of staying in a Boardwalk balcony, this would definitely be it.
The carousel is available to ride for a few hours each day of the cruise, and in the spirit of creating that nostalgic feeling the Boardwalk neighborhood is so famous for, carnival-themed music plays over and over whenever the carousel is open. A bell also rings every time the carousel is about to start, which happens every few minutes.
Listening to the same childlike music and the bell over and over throughout the day got annoying pretty quickly. I'd advise selecting a Boardwalk balcony further away from the carousel as you should hear less noise from the ride throughout the day.
The saving grace is that the carousel doesn't open until 10AM, meaning you can enjoy peace and quiet on your balcony in the mornings!
Outside of the carousel, I heard noise from a sports competition taking place on the Sports Deck, although these only happen one or two times a day so it wasn't bothersome.
I thought the zip line would be more annoying considering it flies right over the Boardwalk balcony cabins, but it was much quieter than I thought.
AquaTheater shows and activities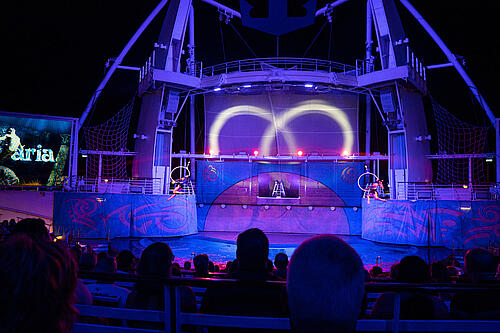 Perhaps the loudest noise from my cabin comes from the AquaTheater. Performances are not quiet, with cheers of the crowd, high-energy music, and announcements blaring noise I could hear not only from my balcony, but from the inside of my cabin as well.
Luckily, performances are only offered a few nights during the cruise and only from around 8 to 11 each night, so the noise wasn't anything too terrible. I was out of my cabin during most showtimes anyway.
While noise from the AquaTheater shows may seem like a drawback, I find this to be one of the biggest benefits of staying in a Boardwalk balcony. While I chose to see one show in the AquaTheater itself, I could also watch other showtimes directly from the comfort of my balcony.
Some Boardwalk balcony rooms are located almost directly above the AquaTheater, meaning you'll have a private viewing location for the show comparable to what you'll see from one of the more expensive AquaTheater suites.
Activities like the World's Sexiest Man Competition and the Top Tier Event were held at the AquaTheater during the day, and just like the AquaTheater shows, I could hear everything from both my balcony (loud and clear) and inside the cabin (muffled).
Should you book a Boardwalk balcony room?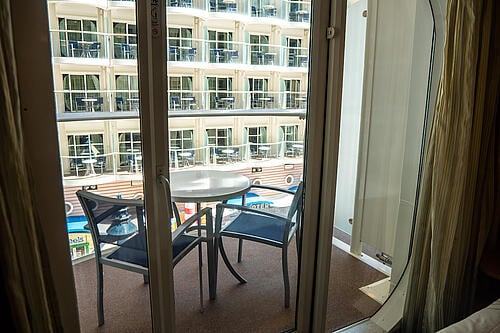 If you're looking for privacy, peace, and quiet, a Boardwalk balcony room is probably not the best cabin for you. These rooms bring excellent people watching opportunities and a vibrant atmosphere, but they are hardly as relaxing as an ocean view balcony.
Ocean view balconies are more expensive for a reason—they offer an expansive ocean view, privacy, and little outside noise. If you don't mind paying a bit more for an ocean view balcony, I'd say it's certainly worth the upgrade.
If an ocean view balcony cabin is out of your budget, though, and you're choosing between an interior, ocean view (porthole), or Boardwalk balcony, definitely book the Boardwalk cabin.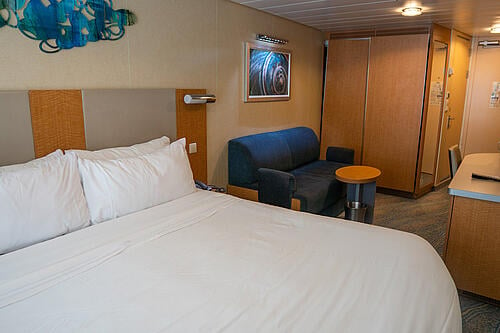 Even if the room is noisy, you can't beat the extra space a balcony provides and being able to see the sun from your room. Plus, while the ocean view is limited from a Boardwalk balcony cabin, it is way better than having no ocean view at all!
Personally, despite this being the noisiest cabin I've had so far, I would most definitely book a Boardwalk balcony room again, especially if it was offered at a lower price than an interior room.
Do you need help choosing a cruise ship cabin? Check out our best tips & tricks: