In:
If you're a frequent cruiser with Royal Caribbean, you're likely familiar with the cruise line's most popular specialty restaurants like Chops Grille, Izumi Sushi, and Jamie's Italian, but did you know that Royal Caribbean also offers a Brazilian Steakhouse onboard its ships?
Samba Grill is the name of Royal Caribbean's traditional Brazilian Steakhouse, and it's found on only two ships in the fleet: Allure of the Seas and Radiance of the Seas.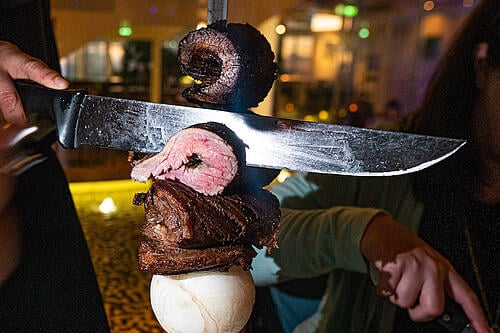 As someone who writes about Royal Caribbean cruises every day, I've always been curious about Samba Grill. Why is it only offered on two ships? Why does no one ever mention the restaurant when talking about specialty dining? Is it unpopular because the food is disappointing?
Curiosity finally got the best of me, and because I'm onboard Allure of the Seas this week, I booked a dinner reservation at Samba Grill to experience this specialty dining venue for myself.
After all, with endless meats, cheese bread, and empanadas… What is there not to love?!
Samba Grill overview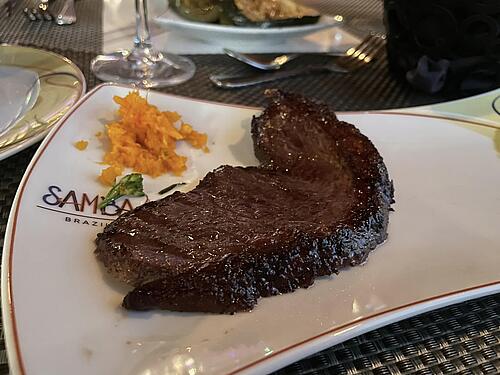 Dining at Samba Grill combines both a sit-down and buffet experience, with a traditional Brazilian rodizio serving endless selections of freshly-carved meats combined with a buffet for lighter fare like salads and cheeses.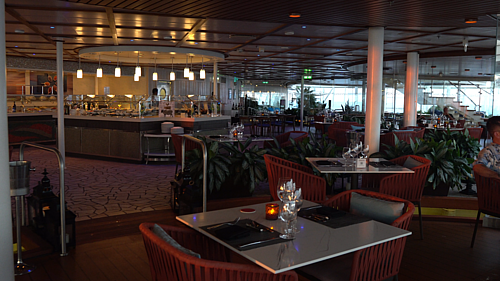 Samba Grill is located in the Solarium Bistro on Allure of the Seas, which transforms from a casual breakfast and lunch spot to an upscale eatery in the evenings.
The lights were dimmed, tables were set, and Brazilian flag decor was placed in the restaurant. The ambiance felt quite upscale and it did not feel like we were in an indoor pool area whatsoever.
Samba Grill is only open for dinner and costs around $41.99 per guest, but the restaurant is also available to book with a specialty dining package.
Related: How to know if you should buy a Royal Caribbean dining package
Appetizers and salads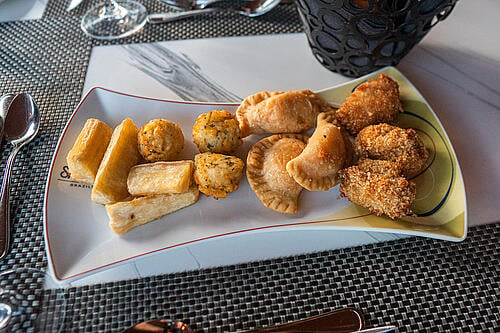 At the beginning of the meal, I was impressed when our waiter brought a selection of small bites, both savory and sweet, to our table. They were all vegetarian and Brazilian-inspired, and there were four to choose from:
Fried, breaded bananas (my personal favorite)
Mini empanadas filled with cheese and sundried tomatoes
Corn fritter balls
Yuca fries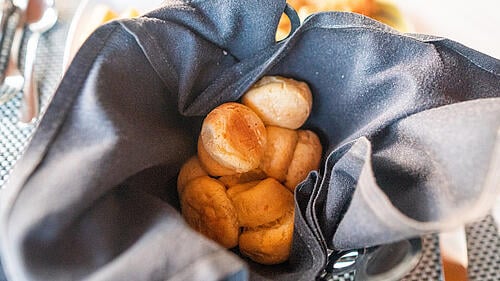 Next came my personal favorite: a bowl of pão de queijo, more commonly known as Brazilian cheese bread. These small bites of chewy, savory, cheesy bread are addicting and extremely satisfying. I may have lost count of how many of these I ate, but I had no regrets!
The buffet section included salads, cheeses, cold-cuts, and breads. Some options were standard salads whereas others were more traditionally Brazilian.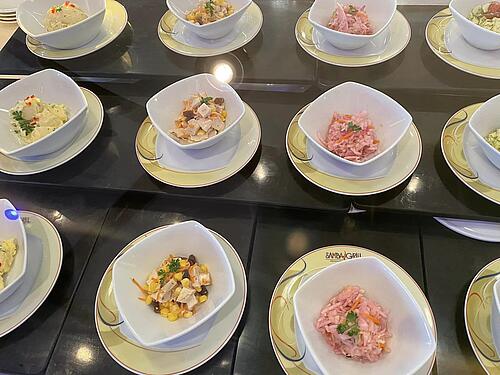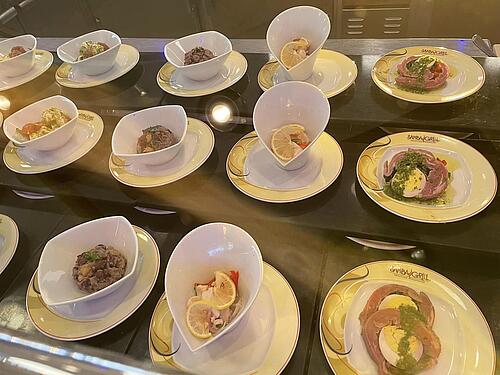 The pickled vegetable salad and pesto, mozzarella, and tomato salad were my favorites, and having access to a salad bar during an otherwise heavy meal was well-appreciated.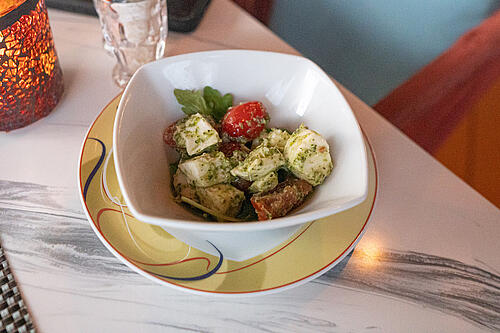 The endless meat experience
Samba Grill offers nine different types of meats and you can taste as many as you'd like:
Picanha: signature cut of beef, the prime cut of top sirloin
Fraldinha: tender and juicy cut from the bottom sirloin
Frango: chicken breast wrapped in bacon
Beef tenderloin: most tender cut of beef, slowly roasted
Cordeiro: succulent grilled lamb chops
Costela: juicy beef ribs
Alcatra: top sirloin
Lombo: parmesan cheese and herb-crusted pork loin
Linguica: Brazilian-style cured pork sausage
Each table at Samba Grill is given its own color-coded card, which is green on one side and red on the other.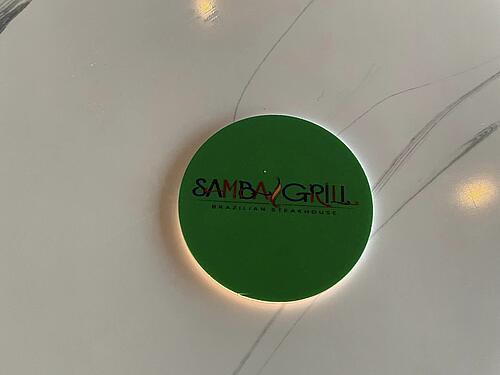 If the green side of the card is facing up, the waiter will bring a new cut of meat to your table. Waiters carve the meat right in front of you, and you use a personal set of tongs to put the meat on your plate.
They will keep bringing new meats to your table every few minutes until you flip the card to red, signifying you need a break or are done eating.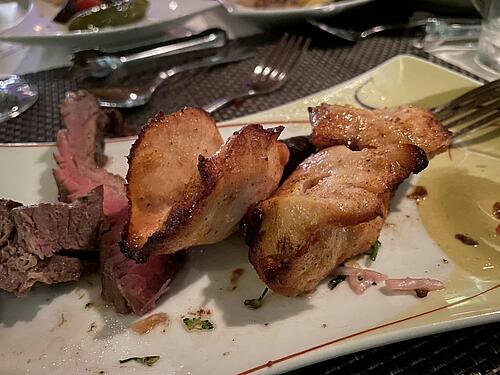 Matt Hochberg from Royal Caribbean Blog mentioned that "The chicken is excellent. It's legit." and that "It's hard to go wrong with filet". Matt's wife Marissa mentioned she wished the portions were smaller, and they both agreed that the bottom sirloin was a little too tough.
Our table tried around 5 cuts of meat in total, with the frango, beef tenderloin, and lamb the clear favorites.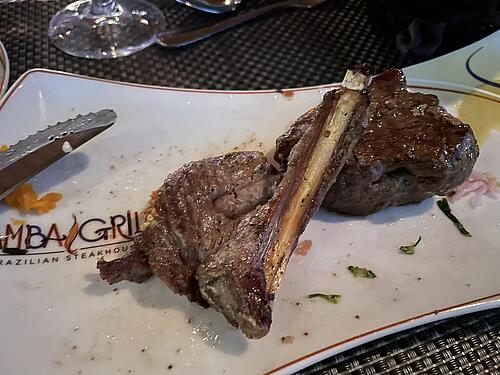 We also received two plates of accompaniments, which included roasted vegetables, mashed sweet potatoes, and broccolini. These were better than expected (especially the roasted vegetables) and paired perfectly with the rest of the meal.
Dessert and beverages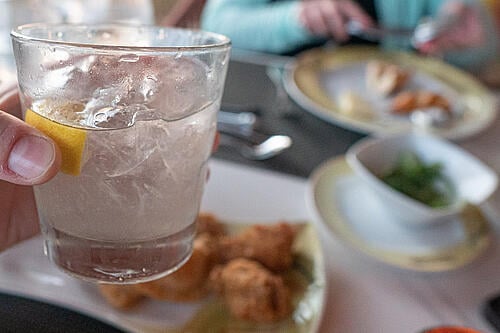 Unlike many other specialty restaurants, there didn't appear to be a cocktail menu exclusive to Samba Grill. I ordered a caipirinha, Brazil's signature cocktail. While the drink I received didn't look exactly like a traditional caipirinha, it tasted excellent and was neither too bitter nor too sweet.
Dessert was served buffet style and there were three options: chocolate mousse cake, passion-fruit mousse, and flan.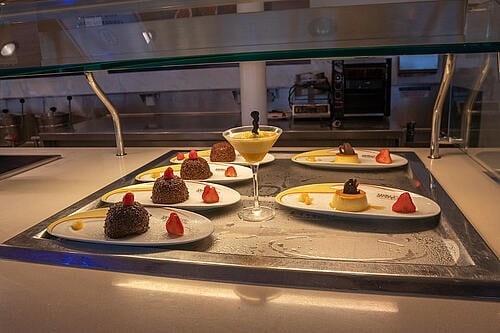 I tasted both the chocolate and passion fruit desserts, and while I have a sweet tooth, I wasn't blown away by either dessert. Mousse-based desserts aren't my favorite, and while they were certainly tasty, I don't think I would seek them out again.
Dessert is almost definitely an afterthought at Samba Grill, though, as most guests are likely much too full from meat to even consider eating dessert!
A vegetarian at a steakhouse? You won't go hungry.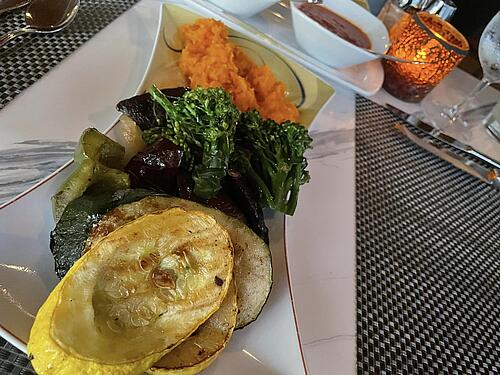 I am a pescatarian and I initially expected to leave Samba Grill a bit hungry. After all, I was going to an endless meat buffet that didn't appear to have any vegetarian or fish options on the menu.
To my surprise, however, I left Samba Grill completely stuffed!
There were more than enough options for vegetarians, from the small, warm appetizers like mini empanadas, yuca fries, and pão de queijo to the salad bar and accompaniments like roasted vegetables and sweet potatoes.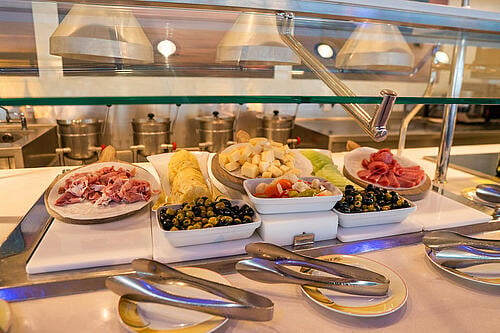 In fact, I initially asked the waiter if they had a vegetarian main course option available and he mentioned they could bring me a special, separate meal from the Main Dining Room. By the time they brought me a risotto dish later on in the meal, I actually felt quite bad because I was no longer very hungry!
So while you can order a special meal at Samba Grill if you don't eat meat, I would save yourself the trouble and just fill up on the included appetizers, side dishes, salads, and desserts.
Note: There is no clear "main dish" option for vegetarians at Samba Grill. Crew members on Radiance of the Seas mentioned they often provide vegetarians with a dish from Izumi whereas I was given a dish from the Main Dining Room on Allure of the Seas.
Final thoughts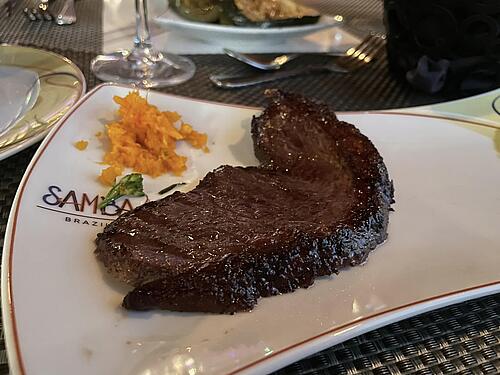 Dining at Samba Grill was more enjoyable than I expected. I liked the combination of a sit-down and buffet restaurant, and the menu was unique compared to other specialty restaurants onboard, offering a cuisine not as commonly found on cruise ships.
Matt from Royal Caribbean Blog mentioned how the good thing about Samba Grill is that you're able to taste smaller portions of select meats instead of one huge cut of meat. You can have a variety of tastes and textures without overdoing it.
Our whole table agreed that Samba Grill offers a crowd-pleasing menu. There's not much you can't find, even if you're dining with picky eaters. Cheese-filled empanadas, pão de queijo, chicken breast, and chocolate mousse cake are sure to satisfy less adventurous eaters.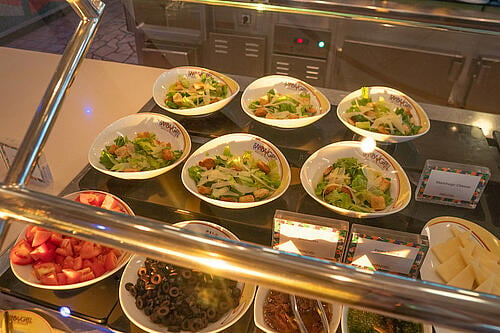 While I wouldn't place Samba Grill at the top of my list of favorite specialty restaurants, and if I were only purchasing one or two specialty restaurants I would probably opt to dine at Izumi Hibachi or 150 Central Park, I wouldn't hesitate to make a reservation during the cruise if I had a dining package.
If I had to make one complaint, it would be that there were a few classic Brazilian items lacking that you would otherwise find at a traditional churrascaria.
In Brazil it's common to serve arroz e feijão (rice and beans) in the buffet options at a churrascaria, and eating meat with a side of farofa (a toasted flour side dish) would add both flavor and authenticity to the meal.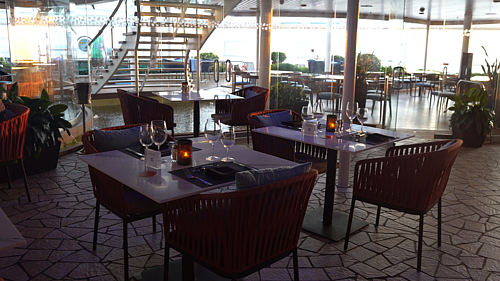 However, these are just two small details and they did not make a difference with the meal in the long run. I felt that Samba Grill had a nice balance of combining traditional Brazilian cuisine with standard American tastes.
For those who cruise frequently, dining at Samba Grill can make for a unique dining experience not found elsewhere in the fleet. Whether you're a meat-lover or just looking for something different and adventurous, you'll find it at Samba Grill.
Other specialty restaurant reviews: