In:
Perhaps no Royal Caribbean specialty restaurant has spread as quickly and has been as well received as Izumi.
Izumi has become a favorite go-to restaurant for me on my Royal Caribbean cruises, and on Allure of the Seas, I had the chance to dine there on three separate occasions.
Izumi offers guests high quality sushi at a reasonable price and has been well received by guests and crew members alike.  
It is well worth a visit for lunch, dinner or just a quick bite to eat and is conveniently located on deck 4, near the main dining room.
Let's take a look.
Atmosphere
Guests who have sailed on Allure of the Seas in years past may remember Izumi being located high up on deck 16, overlooking the pools.  
In a somewhat recent ship refurbishment, Royal Caribbean moved Izumi down to deck 4 to give it much more room and a better location.
The restaurant is located near the Grande dining room, near the stairs on the port side of the ship.
Walking into Izumi, you will be greeted in a room filled with dark reds, browns and blacks.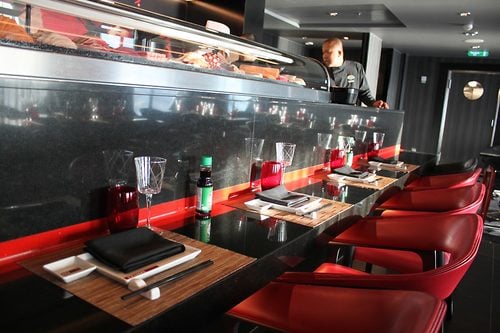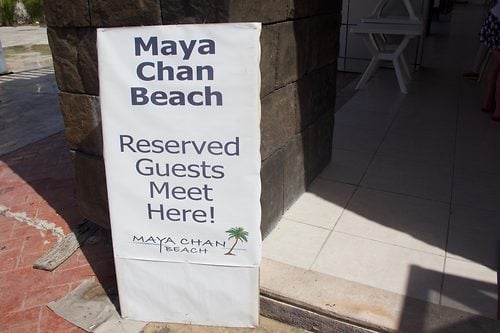 The restaurant is divided into two sections: one dining area for those eating sushi and other Japanese cuisine, and another section for the hibachi.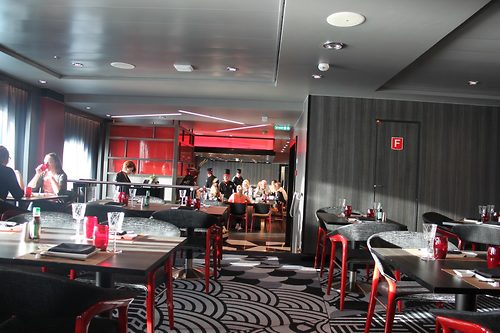 This review will focus on the sushi side, but it is worth noting the restaurant offers both experiences.
Once inside Izumi, you quickly get that feeling of being in a Japanese restaurant.
The seating area is comprised of one large room, with optional seating at the sushi bar.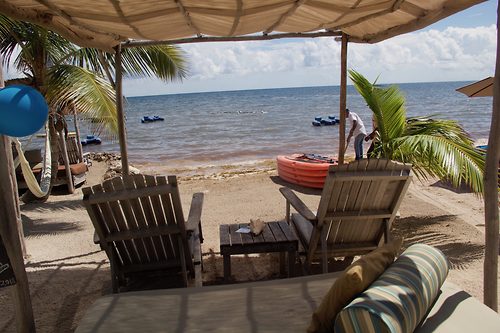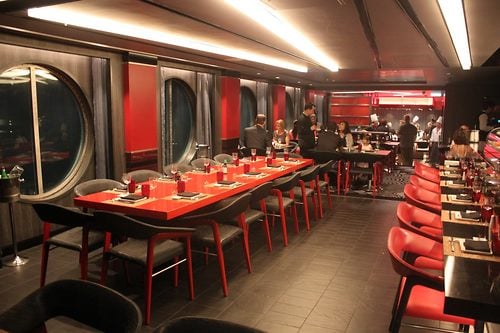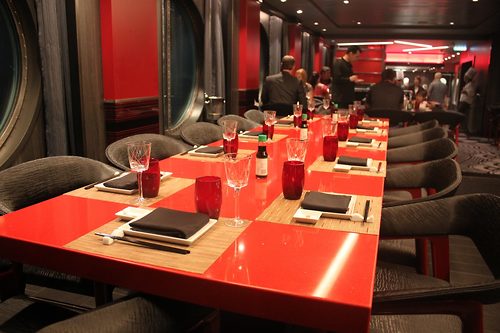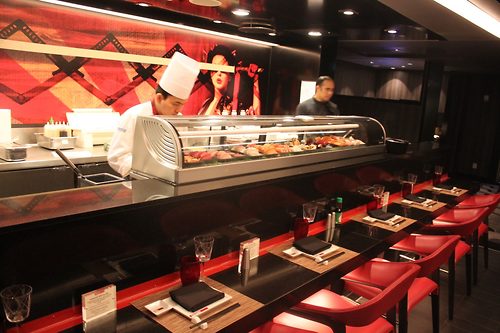 During the day, there are large windows offering a view to the ocean.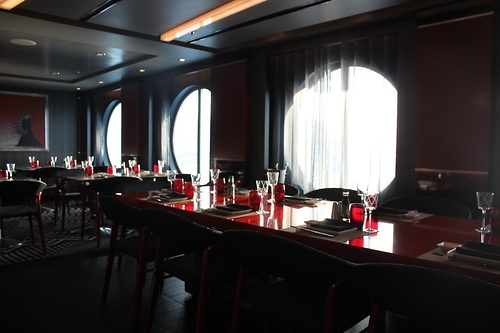 Izumi is a colorful restaurant that has its own unique look that is not found elsewhere on Allure of the Seas.  Izumi strikes me as somewhere that certainly evokes a Japanese motif and sets the right tone for the upcoming meal.
Eats
On Allure of the Seas, we dined at Izumi three times during our cruise, both for lunch and dinner.  
Izumi's menu offers a lot of variety and it is not just sushi, although sushi is a big part of it.
Guests can choose from salads, noodle soups, carpaccio and appetizers.  Of course, there is quite a lot of sushi to choose from as well.
Unlike Izumi on other Royal Caribbean ships, Izumi on Allure of the Seas does not feature ishiyake (hot rocks), presumably because of the hibachi option.
There is no cover charge to dine at Izumi, guests are seated at their table and will pay a la carte pricing for all items on the menu.
All guests receive a complimentary bowl of edamame soy beans, sprinkled with salt. It is a delicious appetizer and I highly recommend trying them.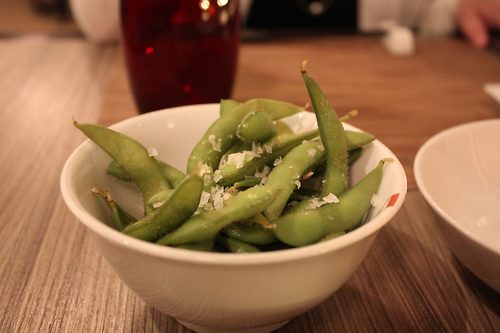 Our group opted for a combination of sushi and non-sushi choices.  Our group ranged from die-hard sushi fans to those who preferred cooked food.
Starting things off was the pork gyoza dumpling that is served with gyoza sauce.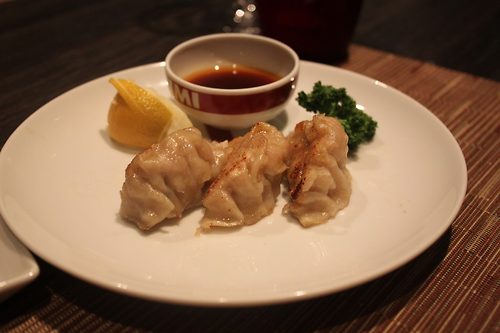 The dumplings were quite tasty and cooked just right (not too hard, not too soft).
To me, no sushi meal is complete without a bowl of miso soup.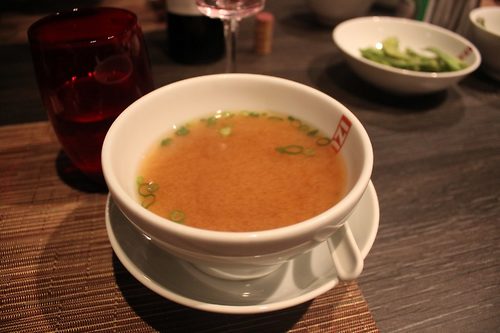 The Windjammer offers most mornings a make-your-own miso soup option and suffice to say, the Izumi miso soup was significantly superior.  
One of our friends was vegetarian and ordered the shrimp and vegetable tempura appetizer.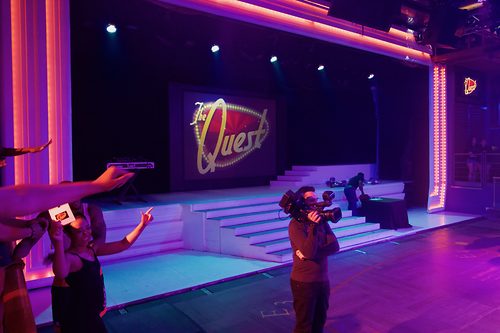 My grandfather used to say that it is difficult for any food that is fried to taste bad, and certainly tempura vegetables follow that rule as well.  Eating your vegetables was never so tasty!
My wife ordered the nabeyaki udon soup, which is a collection of shrimp and assorted Asian vegetables cooked in dashi stock with udon noodles.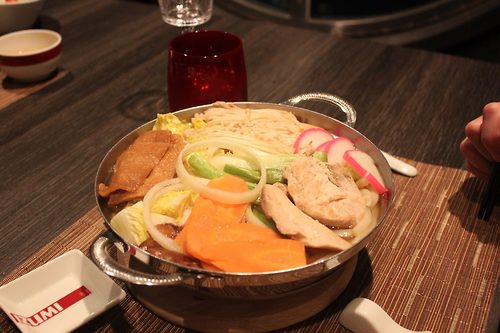 Of course, the focus of our meal was the sushi.
Izumi's sushi ranges in choice from basic nigiri/sashimi rolls, to signature rolls and even a few of the chef's signature rolls.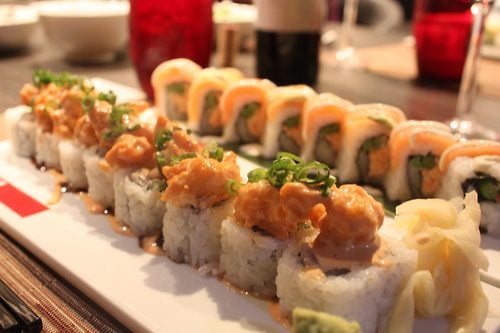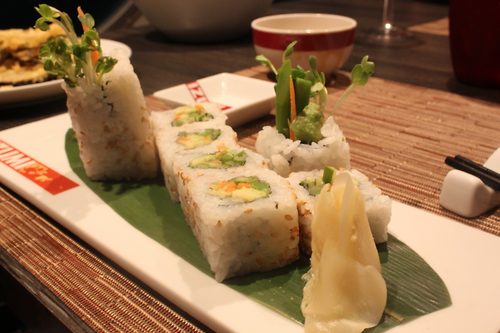 Izumi also features sushi combination dishes, that offer a tremendous value for the price.
My favorite go-to combination dish at Izumi is the DX Sushi Combo.  Not only is it a great assortment of rolls, but you cannot beat the price.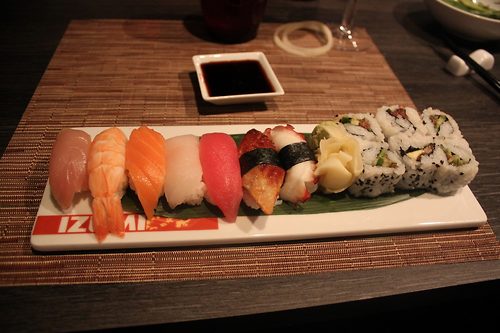 The sushi was well-prepared and offered some really great tastes.  What I like about Izumi is that the sushi here is more than just regular sushi that you can find anywhere.  Rather, Izumi offers high quality sushi choices that combine different ingredients to give a really interesting and unique taste.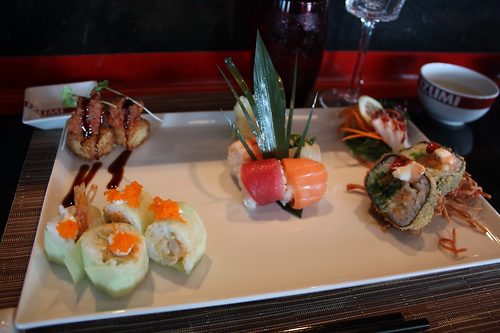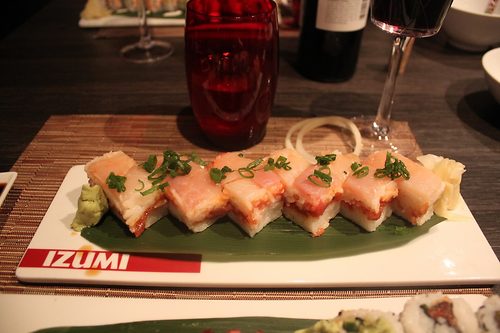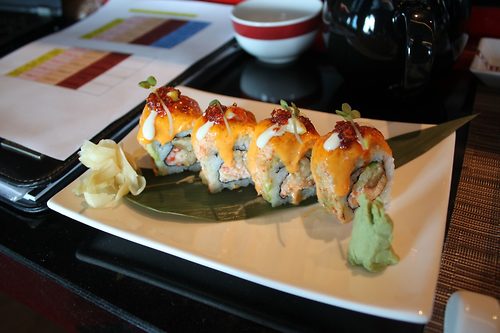 In addition, the amount of sushi offered in any of the rolls we ordered was quite high.  There is no skimping on quality or quantity when dining at Izumi.
There is also something to be said about presentation, and the sushi chefs at Izumi do a fantastic job at making their food as pretty to look at as it is to eat.
Overall
There is one good way to determine if an ethnic restaurant has good food, and that is if you spot a lot of guests dining there that are originally from that part of the world, where the food is from.  On Royal Caribbean cruise ships, the best way to tell if a specialty restaurant is good is by how many crew members you spot eating there.
Consistently, I have seen many crew members dining in Izumi or stopping by for take out and that is a microcosm of an example that shows how good Izumi really is.
When you consider how quickly Izumi has spread across Royal Caribbean's fleet since the first one debuted on Oasis of the Seas just six years ago, it is quite impressive.
Izumi on Allure of the Seas did not disappoint and continued in the tradition of offering high quality Japanese cuisine that tastes really good.
The staff at Izumi is quite attentive and willing to work with any special requests you may have in order to ensure you have a great time.
In the grand scheme of Royal Caribbean specialty restaurants, Izumi stands out as a fabulous option for a night out or just an afternoon bite to eat.  The prices are quite fair (especially compared to land based sushi restaurants) and the fact it is on a cruise ship does not provide an excuse to compromise on the experience.
If you want great Japanese cuisine (especially sushi), be sure to make a reservation (or three) at Izumi.
What do you think of Izumi? Please let us know with a comment!