In:
My favorite specialty restaurant on any Royal Caribbean ship is Izumi, and you really do not have to twist my arm to convince to dine there.
From their incredible rolls, to the famous hibachi experience, to the hot rocks, there is lots to love about the Izumi menu.
While I have yet to find a suitable "hibachi at home" alternative, I was able to get the recipe for a newer menu item that I enjoy ordering on nearly every sailing, simple poke deluxe with soy sriracha marinade.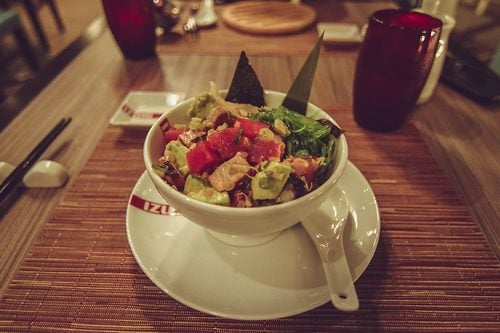 While this may not bring the whole Izumi experience to your home, it will provide the next best thing!
Poke Bowl Ingredients
Serves 1
4 ounces Tuna, cut 1/4" thick
4 ounces Salmon, cut 1/4" thick
2 ounces Seasweed Salad
1 teaspoon Masago, smelt egg
2 ounces Avocado, cut 1/4" thick
1/4 ounce Cucumber, julienned
1/8 ounce Cilantro, chopped
1/8 ounce Jalapeno, sliced thin
1/2 ounce red onion, chopped
2 teaspoons soy sauce
1 teaspoon Sriracha Chili Paste
1 teaspoon Sesame oil
1/8 ounce chili pepper, dried
1 sprinkle roasted white and black sesame
seed, or furikake as option
4 ounces Sushi rice, or brown sushi rice
Suggested music while preparing your Poke Bowl

Poke Bowl Instructions
Sushi Rice Instructions
5 cups California rose sushi rice measured and washed 5 times in cold water - strain 5 minutes.
Cook with purified 5 cups of water for 35 minutes in rice cooker.
Mix 3/4 cup of sushi vinegar (3/4 rice vinegar, 4 TBSP sugar, 1 tsp salt - dissolved) 
Use plastic large bowl to mix all together with spatula while fanning & cooling rice; let rice sit 5 minutes each side.
Poke Bowl Assembly Instructions
Mix the sauces and seasonings together and put to side
Mix the chopped Tuna and Salmon with chopped cilantro, masago, onions, avocado with the marinade
Place the mixed poke towards the back of the bowl
Neatly place the tossed fish and ingredients elevating the dish
Top off with Cilantro Sprig and julienned cucumber