In:
Are you planning to try Royal Caribbean's signature sushi specialty restaurant, Izumi? We are big fans of Izumi across Royal Caribbean's fleet for the inspired menu, fresh ingredients and wide selection.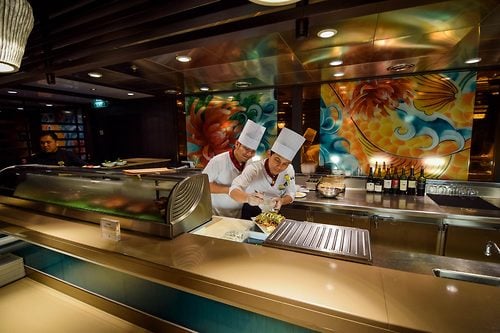 While the entire Izumi menu offers some intriguing choices, here is a quick look at a few of my top choices for ordering at Izumi on a Royal Caribbean cruise.
Izumi Ryu Futomaki roll
If you are looking for a sushi roll to satisfy any appetite, then the Izumi Ryu Futomaki roll is sure to fill you up quickly.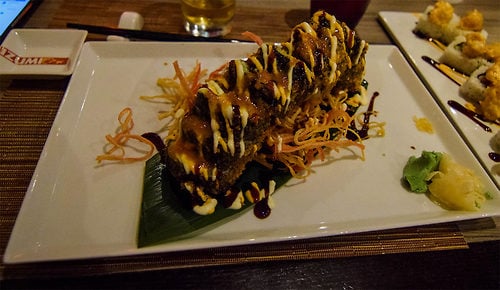 This massive roll is one of the Chef's Signature Rolls, and it is a tempura fried mashup of sushi goodness.  It is comprised of assorted sashimi, scallions, scallions, spicy aioli, cream cheese, wakame salad, house ginger teppan dressing and a spicy chili thread.
Not only is this a giant sushi roll, it is also a deeply satisfying roll and the kind of thing to order when you really want a filling meal.  It is also a great value if you have a specialty dining package.
Tuna wasabi
One of Izumi's strengths are the great assortment of starters, and the Tuna Wasabi carpaccio is something I can order each time I visit Izumi and never tire of trying.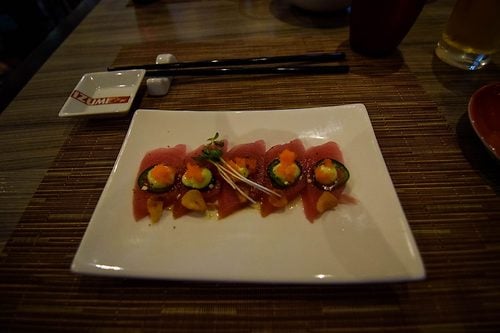 The tuna wasabi is a simple, yet delectable appetizer.  It is also very light, which means you are not going into your main course already feeling full. 
Fresh tuna sashimi and a slice of jalapeño make for a brilliant contrast in flavors.  There is just enough kick from the jalapeño to compliment the tremendous tuna flavor.  Any tuna lover will relish this app.
Hot Rock
Izumi offers some of the best sushi at sea or on land, but it also has a really good option for those that do not like sushi (crazy, I know).  The hot rocks have become a staple of so many Izumi locations and it is as fun to cook as it is to eat.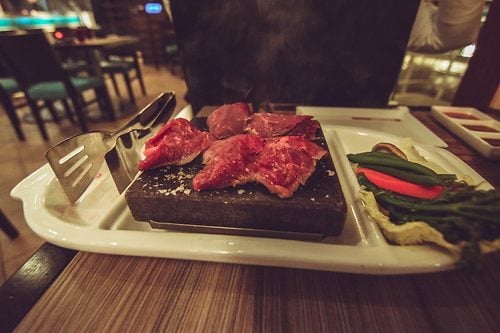 Hot rocks are essentially a rock slab heated up to 575°F and served with raw meat and vegetables that you can cook at your table.  The hot rocks are available on all Vision, Radiance and most Voyager class of ships (with the exception of Adventure of the Seas) have hot rock and sushi. Quantum Class ships have sushi, hot appetizers and noodles. Oasis class have Hibachi and sushi. Mariner and Independence are the other 2 Izumis with mostly Hibachi.
The appeal of the hot rocks is more than just "something to order if you do not like sushi."  Freshly cooked steak, surf & turf, skewers and more are available to try and the result is a wonderful entrée.  Even as a sushi lover, I cannot help but take a few bites when my wife orders one of these.  
Mixed poke taco
Izumi updated its menu not too long ago and added a few new items, including the mixed poke taco.   Of all the new choices, these are my favorite for the great crunchy texture combined with excellent chopped sashimi.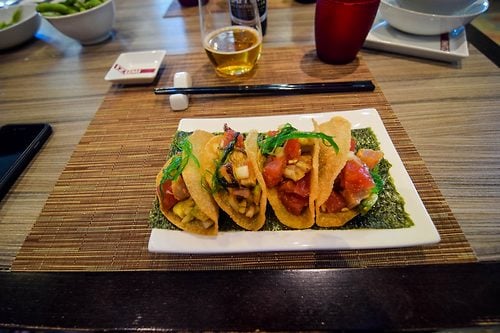 Tuna, albacore (known also as the longfin tuna) and octopus are chopped up and mixed together with a few other complimentary ingredients to create an inspired take on a Mexican favorite. The mixed poke tacos are great for sharing too. 
If you prefer less carbs, or simply more of this dish, try the Poke Bowl, which is essentially the same ingredients as the taco, minus the shell.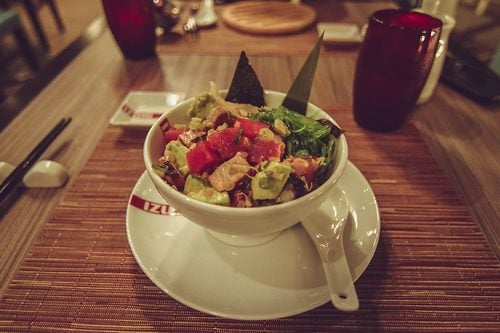 DX Sushi Combo
If your goal is to find the one option on the Izumi menu that offers the best value, the DX Sushi Combo is the choice for you.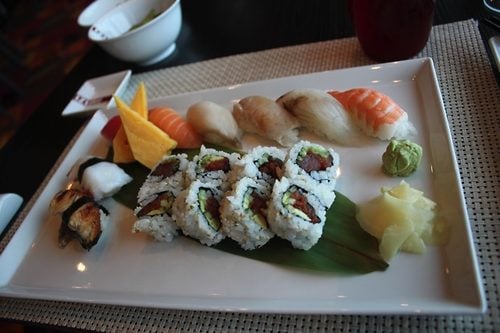 Simply put, the DX Sushi Combo offers the most sushi for the dollar on the menu.  8 pieces of nigiri, 2 tamago and 8 pieces of spicy tuna roll for $16. 
While the value is good, the sushi is even better and it has become my go-to sushi dish of choice.
Overall
I will admit that I am terribly biased when it comes to Izumi.  I love Izumi and will go there no matter what is on the menu, because I find so many great choices. 
The highlighted choices here are wonderful options, but I encourage you to seek out other items on the menu.  The soups & noodle dishes offer great non-sushi choices, and the signature rolls menu alone offer some fan favorite choices.
Have you been to Izumi on a Royal Caribbean ship? Share your favorite menu item with us in the comments below!