Review: Izumi Hibachi on Harmony of the Seas
In:
I have reviewed a lot of Izumi restaurants on Royal Caribbean ships, but I had never tried the relatively new hibachi option that Royal Caribbean added not too long ago.
Izumi's teppan style dining is offered only on the Oasis Class ships, but I had never dined at any of them.  Sure, I have eaten at many hibachi restaurants on land, but I never had the opportunity to try Izumi's take until our recent Harmony of the Seas cruise.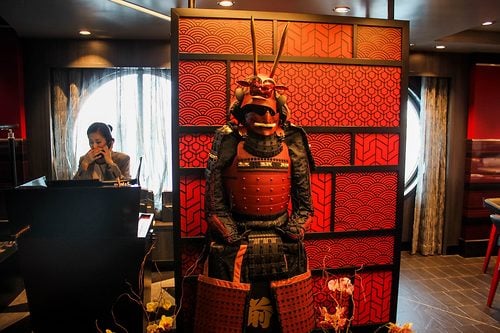 We headed down to deck 4 to try it out for ourselves.
Atmosphere
Izumi hibachi is a teppanyaki-style restaurant, which is sometimes referred to as a "Japanese steakhouse."  Made famous by Benihana restaurants, the experience combines cooking and service into one fun performance.
On Oasis Class ships, Izumi is split into two restaurants: the sushi side and the hibachi side.  Reservations and availability are exclusive to each other, with often the hibachi side booking up quite quickly because of the limited space and high demand.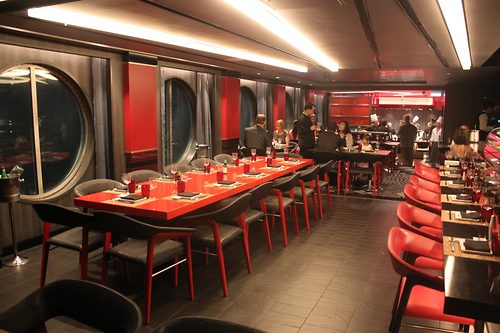 Located on deck 4, Izumi is to the right of the Silk main dining room and around the corner from the entrance to the casino.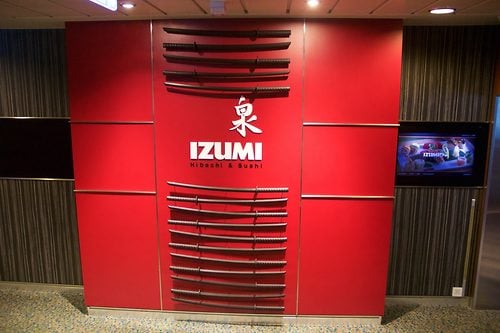 Photo by Michael Poole
The decor of Izumi is comprised of dark reds, browns and blacks.
The hibachi area is made up of three cooking tables, surrounded by chairs for guests to sit on during their meal. Each cooktop is a communal table that can accommodate up to eight guests, with the chef at the center of the table doing the cooking.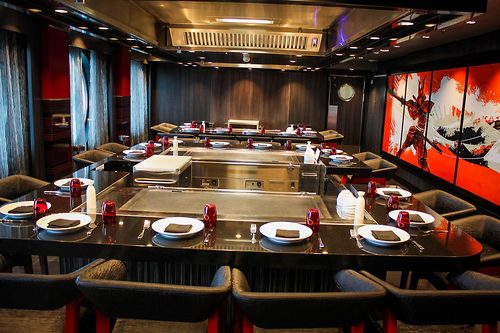 Remember, since seating is communal, you will be seated with strangers unless you have 8 people in your party.
Soon after we were seated, our server greeted us. Since our food would be prepared before us by a Chef, the server's primary role would be to take our drink and food orders and take care of us throughout the meal.
Eats
The Izumi hibachi menu is comprised of two basic choices.  There are the Teppan Classics, which offer a choice of Chicken Breast, Beef Tenderloin, Tiger Shrimp or Tofu for $45 per person.  Alternatively, you can opt for the Teppan Premier Combo at $49, which offers the option to do combos (half of one meat and half of another), as well as the choice of lobster, sea scallops, and NY Steak.
All hibachi meals include Edamame, a salad, and choice of vegetable fried rice or brown rice.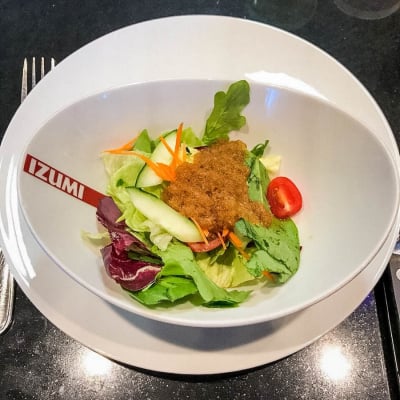 Photo by Ken Licwinko
In addition to the teppenyaki options, there are also a some appetizer and sushi options rounding out the menu.
Our chef soon took the stage and introduced himself. After he confirmed our orders, he set to work preparing dipping sauces for the meal. These go out to everyone in individual servings, and include three dipping sauces: Sweet Chili, Teriyaki, and Ginger Onion.
As is common with nearly all teppanyaki meals, the grill preparation and cooking is incorporated into a show, where the chef includes a number of tricks, jokes, and flamboyant demonstrations to keep everyone at the table entertained.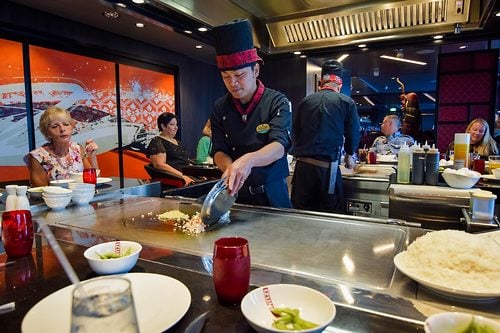 Our chef did many of the tricks that have made Japanese steakhouses so popular.  If you have been to a teppanyaki restaurant before, some of the tricks may be familiar to you, while others were a surprise to me.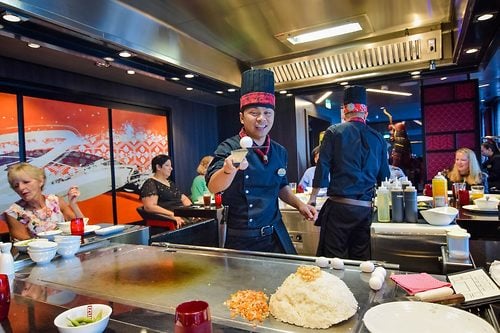 Speaking of tricks, there is no fire incorporated in any aspect of the cooking, so no onion volcano tricks here.
Soon, the cooktop was full of meats, vegetables, and rice.  This part of the meal is what brings people back time and time again, because it just so darn fun to watch.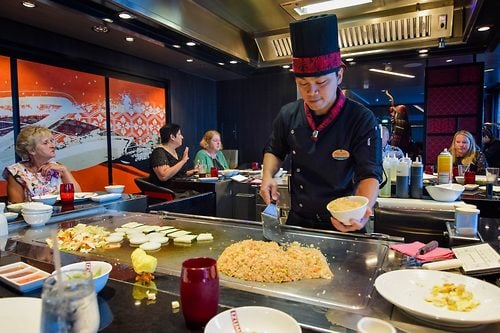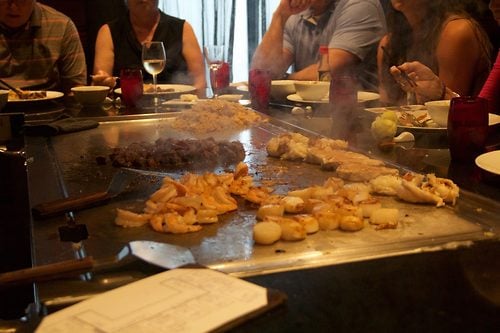 Photo by Michael Poole
I made two visits to Izumi, and the first time ordered just the chicken.  The chicken was great, but on my second visit, I opted for the chicken and steak combo.  I can say with certainty paying $4 more for the combo made the meal that much better.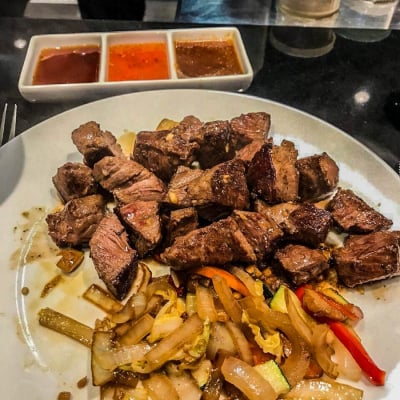 Photo by Ken Licwinko
Dessert is also included with your meal, and by far the Mochi ice cream is a favorite.  Mochi is best described as, "ice cream dumplings" and is worth a try.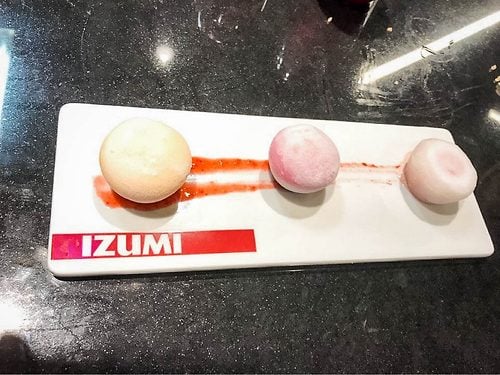 Photo by Ken Licwinko
Conclusion
Having dined at Izumi Hibachi, I can see why the reservations are as hard to come by as they have been. The servers who take care of you here are warm and friendly, and the chefs are the best of the best at what they do. Food is always cooked well, and entree portions are generous. As a bonus, I really like that I can see my food before and during the cooking process. What other type of restaurant ensures that you know first hand how fresh your food is? Plus, you get a show!
Moreover, the variety of food choices makes Izumi hibachi a great choice for groups because it can satisfy a wide range of tastes and preferences.  
I also brought my six year old daughter with us, and this meal is by far the most succesful specialty restaurant experience we have had with her.  Usually she gets bored quickly, due to the length of the meal, and she also tends to be too picky to make many specialty restaurant experiences "worth it."  At hibachi, she loved every second of it and insisted we bring her back on the second evening we dined there.
Overall, I can recommend Izumi hibachi to Royal Caribbean cruisers who seek a fun dining experience that also has some really good food.
Cost: The cost for Izumi hibachi on Harmony of the Seas is $45 per guest for dinner, or $49 per guest if upgraded menu selected.
Do you love Izumi hibachi? Leave us a comment below and share your favorite experiences!